Skysilk is one of the safest, most convenient VPS (Virtual Private Server) services that provides you with a well-organized cloud platform along with an active developer community. Using a VPS allows for users to set up an online business with reliability, customizability and power. It was recently announced that SkySilk is going to launch on September 1st, and their premium services will still be free for the remainder of their beta testing period. The SkySilk aim is to assure simpler ways to set up cloud environments using Turnkey Linux templates. With these templates you're able to have a simple 1-click environment setup running on Debian. SkySilk offers over 40+ apps and tools, alongside Linux distros like Centos, Ubuntu, Gentoo, and ArchLinux.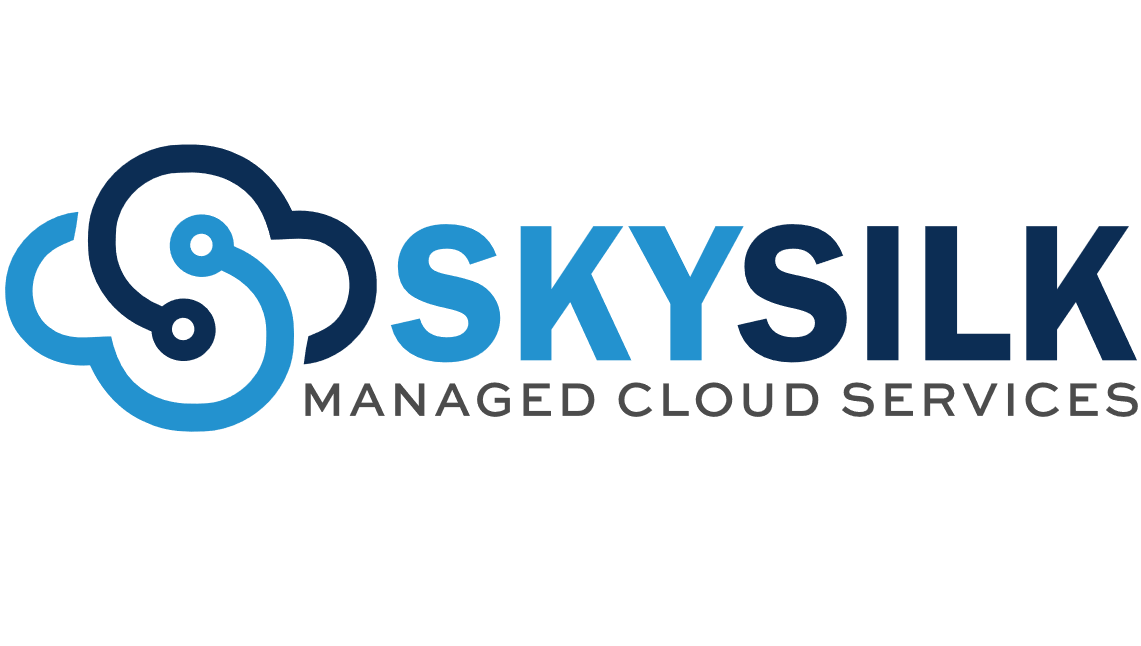 Prominent features of Skysilk
⦁ SkySilk has gone through thorough beta testing to mitigate any bugs and evaluate user feedback. The beta testing period has also allowed them to fortify security through protecting from DDoS attacks, torrenting, hacking, and any other malicious activity that would otherwise affect its users in a real-world production environment.
⦁ If you want to try a Skysilk VPS free of charge, they will still be in beta until September 1st, allowing for free access to resources.
Plans will start as low as $1/month upon launch.
⦁ Manual, and scheduled backups and snapshots are available.
⦁ 100% rapid SSD storage with triple replicated backups and 3Gbps DDos protection. The premium tier is equipped with NVMe SSD which is highly optimized for workload and data efficiency.
⦁ Built-in SSH and VNC consoles along with Tier-one enterprise hardware and data center security. Users can also access their machines with any third-party SSH client (or terminal) as they give you the option to add your own SSH key.
⦁ SkySilk is also the only cloud provider to implement a loyalty rewards program where users earn "SkyPoints" on every transaction. The way it works is quite trivial where 100 SkyPoints = $1. These points can be used towards select prepaid gift cards, or immediately towards account credit (which in turn could earn you free VPS)
⦁ Users are able to further utilize the SkySilk Rewards program, by taking advantage of their Referrals program and earn 2,500 SkyPoints per referral (Thats a $25.00 value!).
⦁ SkySilk team members encourage discussion within their community and have built a Discord server exclusive to their users. There, people can share their projects & ideas, make suggestions, get community help for any issues they experience, or simply just hang out in the chatroom lounge and talk with SkySilk team members.
⦁ Full root access for Linux VPS is a major plus point.
⦁ Cheap and affordable pricing with plans starting at just $1/month.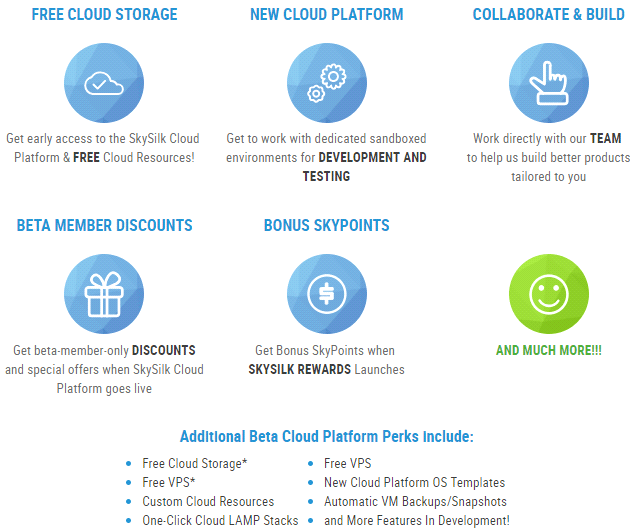 Skysilk Mobile App
Another feature that users can access once SkySilk launches on September 1st, 2018 is the SkySilk Mobile Cloud App for iOS which comes with a tagline 'access your VPS from anywhere'. This mobile cloud app that Skysilk will be offering can be downloaded for free and will contain the same features as the desktop version. Within these features also comes 24 hours performance boosting, conveniently named "Boost" which is useful when users need to scale resources for a shorter period of time at a significantly reduced cost, rather than permanently upgrading. Some apparent use cases of temporary scaling include compiling code or testing your environment on a larger scale. Using the SkySilk Mobile App adds another level of security as it allows for users to lock and control machine activity using TouchID or FaceID. SkySilk says a similar Android app will be released in the near future.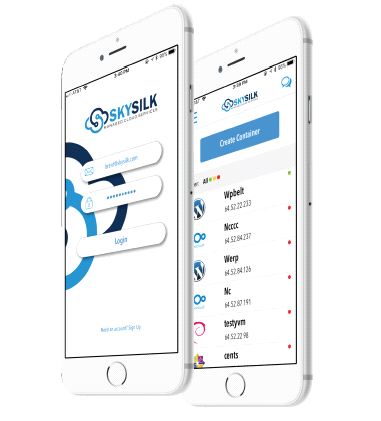 The Technology Used by Skysilk
Ceph Storage
A complete software defined storage.
It helps in flexibility of deployment and faster hardware upgrades.
It has the ability to self-heal.
Self-maintenance and auto distribution of data when at fault thereby helps the service to be more secure.
Triple Replicated SSD
Protects data by replicating them across multiple storage devices three times for greater redundancy.
Ensures data integrity – what is read is what has been written.
Premium Tech
AMD EPYC / Intel Xeon CPU (Your choice)
NVMe SSD Storage
Up to 1 GB Bandwidth speed
Intel V4 Broadwell DDR4 RAM
Automatic Backups and Snapshots of VPS included for no extra cost
Unlimited transfer
and more!
Pricing
There are three levels of pricings. Basic, Standard and Premium.
Basic
⦁ No skypoints will be given.
⦁ Transfers up to 6 terabytes of transfer.
⦁ Plans start at $1/month
⦁ Standard
⦁ Cashback value of one time the amount of skypoints.
⦁ Free manual snapshots and backups.
⦁ Transfers up to 12 terabytes of transfer.
⦁ Plans start at $2/month
Standard
Cashback value of one time the amount of skypoints.
Free manual snapshots and backups.
Transfers up to 12 terabytes of transfer.
Plans start at $2/month

Premium
Cashback value of ten times the amount of skypoints.
Free manual and scheduled backups.
Free and unlimited manual and scheduled snapshots.
Unlimited transfer.
Plans start at $5/month
Reward System of Skysilk
The reward points program is a unique aspect to the Skysilk platform. SkyPoints are given to a user for every transaction he/she does. Points can be claimed by various other methods such as liking them on social media, sharing reviews, and using the referral program. These can be applied immediately for SkySilk account credit, or can be used as Amazon Gift Cards, Best Buy Gift cards, or Prepaid Visa Reward cards with more reward options coming in the future.
It's more or less like a cashback system with 100 skypoints equaling up to 1$ cashback value. Referral programs are also quite profitable for the user as every time a Skysilk user refer a new user, he gets a cashback value of 25.00$ (2500 skypoints) and the new user who joins via referral gets $10.00 in account credit that can be used immediately.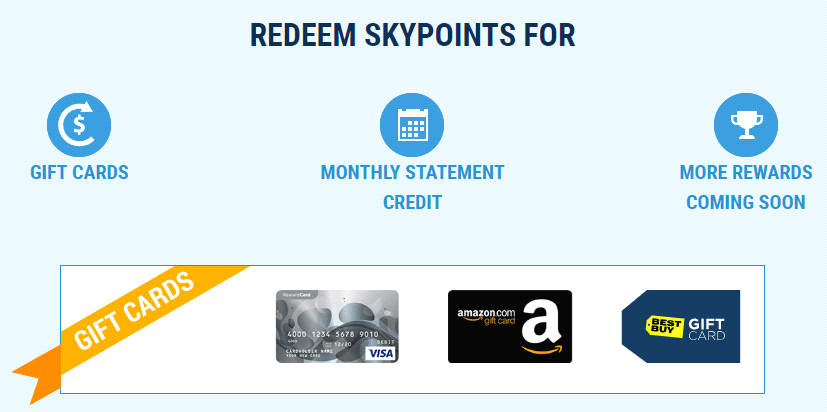 All standard plans earns one time the amount of skypoints whereas all premium plans earn ten times the amount.
Verdict
Skysilk is not like other cloud providers that are difficult to use. Rather, SkySilk offers a very user-friendly VPS service with a focus on simplicity, ease-of-use, and reliability. Their design is truly innovative and I'm sure that Skysilk will be a popular choice for those looking for good vps hosts in future.