Finding an ideal web hosting is a complicated process nowadays as you got thousands of companies offering it. Website administrators have a considerable burden to find the right solution for the business, blog, or other projects. We are going to lighten the burden by introducing Host Armada that is a web hosting company.
What is HostArmada?

HostArmada is a web hosting company that is offering a wide range of packages to the customers. The cPanel hosting company is offering cloud hosting at an affordable cost, and it is scalable when customer requirements change with time. Customers got plenty of packages with discounts going on right now. We are going to take an in-depth look at the Host Armada packages, features, and services, so you don't have to conduct research.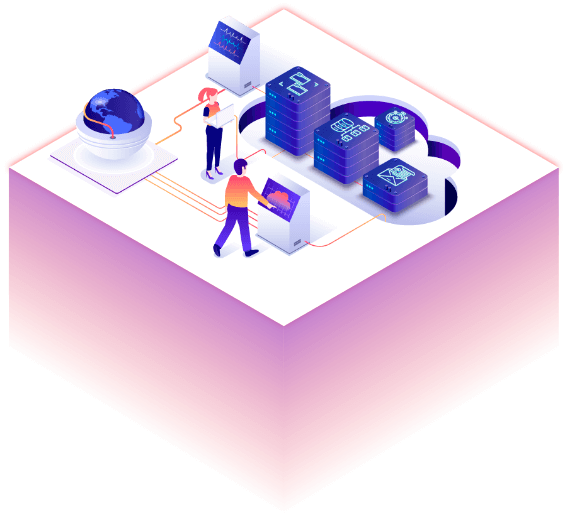 Customers get their hands on Cloud Shared Hosting that has SSD as a storage drive. You get a cPanel control panel to manage the portal, and that included SSL Certificate without paying a single penny. The hosting provider added "Web Server Cache" for faster-loading speed and web pages.
The cPanel has a "Daily Backups" feature that is activated automatically, so you can always go back to the previous version. As we have already mentioned about the Cloud SSD Storage, that is 3X times faster than traditional HDD (7200rpm).
On top of that, you get 24/7 and 365 days customer support via Phone Number, Chat, Email, and Ticket system. There's plenty of information that we haven't shared yet, and covered below. All of these features for $2.99 per month.
2. WordPress Hosting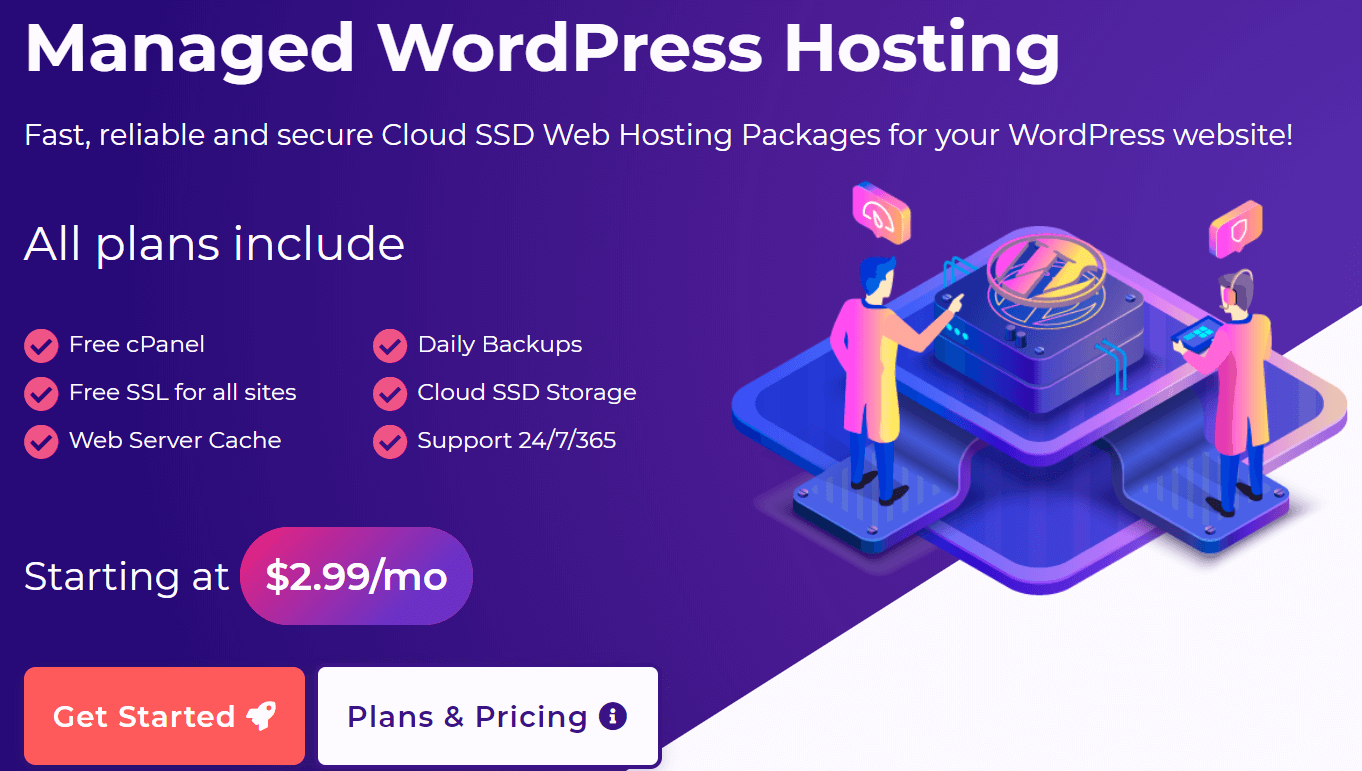 WP is a powerful Content Management System in the world that is popular for having a stable & innovative platform for beginners. We recommend checking out the official page for in-depth information, but allow us to include exciting features from the package.
The WP hosting provider promises to deliver Cloud SSD Technology up to 99.9% uptime. The official team lowered the number of account holders in one server for optimal performance and eliminated stress for the physical server.
You have to pay $2.99 per month for one WP site hosting.
2-core CPU
2 GB RAM
Unmetered Bandwidth
15 GB Cloud SSD Storage
FREE Domain Name
You will get all the default perks that we have mentioned above.
The account bandwidth can handle 10,000 unique visitors.
The hosting provider added two layers of security and protected the servers from brute force attacks. Nowadays, web hosting companies cannot promise 100% protection due to technology development in different parts of the world. The WP package offers 7 backup files per day feature, so you got covered.
3. Affordable Cloud Plans
Host Armada offers a wide range of hosting packages to the customer, and we have listed them below.
Managed Cloud SSD Development Hosting starts at $2.99 per month
Managed Cloud SSD Shared Hosting starts at $2.99 per month
Managed Cloud SSD VPS Hosting starts at $2.99 per month
Dedicated CPU Cloud Servers starts at $149 per month
Managed Cloud SSD Hosting for Open-source Apps starts at $54.95 per month
The packages involve a wide range of audiences, and it consists of Cloud + SSD servers, which is a powerful combination today. The SSD is 10X times faster than HDD, and the Read/Write speeds depend on the model used in the servers.
4. Physical Data Centers

Customers target different audiences who are coming from Europe, Asia, Africa, and others. The website founders need to know the Data Centers locations to ensure server ping and server response for faster loading speeds.
USA West Fremont, CA (California)
USA East Network, NJ (New Jersey)
USA Central Dallas, TX (Texas)
Mumbai, India, IN (India)
Europe, Frankfurt, DE (Europe)
Asia, Singapore, SG (Singapore)
Sydney, Australia, AU (Australia)
South Canada, Toronto, ON (Ontario)
Host Armada covered the entire world from the European continent to the Asia continent, but they have missed a couple of things. Regardless of the missing Data Centers, they have covered the world, and most importantly, you got important locations covered.
5. Customer Care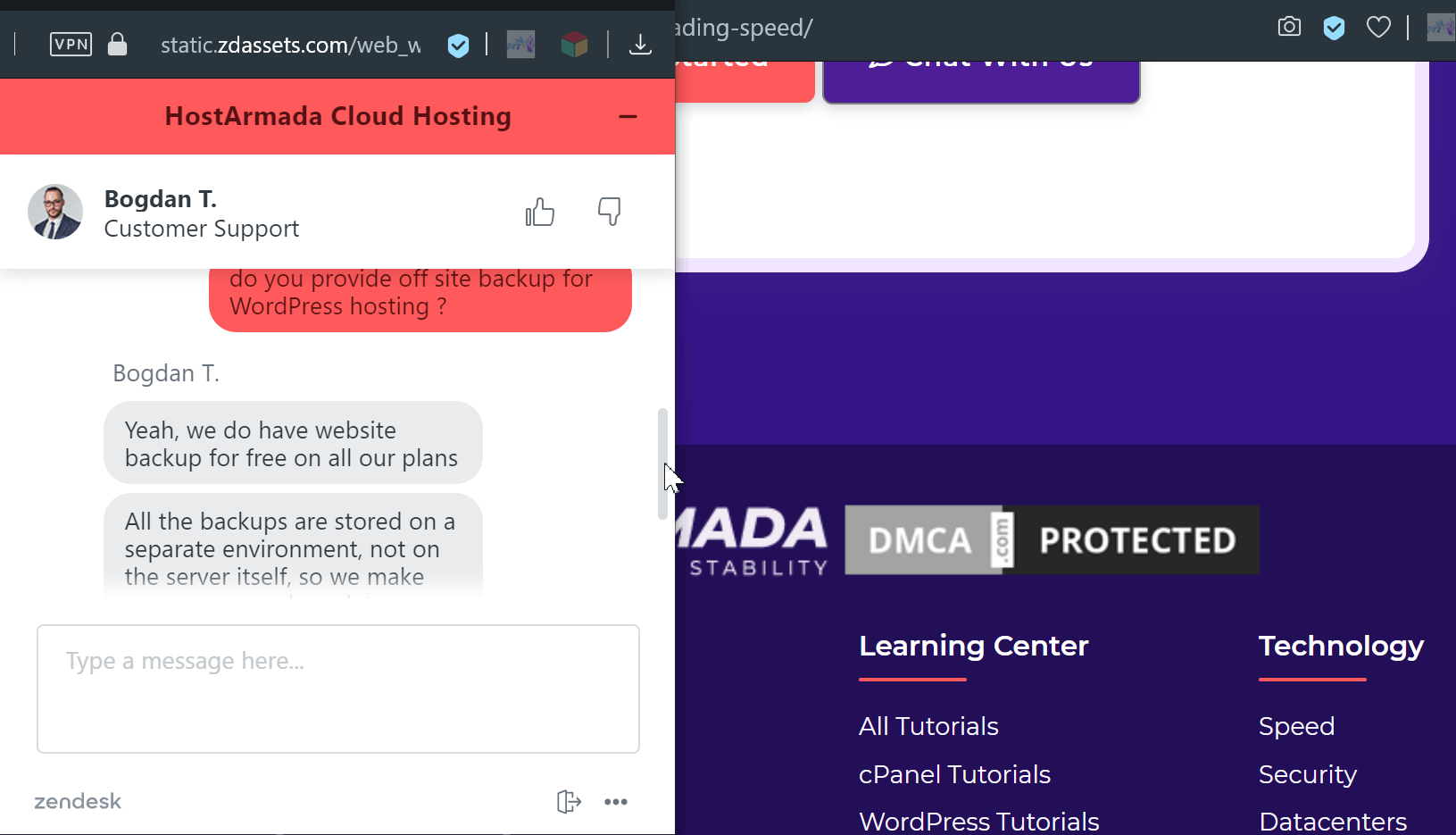 We consider customer support a major factor in purchasing because you need them during the downtime or some other struggles that come along the way. Site administrators don't have access to physical servers, and that's a case with every hosting company in the world. Host Armada introduced 24/7 and 366 days of customer support to the customers with knowledgable staff and you can see the picture attached above as a proof.
Ticket: The provider promised to respond to your ticket within 10 – 15 minutes.
Phone or Voice Call Support: The provider promised to answer the calls instantly.
Chat: The provider promised to respond to the chat within instantly or 1 minute.
Email: The support team will reply to the email within 1 hour.
We must say that it is a massive claim from the web hosting company, but it is an excellent function for customers. You don't have to wait for the support team to respond to your request anymore. You can contact the team anytime on the official for queries and test the service yourself.
Bottom Line
Host Armada is a promising web hosting company that is planning to expand new horizons. You got plenty of packages, including WP hosting (with off site back up which is not found with every other hosting), that comes at an affordable price. You got nothing to worry about when things go as you have planned because the their knowledgable customer support team will assist you whether its day or night. Let us know what do you think about the Host Armada in the comment section below.