The default registration form on WordPress is a bit outdated and limits you from collecting more information from the user. If you don't allow public registration on your website then it's ok to use the default registration form, but if you welcome a user to register on your blog/site, you should collect more information from the users. How can you do so?
RegistrationMagic is a one of the best WordPress registration plugin for this job. This WordPress user registration plugin is available for free (from WordPress repository), but to utilize all its features, you can go with its premium version. It lets you create a new form and then embed it anywhere on your website. Let's explore it in details.

Registration Magic: A brief Knowhow
Registration Magic is a WP plugin that lets you create the forms using a simple builder and embed them anywhere on the site using a shortcode or widget. Apart from this, it does so much for you by allowing to you to manage the users, analyze its conversion rate, collect more data, and a lot more. You can also use it as a general registration module for collecting the signups.
Why use Registration Magic?
There are a number of reasons to start using this plugin. It offers a number of creative features to the WP users. You must use it on your website/blog because:
Create Unlimited Registration Forms
You can create unlimited registration forms in your own style by setting different custom fields, sections, and the content. Every form you create is represented by a 'Form Card' that helps you to glance over the form submissions, users, and access the custom fields.
Analyze the Form
You can easily analyze the form and submission and every minute detail just to fine tune with the registration process. The user location, Browser data, OS, IP, form filling time, conversion rate, and many other important details can be tracked.
Take Full Control of the Users
You can simply take the control of the users on your WordPress site by introducing the features like one-time password login and user deactivation. A user management section has be built in the dashboard to provide more information and advanced filter options.
Powerful Front End Features for the Users
The simple form builder helps the users to create a fully customized form without actually having any coding knowledge. The features like login form, submission table, widget, user area, and transaction details are included in this suite.
In-Built Responsiveness
The latest version of this plugin is totally cuddled with CSS3 properties to enhance the user experience across different screen sizes. You will never miss out of ideas on your site with a number of forms in queue.
Registration Magic – The Setup
Download and install the plugin to your website and follow a brief tutorial mentioned alongside.
Click on 'Registration Magic' option in your WP dashboard.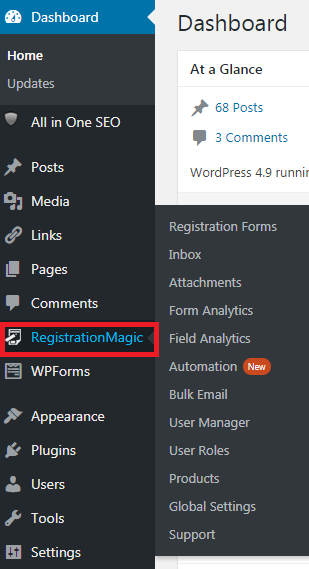 Click on 'New Form' to create your first form.

Give name to the form and choose which type of form you want to create.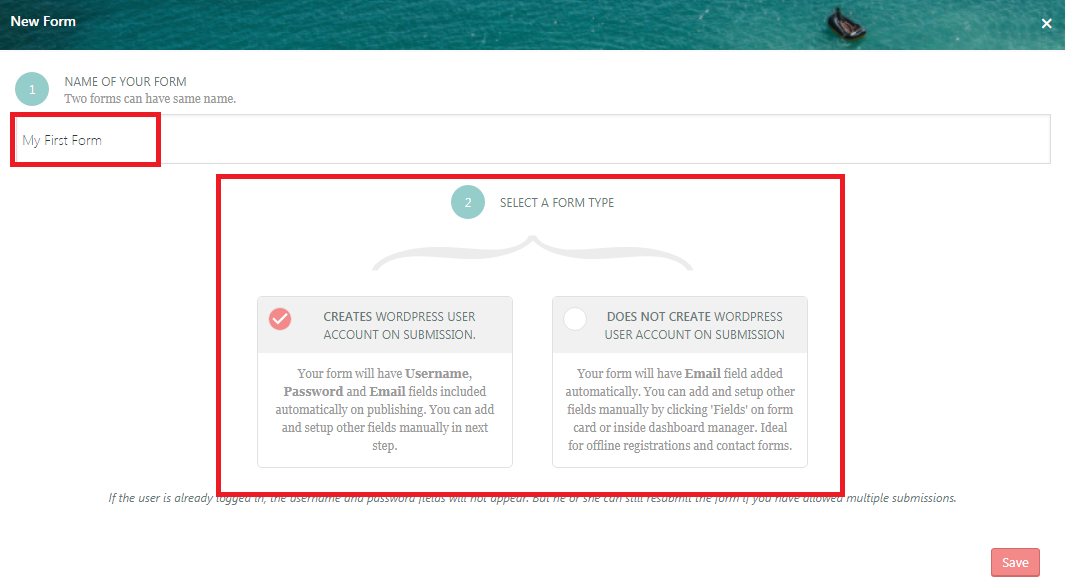 After making the selection click on 'Save' button.
You can find the newly created form which can be edited as per your choice.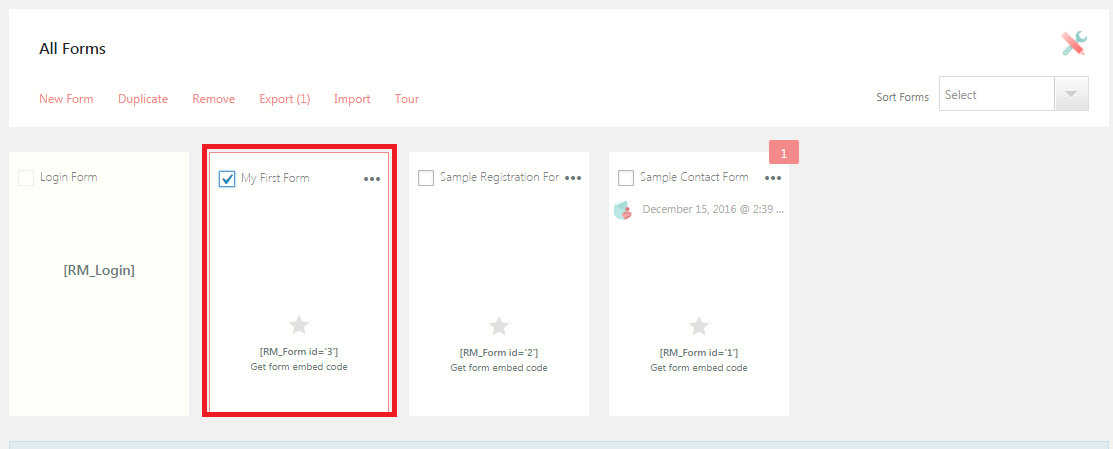 Check any of the forms you wish to edit and you will find two options here – 'Dashboard' and 'Fields'.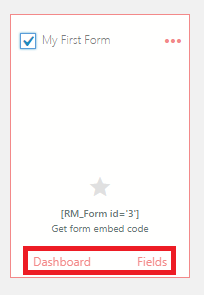 Click on 'Fields' to manage different fields. You can edit, add, or delete the fields.

Click on 'Add Field' option to add different fields to your forms.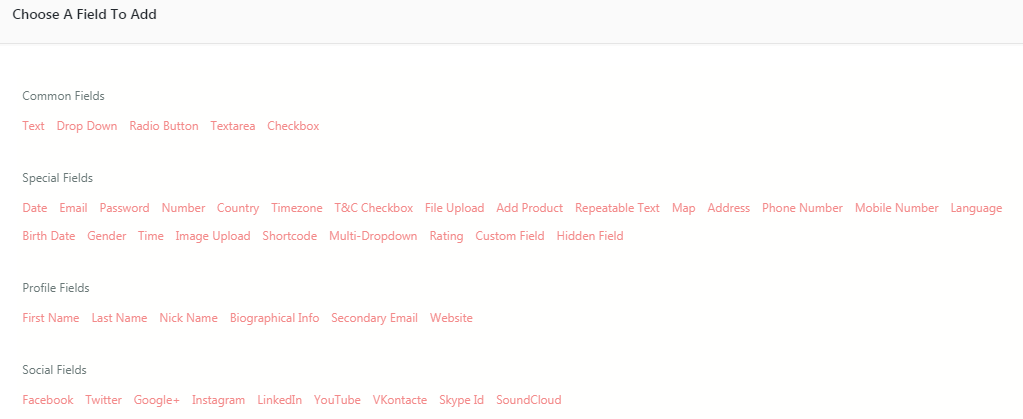 Not only this, you can manage the complete form dashboard, track user activity, conversions, and other details as well.
For further details, review the complete guide on how to create your first WordPress Registration Page.
Pricing
Registration Magic is a complete automation kit for the users who wish to take complete control of user registrations on their websites. It offers three different plans to the users. A free plan (restricted to few features), a Premium plan (single site license and 1 year updates), and Premium+ plan (multiple site license and lifetime updates).

Pros
Add vividness to the forms.
Track the form analytics.
Multiple fields supported.
Easy to use form-builder.
Cons
The interface challenges your visibility by use of too light colors.
The Verdict
Registration Magic is an innovative form builder that allows the WP users to add vividness to their forms and add multiple fields to the forms. Apart from this, you can track the user IP address, browser details, OS, and can even get the statistics on your forms. Download this plugin and surprise your users with the brilliance of your forms.