UPDATE : WE HAVE LOST OUR 3 ACCOUNTS BY USING THIS WORST INSTAGRAM TOOL, THE SADDEST PART IS THAT EACH ACCOUNT WAS HAVING AROUND 530K FOLLOWERS. SO GUYS STAY AWAY FROM THIS TOOL IF YOU DONT WANT TO LOOSE YOUR ACCOUNT.
In today's digital world, everyone uses a smartphone with a number of useful apps. With the growing popularity of smartphones, businesses have been shifting to digital platforms than physical stores. Instagram is the world's best platform for digital marketers and startup owners to marketize their products and services. If you want to grow your business with Instagram, then Instarazzo is the best companion for you.
What is Instarazzo?
Instarazzo is an advanced Instagram Marketing tool ( https://instarazzo.com/en/ ) which is designed for advanced digital marketers and business owners. This platform works with the latest algorithms which helps you to grow your Instagram Account.
This platform works with a simple algorithm to get your Instagram Profile real likes, comments, DMs and more. Most of us use Instagram manually to share things and direct messages to our followers and friends.
However, in this present market, there are numerous Instagram Bots available which takes care of your Instagram Profile itself. You don't need to manually do anything to grow your Instagram as soon as you start making use of a reliable Instagram Bot like Instarazzo.
How does this Platform Work?
Instarazzo works with four simple steps. You don't need to be a tech-savvy in order to use this platform. This Instagram Bot is here for everyone and you can make use of this platform to grow your Instagram's likes, followers, send DMs etc. With this Instagram Growth Service, you can grow your market value and improve the productivity of your business.
The first thing you would be asked when you visit their official page is Registering yourself to the platform. It is essential for you to create your personal account with Instarazzo to make use of its services. Click on to Register option, fill in the form and hit the Create account button.

The screen will be presented in front of you asking you to add your Instagram Account. This is a 100% secure platform so you don't have to worry about giving access to your Instagram's account. You need to add your Username, Password and Select your Country and then click the Add Account button.
Once your account is linked, you can set your targets as per your requirements from the same page. This is an important step to do as this enables the Instagram Bot to start its job as per your command.
This platform is designed for all types of Instagram users and marketers. You can also buy additional likes, video views etc. from the same platform.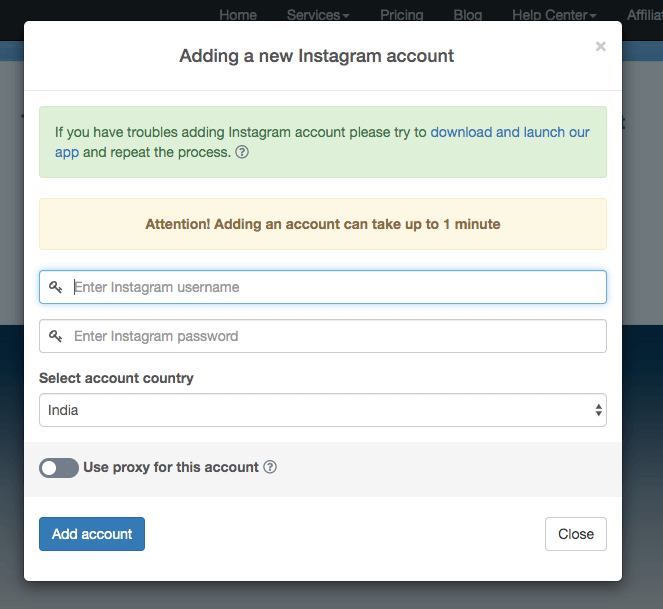 Your Instagram Account will be linked itself and you will be presented with your personal profile on the Insarazzo's own platform. You can fetch your account's details, your previous posts etc.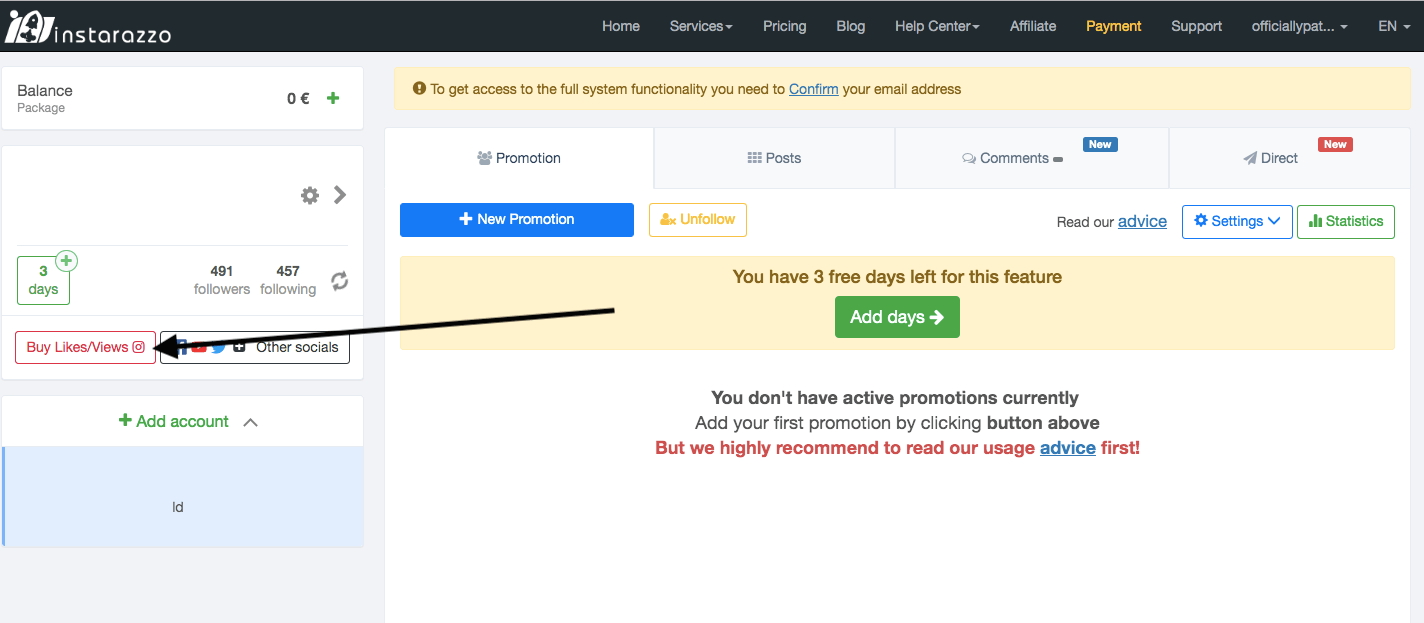 What's interesting about this platform is it comes with an easy-to-use interface for everyone. You can simply make use of the available features and functions from the front-page which will give you better ideas of getting used to this platform.
You will see your subscription details and how many days are left in your account. Apart from this, you will also see some useful options to grow your profile.
If you want to buy Likes and Views, click the given option below your Profile picture on the left side. The next page will ask you to choose the post on which you want to get likes and views. Click + button, the website will show you your previous posts. Just select the post and click the Order button. You're done!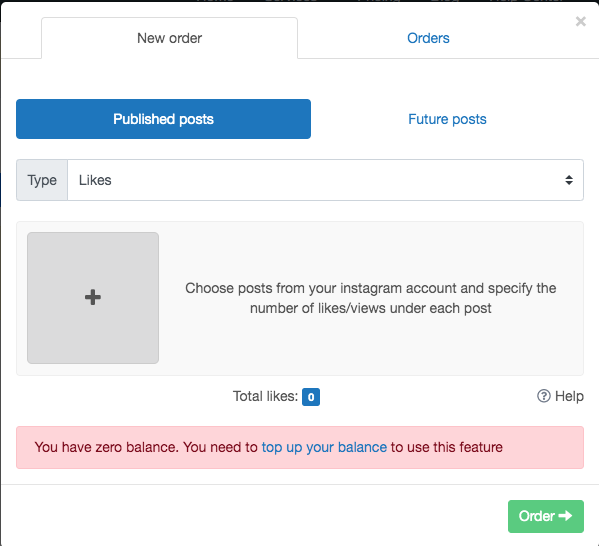 For future posts which are not published yet, you can set up the desired limit by selecting Number of Posts and Number of Likes on Each Post.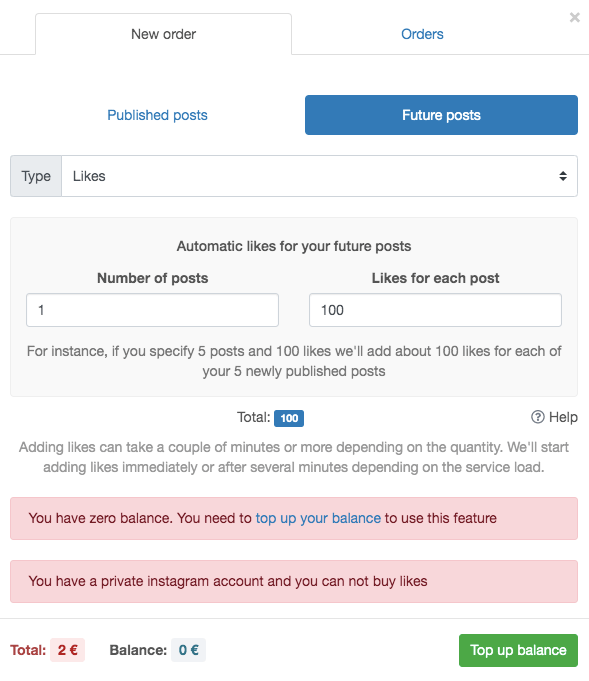 For more accurate results, this Instagram Bot allows you to select the targeted audience for your Posts. You can select your audiences with Followers, Locations, Hashtags, Targets etc. Your profile will gain the selected audience as per your choice.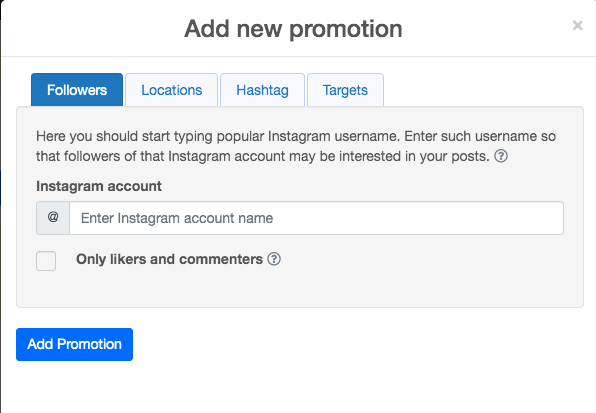 For new Promotion, you just need to Click on to the New Promotion option. A list of options will be presented in front of you from which you need to select what you actually want from the platform. Once done, click the Apply button.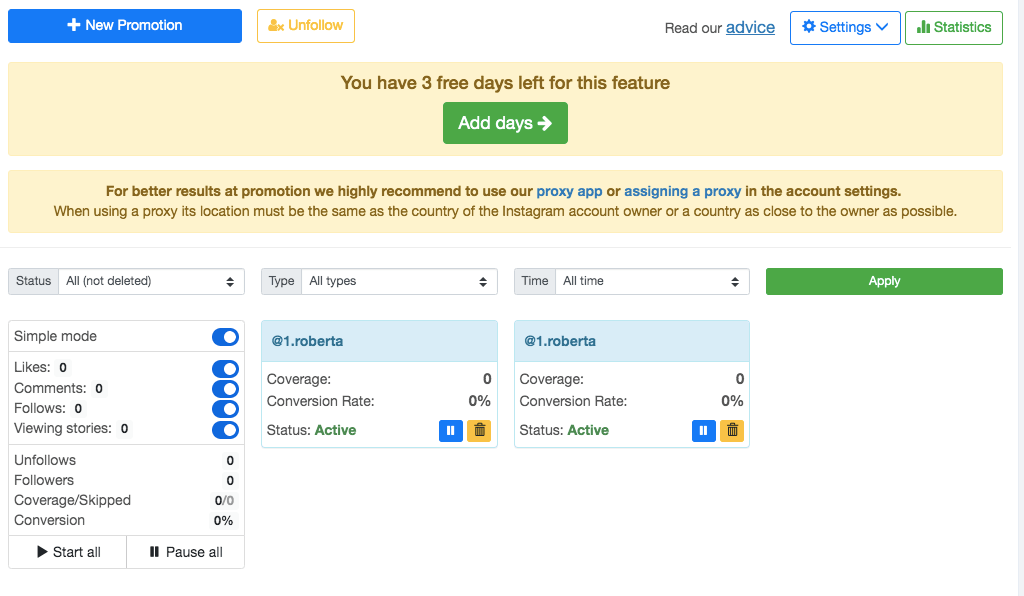 Once you finalize your Order, you just need to sit back and relax for the promotion. The Instarazzo will start its work and you will see the desired result as per your order.
Instarazzo: Key Features
Built-in automation tools for Instagram
Gets you, real-life followers,
Allows you to target audiences
Get real likes, comments on Instagram Posts
Schedule likes and comments on future posts
Instarazzo: Pricing
Instarazzo Instagram Bot is available with its web version for the PC users. They offer a free trial version for 3 days which lets you test out this platform by adding your personal Instagram accounts. Based on the type of users, they have a number of plans to select from. You should not pay extra bucks for irrelevant and unwanted features and tools.
Fortunately, all the plans are available with 3 Days of Free Trial so that you can use these plans to decide whether you should go with it or not. Here are the different plans that are available for you.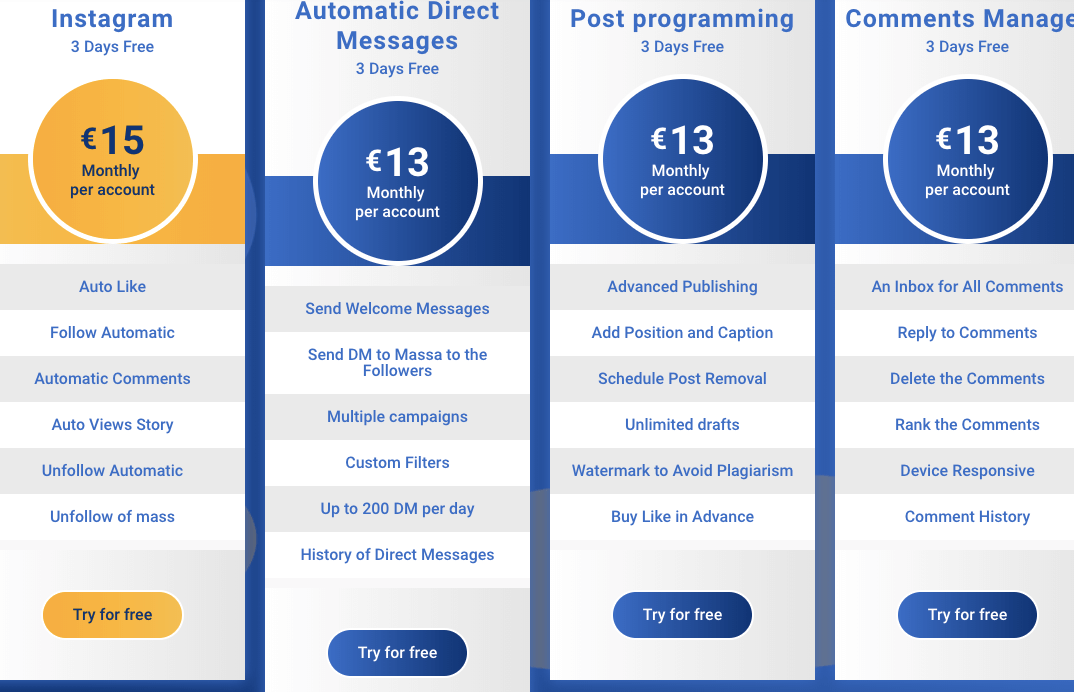 Final Words:
Instarazzo is a fully secured Instagram Bot available on the market. You can use all the features and functions for free and see the desired results as per your needs after using this platform. It works smoothly and gets you what you want in real time on your Instagram Account. It's the best Instagram Bot for advanced digital marketers and startup owners.