In today's modern world, investors have started investing their money in cryptocurrencies. Over the past few years, Cryptocurrencies such as bitcoins and many others have seen a drastic change. Online platforms have started accepting payments through cryptos. If you too are focusing more on the cryptos, then Coinzilla is the platform for you.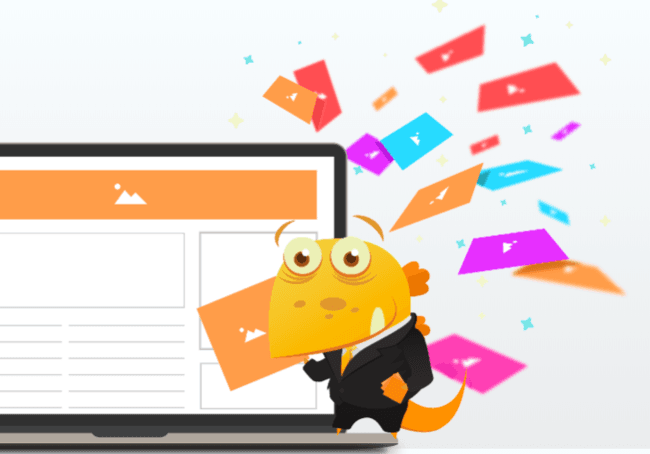 What is Coinzilla?
Unlike other popular ad-networks, Coinzilla is a unique way to earn money in cryptos. This reliable ad-network has gained massive popularity. The platform provides fully responsive ad formats that can be used on both, mobile and desktop platforms. It's a complete solution for publishers and advertisers. It's an all-in-one platform that lets you monetize your web-traffic, ad-traffic etc.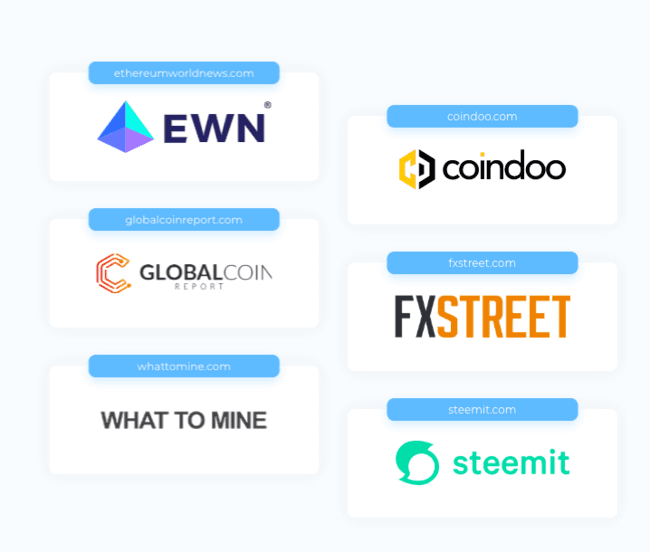 Being a unique ad-network, Coinzilla is currently being used by the industry leaders on their blogs. It also includes a variety of exchange options such as 1xBit.com, bitpanda, KuCoin, Bitcoincasino.com, bitstarz, trade.io etc. It supports both, casinos and non-casinos projects. This ad-network is suitable only for those who have a blog or a business with Cryptocurrencies.
Coinzilla is Suitable for
If we talk about the compatibility of this ad-network, then it is an all-in-one platform that is suitable for both, advertiser and publisher. This platform only accepts legal websites. If your blog contains illegal activities, then you won't be able to use the ads of Coinzilla on it. Websites that violate any law is not allowed.
Apart from this, sites that show up plenty of ads, irrelevant offers, adult contents etc. will also be not allowed to make use of this platform for publishing and hosting ads. It's a legal platform that only accepts legal websites run by the professional bloggers and industry leaders and not for the ones who have started crypto-blogs just to earn some extra money.
Coinzilla: Key features
To get an overview of this platform, here we have compiled a list of all the useful key features of it. The following list will help you to know about the actual functionality of this platform and how you can make use of it to publish ads on your blogs.
Daily payouts directly to the associated accounts
Supports 5 different types of ad-formats
Earn through CPM and CPC modes
Supports high-quality traffics on a blog
Fully responsive ad-formats for mobile and PC
Flexible ad formats for easy control as per your requirements
Compatible with all types of legal websites
How do I Get started with Coinzilla?
The first and foremost thing you need to do is signing up yourself to the platform. You have to create an account on their official website by filling up an easy form. Go to the account and click the registration form. Make sure you enter all the useful information and select appropriate options in the registration form. You have to fill in the form carefully.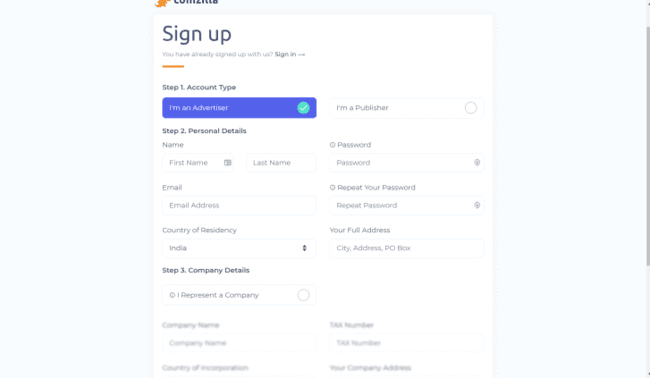 Once you are done with the registration process, the next thing you need to do is getting your website approved by the network. You need to upload your supplied text to the root directory of your website. It's an easy process and you will be instructed with proper steps right after you submit your website.
Coinzilla Marketplace
Apart from publishing and organizing ads on the network, Coinzilla has a separate marketplace for the users who can buy Crypto Press releases, video ads, direct link-sharing and sponsored ads. You can publish your content on legal authority websites.
It's a great marketplace for those who want to expand their blog's reach and traffic. It supports popular platforms such as TV Commercials, Block TV, Mycelium, Coin Telegraph etc.
Apart from trading-in, you can also filter your needs. You can check if the sites you are going to publish your contents are approved by Google etc.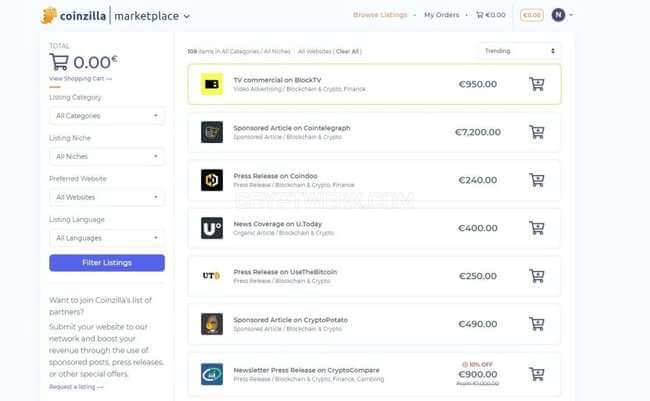 Ad-Formats for Publishers
Thankfully, Coinzilla supports a variety of ad formats for publishers. All the supported ad formats are unique and well-designed for the publishers to attract the audiences. It supports 5 unique ad-formats which are listed below.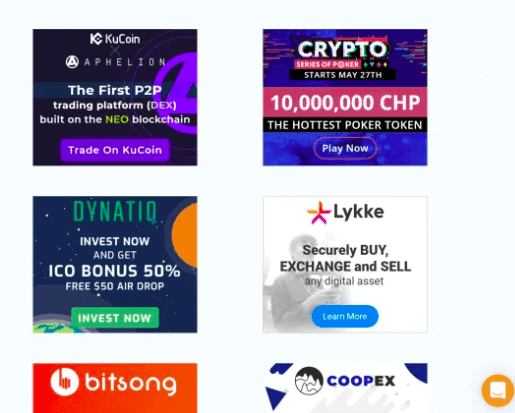 Classic-Banner is the most common ad-type which is highly used by the bloggers and website owners on their blogs. Banner ads appear on the front page of the website just above the main content part.
Pop-under Description format launches a small block under the contents page on the main live Window. When the user clicks on to the given block, he will be taken to the main landing page of the advertiser.
Native-ads are another most common ad-type which is being used by most websites. This format lets you customize your ads which you can publish anywhere on the blog or website.
Stick banners are placed underneath the table. This type of ads is great for attracting users who follow your content.
Header banners can be placed anywhere either on the top or at the bottom of the main page of your website. However, you should place it at the bottom side to gain attractions from your audiences.
Coinzilla Referral Program
This platform also gives you an opportunity to earn some extra bucks by participating with their referral program. The platform gives you 10% as a commission through this program.
So, if you are a publisher, then you should not forget to use their referral program as it will give you high returns on the traffic of your blog. For every deposit of 1000 Euros, you will receive a commission of 100 Euros.
Final Verdict:
Coinzilla is an all-in-one platform for those who are really into the Crypto-world. This platform has got everything to give your blogging life a new boost by engaging with the new Crypto-world.
It supports different ad-formats and also has a separate marketplace to boost your blog traffic. You can marketize your blog/ website or can start publishing ads using this network that will give you daily payouts on the desired format.
The supported ad-formats are fully responsive making it easier for the users to show up their ads on mobile and PC platforms. You can also monetize your ad-traffic and web traffic using this platform with real-time data. It's a must-use platform for Crypto-users.