Promoting photos without your trademark can be difficult especially when these photos can easily be claimed by someone else. Adding a watermark to your photos can save them from getting claimed for by others. Even if someone uses your photos or images, he/she has to give you credit as your watermark will be clearly visible.
Make Watermark is an online software that allows you to quickly create and add watermark on your photos and save them from false claims. The software is available for free and has a premium version as well. Let's learn more about it.

Make Watermark Features
Make Watermark comes loaded with plenty of features and some of the best ones are as follows:
Custom Text Watermarks
It lets you create your own multi-line or single-line textual watermarks by combining multiple fonts and colors while you can experiment with transparency and size. It lets you add one of the 9 effects in order to achieve a sleek or stylish look.
Multiple Fonts
You can choose from a diverse range of fonts – minimalistic, funny, classic, bold, thin, regular, quirky, or italics. You find just the right font basis your needs.
Add Logo to the Photo(s)
If you are not a big fan of textual watermarks, you can choose to add logos to the photos. Just import the logo file from Google Drive, Dropbox, or your computer. Use the toolkit to edit the logo and simply apply it to your photo. It's that easy.
Transparent & Glass-Like Watermarks
You can choose to make the watermark transparent to fit into the photo better without stealing the viewers attention. Add glass-like effect or adjust the opacity of your watermark.
Tiled Watermark
You can use tile feature to ensure that the watermark fills the entire image. "Span" will adjust the space between watermarks. Choose "Straight" option to repeat watermark horizontally and at equidistant. Choose "Diagonal" to repeat it checker wise.
Resize the Photos After Watermarking
High resolution photos can give thieves opportunity to still steal your photos. Resize your photos so that the thieves can't get their hands on HD originals if they manage to remove watermark. There are different "resize" options including "Fir width", "Fit into rectangular", "Fit height", or "Percentage".
How Make Watermark works?
Watermarking needs to be simple and easy. This is exactly what this tool does. Let's learn how it works.
Upload images to the app
Open the online tool and click on 'Select' or "Add Images" button.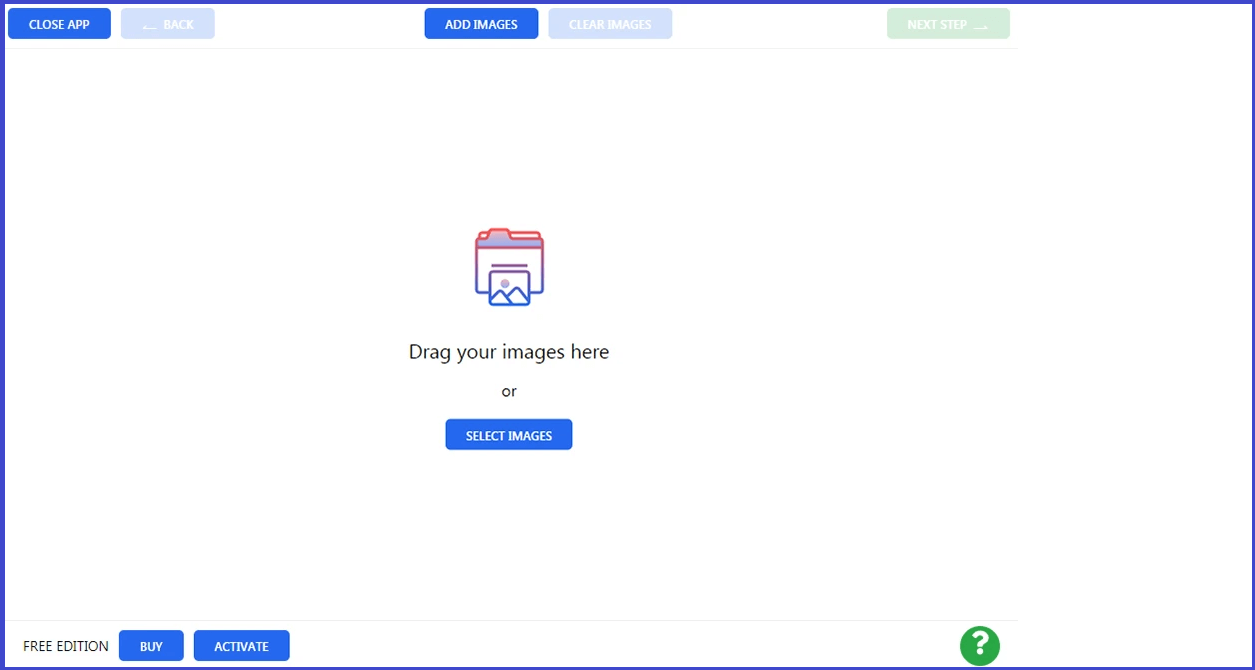 It lets you upload your photos from Google Drive, Dropbox, Google Photos, or your computer.
You can simply click on "Clear" to remove all uploaded images. Select the image(s) and click on "Next Step" button.
Design Watermark
Now, you can go with Textual or image logo. You can even use the built-in logos in the tool gallery. Open the editing kit by clicking on text or logo. A textual watermark mentioning "Sample" appears on your screen. You can change the text by simply clicking inside the rectangular region. You can even change its color and size, adjust opacity, rotate it, and drag it to any place.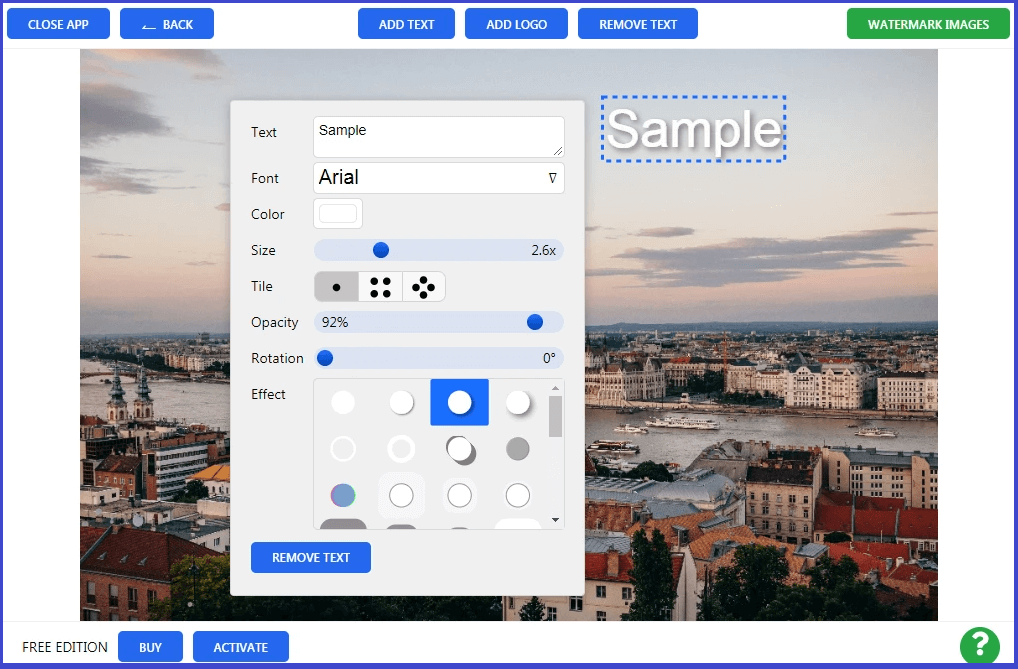 You can even find the list of last 10 watermarks that you have used in your images. You can also remove any active watermark by simply clicking on "Remove watermarks" option.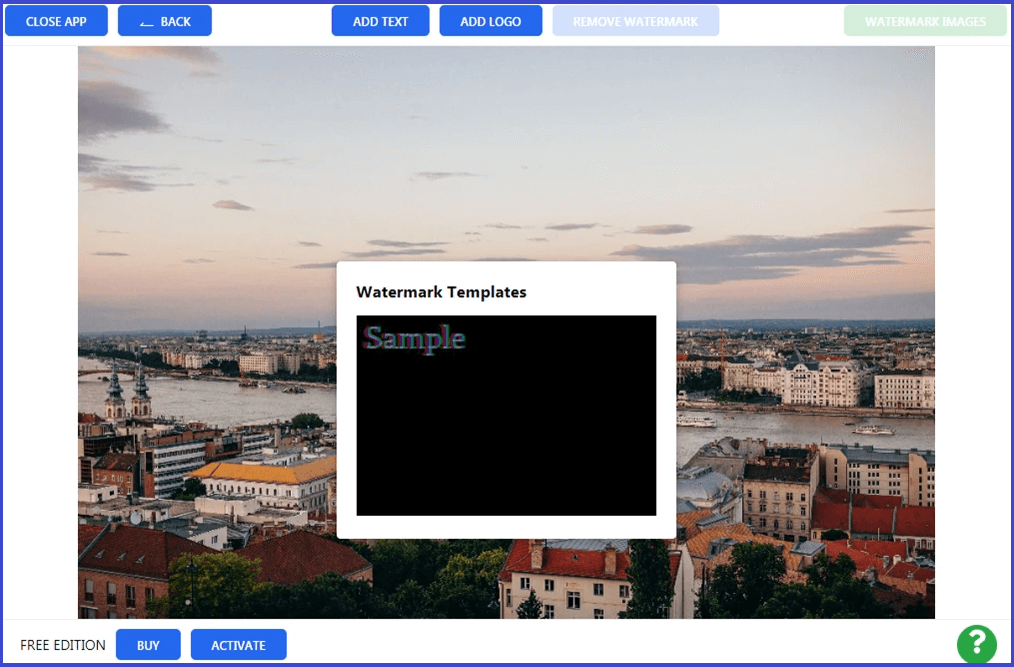 Specify the Output Settings
Click on "Watermark Images" and go to Output Settings. You will find two options here. You can set the quality of watermarked images to medium, good, superb, and maximum. The higher the quality, bigger will be the image size.
The second option is to resize the images. Post lower resolution images so they cannot be stolen.
Click on the 'Preview' button to see how your image will look. Click on the cross at the top-right corner to close preview.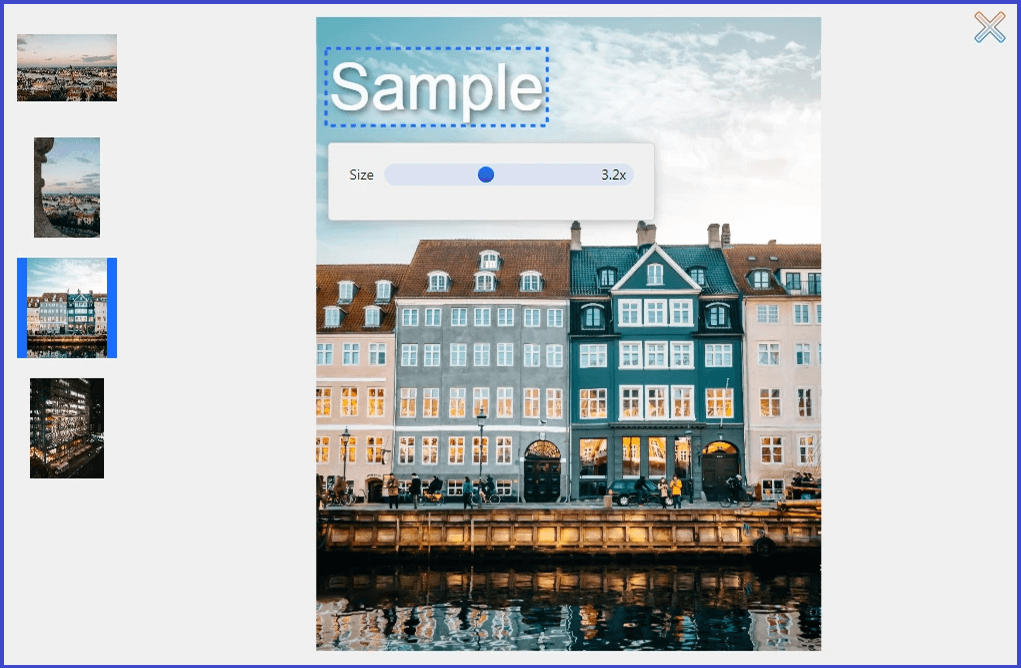 Apply Watermark
Now, click on "Apply Watermark" to begin the watermarking process and click on "Download All" to download complete set of images watermarked as a zip file.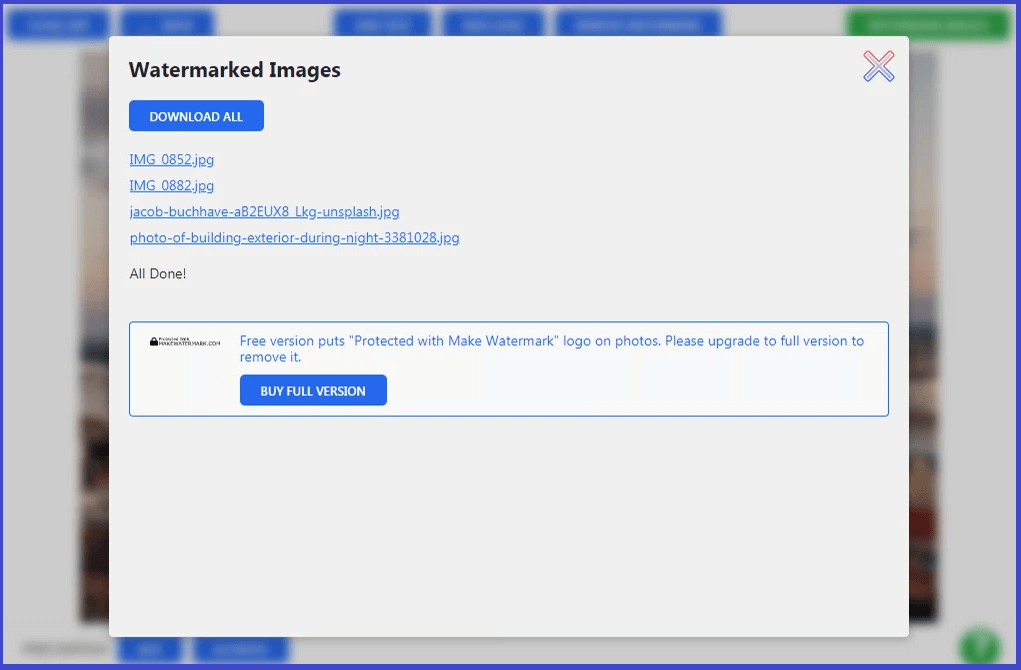 You are now all set to use these images anywhere without a fear of these images getting stolen.
The Bottom Line
Make Watermark has completely streamlined the watermarking process for images easy. Now, anyone can watermark their image(s) and protect them from getting stolen. Try your hands on it today.