Mac systems are designed for professionals who need a super smooth computer system with enough space to store their important files. If you use a Mac system and face performance issues due to junk files, then here's a solution for you. BuhoCleaner is an all-in-one Mac Cleaner Software designed to remove junk files, large files, duplicate files, etc.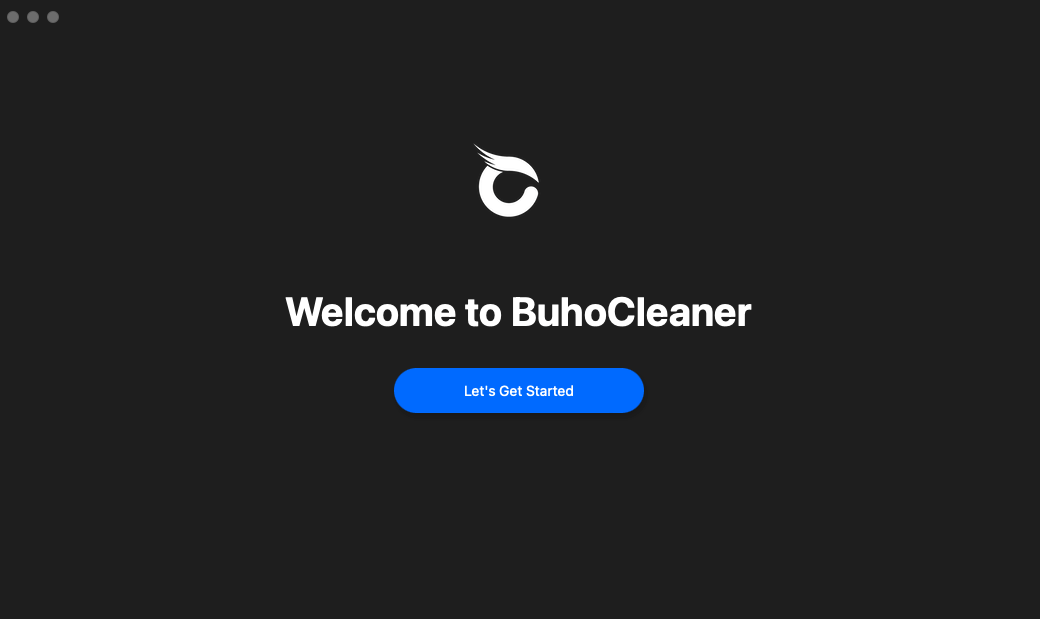 Users can choose the appropriate option to scan for junk files and delete them from their Mac system to free up space. The best thing about this Mac Cleaner tool is it improves your Mac's performance by freeing up RAM space. The BuhoCleaner Review gives you all the information about this software. Let's get on to the details now!
About BuhoCleaner for Mac:
Most Mac users complain about their system performance very badly after several years of use. It is just because of the storage of unwanted files you never know. Yes, there are plenty of files stored in your Mac that are completely irrelevant. One should remove all such files from the system to run it smoothly. BuhoCleaner can help you fix all such problems by using the simple built-in scanning feature.
To know more about this Mac Cleaner tool, one should follow the list of all the useful tools which you can utilize to clean up the junk files and run your Mac system smoothly.
1. Flash Clean
Flash Clean is the most useful tool available on the BuhoCleaner app. The tool is designed to scan for the junk files stored on your Mac system and lets you remove them all with just one single click.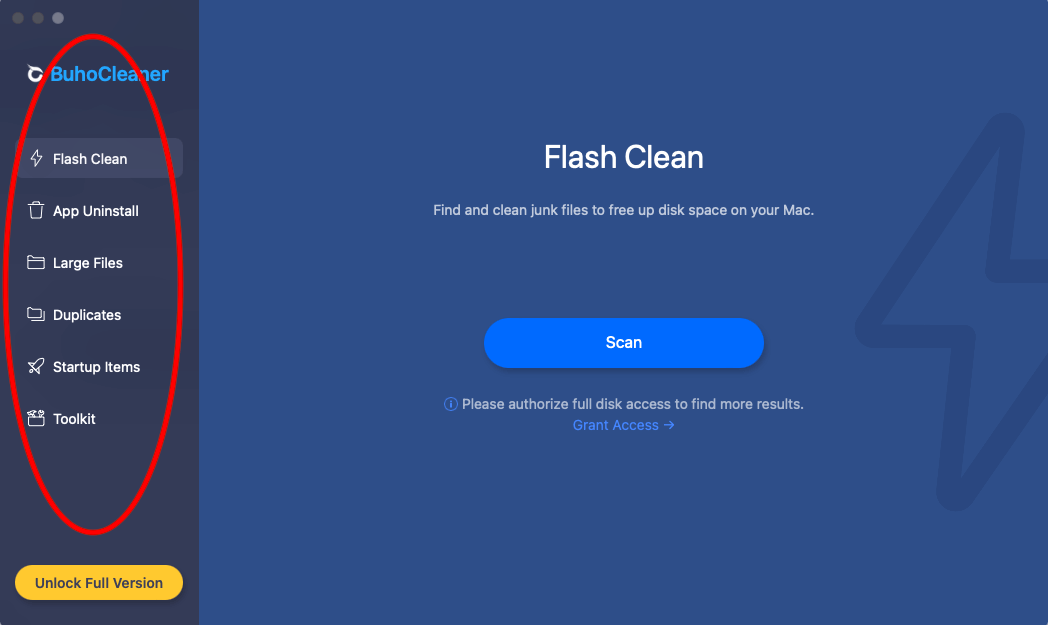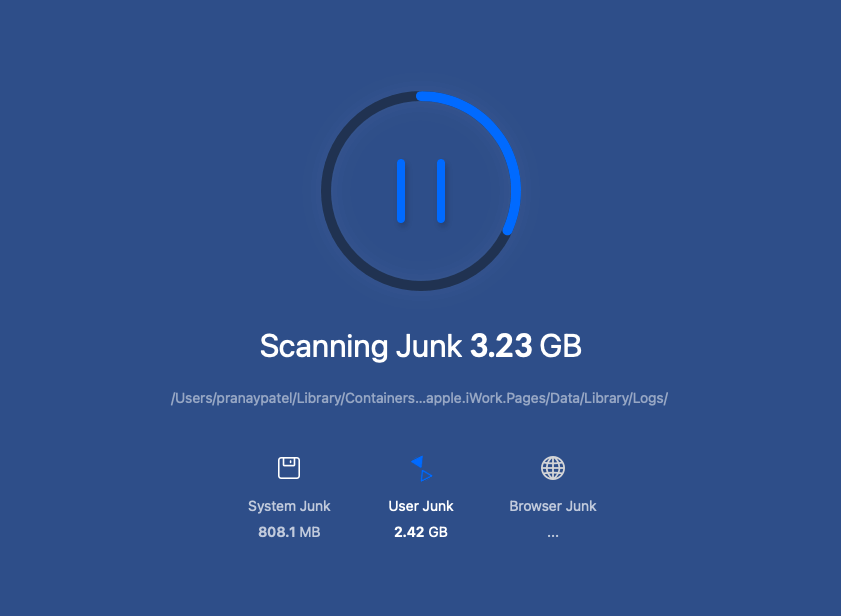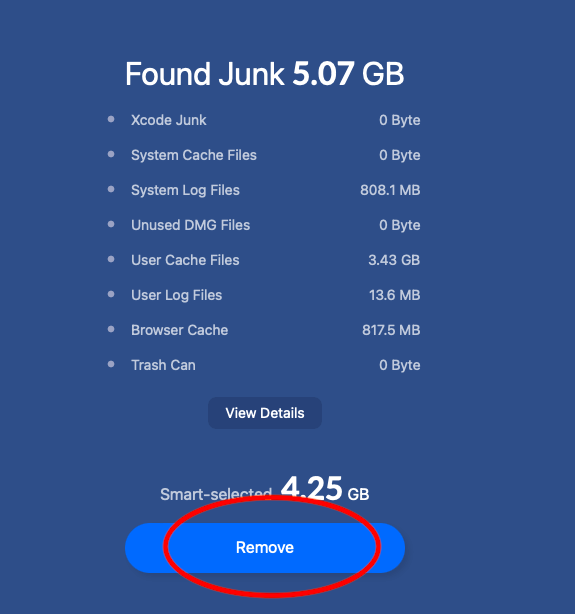 To clean up the junk files, you need to first scan for such files using the Flash Clean tool. Open the BuhoCleaner app, select the Flash Clean option from the left sidebar. Click the Scan button to scan for the junk files on your Mac system.
It takes a few seconds to complete the scanning process. Soon, you will be presented with the details of the junk files stored on your Mac. Click on the Remove button to remove all the junk files with one go.
2. App Uninstall
We often forget to uninstall the unwanted apps that we install on our Mac just for testing purposes. There are some stubborn apps on Mac that can't be removed completely. They remain as it is on your system's hard drive with all the files associated.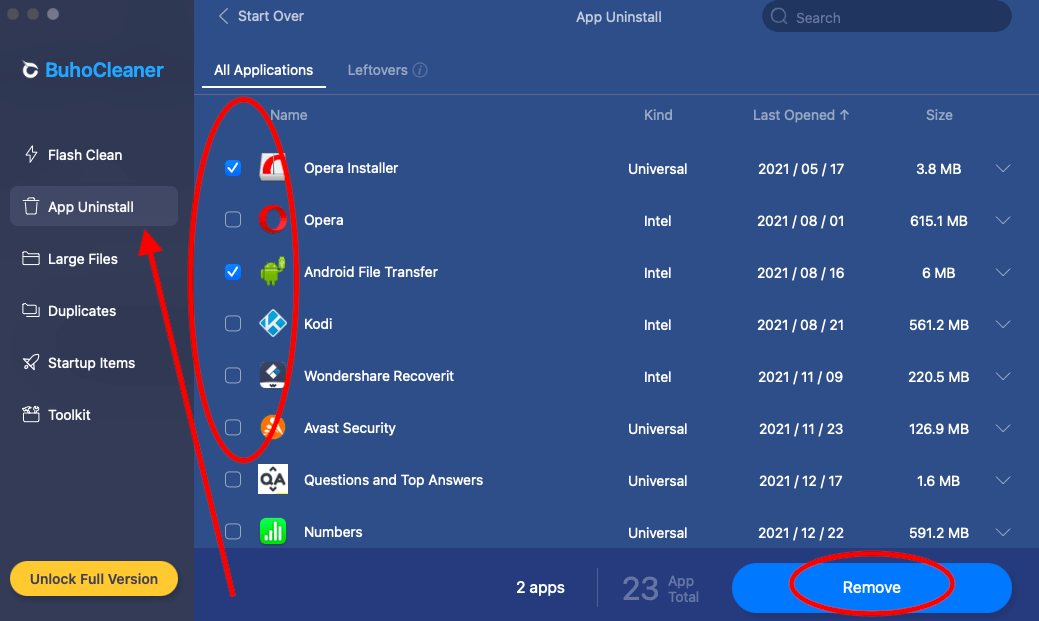 When you use the App Uninstall tool, you can remove all such stubborn apps and their files from your Mac's hard drive completely. Just select the App Uninstall tool from the left sidebar. The list of apps will be presented to you on your screen. Select the apps which you want to delete, and then click the Remove button. All the selected apps and their data will be erased from your system.
3. Large Files
Large Files store most of the space of your Mac's hard drive. When you use the Large Files option, you will see a list of all such files stored on your Mac. Just select the files which you want to delete from your system and click on the Remove button. The tool will remove all such files from your system instantly. This will help you free up some space and also improve the performance.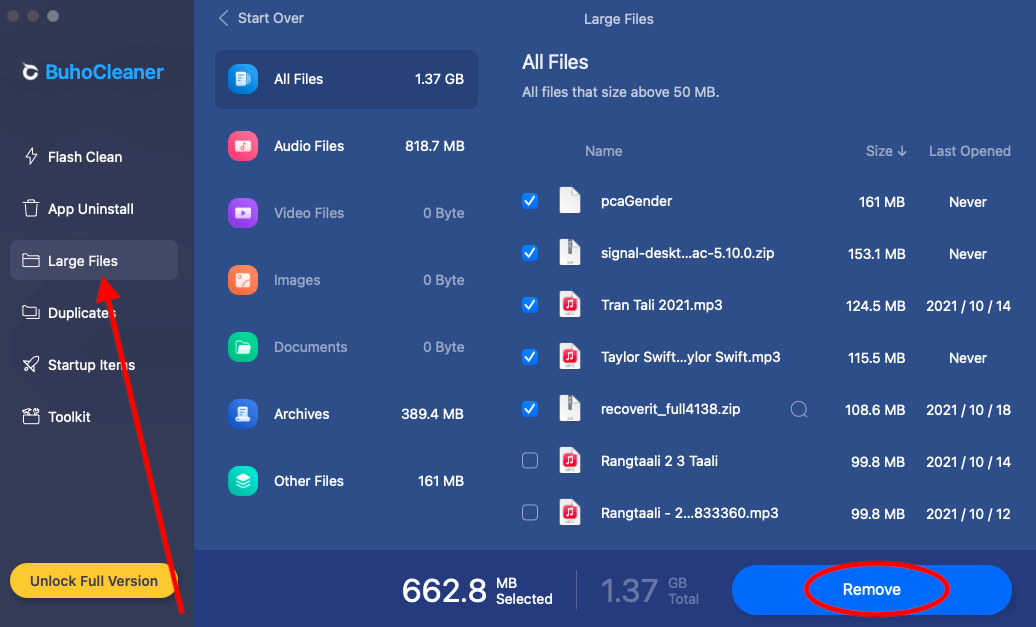 4. Duplicate Files
There are many duplicate files stored on our Mac which we never know until we search for them using the Duplicate Files removal tool. The Duplicate Files Removal Tool from BuhoCleaner allows you to search for duplicate files and ask you to remove them from the system as per your requirements.
Just select the Duplicates option from the left sidebar and select the files which you want to remove from the system. The tool will erase the select files from the hard drive and this way you can free up the storage space from your Mac.
5. Startup Items
When you switch on your Mac, a list of programs starts automatically without your inputs. You can manage such items by using the Startup Items i.e. the Startup Management tool on your Mac.
When you don't have control over such items, they will keep on consuming the CPU and RAM of your system which reduces the performance level. These items launch themselves even if you don't require them. Just use the Startup Items option from the left sidebar and control the startup items to improve your Mac's performance.
BuhoCleaner: Pros and Cons
Pros:
Intuitive User-Interface
Easy-to-use software
Runs faster
Removes unwanted junk files and duplicate files quickly
Reasonable pricing
Cons:
The trial version has a limited space removal functionality of just 3GB.
Product price is same for taxable and not taxable countries like for US, price is "Your total is $12.99 (inc. 0% Tax)" and for UAE its like "

Your total is 

$12.99

(inc. VAT)" . No clue why is it like this.
BuhoCleaner for Mac: Pricing
BuhoCleaner's full version is available with three different options. The pricing plans are listed below:
This plan allows you to use it on a single Mac system. The Single Plan costs you $12.99 which is a one-time payment for a lifetime.
This plan allows you to use it on three different Mac systems. The Family Plan costs you $19.99 for a lifetime for three Mac systems.
The Business Plan is for enterprises with multiple Macs. The Business Plan costs you $39.99 for 10 Mac systems for a lifetime.
The Bottom Line:
BuhoCleaner is undoubtedly the best MacCleaner tool present in the market for all Mac users. The tool serves as an easy-to-use interface and comes with a set of useful tools to free up space and improve the performance of your Mac system. Go and give it a try by installing the free version of the app. Once you are completely satisfied with it, you can then go for the Full Version of the App.