In this digital world, it's easy to work with different files and documents on a PC or laptop. Thankfully, we have a set of software and apps to open all file formats easily. PDF is the most common and highly used file format which is being used by millions of PC and Smartphone users.
If you work on a Mac system, then the PDF Reader Pro is here for you. This software has been redesigned with new powerful tools allowing users to do a variety of activities on a PDF file. PDF Reader Pro Edition is for Mac users. Here, we have reviewed this software with all the details that you might want to know.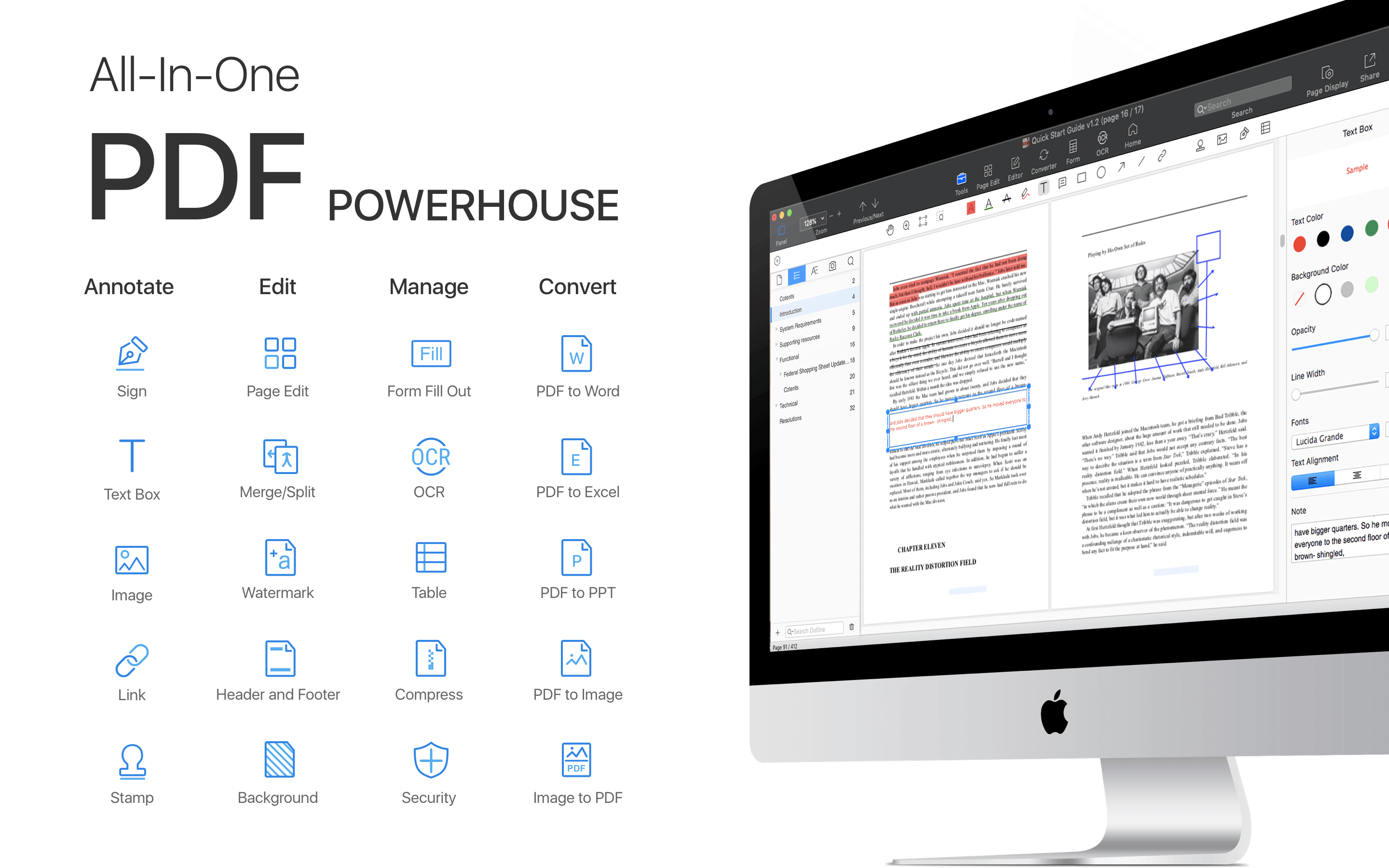 PDF Reader Pro Edition:
PDF Reader Pro support 7-day free trial
PDF Reader Pro educational discount
Advanced user-interface
PDF Reader offers advanced reading experience with its clean and simple interface. It's effortless and more productive for everyone who works with Portable Document Format files on their Mac systems. The interface of this software is easy-to-use with different sections. You can get the right tool and annotation from the given sections.
There are a separate toolbar, bookmark and other advanced tools available on this software for all types of users. As per your requirements, you can pick the suitable tool from the Toolbar to work with your PDF file. You can simply edit the file as you want and can share or save it to your system with just one click.
It runs smoothly and offers you the best of experience of working with Portable Document Format files. The software is completely different from the old-age ones, which is specially designed for the Pro-users.
Annotations
You can edit the Portable Document Format file with simple annotation tools which are available on the Toolbar. You can markup PDF files with underline, freehand and many other ways. You can also insert an image or replace texts and change the colors of the text as per your choice using these advanced tools.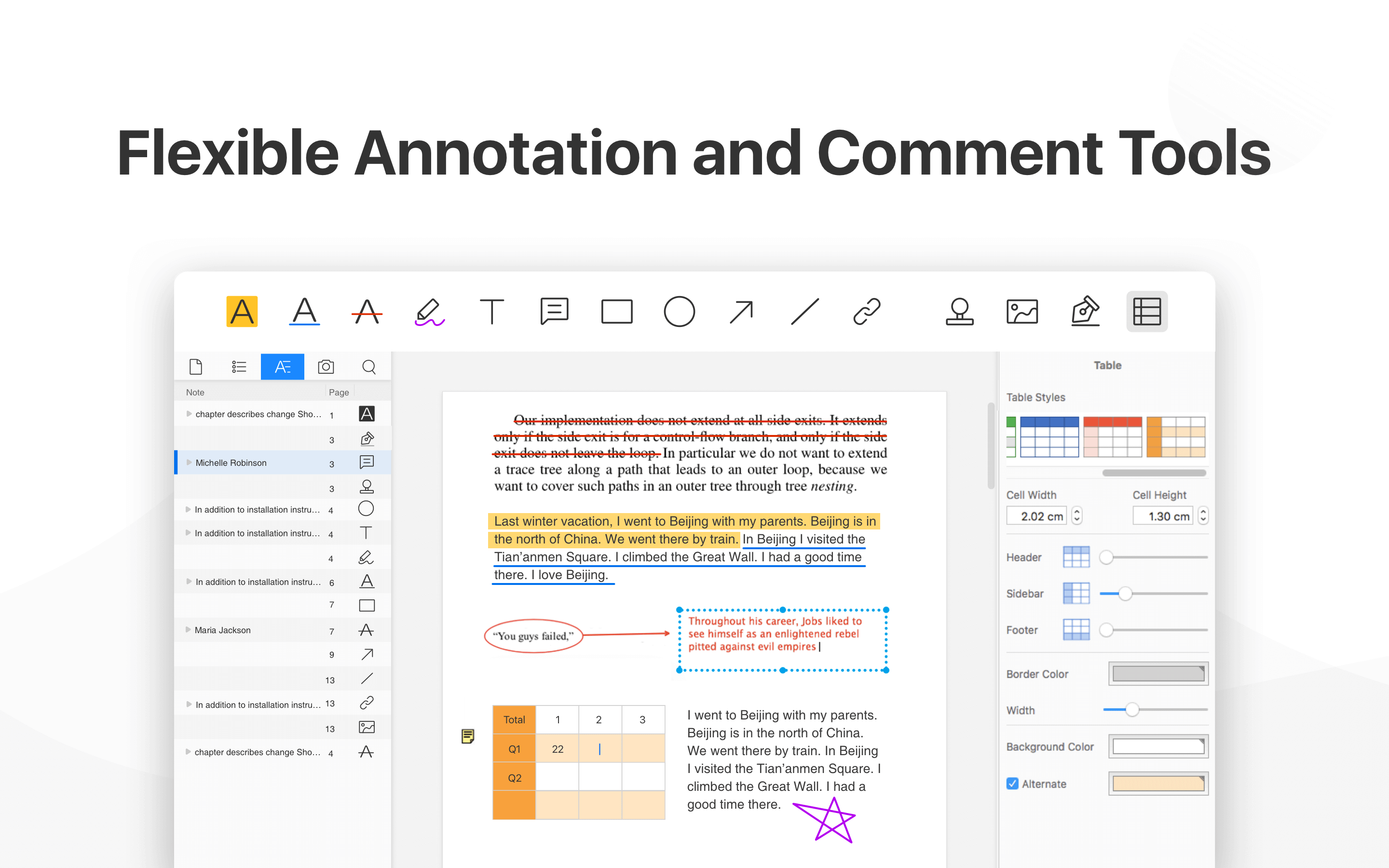 PDF to Office Converter
This newly designed Reader supports multiple tools to work with a range of file formats. You can simply convert a Portable Document Format file into MS Office docs using its built-in Portable Document Format to MS Office Converter.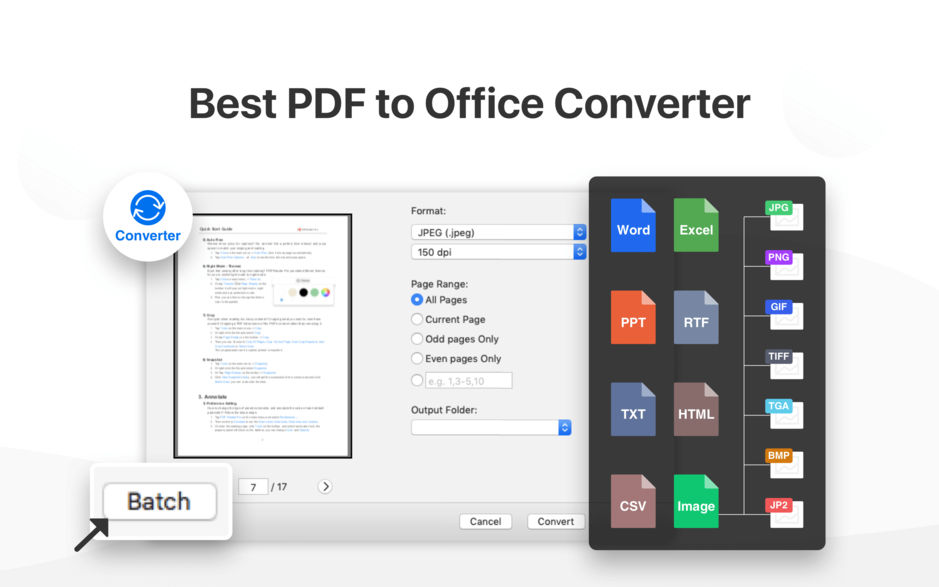 Everything will be managed by the tool and you don't need to re-arrange the bullets and fonts if you convert the Portable Document Format file with this built-in tool. You can convert the file format to DOCX, PPTX, XLSX formats as per your choice.
Additional Converters
Apart from MS Office, the same tool lets you convert the PDF file into many other formats. Once you open a PDF file with this software on a Mac system, you will see a range of options. On the top bar, you could see different sections from which, you need to select the Converter tool.

Once you select this tool, allowing you to convert a PDF file into Word, Excel, PPT, CVS, RTF, CSV, HTML, Text, Image. Apart from this, you can also convert an Image to PDF file using this Converter.
Built-in OCR
OCR lets you fetch the Texts from a PDF file that can be used with other files such as Word, Excel etc. This PDF Reader software has a built-in OCR tool allowing you to edit and fetch the texts from any type of PDF file. It supports over 50+ languages including English, Chinese, German and many other more.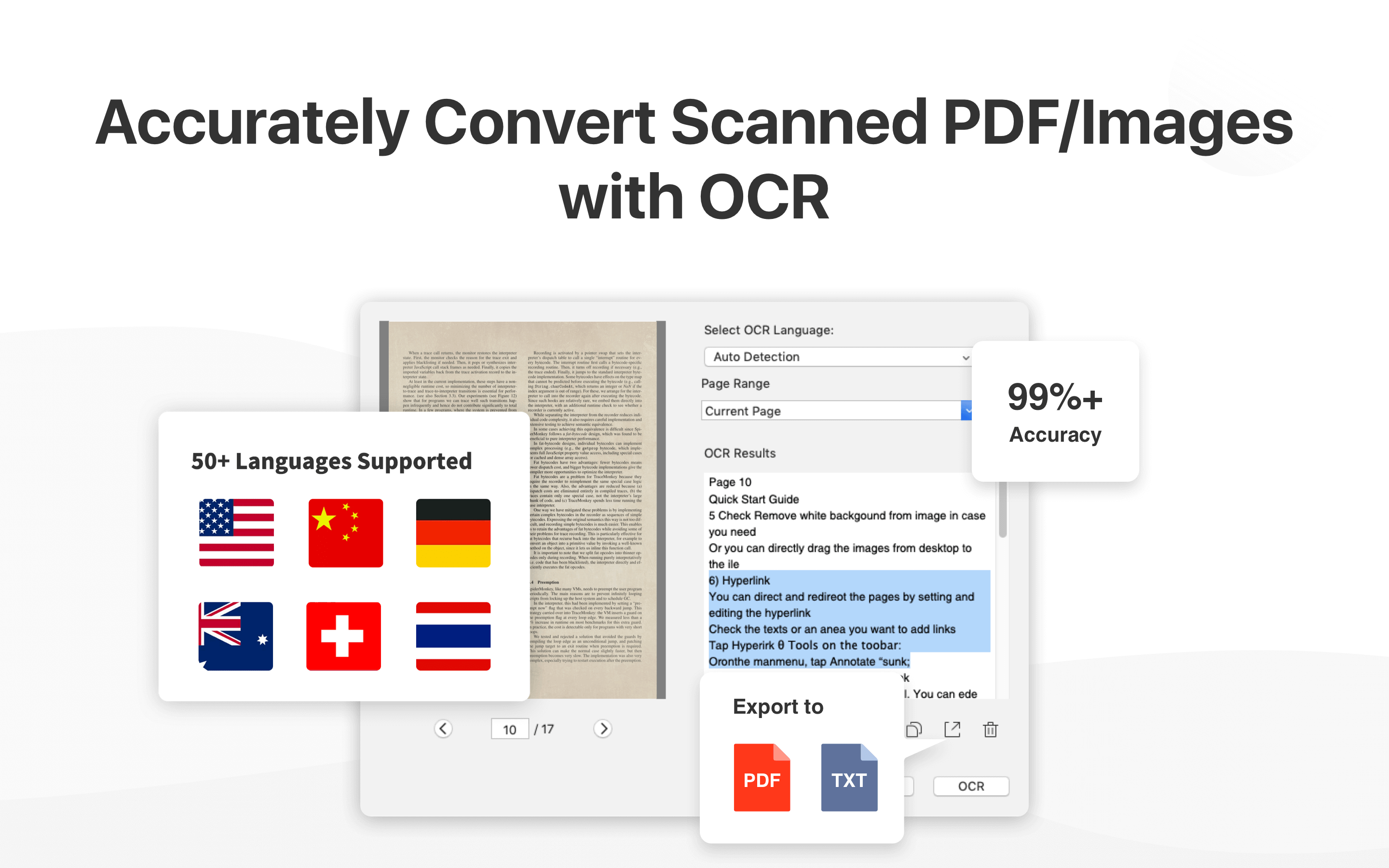 It also lets you export the PDF file into a Word file or as a Text file with 99% accuracy. It is more powerful than other OCR file converters of the market.
Create and Edit Forms
The software has added a new Forms section to let users create a fillable form through this software. This is yet another advanced feature added to this software which lets you create a professional-grade form with bullets, buttons and other useful tools.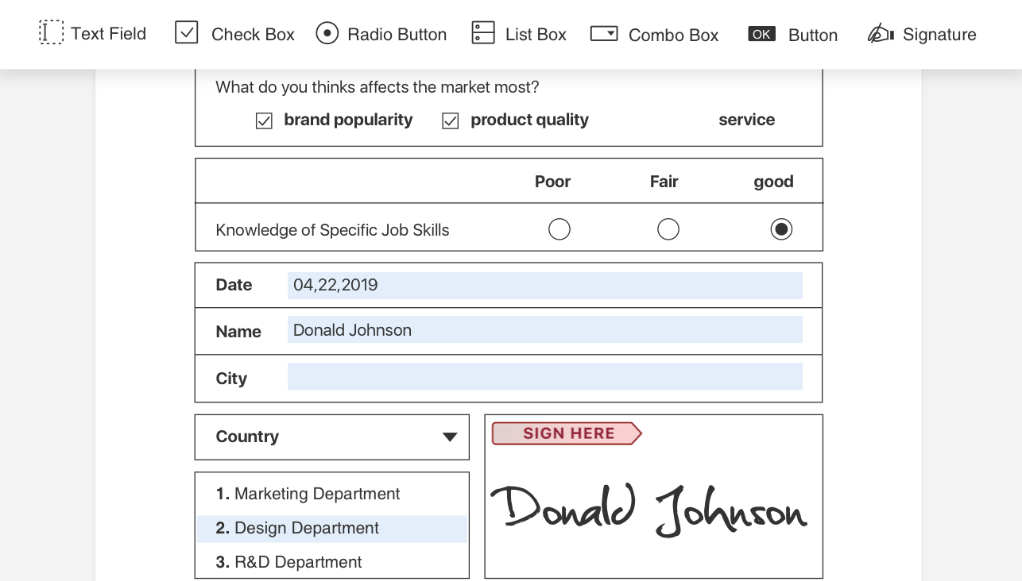 Apart from this, you can also create Tables with Columns and Cells using the built-in Tables tool. You customize a Table or Form as you want using different tools. Just select the tool with your mouse and it will be ready to use there.
Additional Features
Apart from these advanced tools, the software is packed with a range of advanced features which are extremely useful for the users. Annotate, Edit, Manage, Merge, Convert, Images, OCR, Tables, Links, Watermark, Sign, Header- footer page and many other more. All these tools are ready-to-use on this software.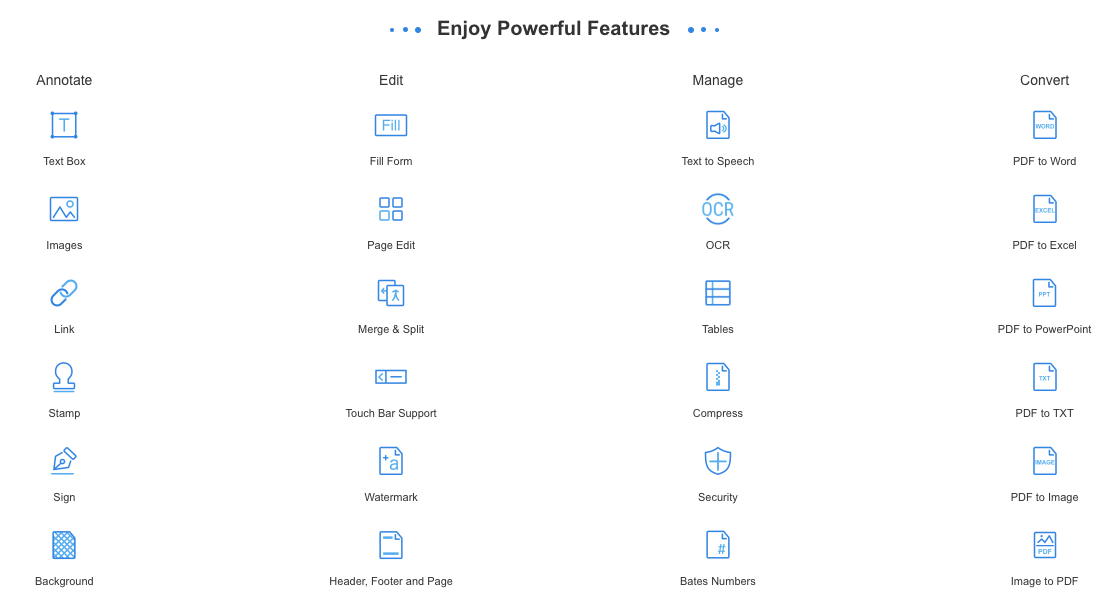 Other Essential Tools
There are many useful and essential tools available to Rotate your document, to Crop it or to take a Snap of a certain part of the Document. All the tools are available ready-to-use on this software. You can also save your document by clicking on to the File and selecting the Save option given there.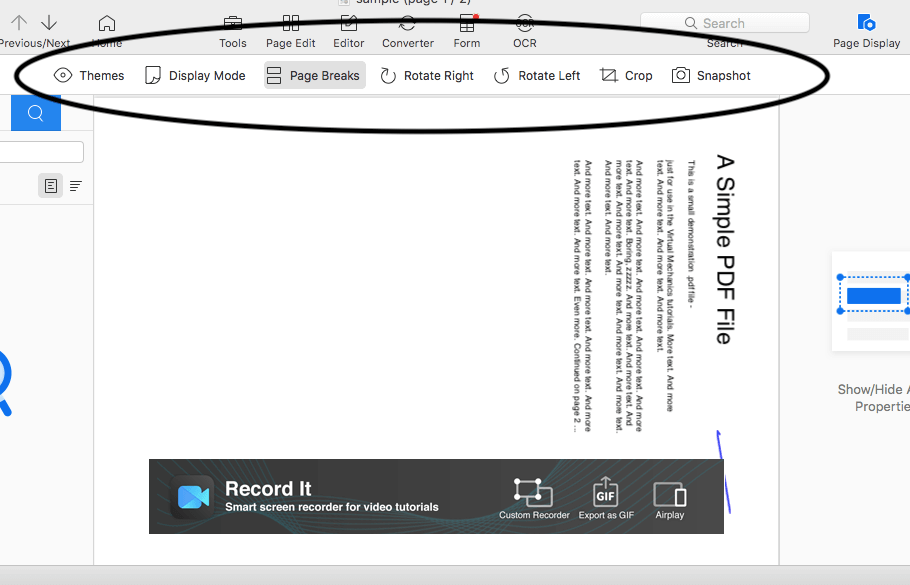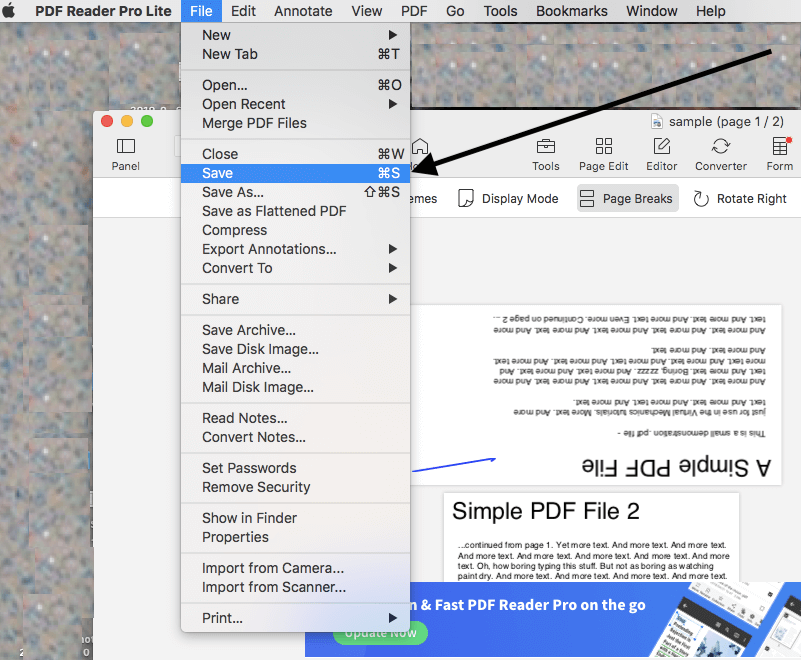 Whats more ?
You can get the pro version for just $59.99 till July 15th 2019 and you can visit this page to get it.
Final Words:
There is numerous PDF Reader Software available on the web-world for your Mac system. PDF Technologies, Inc has redesigned this edition which brings a set of new tools and features for normal users.
This Pro edition is compatible with multiple iOS, Android, Windows and macOS devices. You can make use of this software for so many document-related tasks on a Mac system. It's a must-have multi-purpose tool for advanced users.