The world is shifting towards wireless charging technology to get rid of traditional cables. You can take any modern goods such as smartphones, smartwatches, earphones, headphones, and cases are charged by wireless technology. Nowadays, we have plenty of gadgets around us coming from different brands and we cannot carry one charger to meet power requirements for all devices. Every manufacturer is coming forward with their own wireless charging technology, so it is difficult to carry all bricks.
What is JoyGeek 3-in-1 Wireless Charger?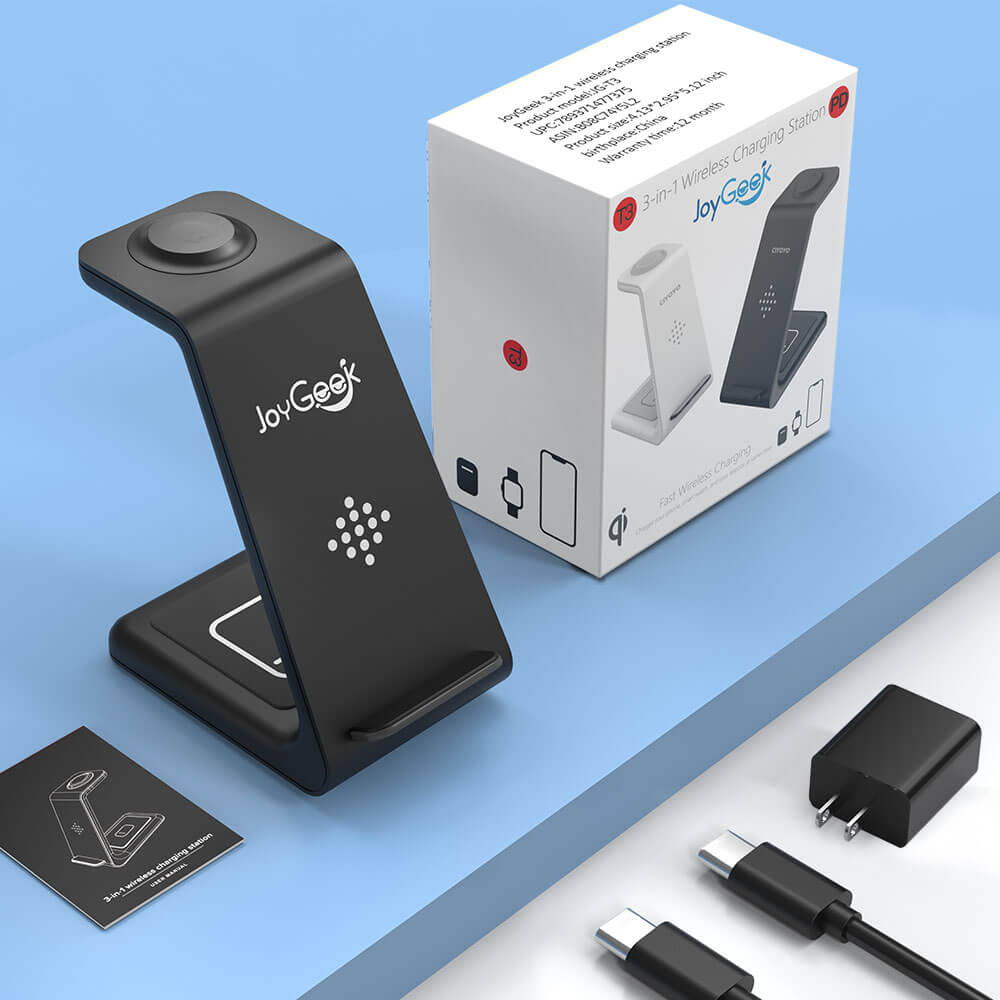 Fortunately, the third party is not bound by the first-party manufacturers, and they are free to come up with unique solutions. JoyGeek 3-in-1 Wireless Charger is a unique solution that we've been waiting for a long time. As the name suggests, the wireless charger does multiple things that eliminate the problem and you can one charger to power up all devices. Let us look at a number of features and functions to determine, whether it is worth considering or not.
Device Support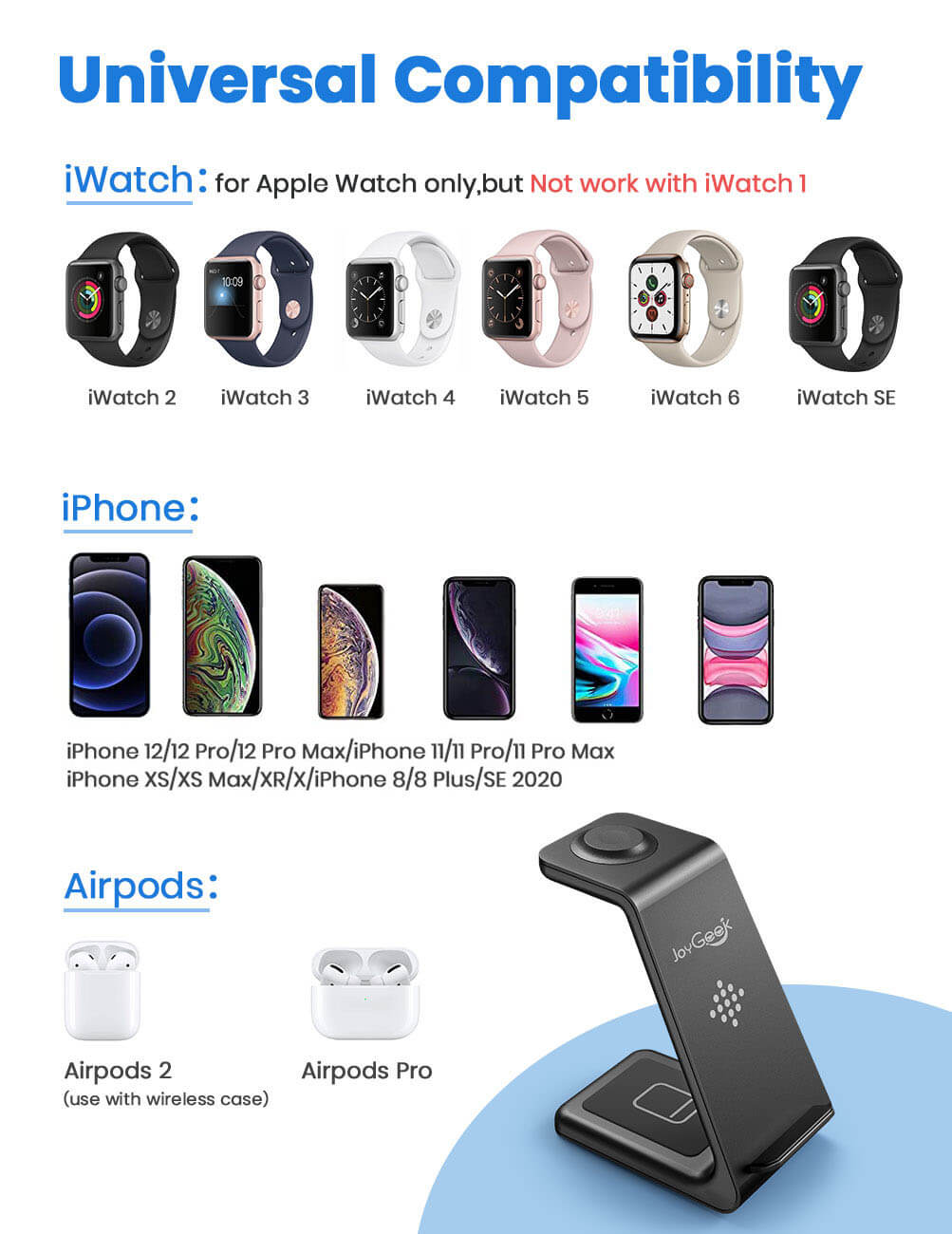 1. On the Top : 3W
iWatch 2, 3, 4, 5, 6, SE
2. On the Front : 10W / 7.5W
iPhone 12 /12 Pro /12 Pro Max/ SE 2020 / 11/ 11 Pro / 11 Pro Max / XS Max / XR / XS / X / 8 / 8 Plus
Galaxy S21 / S21 Plus / S20 / S20 Plus / S10 / S10 Plus / S10e / S9 / S9 Plus / S8 / S8 Plus / S7 / S7 Edge / S6 Edge Plus
Galaxy Note 20 / Note 10 / Note 9 / Note 8 / Note 7
NOTE : This wireless charger is not for iPhone 12 mini
Support all Qi-Enabled phones
3. On the Back : 5W
Airpods Pro, Airpods 2, Pixel Buds
Galaxy Buds Pro, Buds Live, Buds+ Plus, Buds Plus
NOTE : Buds need charge with the wireless charging case.
Also can charge Qi-Enabled phones
I would purchase the power solution if it can charge multiple devices that I own in the backpack. JoyGeek Wireless Charger can power up AirPods, smartphones, Apple Watch, and more. The manufacturer designed the solution to support Apple devices (iPhone 8 or later) and Qi-Enabled Phones.
The iPhone will charge at 7.5W.
Apple Watch will charge at 3W.
Your Airpods 2/Pro will charge at 5W.
Your Samsung and other Qi-Enabled devices will charge at 10W.
You cannot give away the fact that you can charge up to three devices at the same time. None of the devices will fall short of the number of watts during the process because the manufacturer ensured that every machine will get listed watts per second.
Design (Build & Form Factor)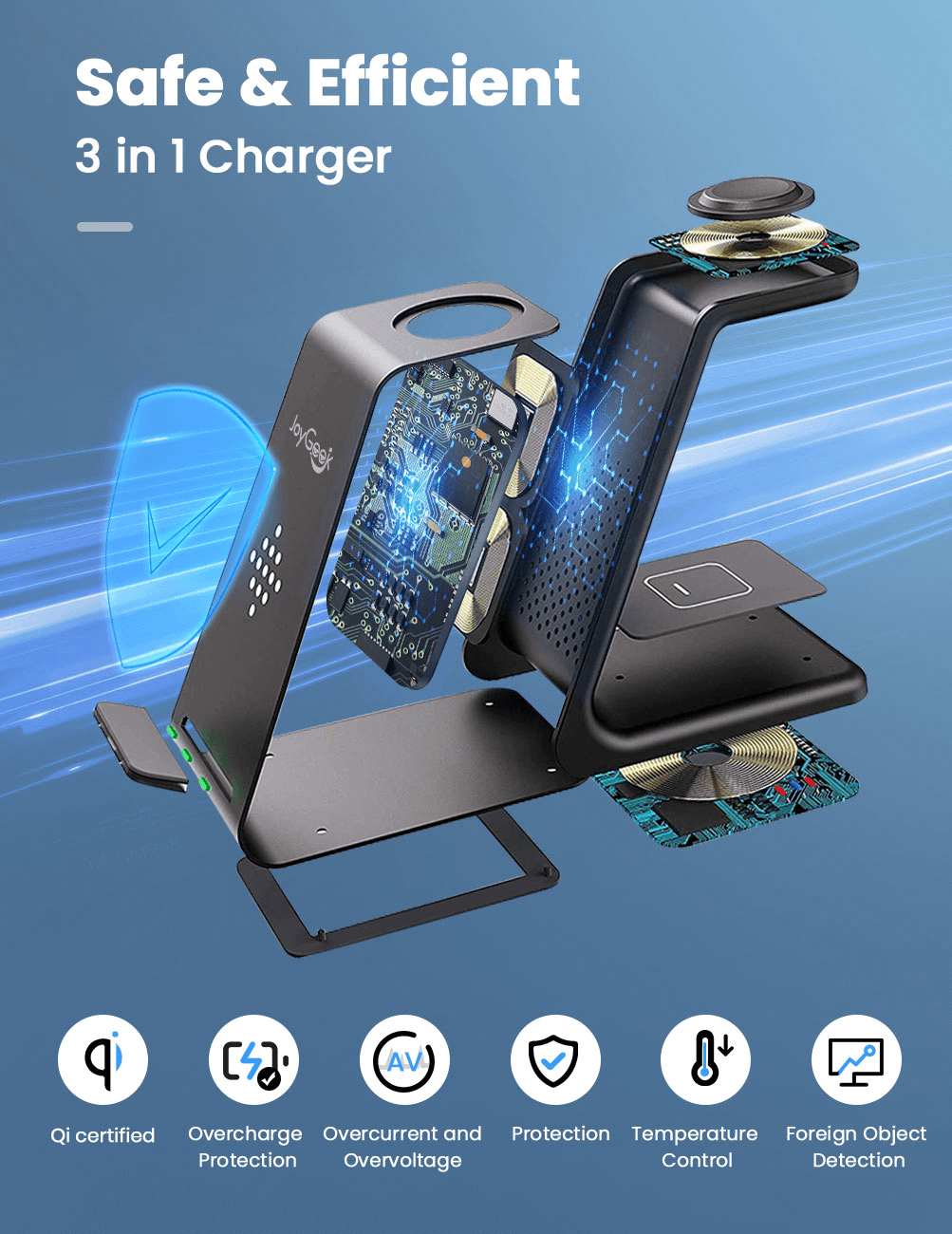 A three-in-one charging solution? We are talking about a solution that is easy to carry and doesn't consume lots of space in the backpack.
The manufacturer went with ABS material, which is a thermoplastic polymer. The ABS material is capable enough to withstand heat and fire-resistant. You don't have to worry about over-voltage or short-circuit protection because the ABS material on this build is high-quality. Of course, there are important components made out of metal, but the housing is ABS plastic.
The upright charging dock does stand out and gives you a nice look while charging the devices. You can let the phone stay upright or natural position, in my opinion, and concentrate on what's important. JoyGeek added magnets to hold the devices in place, so there is a lesser chance of falling.
We have to take time and appreciate the JoyGeek 3-in-1 Wireless Charger technology because it is an art. One cable is connected to the power socket and charges three devices at once, so you can maintain a cleaner look. The small dock does consume lesser area on the table and carries all devices smartly. Overall, it is an ideal design to carry multiple smart devices in one place.
Safety Features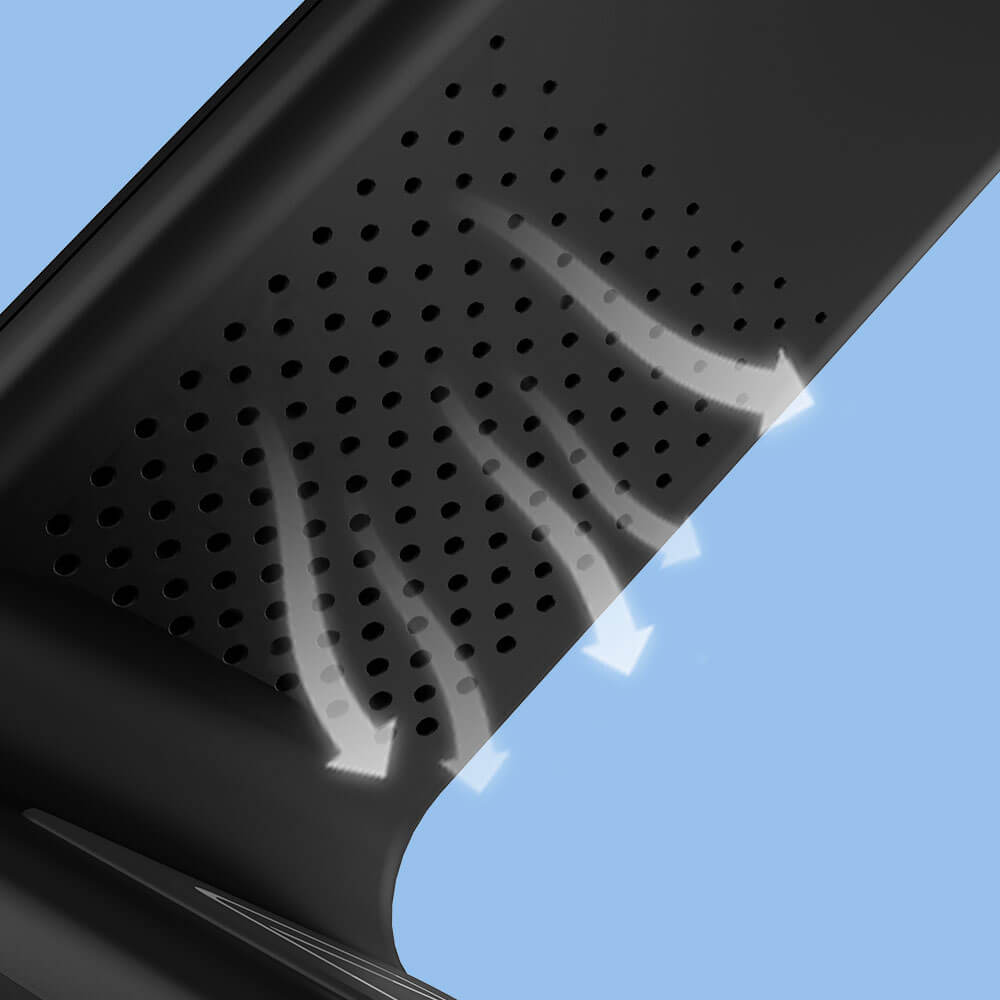 A charger is a powerhouse, even if it is small in size and JoyGeek did not cheap scape here. The ABS material is known to take on the heat, and the company added heat dissipation holes on the back to release the heat. The product is fire-resistant and have temperature controls to manage the surging heat. The wireless charger is Apple certified by Qi, and you don't have to worry about safety at all.
Smart Indicator
Millions of users leave the smart device to charge overnight, which is a common phenomenon. Charging docks have LED lights that turn out to be powerful during night time. JoyGeek designed the LED lights turning off after 20s for night users, so you can sleep the entire night and don't have to worry about sharp lights coming from the dock.
Pricing
The most attractive part is the pricing, as it is inexpensive when compared to the OEM products.
You got a smartphone charging dock.
B. An Apple Watch charging dock,
C. AirPods 2/Pro charging dock.
You can charge three Apple and other Qi-Enabled Phones at $46 including shipping on Amazon.
Customers get a 2-years warranty from JoyGeek.