Baby cries are considered as an alien language, which takes experience, and a lot work to understand a baby cry because they cannot express their issues in words, so they use their tears. Just because one has experience with babies doesn't mean that the structure would be the same for every baby.
Every baby has its pattern and way of expressing their feelings and problems, which is why mothers are considered as the right person to understand their babies.
What's the solution?
Every baby has a pattern, which is unique, but that does not mean you cannot tell their pain. We always tell that smartphone is the most powerful technology a human can have in their palms.
Over the years, many scientist and researchers are working on various studies, where anyone can find the pain of the baby just by listening to their cries.
Inspired by the collection of university papers on baby cries and long personal research on cry sounds digitally on a computer Baby Language Android app came into existence.
Baby Language Android app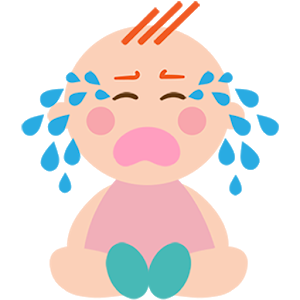 Baby language is an app that uses your smartphone MIC to capture the cries of your babies, then process it to find the right match, and give you result on why the baby is crying and how you can prevent it.
The developer of the this application has said "It's not officially proven theory by scientific standards with test persons, but the number of university papers should say enough. I combined all papers theory's and checked them with real sounds (digitally) and improved/perfected the way to recognise cries (+ added ways how to act and prevent all the cries to start with)."
One cannot trust an app service without putting them in a real test, so we have downloaded the app on our smartphone to check how well this application works.
One: Download the app
Two: After you launch the app, you can see that there are five things, which the app can recognise, they are Hungry, Burp, Bellyache, Tired, and Irritate.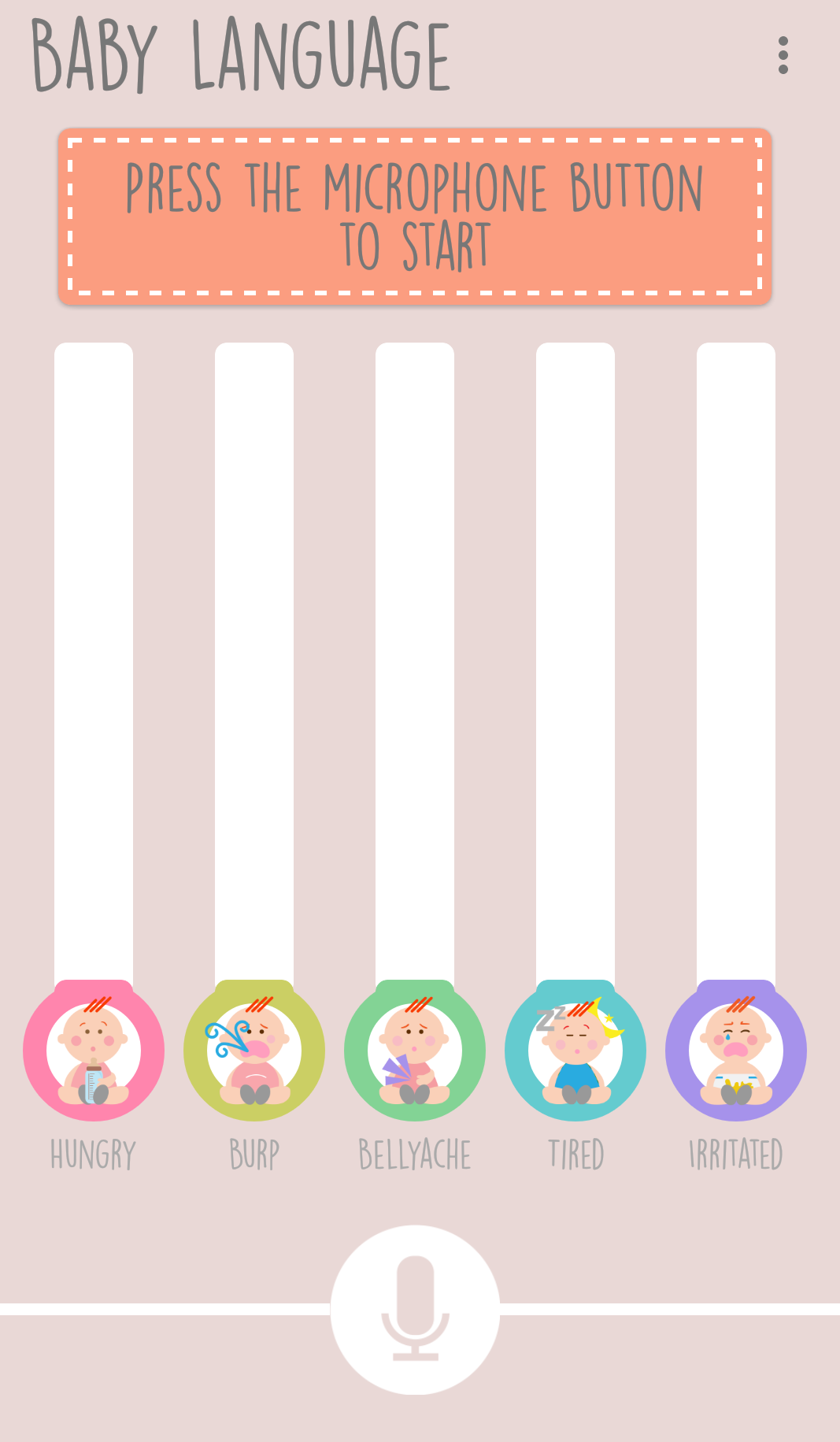 Three: Now tap on the "MIC" button in the middle bottom and put it closer to your babies mouth so that the app can capture the voice. (Approx 0.3 meters.)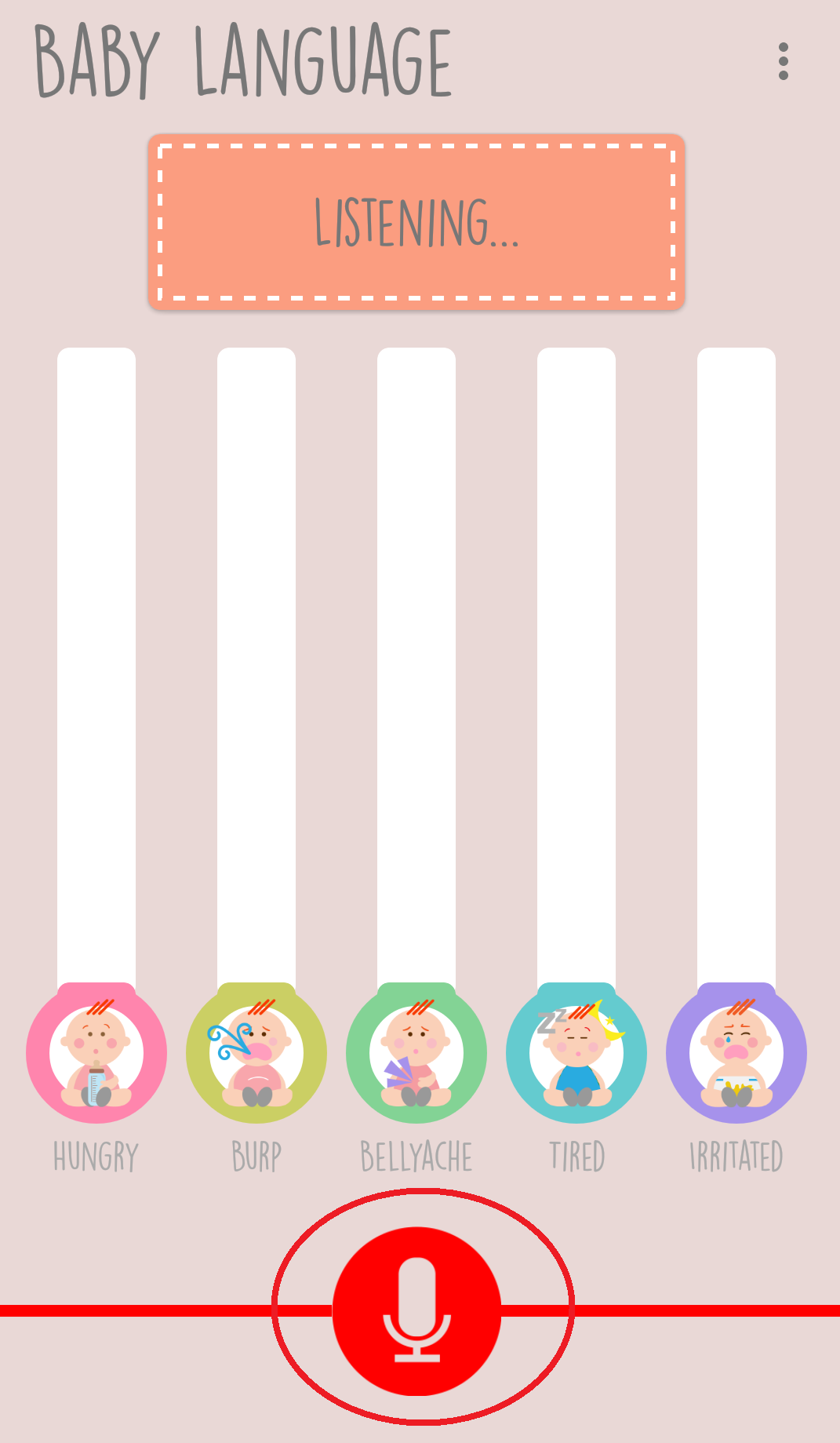 Four: Record the cry for three to five seconds, and then tap on the MIC button to stop.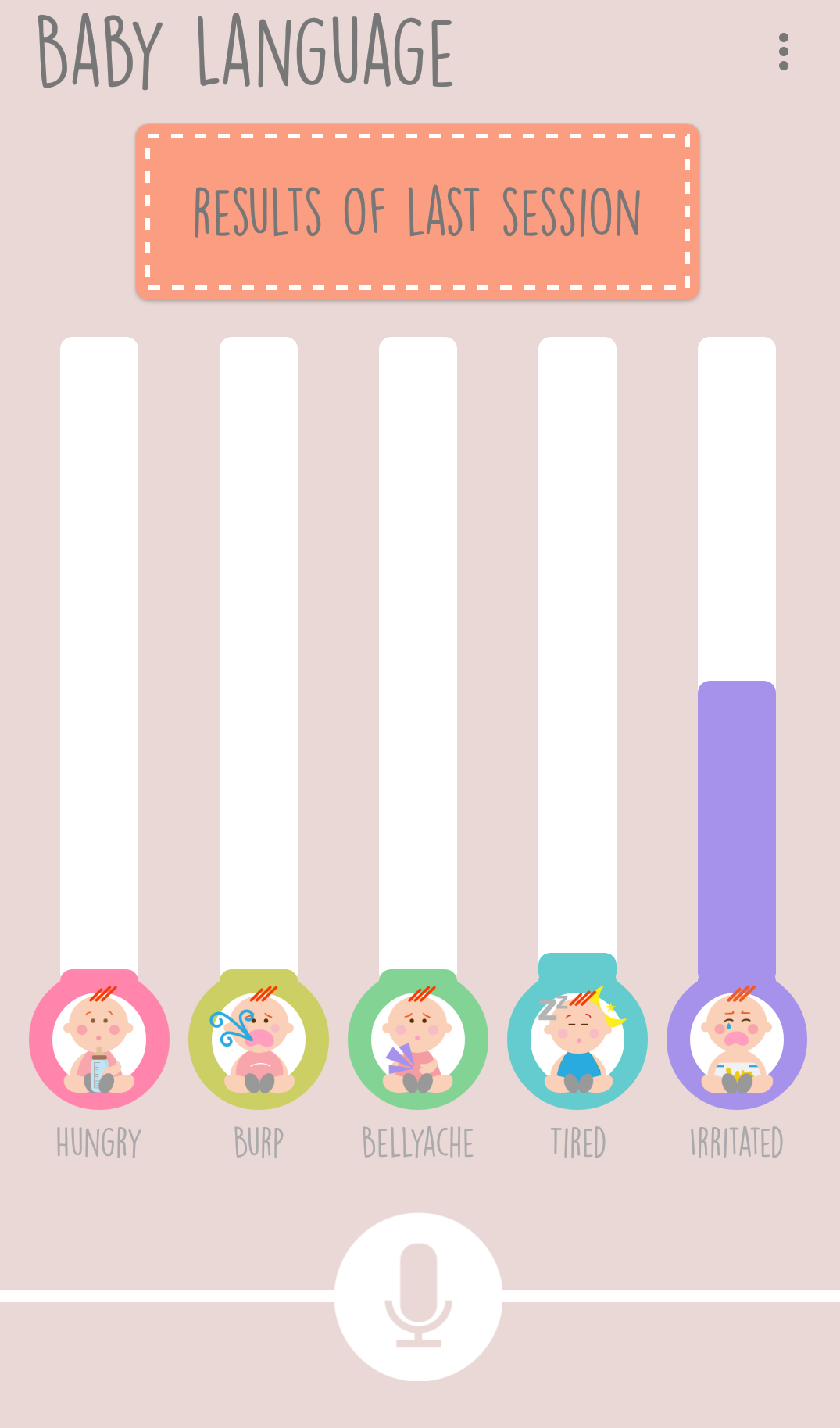 Five: As you can see that the scale has gotten up, so the results are ready to show.
Six: In our case, the baby was IRRITATED, Tap on it to view more options. You have three options in the tab, and we are going to tell you what they stand for, so you can understand it better.
Act – Act is nothing but action, where you will tell on why the baby is irritated and as you know that there are several reasons behind. Scroll down because you will find reasons on why the baby is upset. You can understand why the baby is upset and if you can understand, then you will have a clue so that you can start somewhere.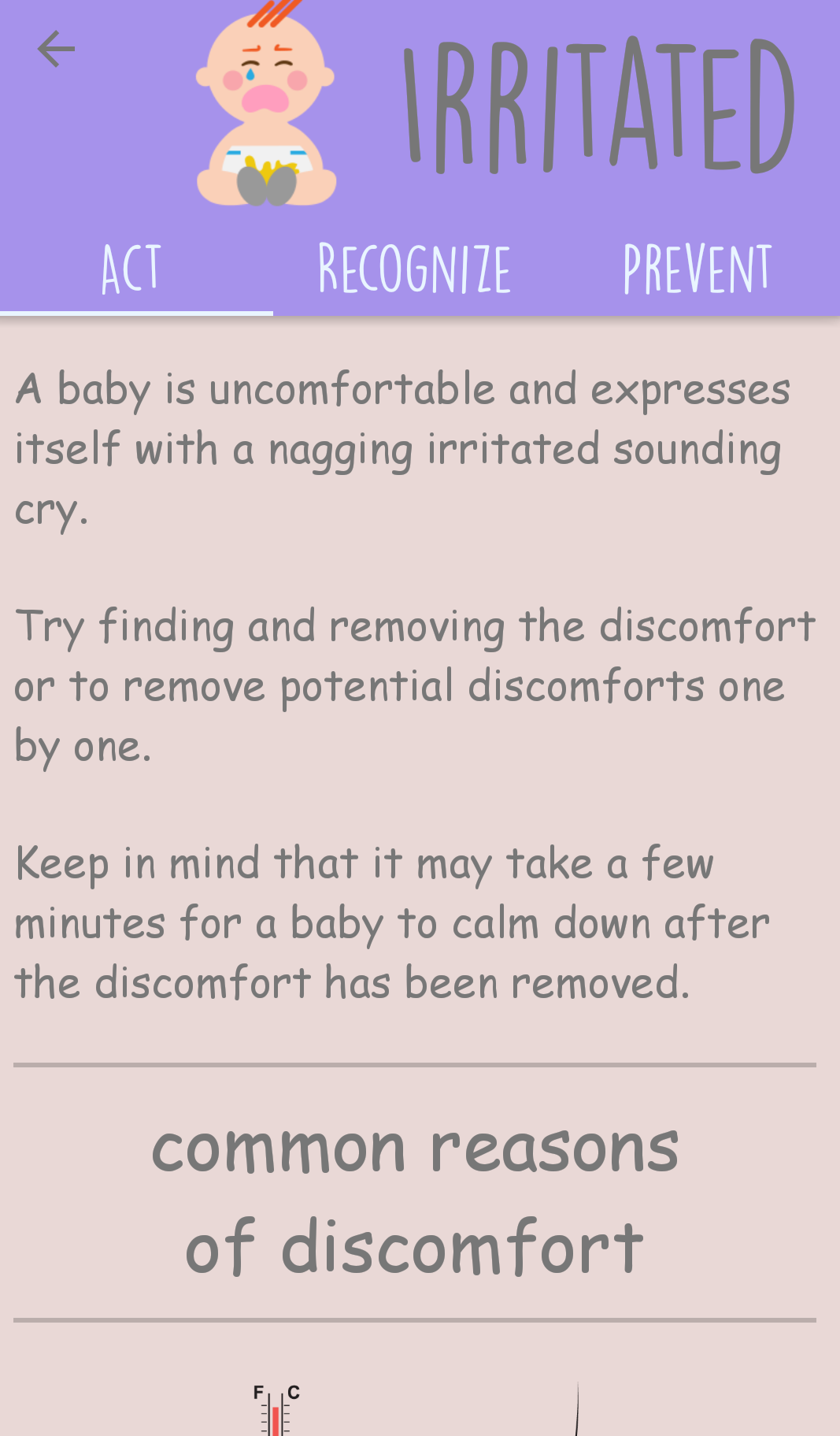 Recognise – We consider this as a fun part, where you can tap on the recordings provided at the bottom to understand babies noise with a similar problem. As you can see that the letter "H" is used when the babies gets irritated.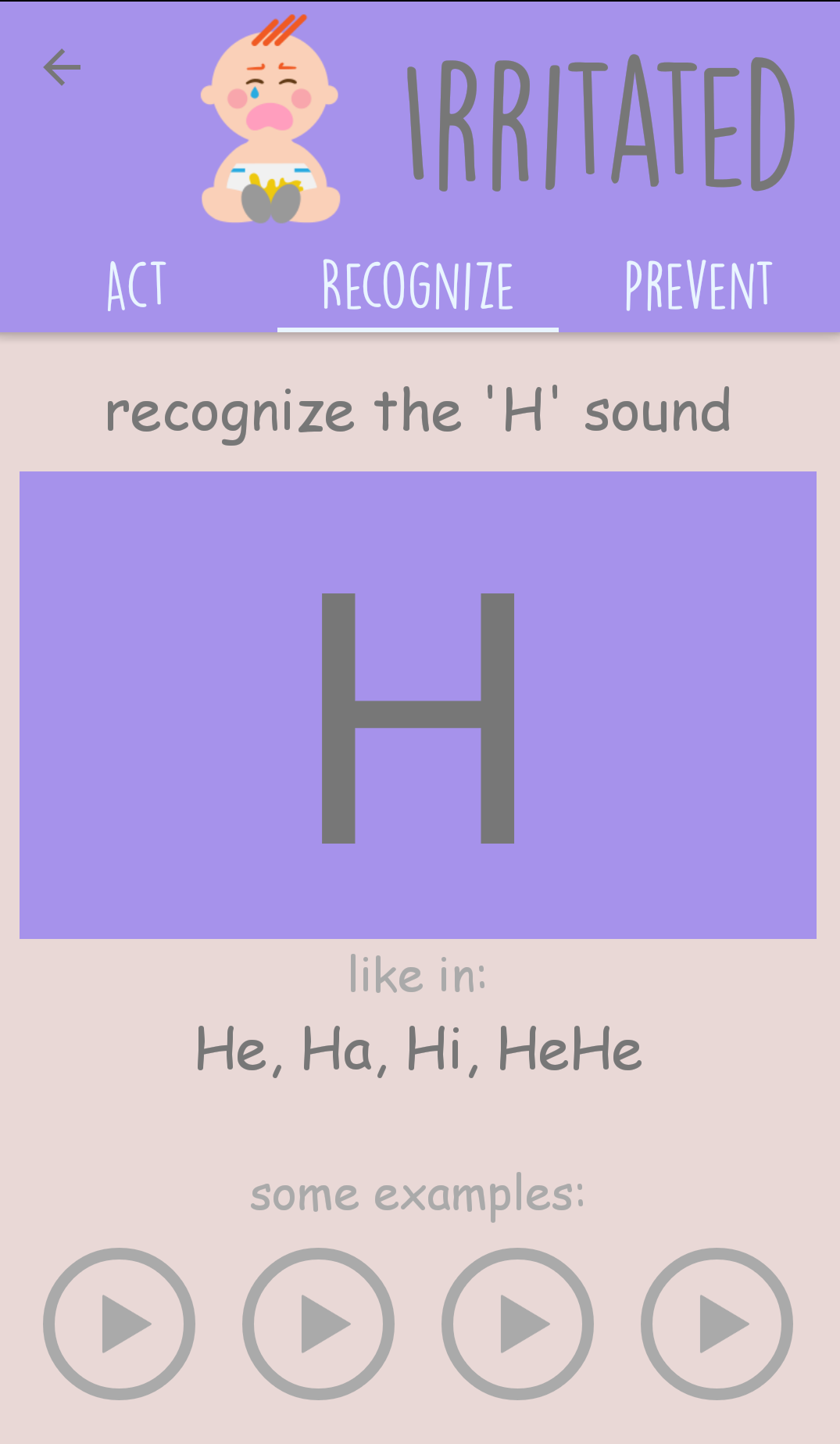 Prevent – The app also tells you how you can prevent it from happening. The discomfort comes from various reasons, so the app suggests you few things, so you begin solving the problem of your baby.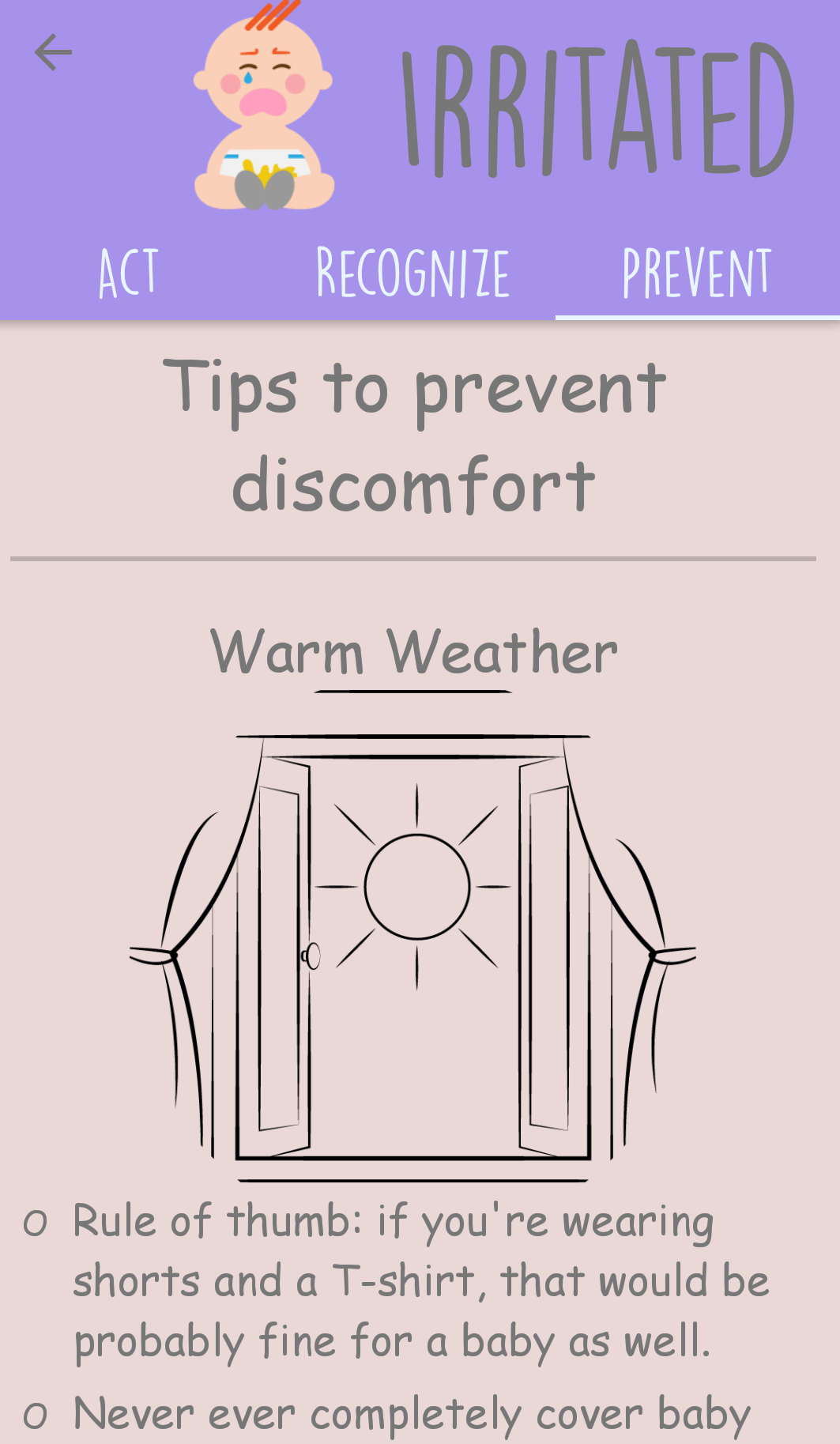 Isn't that easy?
What do we think?
The Baby Language app is not accurate, but it does help you find baby issues. The app does not give you 100% results, but it works most of the times, so we think this is helpful for new mothers and siblings, who have a baby child to take care of it.
If you are a babysitter, then you need this more than anybody else.
1 – Gives you results, but sometimes it does fail, so you repeat the process.
2 – The app is free of cost, and it does teach you a lot about baby's cries.
3 – Solutions are what the app is delivering, so you don't need to seek any extra help.
4 – The interface is simple & easy to understand.
5 – It works with newly born baby or babies below six months old.
Conclusion
The Baby Language is very useful to the new parents & babysitters, so lets us know how do you plan to use it in the comment section.