A staple in a modern woman's wardrobe, a watch is an accessory that creates a statement to keep you on track.
Even if fashion trends come and go, stylish women's watches are still becoming popular as the days go by. If you are not sure about which watch you should buy, remember always to consider your wardrobe, lifestyle, and personality. Whether you prefer to look sophisticated and classy, or active and fit, the best way to wear a watch is to wear it with confidence.
Popular Watch Styles for Women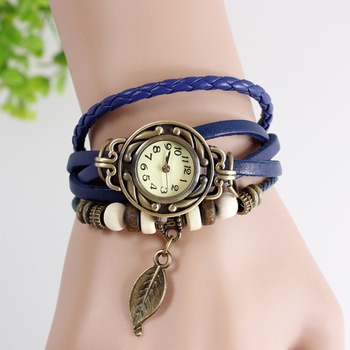 1.    Smart Watches
The smart watch technology continues to expand and produce innovative and new watches that are appealing for both men and women. A lot of smart watches are shifting from a clunky look to a more refined design. From traditional to sporty, smart watches with more chic designs are currently making a sale in the market.
2.    Rose Gold Watches
Rose gold is a blush-tone metal which is a trendy material in watches and jewelry. Watches that have rose gold cases, bracelets, and dials add a more feminine touch on classic gold. Rose gold watches are a style investment as they have a timeless and classy elegance that will never go out of style.
3.    Skeleton Watches
A lot of people think that skeleton watches are only for the gents, but ladies who are alluring and bold can use these beautiful timepieces. Several luxury watchmakers go for the unconventional by creating feminine versions of skeleton watches.
Skeleton watches expose the dial that highlights the inner mechanics and gears of the watch. If you are someone who gets fancy with the engineering and mechanisms of a watch, then these skeleton timepieces are your best choices.
4.    Boyfriend Watches
Boyfriend watches are typically chunky, oversized, and big, but women look bold when they use them on their wrists. These watches are a popular pieces in men's fashion which are worn with confidence and class. Boyfriend watches are designed to stand out since gender-bending timepieces are not common to women.
5.    Floral Watches
Flowers are commonly associated with women and it is not a surprise to know that garden-inspired fashion is the in thing. And to join the bandwagon, your accessories should complement well with the trend. Regardless if you are attending a party or go to your office, a floral watch ( https://whollow.com/product/classic-floral-watch-pink-floral-watches/ ) is always an excellent accessory to wear.
If you want to perk up an outfit, dials embossed with flowers and floral-print brands will be perfect.
6.    Interchangeable Watches
Versatility is always the key to women's fashion. And if you want to save a few bucks than buying a new accessory, interchangeable watches will help you look breathtaking and fashionable in no time.
Since interchangeable watches feature removable bands, these timepieces can be modified according to your style and based on the occasion where you are planning to use it. If you think that investing in a great interchangeable timepiece is a great idea, then make sure to have your watch customized.
7.    Printed Watches
If you want to get people's attention with your style, printed watches might be your thing. Chevron dials and leopard bands are some of the features of printed watches, just perfect for trendy-savvy fashionistas.
Printed watches are accessories that do not only keep time, but they also complete your outfit with a touch of style.
8.    Wrap Watches
A wraparound watch highlights your chic look which is a notch above the classic watch bands. Wrap watches have extra long bands which you can wrap doubly around your wrist to create a layered look.
Wrap watches are made in various materials such as casual weather or glittery stones. For you to achieve style and functionality, wrap watches are the simple accessories you can use.
9.    White Watches
White watches ( https://www.overstock.com/Jewelry-Watches/Womens-Watches/White,White,/dial-color,strap-color,/3435/cat.html?featuredproduct=5473079&products=9568512,8513417,8665098,7723640,7316092,9614163,6470354,10367628,7753033,11442308,9566617 )go with any style as the color white goes with anything. Whether you pair it with something simple or with diamond accents, these white timepieces pose a statement that shows your confidence.
10.  Bracelet Watches
Women like you might get stuck in choosing accessories when attending a party or an event. There might be instances that you are torn between choosing a watch or a bracelet. So, watchmakers have come up with a solution: a bracelet watch. ( https://www.lightinthebox.com/c/bracelet-watches_44738?prm=1.33.51.0 )
Incorporating functionality into fashion, bracelet watches have a jewelry-style band in the form of dangling charms or polished bangles which are the best of both worlds.
Conclusion
When you decide to choose the watch style that you will purchase, you always need to consider if it matches your personality, lifestyle, and wardrobe. You do not only invest in something fashionable, but you also have to make sure it is practical and functional.
If you are looking for high-quality watch parts once your watch needs repair, visit our website today.