VanceAI is the world's top site based on AI and deep learning technologies that provides productivity series of tools. In this digital era, photo editing has become a need of the day. That is the reason people need photo editing tools to make professional or outstanding images for different purposes. VanceAI is providing AI cloud-based tools such as VanceAI Photo Restorer, AI image cartoonizer, and AI image colorizer that you can use together to make images outstanding and more professional. Its popularity is exactly that it can offer a variety of AI solutions under one website. In this review, we will see the features of the VanceAI creativity series, and the results they offer.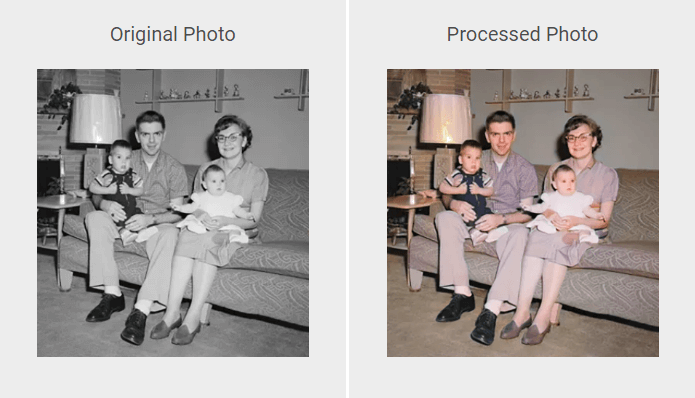 Part 1: About VanceAI
VanceAI is an online site that is offering cloud-based services to make images outstanding in one click. VanceAI is based on AI and deep learning technologies that is offering AI-based productivity series tools to make your images as pretty as you please. The tools present in VanceAI all are pretty good and available across Windows, macOS, Android, and iOS. All the tools provided by VanceAI are simple and easy to use even everyone can use these tools without any prior experience in photo editing. VanceAI's products are divided into three categories as productivity, creativity, and image editing tools. VanceAI is the world's top site and you can access it through any supported browser to get your dream images.
Features of VanceAI
VanceAI is offering amazing tools to make images outstanding with one click
Offers one-click AI photo retouching
Provides a one-click solution to restore old photos online
Helps to turn the photo into a cartoon portrait in under 5 seconds
Colorize photos online with one click to bring them back into life effortlessly
With one click turn the picture into a line drawing to get perfect art or drawing portrait
With AI JPEG artifact remover removes JPEG artifacts in heavily compressed images in one click
Provides a one-click solution to remove image background while keeping your key objects focused
Enlarge images up to 8x without pixel loss in one click
Pros & Cons
Pros
Available across Windows, macOS, Android, and iOS
Cloud-based services with flexible pricing policy
Make images outstanding in one click
A lot of AI solutions under only one website
Simple and easy-to-use tools
Offers batch processing to process multiple images at a time
You don't need to mail or ship your images
Cons
Limited free use
The free version doesn't allow you to save image
Limited export options
Part 2: VanceAI Creativity Series Review
The VanceAI creativity series is nothing but a series of image editing tools that modify an image in different ways to provide users with outstanding results and efficient graphic designs. AI creativity tools are helpful to get old photo restoration, creative cartoon portraits, AI photo retouching, and much more just in simple clicks.
VanceAI Photo Restorer: Bring Old Photos Back to Life
VanceAI Photo Restorer can help restore old photos to bring them back to life in one click. VanceAI Photo Restorer is an AI-based tool for old photo restoration 100% automatically by removing scratches from old photos online, as well as tears, spots, and sepia using AI photo restoration technology. It is a handy tool for old photo restoration without advanced skills. VanceAI Photo Restorer helps you to remove tears, spots as well as sepia from old photos online in less than 10 seconds. With VanceAI Photo restorer, not only can you remove imperfections from your old damaged photos, but also enhance the color and clarity in your old damaged photos to get the human faces in them automatically.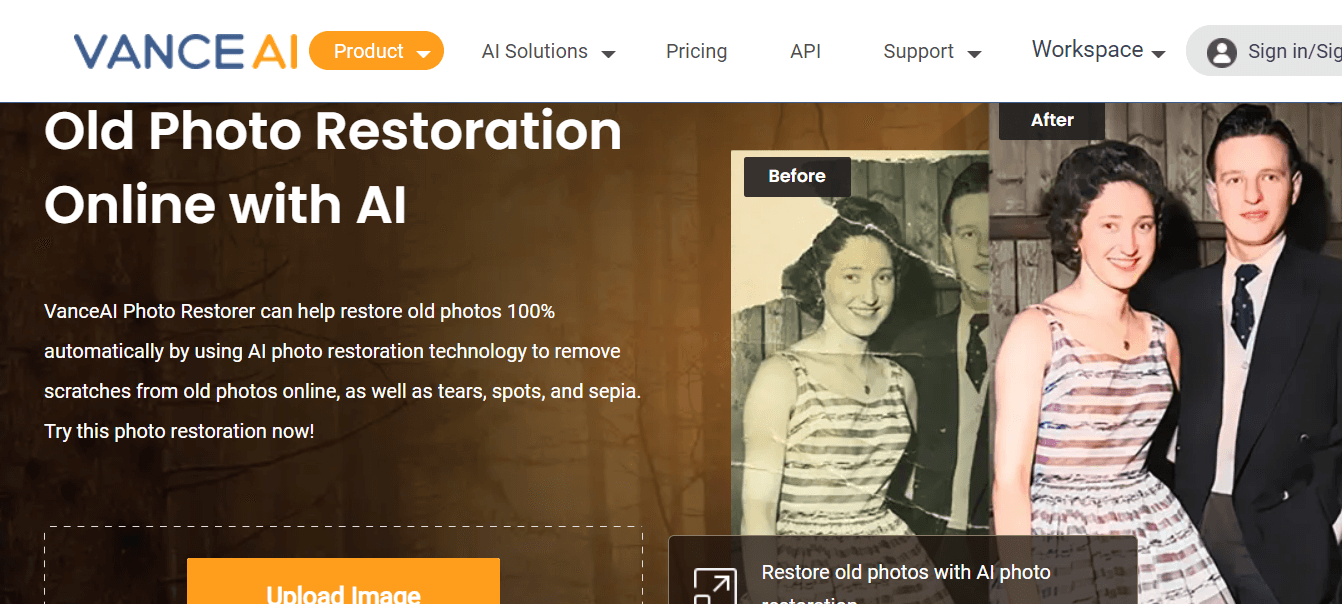 Toongineer Cartoonizer: Cartoon Yourself Online (H3)
Toongineer Cartoonizer an AI-based image cartoonizer tool that can automatically turn a photo into a cartoon picture as well as helps to cartoonize yourself online in seconds. Feel safe to use Toongineer Cartoonizer because it can delete your uploaded images after 24 hours permanently. It is powered by AI and adopts AnimeGANv2 to automatically cartoonize photos in one click so, no manual work is involved. In just one click, you can turn photos into cartoon images like a professional artist to get amazing print-level cartoon photos of landscapes, pets, food, and more. With AI Image Cartoonizer you can turn a picture into a cartoon portrait and get astounding cartoon art right before your eyes within 5 seconds.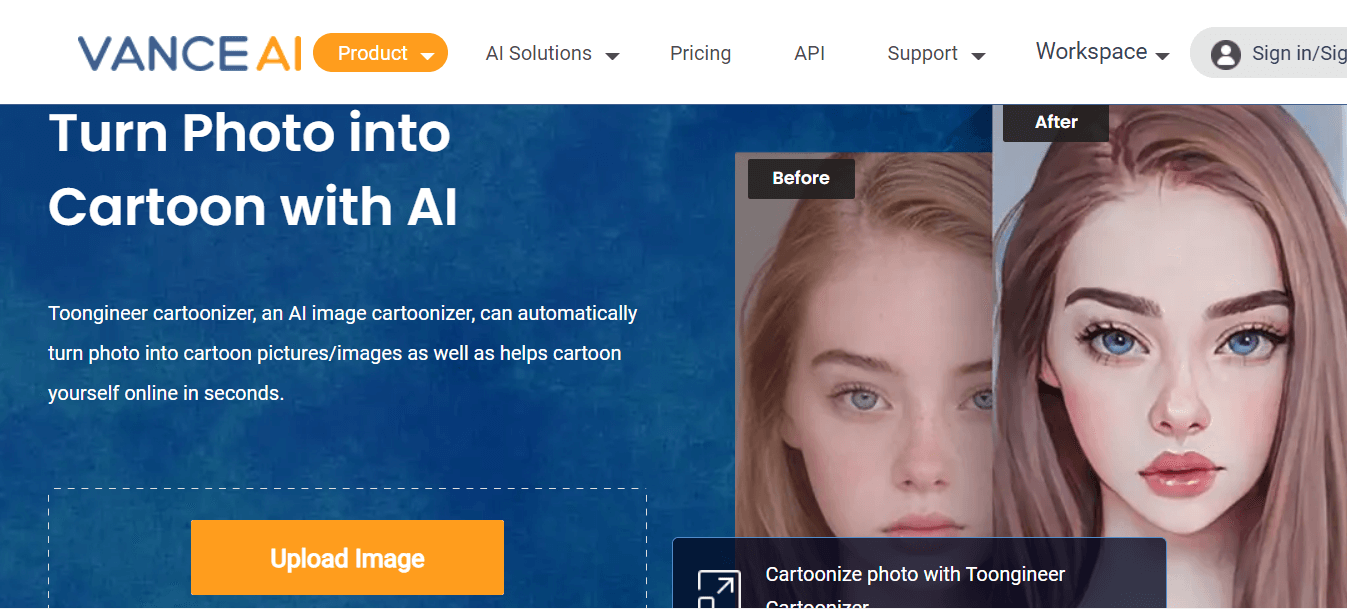 VansPortrait: Turn Photos to Line Art
VansPortrait is an AI-based converter that can turn picture into line drawing online as well as stencils, sketches, and anime portraits within seconds using deep learning and AI technology. With this AI stencil maker turn picture into line drawing or stencil 100% automatically just in simple clicks. VansPortrait uses advanced AI that helps you to turn photo into sketch like a professional artist without any effort using this AI sketch converter. It is the best tools if you are looking to try something different and win more likes on Pinterest and Reddit.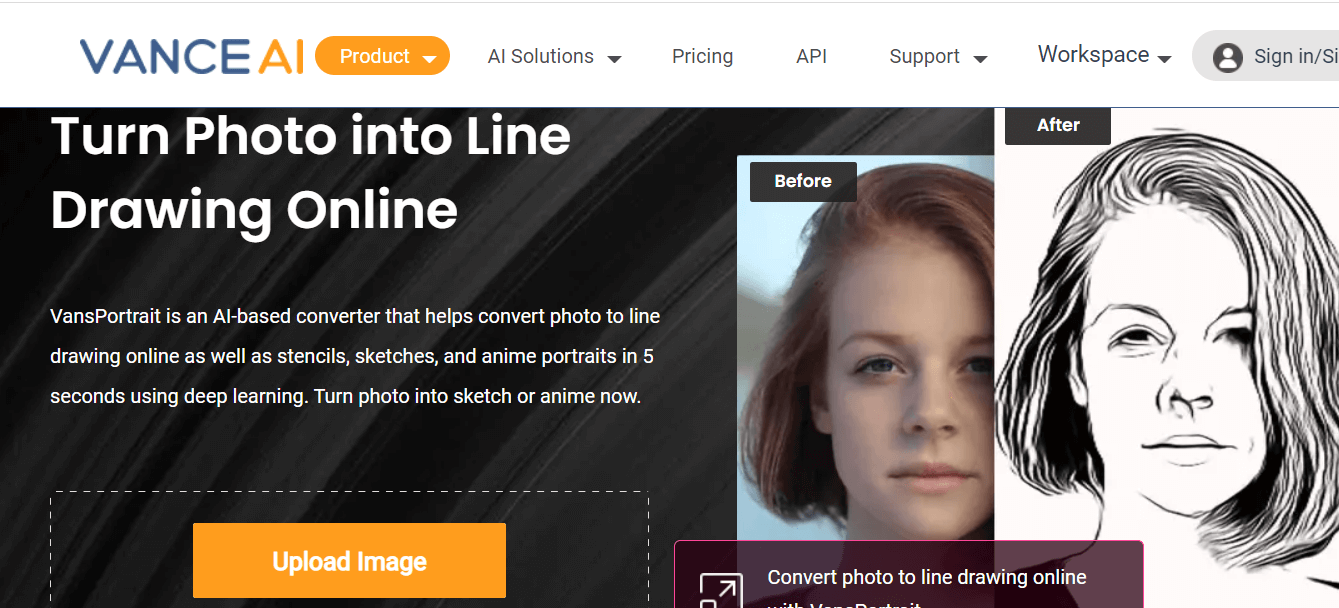 VanceAI Photo Colorizer: One Click to Colorize Photos
VanceAI Photo Colorizer is an AI-based tool that helps you to turn black and white photos into color in 5 seconds no matter if your photos are of family, historic figures, ancestors, films, and more. It is a high-quality photo colorization online solution powered by AI that helps to bring photos back to life with natural colors. Best AI photo colorize algorithms that help you to get AI colorize (photo online) with natural and consistent outputs. This AI Photo Colorizer has been trained to colorize photo online with amazing AI features to get rid of noise and blur in old photos. It can colorize a million of photos and enables the possibility of adding natural colors and lifelike facts to your old photos to using a Deep Convolutional Neural Network instead of common filters.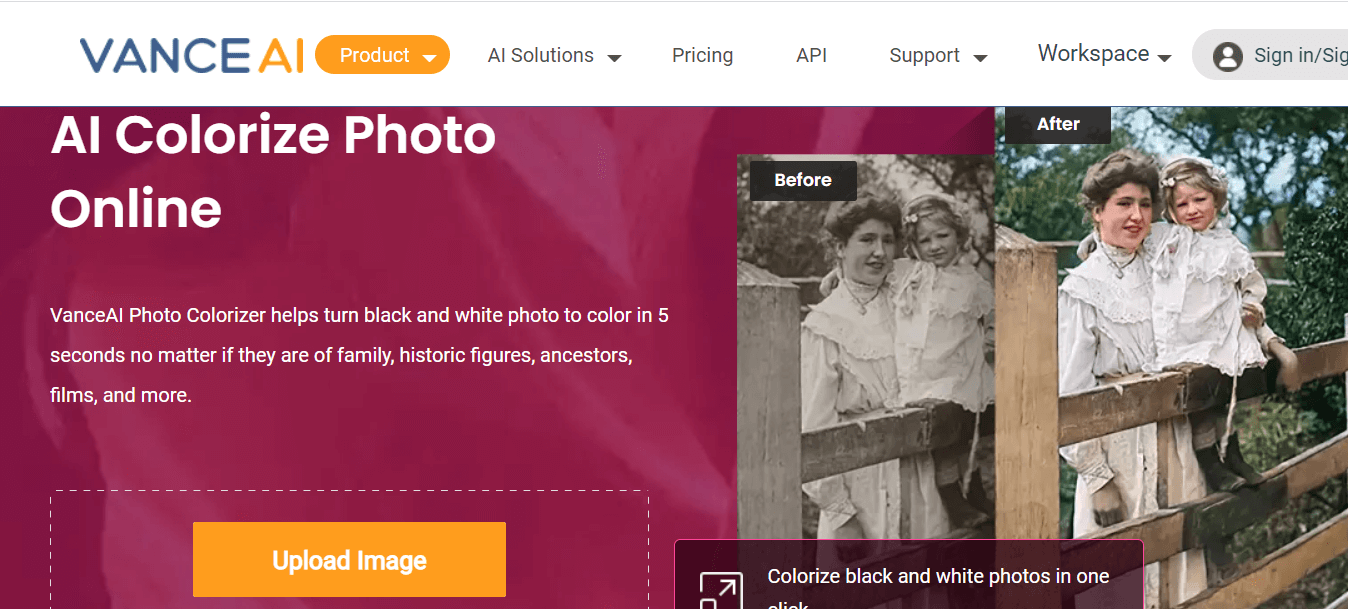 VanceAI Photo Retoucher
VanceAI Photo Retoucher is AI-based tool that helps to retouch photos up to DSLR camera quality effortlessly. AI Photo Retoucher can automatically retouch photo online by adjusting photo brightness, color saturation, contrast, and more without halos and artifacts. This AI-based image Retoucher allows you to transform dull and blurry photos taken by phone camera into something eye-popping just in 5 seconds. It doesn't matter if you are retouching portraits, landscape, product images, or old photos our AI Photo Retoucher can automatically detect dull areas in photo and make them possibly look richer, adjust color saturation without quality loss.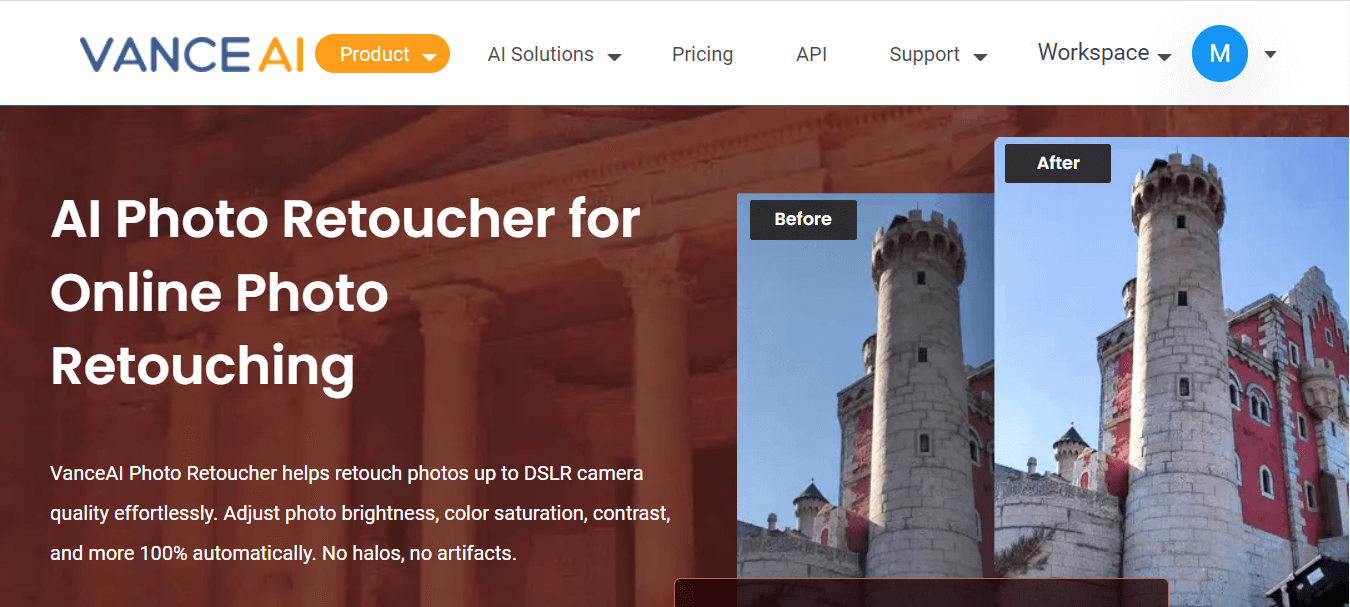 Part 3: Guide to Use VanceAI Photo Colorizer 
Methods to use VanceAI Photo Colorizer are simple and easy as well. Here is a simple guide on how to use AI photo colorizer tool.
Method 1: Visit VanceAI Photo Colorizer Official Product Page
Step 1: Visit VanceAI Photo Colorizer official product page and upload your selected image to colorize it by clicking on the "Upload Image" button.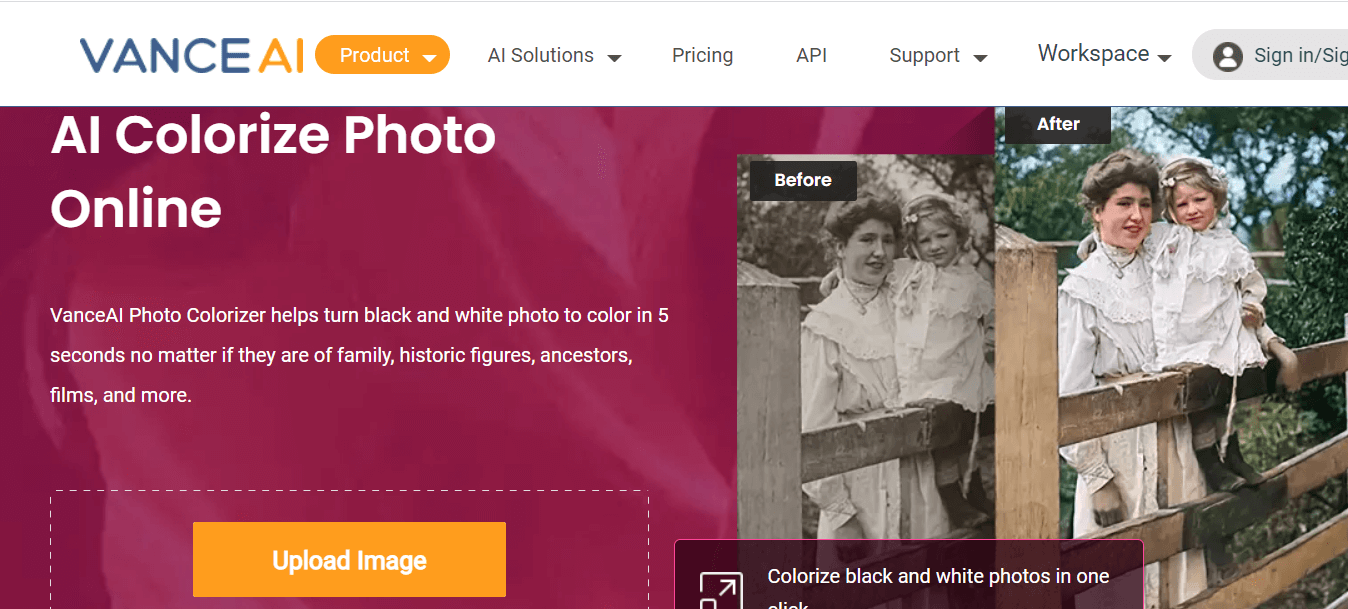 Step 2: After uploading your image click on the "Start to Process" button. Then VanceAI Photo Colorizer will automatically start photo colorization. Even you don't need to select the colorize mode. It too creative and process the image speedily.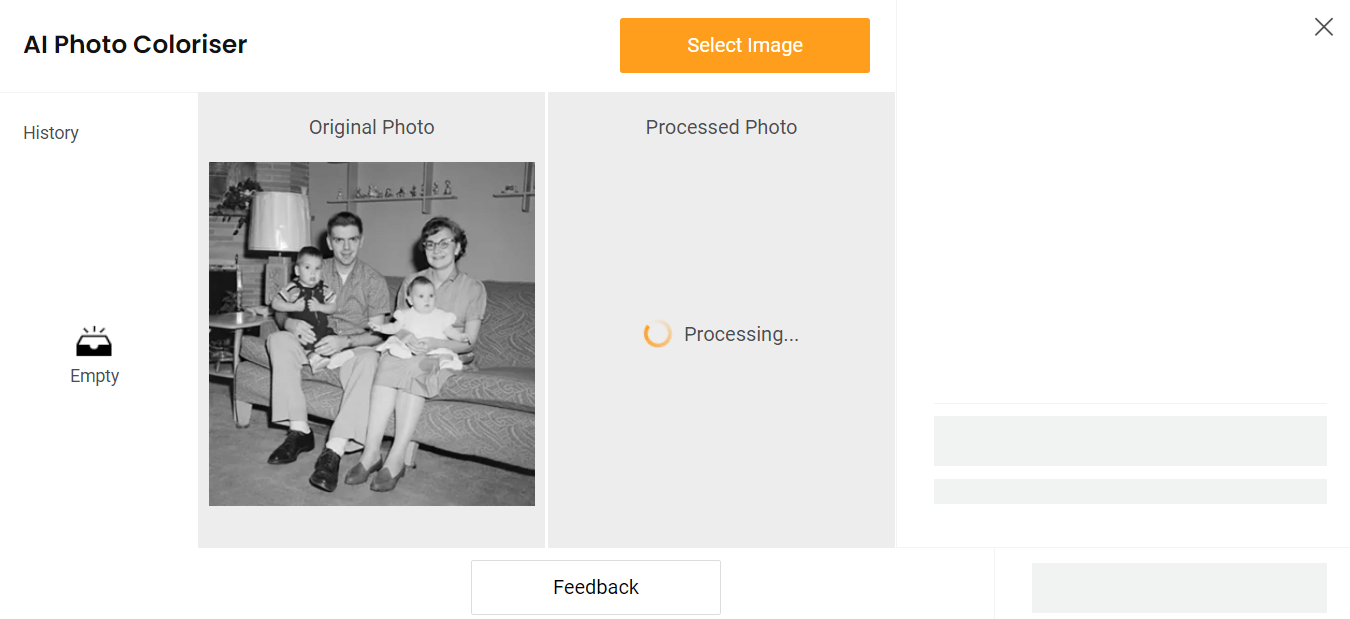 Step 3: Once the image processing is done, you will see your image in the download section. Click on "Download Image" button to save your image. That's it how to use VanceAI Photo Restorer for old photo restoration step-by-step.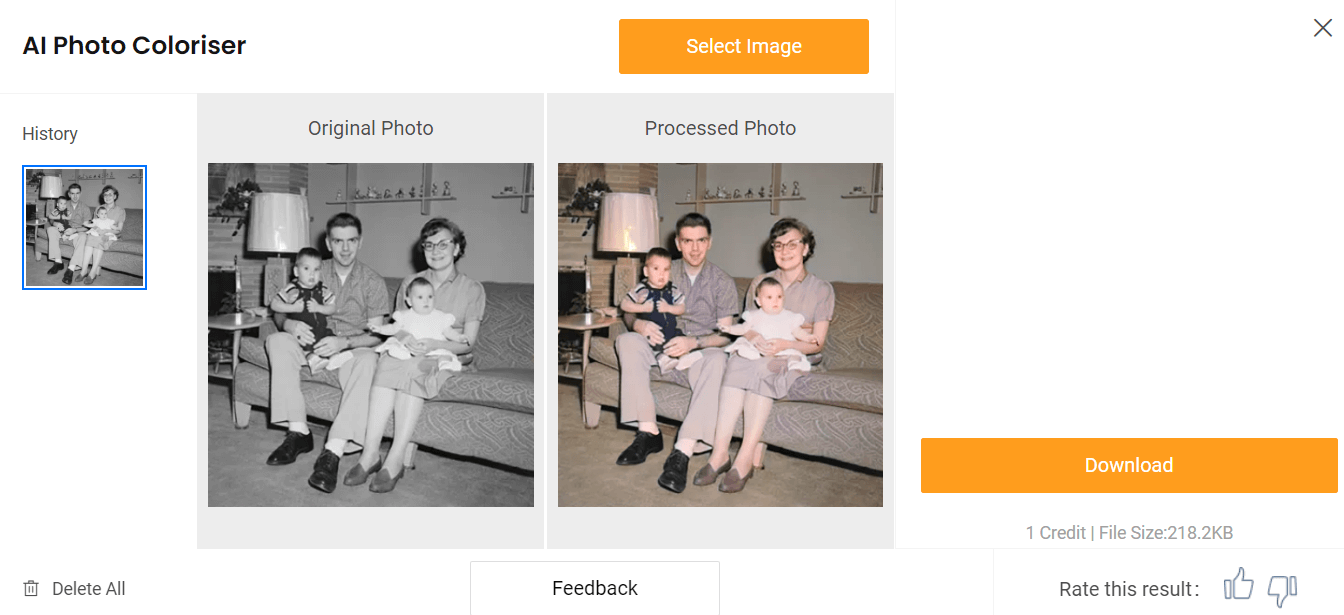 Method 2: Visit VanceAI Colorizer Workspace to process image
The second way to use AI Photo Restorer is visit the VanceAI Colorizer Workspace to colorize photo instantly. Upload your selected image and click on "Start to Process" button to AI colorize photo. After processing download your image to save it. VanceAI Colorizer workspace is simple and easy to use.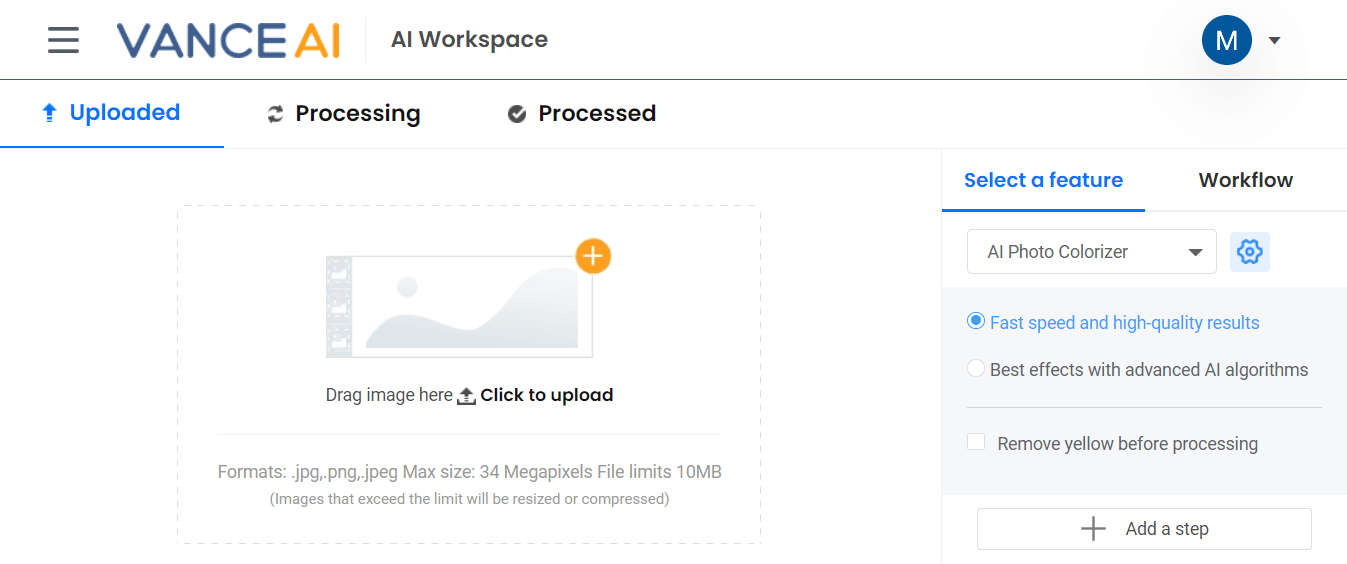 Conclusion
VanceAI is a comparatively new online website with its creative and productive image editing and enhancement tools. It has built a comprehensive library of tools to offer users some level of autonomy and control over their results and pictures. VanceAI has proud to provide cloud-based services and such comprehensive creativity tools to make images outstanding with one click. You can create amazing photos to make yourself more approachable across today's digital world with the help of VanceAI creativity tools. The creativity series is a great choice for efficient graphic designing as it provides all the tools that are strong enough to offer great performance.
Other Choices from VanceAI
BGremover
The Background Remover, called BGremover, is highly useful tool for graphic designers and other similar professionals as it allows a lot of new options for image editing. The AI systems embedded into BGremover allow it to have really incredible accuracy when cutting out objects from the image background. AI BGremover helps you to get a transparent background with one click while keeping in focus your key objects.
VancePDF.com
VancePDF.com free PDF to Word converter that can deliver precise and quality based conversions. It is powered by AI optical character recognition (OCR) technology and helps to convert PDF to editable word doc while keeping the original styles and formatting. VancePDF is providing an easy and quick solution to convert PDF to Word free to make ready your files for any occasion with better performance and greater speed.
VanceAI Photo Editor
VanceAI Photo Editor is made for everyone to edit photos with our preset ratio to create prettier & ready-to-upload content for social media accounts. AI Photo Editor allows you to crop, rotate photos, add texts, filters and more to make your photos as prettier as you please. Besides editing photos online, VanceAI Photo Editor provides automatic solution to enhance photos quality too by enlarge photos up to 4x, and removing blur and noise from your photos in simply once click for enhanced details.
VanceAI Creativity Series Review—One Click to Make Images Outstanding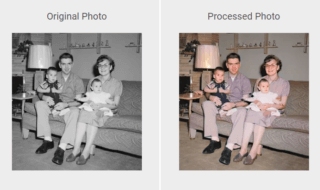 Learn how to restore old photos, cartoonize photos, colorize photos online, and retouch photos online through the VanceAI creativity series with one click.
Price Currency: USD
Application Category: Editor