UPDATE : Service is back online but all the previous backups and accounts removed ! Reliability of this service is now a question here.

There are many Cloud services available in the market right now ranging from free to premium ones like Google Drive, Dropbox, Box etc. But most of them deals with saving our pics, videos, documents etc. Yes you can use this service to store your premium purchases from Themeforest, CodeCanyon etc. It seems that we need a little time to backup the file like you have to first download the package and then keep the zipped item in the sync folder or you have to manually upload the package to the specified cloud folder.
Now there is new free Cloud storage in the town named as Upvato. Did we say free? Yes you can upload any number of files without any limitations.
Upvato WordPress theme back up cloud review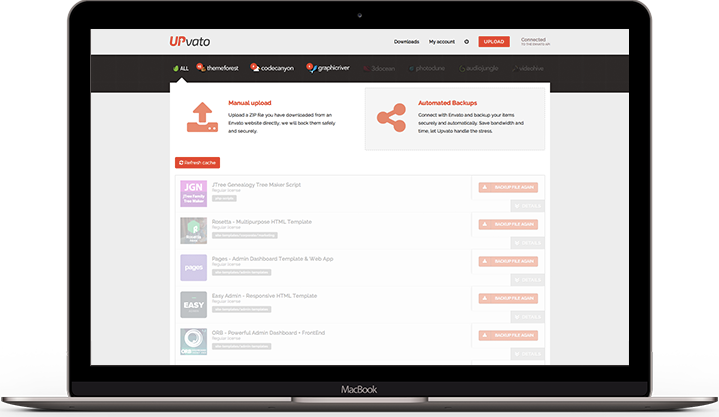 Like any other services you have first sign up for the service with your email address.
Note : Email address verification is not required.
Just connect with Envato by entering your username and password from the top right side of the page and allow Upvato permission to access your file and wait for few seconds. Upvato will fetch the files you have purchased till now to their storage.
The best thing about this service is that it will automatically fetch the new updates (currently this is not available but we can expect this in future) when they are rolled out and you don't have to follow up with the manual download and upload like you have done with other online services
You can even download the package, version wise and this is really helpful if the latest WordPress theme build is causing problems with plugins or cause other types of mess
Sometimes because of copyright or because of other issues the item you have purchased may be removed by Envato and in this scenario also Upvato may save your back
Other info
Where your files are stored?
All the files are backed up on Amazon glaciers.
Are there any limits on size or number of files that can be stored?
For now you can use it to store unlimited files no matter what the size is.
Does they encrypt your files?
Currently we don't see this feature.
Can you backup monthly free items ?
You can upload the free items released on Themeforest and all the other Envato Marketplaces using the manual upload tab. By downloading the free item and then uploading it manually to Upvato then you've stored the free file forever.
Is it possible to upload themes from other repository?
No, currently Envato products like themeforest, codecanyon, photodune, 3docean, graphicriver, audiojungle, videohive are supported
Is there a two factor authentication?
Does it comply with Envato policy?
Here what the PR explained to WP Tavern (WordPress related website)
"Envato buyers use a variety of methods for managing their purchases. Whatever service they use, whether Dropbox or a service like Upvato, we always encourage people to back up
their digital assets."
Concerns
Some of you may think that with this idea creator's can get every premium items listed in Envato. But our question to thinkers like this would be why someone should spent this much time and effort in building such a service when he/she can get nulled version and spend time in removing malicious code.
There is no way to get your account back if you forget the password as there is no "Lost your password?" option to reset it
There is contact us page, but it seems to be deep hidden in the F.A.Q section! and no Disclaimer, Privacy Policy pages
Final thought
Upvato seems to be pretty good as we can get any version of our package once its integrated.