What is the best cloud storage service? There's no one-size-fits-all. From Google Drive, iDrive, Dropbox, and OneDrive, to pCloud and Sync.com, each comes with a unique set of features. Your choice will be influenced by several factors, such as cloud storage pricing, file size limitations, and personal preferences.
However, when you want to send extremely large files to someone, you'll be met with file size restrictions. Not to mention additional costs for uploading and downloading files from the cloud.
What if we told you there are cloud storage alternatives that also support sharing large files? Well, without further ado, let's get into the details.
What Is Cloud Storage?
Cloud storage promotes easy file sharing and syncing, which means seamless access to data from any location and device. Cloud storage offers a safe way to back up data and facilitates recovery in case of any hacking attempt or crashed drives.
With cloud storage, people can collaborate on documents in real-time. This is a great advantage, especially now that most people are working from home.
You can find numerous free cloud storage services including Box, Google Drive, and Dropbox, which also offer upgraded subscription packages for those who want larger storage options and additional cloud services.
How Does Cloud Storage Work?
The cloud computing provider stores data on the internet on your behalf, so you don't have to buy and manage your own virtualized data storage infrastructure. Cloud storage providers use servers to save data.
Typically, you connect to the storage cloud via a dedicated private connection, mobile app, web portal, or website. You can then send or retrieve files online to and from a remote server either via your smartphone, tablet, or computer.
The server forwards your data to a pool of servers located in different locations. Usually, the same data is stored on multiple servers simultaneously, allowing clients to access the data even if one server is down.
Top 3 Best Cloud Storage Alternatives
As we mentioned earlier, cloud storage services, including Google Drive, iCloud, OneDrive, and Dropbox, have file size limitations. Some like iDrive will cost you $74.62 for 10TB, and others like Amazon Cloud Drive will set you back a whopping $1,799 for 30TB.
Perhaps you're simply looking for the best way to share very big files over the internet. If that's the case, then we discuss three services that offer all the benefits of the cloud, but with the added advantage of securely transferring large files online.
FileWhopper
First up is FileWhopper, a no-frills, file-sharing service that lets you transfer files and folders of any size. Whether it's 5GB, 200GB, or 10TB, FileWhopper makes the process seamless and fast.
This is a pay-as-you-go service, meaning you don't need to spend money on monthly subscriptions. You only pay for the file or folder size you're sending. In addition, FileWhopper guarantees the safety of your files while on transit over the internet and at rest at their servers, thanks to its zero-knowledge encryption security.
All files are encrypted before being transmitted, making it one of the most secure file-sharing services to transfer sensitive data online. The software uses a special encryption algorithm based on a password generated manually by the user or automatically by the app when the upload begins.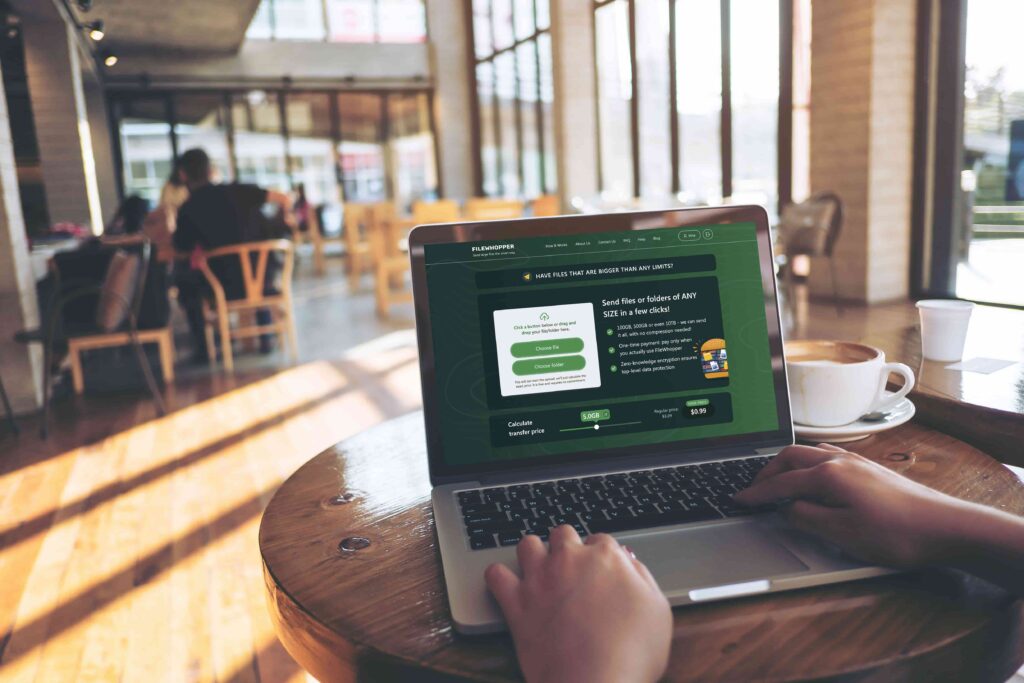 The password is not saved on FileWhopper's servers. This means no one, including staff at FileWhopper, has access to the data. The password is only accessible to the sender and recipient who will need it before uploading and downloading the files.
How FileWhopper Works
There's no learning curve when it comes to using FileWhopper. For starters, it has a clean user interface, and all you need is a few clicks, and you're done!
To initiate a file transfer:
Click on Choose fileor Choose folder option, depending on what you want to send. Select the file or folder from your computer to get an instant quote.
Create and verify your account.
Provide a password, and you're ready to start the transfer.
Choose whether you want to upload files using the FileWhopper App or your browser and follow the prompts.
For guaranteed safety and faster file sharing, we recommend the FileWhopper App. It automatically encrypts the data, which is additionally protected by a password you create. The app will resume upload and download after any errors such as a sudden computer shutdown or internet loss.
What's more, the App supports simultaneous upload and download. That is, the recipient can start downloading as soon as the upload begins, as long as they receive the download link.
We should also mention that the name of the uploaded file or folder is encrypted and not transferred to FileWhopper servers. A unique transfer ID is created to further protect data while in transit. Only the sender and the recipient can see the real name of the file or folder on the FileWhopper App on their computers.
Feature Highlights:
Secure data transfer. Your files are encrypted with a password only accessible by the sender and recipient.
Data is automatically deleted from FileWhopper servers once the transfer is complete.
Unlimited cloud storage for up to 14 days.
One-time payment based on the file/folder size.
Pros:
Fast data transfer speeds through the FileWhopper App, which uses multithreaded data transfer technology
Allows you to send files up to 10 TB without having to compress them
Simple, uncluttered, and ad-free interface
Free transfer for first-time users for up to 5GB
It's a pay-as-you-go service – no subscriptions are required
Cons:
You must create an account to use the service
No mobile app for file sharing
WeTransfer
WeTransfer offers users a quick way to transfer files online without having to sign up. Simply provide your email address and that of your recipient, add a message, attach the file, and click Transfer. Once you verify your email, the file is transferred to your recipient.
However, free users have limited access to features and cannot send files exceeding 2GB. Once you register an account, you have extra features like the ability to track downloads, save contacts, and store files. When you upgrade to WeTranfer Pro, you open a myriad of features, including the ability to brand download pages and set file passwords and expiry dates.
Additionally, the file size limit is raised to 20GB, with up to 1TB of cloud storage space. You can also customize when your files get deleted. The good thing about WeTransfer is that you can access files from any device with a browser.
How WeTransfer Works
Transferring files on WeTransfer is easy. Go to wetransfer.com and upload your file. Enter your email and that of the recipient. You can then send it directly to the recipient or copy a transfer link.
The recipient receives an email with the link to download the files you shared. If the 2GB offered for the free WeTransfer service isn't sufficient, you can upgrade to WeTransfer Plus for $10 per month, per person, billed annually.
The Pro version offers:
A 200GB file size limit on transfers
1TB storage per person
One portal and unlimited reviews
The ability to track downloads
Data encryption
Password protected transfers
The WeTransfer Premium plan offers even more features, but it will cost you $19 per month, per person, billed yearly. With this tier, you get everything in Pro, plus unlimited cloud storage, unlimited portal and reviews, and no size limit on transfers.
With all plans, you get two other WeTransfer apps – Collect and Paste. Collect is WeTransfer's storage app that lets you save and organize images, music, videos, as well as links. The app is available on iOS, Android, and browser extensions. Paste is a presentation tool that designs decks for you with a responsive layout, colors, and alignment.
Feature Highlights:
TLS and AES-256 encryption.
Two-factor authentication.
Additional apps for creatives
Built-in branding tool
Unlimited cloud storage and file transfer for WeTransfer Premium users
Pros:
File sharing is easy
Free users don't need to register an account
Has an intuitive design
Free transfer of up to 2GB
Cons:
No encryption or password protection for free users
Features on Premium version not worth the cost
No mobile app for file-sharing
IBM Aspera
IBM Aspera approaches data transfer in an entirely different way. The service is built on FASP (Fast, Adaptive, and Secure Protocol), a bulk data transport technology that maximizes speed. The adaptive characteristic of FASP allows transfers to fully utilize available bandwidth by "dynamically detecting and adjusting the transfer rate as necessary."
In addition, the adaptive rate control not only avoids bandwidth congestion, but delivers maximum transfer speeds without impacting other network traffic services. This technology prevents bandwidth efficiency from degrading with latency and overcomes the limitations of TCP-based transfers.
How IBM Aspera Works
You can use drag and drop to move files across data centers and cloud platforms. The data is protected by a strong access control model managed by service administrators. The platform lets you pause, automatically resume, and monitor data transfers.
Aspera is useful for big companies that want to migrate large data sets using high-speed and secure transfers.
Feature Highlights:
Uses AES 128/256 enterprise-grade security.
Offers data transfer management
Supports hybrid cloud workflows
Blockchain technology for secure asset exchange
Pros:
Supports secure migration of large amounts of data using your existing network
Supports automation of file transfers
Offers an email-style interface that facilitates effortless collaboration solutions for easy file sharing
Faster file transfers using FASP technology
Cons:
Key Takeaways
Most users will prefer the simplicity that FileWhopper and WeTransfer offer transferring large files online. FileWhopper provides more flexibility, and you don't need to subscribe or upgrade to access advanced features.
All users can send files of any size, and the price is based on the file size you're sending. Data is automatically deleted from FileWhopper servers once the transfer is complete. With WeTransfer, the free tier offers 2GB of file transfer. But you can upgrade to the Pro or Premium tiers if you are transferring files larger than 2GB.
IBM Aspera is more suited to corporates who want a secure and fast solution to transfer large amounts of valuable digital assets.