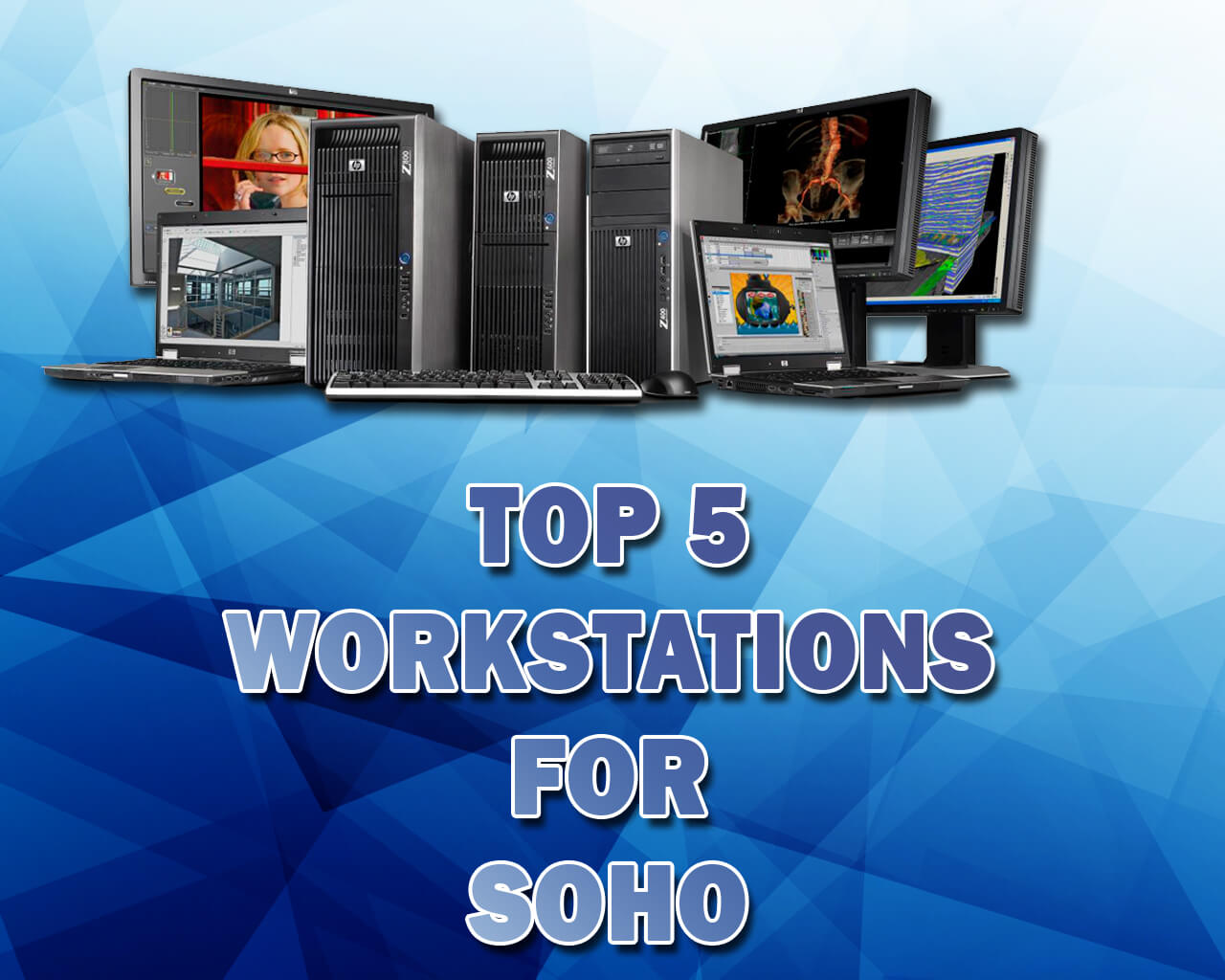 Small Offices and home offices are cropping up everywhere these days with entrepreneurs and independent ownerships rising rapidly and increasing the demand for space-efficient technology with affordability, multi-performance capabilities. For videographers, music artists, video loggers, scientists, researchers, animators, Auto CAD using professionals, video editors and many more, one piece of unique technology is Workstation.
Workstations serve a wide range of purposes. Hence they are useful for a huge range of operations. Progression in work necessitates an upgradation in the technology. A workstation is the next step for professionals whose work demands faster processing, higher storage, better graphic abilities and excellence in the rendered output
With the large number of workstations currently in the market, it is a tough choice to pick the one that fits in perfectly with not just your organizational needs, but plans of expansion as well. A lot of other important factors also come into play like the compatibility with graphic cards, the scalability factors, ISV certifications and more.
Depending on the features you would like to focus on, you will find the best workstation for your needs as you read on. With several interesting and crucial features to pick and select from, the choice was difficult, but be assured we have narrowed down the very best for you.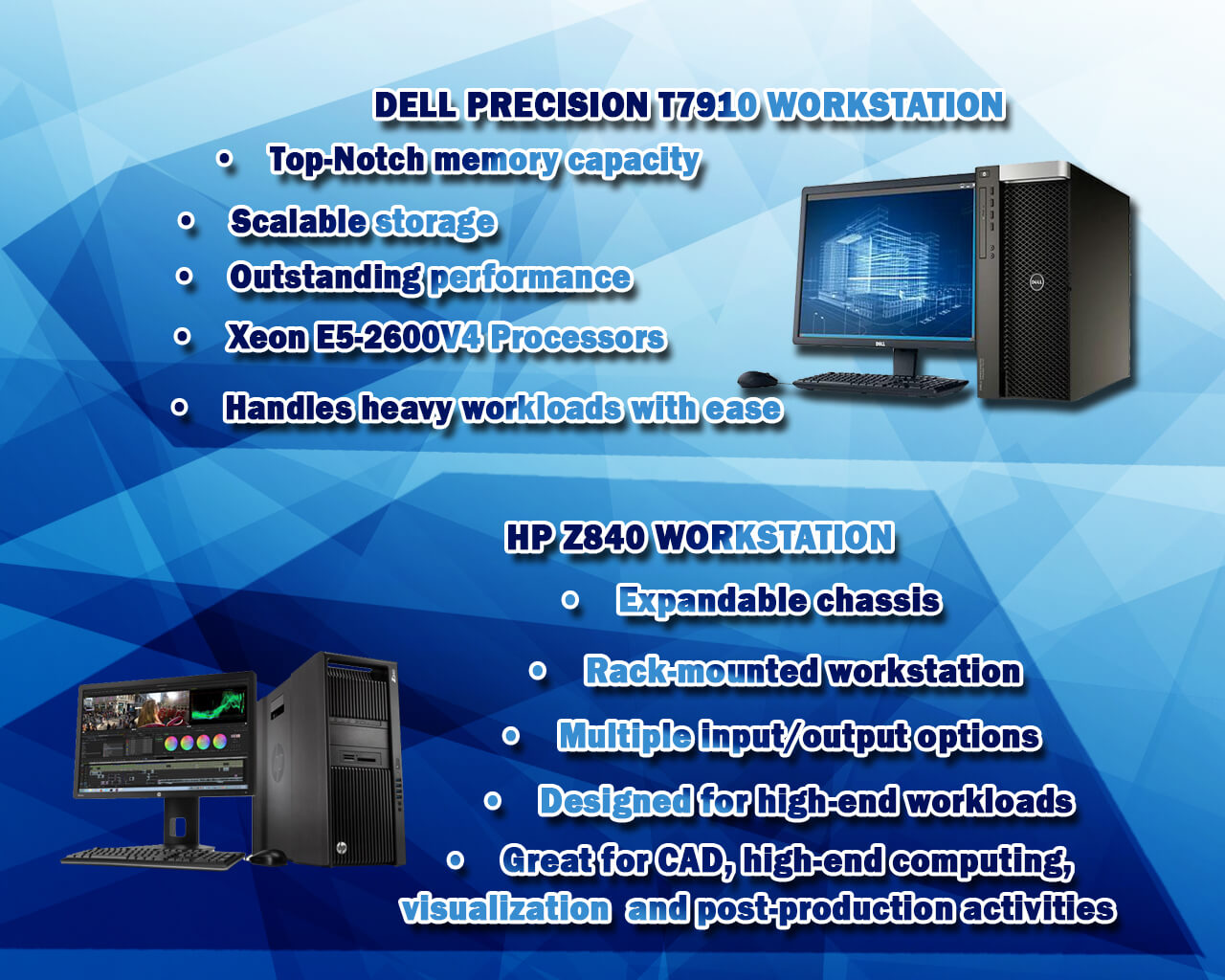 DELL PRECISION T7910 WORKSTATION
• Top-Notch memory capacity
• Scalable storage
• Xeon E5-2600V4 Processors
• Outstanding performance
• Handles heavy workloads with ease
The Dell Precision 7910 is a dual-socket workstation with top-notch memory capacity and huge storage potential, compatible with Intel E5-2600 v4 processor series. This workstation is ideal for those looking for heavy end 3D Rendering, Simulation and Analysis. Capable of handling extremely demanding workloads, this workstation is compatible with all the latest NVIDIA Quadro and AMD FirePro cards.
For professionals working in the fields of Engineering, Entertainment, Financial services, Entertainment industry etc., and this workstation will fit right into their portfolios. Further, the ISV certification adds a measure of credibility and reassurance to the buyer, as there is no better promise of smooth performance.
Coming to the actual specifics, this workstation has a splendid 1TB DDR4 memory running at a speed of 2400MHz. It has 16 DIMM channels, 8 for each processor.
The storage potential is exceptionally versatile, with room for SAS, SATA and NVMe PCIe drives. This flexibility in storage provides ample scope for customization and helps you play around with different capacity drives.
Powered by the Intel Xeon E5-2600 V4 family CPU, you can pick the processor of your choice for delivering the best performance with the appropriate cores and frequency. Coming to the Graphics, this processor is compatible with an extensive list of entry-level, medium-level and high-end graphic cards giving you a huge versatility in your choice.
HP Z840 WORKSTATION
• Rack-mounted workstation
• Designed for high-end workloads
• Great for CAD, high-end computing, visualization and post-production activities
• Expandable chassis
• Multiple input/output options
The HP Z840 is a powerful workstation that promises to be a versatile solution for all your business needs. With its multiple input/output options and powerful build, this workstation is designed for easy handling and swiftness of output.
This highly comprehensive system has space for 7 Input/ output slots and high-performance graphic cards. This level of flexibility provides ample scope for customization and designing.
The memory capacity of this workstation is excellent, with up to 1TB of RAM per processor accessed through 16 DDR4 memory slots which have a 128GB capacity at 2133MHz.
There are multiple storage options available for SATA and SAS SSDs, with room for extra graphics as well through the PCIe x 16 card.
This workstation packs decent performance capabilities with its high customization capabilities and great architecture. The power of flawless modelling is in your fingertips with this station.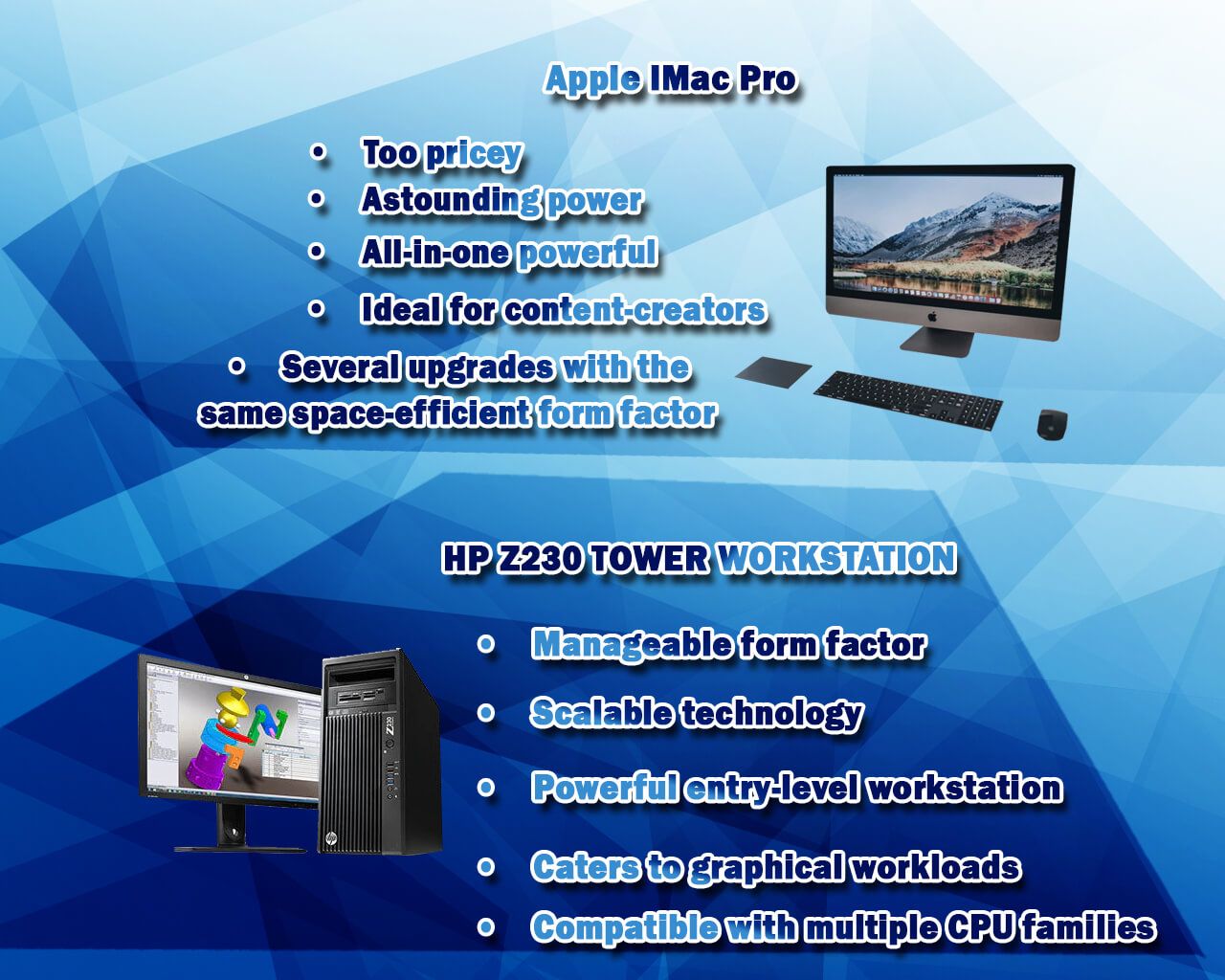 APPLE IMAC PRO
• All-in-one powerful
• Several upgrades with the same space-efficient form factor
• Too pricey
• Astounding power
• Ideal for content-creators
While Apple iMac is legendary for its prowess in the fields of design, this time, and the delivery is more than just skin deep. With better processors, expandable memory, higher storage capacities and one extra Ethernet port, this iMac Pro is a treat for visual content creators.
The specs include an 18-core Intel Xeon W 2140B processor running at 3.2 GHz. The Operating system includes Apple MacOS and High Sierra. Compatible Graphic cards include both AMD Radeon and Pro Vega 56.
The iMac pro is definitely very expensive, but with its unique feature set, it almost seems worth the extremely hefty investment.
HP Z230 TOWER WORKSTATION
• Manageable form factor
• Powerful entry-level workstation
• Caters to graphical workloads
• Scalable technology
• Compatible with multiple CPU families
Excellent graphics, reliable technology and scalability perfectly describe the HP Z230 workstation. Capable of keeping pace with the most unconventional work demands, this workstation is an excellent choice for those who require a powerful machine that can deliver to a variety of complex workloads, including 3D rendering and Auto CAD applications.
The specs for this workstation include the Intel Xeon E3-1200 v3 processor which delivers beautiful visuals and great performance. Coming to storage, the variation is quite decent with room for 16 x 1 PCIe Gen3 slots as well as PCIe Gen 2 slots.
This workstation is compatible with NVIDIA, Intel as well as AMD graphic cards thus delivering optimized power and performance.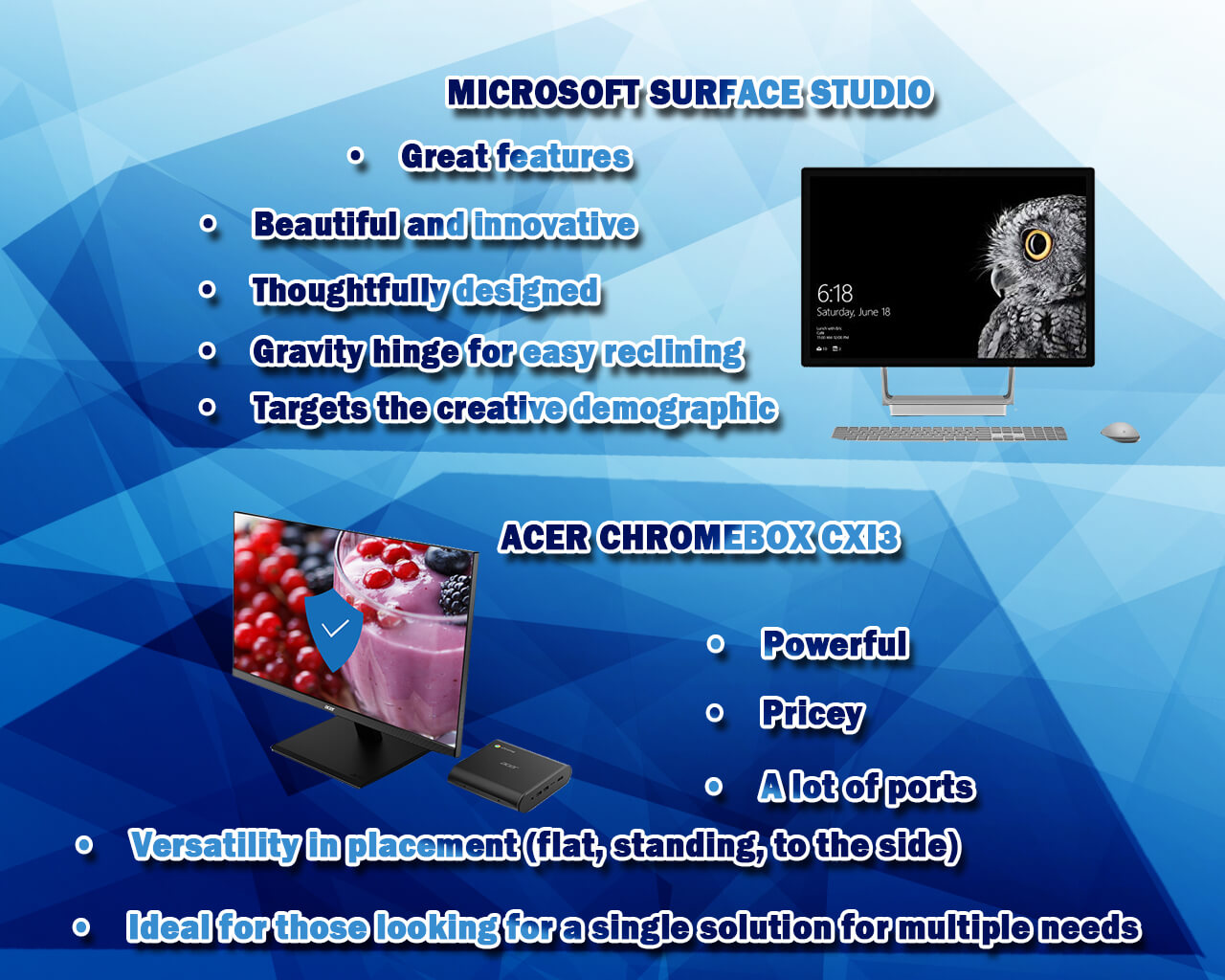 MICROSOFT SURFACE STUDIO
• Targets the creative demographic
• Thoughtfully designed
• Beautiful and innovative
• Great features
• Gravity hinge for easy reclining
The Microsoft Surface Studio is an easy-on-the-eye innovatively designed desktop that doubles up as a workstation. Similar to Apple iMac Pro in design and execution, it scores higher on some crucial fronts.
The specs for this workstation include Intel Core i7- 6820 HQ. The storage is hybrid, in the form of a cache that utilizes an SSD cache, but the data is stored in a hard drive with an RPM of 5400. The disadvantage is that you cannot overlook its lack of expandability and upgradability.
High-powered 3D graphics such as AUTO CAD, medicinal and architectural projects work excellently with this machine.
ACER CHROMEBOX CXI3
• Powerful
• Pricey
• Ideal for those looking for a single solution for multiple needs
• A lot of ports
• Versatility in placement (flat, standing, to the side)
The Acer Chromebox CXI3 is designed for basic productivity tasks, acting like your all in one manager and task organizer unlike the rest of the workstations on this list which were specific.
Powered by the Intel Xeon i5 8250U series, this workstation runs at a speed of 1.6GHz. Storage capacity is 64GB for this tiny powerhouse, and the Operating system for this box is Google Chrome OS. Intel UHD graphics 620 is the suggested graphic card for this machine.
In other words, this all-in-one station may not be as high performing and high delivering as the other workstations listed above, but it wasn't even designed for such tasks. It is meant to be an easy desktop management tool for your everyday barrage of tasks.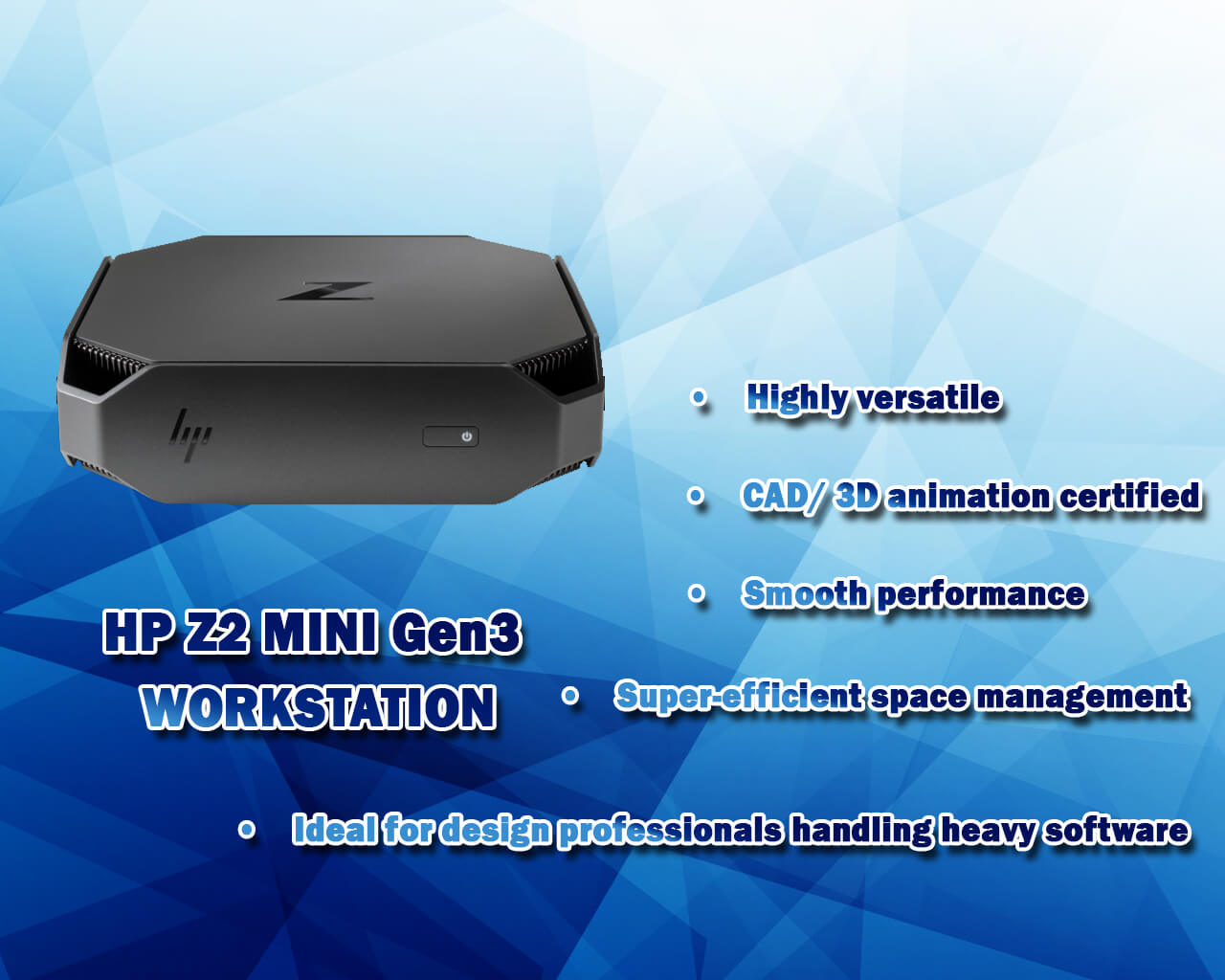 HP Z2 MINI Gen3 WORKSTATION
• Highly versatile
• Super-efficient space management
• Ideal for design professionals handling heavy software
• CAD/ 3D animation certified
• Smooth performance
The HP Z2 Mini Gen 3 workstation is great for architects, engineers and financial analysts looking for space efficient all-in-one workstation. With features designed for high-quality output and ease in rendering, this workstation is a great tech to be acquainted with.
The specs for this little wonder include 32GB DDR4 RAM, a maximum storage capacity of 1TB. This workstation is compatible with processors of the i5/ i7 family of the Intel Xeon e3 1200- v5 family processors. This workstation comes with a pre-installed Windows 7 Operating system.
This workstation is ideal for those working in CAD and more as it has been certified for over 20 software applications.
Bottom Line:
Workstations are many in numbers and come with a lot of variation in nature as well. To pick the best workstation for your needs, there are several factors you need to keep in mind.
It starts with the form factor, then the choice of the processor as it decides the speed and efficiency of computation followed by the memory as it dictates the efficiency. Next comes the storage, without which there is no house for your creativity. Finally, the graphical cards option is also important as it determines the quality of the output rendered.
The above workstations have been picked keeping the needs and objectives of a Small Office and Home Office in mind. With their varied set of features, the choice is up to the user to figure out which works best with the future plans of their organization as well as their present demands. All the work stations that we have mentioned are not so costly and also suits best for small and home offices.
Picking a workstation is an expensive investment, and needs a commitment of at least a few years involved. Take your time and get familiar with them before making a choice. While purchasing, refer to the sites like Server basket and Cyberwala that provide free guidance to help purchase the best workstation for your needs.