How secure your WordPress site is? Has it been hacked or infected so far? Is it at risk of getting hacked or infected? How can you save your website from getting hacked or infected with malware? Is there a way out? The answer to all these questions is very straightforward. Install a plugin that can handle all your burden while protecting your website against hacking and malware. 'Security and Malware Scan' by CleanTalk is one of the best security and malware plugins available on WordPress repository. Let's explore more details about it.
Download free from WordPress Repository

About Security and Malware Scan by CleanTalk
This WordPress plugin from CleanTalk is a part of a cloud security service that protects/prevents your website from online threats and provides ultimate security features to protect your website. It will provide you detailed security stats for your website and suggest you major changes. The security logs are stored in the cloud for 45 days. Moreover, the plugin adds firewall to your website protecting it against threats and malware.
Top Security Features Of  WordPress Plugin
The firewall filters access to your site based on IP, networks or countries.
It provides web application security firewall along with security malware scanner with antivirus functions.
The website is scanned for malware automatically.
It stops brute force attacks to hack passwords and find WP accounts.
You can limit login attempts to prevent hacking.
It also offers additional protection for WordPress Login form and WordPress backend.
The reports for scan are sent daily via email.
You can conduct security audit anytime and monitor real time traffic.
Your site stays free from malware ensuring no Google penalties.
The site owner can enable two-factor authentication anytime on login.
The Setup
Download and install this plugin on your website. Once you have installed this plugin go to its 'Settings' and follow the below mentioned steps: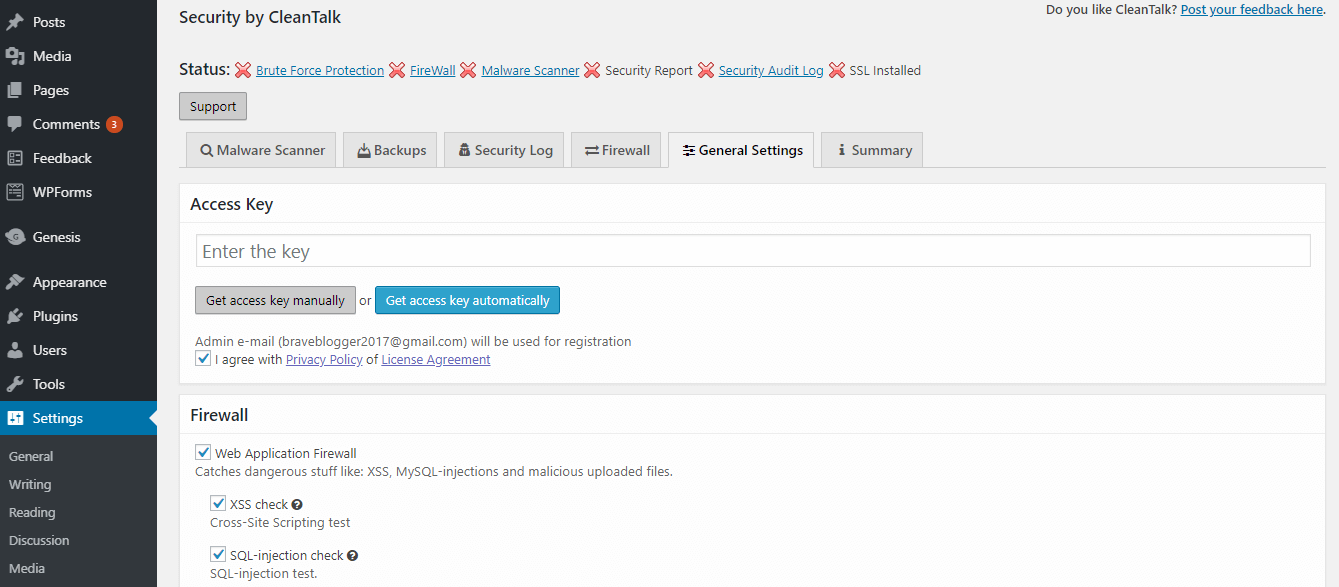 YOU can either enter the access key manually or generate it automatically by clicking on "Get access key automatically".

One you have generated the access key, brute force protection and firewall gets enabled. The security reports would be generated and sent to your email and audit logs will be stored.

You need to enable the "Malware Scanner" by clicking on "Perform Scan". This will also scan your entire website for malware.

Wait for the scan to complete.

Click on 'Security Logs' to check out the recent logs that have been stored in the system.

Clicking on 'Firewall' tells you the visitors that have passed the firewall and those who have been blocked by the firewall. Apart from this, you can get information about the date & time of visit, country, number of requests, page visited and other statistics.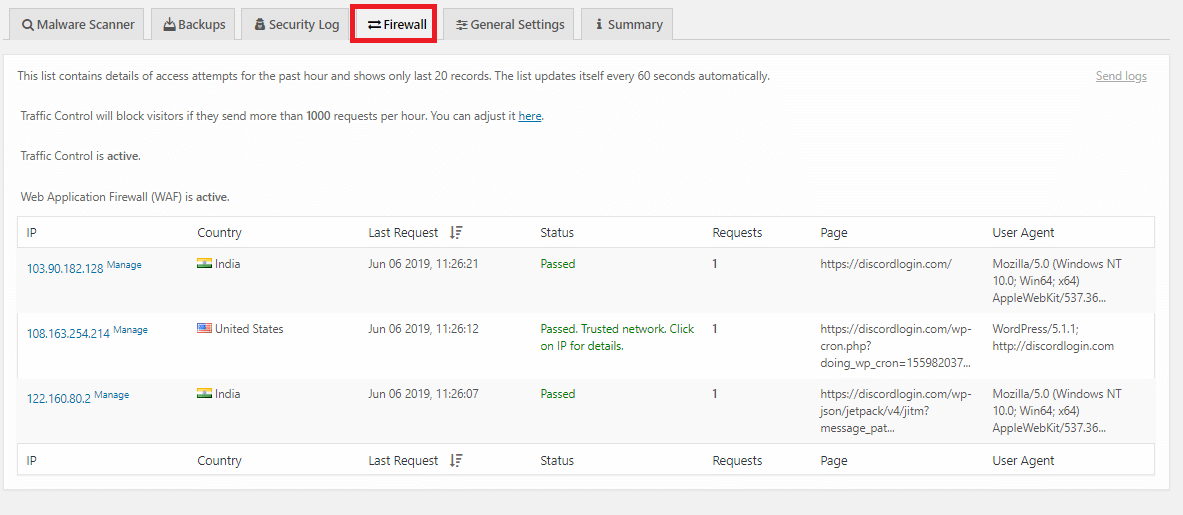 Click on "General Settings" to change basic settings.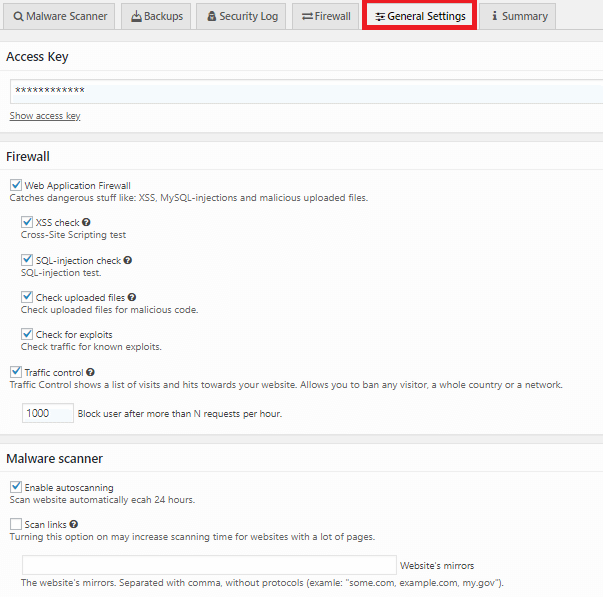 There are multiple settings that you can play with in order to make your site more secure.
How you are protected from Hacking attempts and Malware using this Plugin?
Limit Login Attempts: It blocks the user in case of multiple failed login attempts until the administrator releases the blocked account.
Brute Force Protection: It protects the users from account takeover attacks. If someone is accessing your domain IP multiple times in a fixed timeframe, the system blocks that IP from accessing your site.
Audit Logs: It keeps track of actions in WP dashboard to help you learn what is happening on your blog.
Security Traffic Control: This feature tracks every single visitor no matter whether they are using JavaScript or not and provide you with some valuable traffic parameters. It blocks users based on their behavior.
Security Firewall: It reduces the risks of hacking and load on your web server, contributing to good load time of web page.
Malware Scanner: It runs through the settings of site manually and all results are displayed on dashboard.
Outbound Links: This option lets you know the number of outgoing links from your site and sites they are linking to.
Malware Heuristic Check: You can easily check plugins and themes files with heuristic analysis.
The Bottom Line
Security and Malware Scan by CleanTalk is an awesome plugin if you are the one concerned about security of your WordPress website. Try this plugin and forget about every security woe as this plugin will take care of all.