Salesforce is a phenomenal tool that can be configured and customized according to your business requirements. People use the terms configuration and customization interchangeably. But are they the same? No. They are different from one another. Hence, it becomes important to know the difference between configuration and customization in Salesforce to leverage it completely.
What is Salesforce Configuration?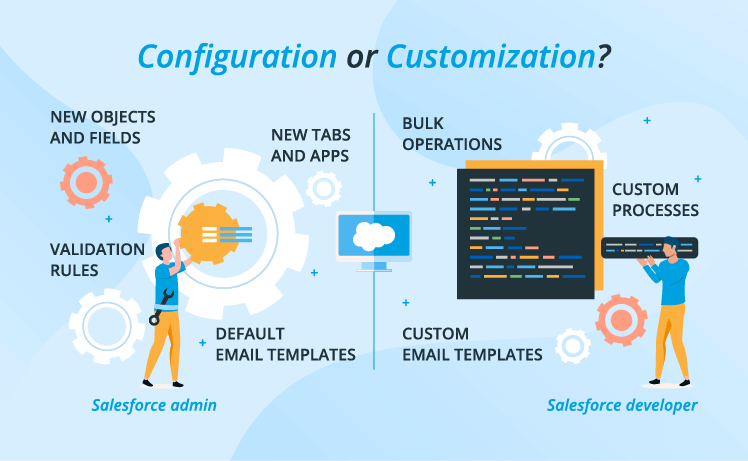 Whatever you can do inside the CRM system is part of the configuration. This means that you can add a new field to Salesforce that uses a specific rule or formula to achieve an outcome. Altering fields, making changes in workflows, creating additional reports, customizing the user interface and changing page layouts, etc. are part of the configuration in Salesforce.
It offers user-defined values that empower certain features/modules to start operation.
You can hire expert Salesforce admins to help you set up initial settings within the least possible time and budget.
You can work with the admin panel to change/alter switches and setups in the programs, with the help of an admin expert.
You can easily integrate new fields, surveys, modules, workflows, and reports by simply altering the settings in the Salesforce panel.
Customers can get what they need by simplistic configuration and buying a pre-defined app of Salesforce.
When to Choose Salesforce Configuration?
Salesforce Configuration must be chosen when:
You want to leverage the in-built tools, functionalities, and modules to the finest.
You want to apply business processes to the Salesforce app, the way it is in the app.
You have multiple customers and multiple options available for them.
There is a limited time, budget, and expertise available.
There are user segments that might use the system for a long time.
What is Salesforce Customization?
It is custom development and coding required to add robust features to the CRM platform. These features can easily be integrated with your business to have a scalable impact. For example – Apex triggers, Apex classes, third-party integrations, using CSS to alter page layout, visual force emails, and building visual force pages are examples of Salesforce customization. It majorly involves:
Developing features/functions that are not available in the original application.
Catering to a few actions that are not achievable with configuration and requires some custom code.
The addition of Apex triggers on the objects for performing a few actions.
Addition of Apex code to generate a vCard from a given contact.
Organizations having a huge number of sales representatives and sales channels.
When to Choose Salesforce Customization?
Salesforce Customization can be chosen when:
Business procedures cannot be achieved through workflows and validation rules.
There is a need for third-party integration.
Standard reports are not enough to get the required information.
End users are not comfortable with the configured platform.
You have only one customer whose needs are to be catered to and who has strict timelines.
There are devoted timelines, budgets, and skilled expertise available.
How to decide what your business needs?
Both, Salesforce configuration and customization are important for organizations to achieve their business goals. Depending upon different parameters, circumstances, and basic needs, businesses can choose which one is good for them. The best way is to proceed with configuration first and attempt to do it at its best. After optimum configuration, if the company still feels the need of adding more components for best usage, customization can append the missing ones. But if the company has a vision of customization since the start, why not begin it there and then.
The Bottom Line
Both, Salesforce customization and configuration are of equal importance for the organization for achieving its business objectives. You must consider the above-mentioned parameters to decide which one to choose as per your business needs.
Remember, understanding how to configure or customize the CRM is not at all easy. It needs an expert Salesforce Service Company for it. You can always go with a quality Salesforce customization and development partner firm to optimize things for your business in the best way.