Web hosting is the backbone of the website and site administrators should not hesitate to take time to find an ideal solution. One search engine result is enough to give you multiple options, and that's where the problem begins as there are hundreds of companies available for your website.
What is MonoVM?
MonoVM is an all-in-one website solution, where you can find a wide-range of web hosting packages, domain registration, premium SSL Certificates, and more. The company is offering the services for a long-time and builds the features around the existing customer's feedback. MonoVM builds my customers, and that's one of the major reasons why they have been in the revolutionary business for 20 years. Let us take a look at web hosting packages and other good offerings from the Lithuanian-based company.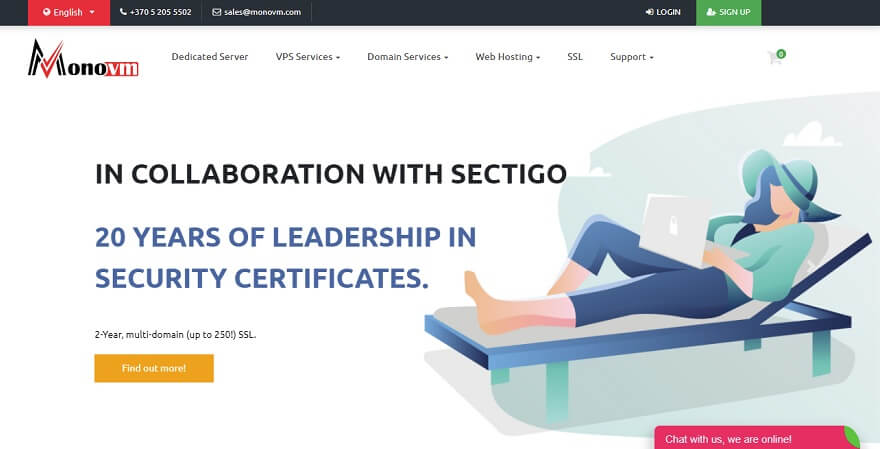 1. Domain Registration
Site administrators don't have to buy a domain from a different registrar and it is a good habit to buy Domain & Web Hosting from one company for compatibility. You can avoid plenty of compatibility problems and get utmost support from the customer care team.
You can check out the official page for name availability and then continue buying the domain.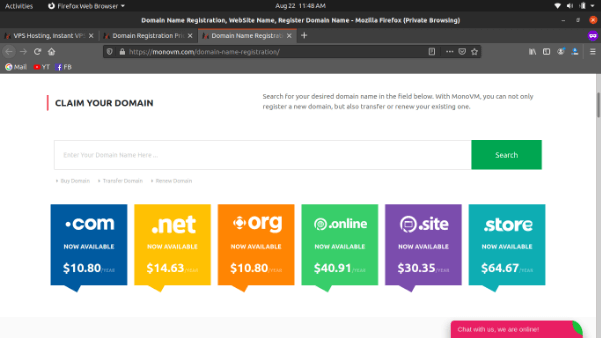 You can also check the domain pricing from MonoVM and it is useful to compare with other similar registrars.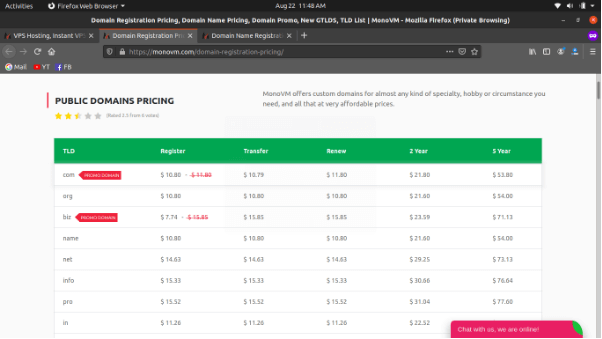 We have noticed that the company is offering Dot Com at a competitive cost including renewal cost. You can knock off a few bucks by purchasing the domain for 5-years and so on. You are getting good deals on many Top TLD's and that's good news for you.
2. Dedicated Server
We have many readers, who are looking for dedicated servers to take on thousands of visitors, and have them check out the business. Of course, you need a powerful server that can handle thousands of traffic per month, and it is not possible without powerful hardware.
MonoVM offers detailed information on the specifications like Processor, RAM, Storage, IP address, BW, and more. You can select the hardware from the specification sheet that suits your business requirements and start hosting the website.
The processor starts from Intel Xeon E3-1230 v2 & AMD EPYC 7351P that are known for bringing power to the table. Customers have the option to choose from 8 GB RAM 16 GB RAM. It is good to see SSD + HDD combination in the package, so you can run the website & important applications on SSD, while storing the secondary files in HDD.
The dedicated servers packages start from $95 per month.
3. Linux & Windows VPS Hosting
Readers can order Linux VPS & Windows VPS hosting at an affordable price, and it starts from $6.99 per month. We are happy to see Linux VPS server in the listing as it is secure, powerful, lightweight, stable and comes at an affordable cost. Also if you are a developer you can automate most of the process using an API.
Users can order Linux hosting that has 512 MB RAM, 1-core CPU, 15 GB HDD, unlimited bandwidth for $6.99 per month.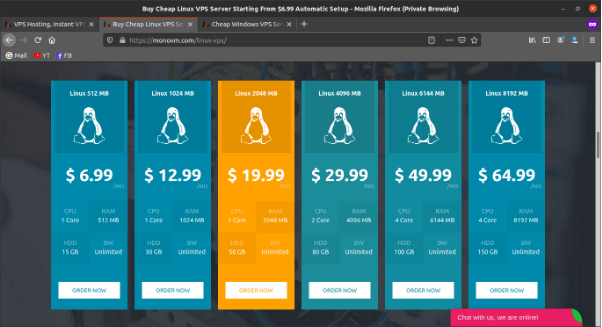 Users can order Windows VPS hosting that is equipped with 1 GB RAM, 20 GB HDD, 1-core CPU, unlimited bandwidth for $16.99 per month.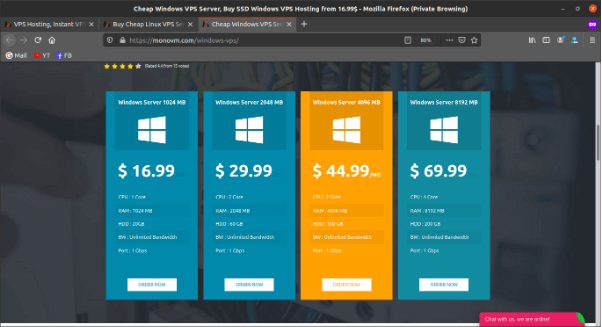 Readers have the option to select from lowest Linux package to highest Windows packages depending on the business requirements. The VPS hosting packages are affordable and it doesn't break your bank vault.
4. Cheap RDP
Remote Desktop Access is an essential part of the business for millions of companies around the world. Small enterprises to large enterprises can set up servers online, and then enable RDP for the customers & employees. Companies can easily attend to the work from anywhere in the world like Home, Office, Remote location, Travelling and others.
Customers can order Intel Xeon E5-2620 running machines and customize the hardware depending on the budget & requirements. The RDP server with admin access starts from $19.99 per month, while an RDP account with no admin access starts from $14.99 per month.
If you are not looking for a server and rather want to run WordPress blog, then you have Linux-based web hosting ($6.99) & WordPress web hosting ($9.99) for the customers. It is a basic plan that is suitable for blogs, and business websites that don't have 10,000+ traffic per month. You can move to Plus, Pro, and Super packages to handle larger amounts of traffic per month.
Bottom Line
MonoVM is a well-known web hosting company that are offering wide-range of products to the customers for 20-years. The company has a dedicated phone line, and email address for support and have "Knowledge Base" for DIY solutions. Let us know what you think about MonoVM in the comment section below.