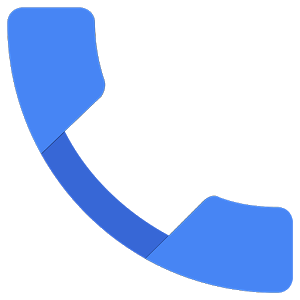 Material design dialer is a light weight app for your phone that just consumes 4.68mb for the current version of the app. The application has been developed by the programmers and designers at the White Rabbit Tek. Currently holding up a rating of 4.4 the application has a whooping 1000+ downloads. The cost of the application is $3 which is worth every dollar spent. This application is amongst the best applications for its simplicity design, whilst adding enormous amount of features to your dialer and contact screens. Each feature that is added by this application to your phone has been provided with an on and off options in the settings option of the inbuilt sliding menu panel.
The team has also undertaken the pain to provide multiple design options which allows you to decide between the combinations of two colors that may brighten up your screen according to the color combination of your choice. The color combination ranges from dark combinations to light ones. Amongst the many features provided by this application the features that I would want to put the spot light upon are the few underlying.
Are you interested in changing the look and feel of your device completely then here is our complete review of Nokia Z Launcher
The much ignored clipboard paste feature which is available on your mobile's dialer screen which directly allows you to paste the phone number that you may have copied from any website, it reduces the hassle of the long press on the dialer screen for the paste option hence reducing the overall time and an boosting the proper utilization of the user's time. The other two features available on the dialer pad are the send SMS and the direct save button for any unknown number that you may dial on the dialer screen. The side sliding menu screen provides multiple options for the user to spread the word for the application as well as to define the theme and the settings. The app also highlights the favorites page which displays all the contacts that the user may have marked as important in the contact list, the marking is done through a star that is present in front of each contact in the contact menu. It also allows you to customize the arrangement of the favorite contact that you have selected in the contact page.
Lastly I do want to highlight the feature which allows you to add the unknown number to your contact list, it is easily accomplished on the history screen of your mobile phone just by clicking the plus image available on the left hand side of the unknown mobile number, it will pop up the add contact screen in seconds.
Final Thought
Overall I would want to say for the people who want to increase the productivity in their daily routine are highly advised to add this application to their collection of apps.
Click it to get it from Google PlayStore