Trace Phone!!I know the title itself makes you to visit this guide and I don't want to disappoint you. There are lots of methods and applications to share the location and to trace the location in the time of need. But,we loves quality right? And so I am here to make you introduced to an awesome android app namely "Locator Track Mobile Phone". Are you tired by searching this kind of stuff, and thanks for stopping by. I am sure you are going to thank me at the end.
What is Locator Track Mobile Phone Android Application ?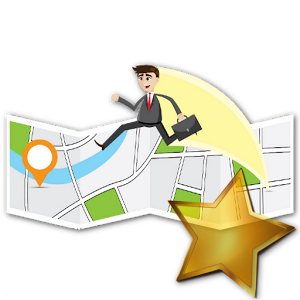 It's an normal android application with extraordinary features. It allows you to track the location of the connected person and provides you the emergency call features which was helpful during calamities. I am impressed with the following features and it's time for you to go on and install the application and have a boom!!!
Why it is better than several other apps?
Remember, this is from my experience. I tried a lot of applications to which allows us to trace the location. They started spamming my mail and phone by their ads and etc etc.More over its a bit uneasy to browse through an application which is full of ads, right? This application solved the above ones and was so I am here to review this android application.
Features of the app:
Note: The application is available in two versions. One is free version and other is of premium version. As you all know that premium versions allows us to get access to some other extra features. Just go with your selected choice.
1) Notifications:
This feature says everything about the functioning of the application. You are allowed to create a zone for you and you can even assign a list of contacts to the zone such as some "x" belongs to your zone. If the "x" is out, you will be notified within the app. But remember both need to enable the GPS in order to enjoy this feature. There is no reason in looking for a notification from your friend who disabled GPS.
2) Easy Invitations:
It might be a small feature for our eyes, but works great.Yes,you can invite your contacts to install the app through various ways such as messenging, whatsapp etc etc.The number of installations will affect the app service to you.
3) Emergency calls:
Thus thing is just awesome!!you can send an emergency call along with the current location with an SMS and you can be within the application too. But the thing you had to remember is, enable GPS and it makes sense. Is it possible to share location with our contacts without enabling GPS?No way and so you had to enable it during your journeys and at the places of risks.
4) Chat:
I think this was only the application which allows you to have a chat along with the above features. It's really cool to even chat with in a location trace app. You are allowed to chat with all your contacts (Remember with only those who had installed the app)and it looks as an instant chatting client which trace locations.
5) Easy signup:
It's a big time waste issue to sign up with some of the provided social networks and many of the apps are of such kind. But this locater app makes the differ, You just need to place your mobile number along with country code and this is more than enough to register.
Process to install and setup:
Process to install the free version of the android application.
1)As usual,check for the play store icon and search for the "Locator: Track Mobile phone". Observe the icon and it should be similar to above mentioned(check the images to observe the icon).
2)Click and install the app(Install app from here)
3)Run it on your device which asks you to enter your mobile number.
4)The homepage is linked to all other options such as emergency calls, Locations etc etc. and what you need is just click on them and enjoy its functioning. Moreover you can get the options by clicking on the menu bar which is at edge f your screen. Checkout out the premium version by click on "premium".
5)The only thing you had to remember while using this is, you have to enable GPS to make use of the tracking features and it makes sense too.
Conclusion:
I know there are many like me who always think of safety and its worth thinking. I personally suggest you to go with Locator: Track Mobile Phone for its awesome features section. I think it doesn't take much of your time to install it and benefits will be further.