Ever felt the need to know what's happening on your PC behind your back? Want to be a responsible parent and keep your children safe from the age-restricted content on the internet or maybe you want to check your spouse's activity? Then keyboard tracer is one such software that will allow the user to keep a track of all the keys pressed on the keyboard.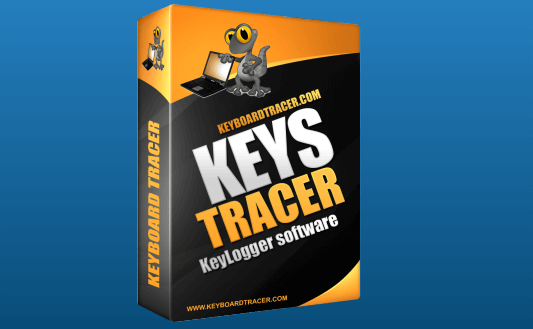 Keyboard tracer is a key logger software which is being used in the corporate world as well as the personal lives of the people. In this time where cybersecurity is a must for any organization, keyboard tracer helps prevent the corporate thefts by giving an accurate record of every keystroke that happened on your system.
Keyboard tracer records every keystroke in-game chats, facebook messenger, emails and all other applications. This software also helps to:
Stop corporate thefts by giving the management details about every system
Keyboard tracer helps the management by giving detailed reports of each and employee's activity and also screenshotting at a particular interval give the management a track of the employee. It also helps prevent brain drain from an organization as the management will keep track of the employee and will know if other options are being seen by the employee.
Makes it easier for you to keep an eye on your kids' activity so that they do not wander on the wrong path
With both parents nowadays working it has become increasingly difficult for the parents to keep an eye on the kid's activity and with the wide reach of the internet anyone with a computer can access any kind of information they want but more often than not kids end up on the wrong side of the internet thus it becomes the responsibility of the parent to monitor the activity of their child and Keyboard Tracer is an excellent tool to do so. Keyboardtracer.com will provide you with all the key inputs that your child happened to do and will help you know who they are interacting with and what are they watching.
Apart from stopping corporate thefts keyboard tracer also make sure that your employees are working efficiently
Is your employee sitting idle or doing productive work in their working time? Find out with Keyboard Tracer if you are paying someone to actually work for. Keyboard tracer lets you know how many keys were pressed and what was your employee doing while you were away.
Know what your spouse is up to and bury that suspicion
Worrying that your spouse may be cheating on you and don't want to make an issue of it by raising your concern and doubting them? Keyboard tracer can help you out in these situations where it will provide you with the intelligence of any kind of cheating and thus giving you a closure.
Or maybe you need to remember something you typed a while back
Maybe you typed an important note that is now missing from your computer but worries not with Keyboard tracer you can also get that note easily back with you.
Keyboard tracer is used to patiently record every key movement on the keyboard while also giving other forensics for the user. This software works silently in the background while collecting all the intelligence of your system when you are not present.
A new feature has been added to the software which does not only allow textual intelligence but also visual by taking screenshots at predefined time intervals but the user.
It also now logs all the text that is copied in the clipboard of the device thus making it nearly impossible to beat the software.
Usage Guide of KeyboardTracer
You can easily download this key logger software from their official website keyboardtracer.com
Once after installing the software, you can open it to begin the session of keystroke recording. You will see something same like the below window when you open the software for the first time: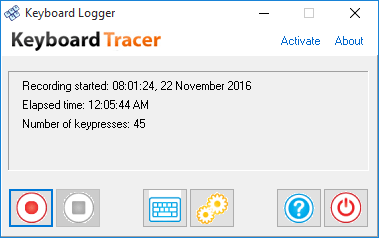 The recording starts automatically once after opening the application. You can disable it by properly clicking on the switch off button.
You can even customize the settings by tweaking the below window:
Final Verdict
Though some people may advocate the use of keyloggers as harmful and malicious and say that its only intent can be to hack and get someone's personal information without noticing but like with every technology there is a positive and a negative. Keyloggers like Keyboard tracer often helps people too as mentioned above and thus proves to be a good security measure for your personal computer or for an organization system. This software comes as free of cost and the license of this software can be bought for $19.95.