As we have lots of accounts on tons of different websites, we may wonder if our passwords are safe or not. Here we have a great instruction about finding websites that are causing data breaches. With Chrome, Edge Wallet, and iCloud Keychain, you can see all your leaked passwords and change them it before is too late. Read the guide below and keep your information safe and sound.
What does it mean by leaked Passwords?
You need passwords to enter your account on websites. The database of such a platform keeps all your information. Hackers and cybercriminals can breach such databases and steal sensitive information.
The dark web is also an underrated place where unethical individuals sell these password databases. If your password and username end in one of the marketplaces on the dark web, then surely your account is compromised. The way such leakage of passwords happens is by the automated task of running combinations of passwords to enter into the target's account.
Another scary scenario is when you have the same password for multiple sites. Once a hacker knows your password then all your accounts become vulnerable. As a result, there can be a lot of misuse done to your account from identity theft to fund transfers.
A robust password manager's task is to keep all your information safe in the database. To ensure that the hackers do not get a glimpse of your information, such a password manager has a serious set of security features.
Encryption is one of the security features of password managers to protect your data. As a result, even if your password managers cannot pinpoint your exact password, they just store it safely.
Find Leaked Passwords in Google Chrome
Google Chrome browser has its own password manager that stores all your data that is synced with your email address. You can go to that manager and find all your leaked passwords.
The beginning process involves opening the Chrome browser app.
Let your browser load up completely and you will bunch of options including the Google control button, you have to click on it.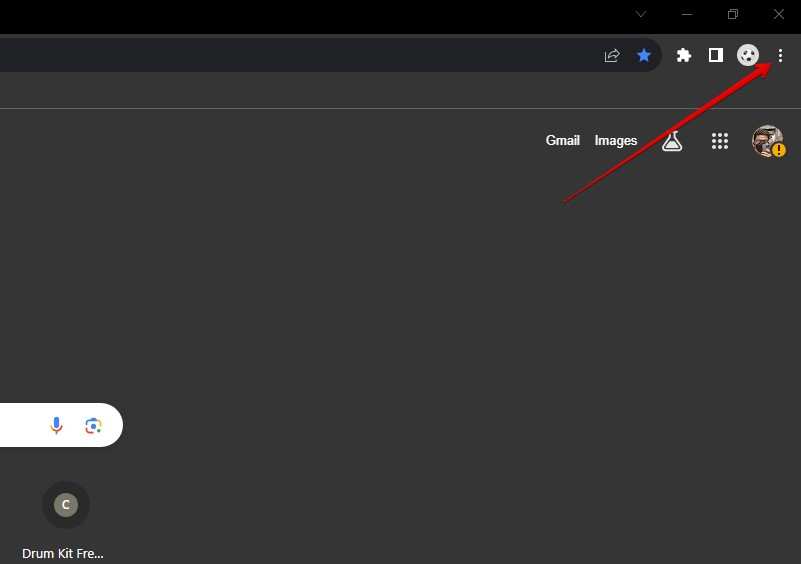 A drop-down menu of settings will come up where you have to select "Google password manager".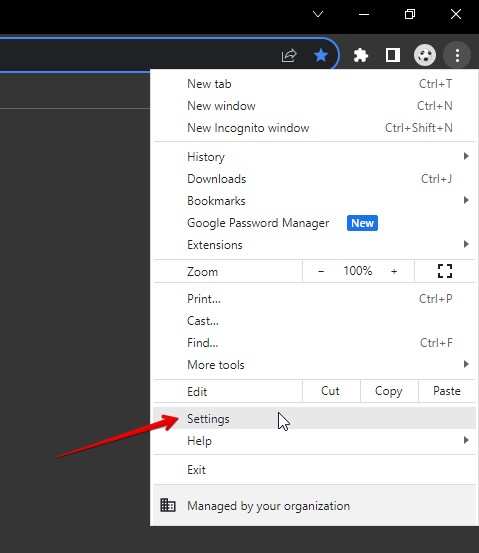 The manager page will be displayed on your screen and you will many password-related information. Go to Cgeck-ups" from the left sidebar.
Click on the "check passwords" shown in a blue button.

Now Google will scan all your passwords and tell you all the vulnerable passwords. The red exclamation mark shows all the compromised passwords.
Click on the newly compromised password section and you will see those websites where your account is at risk.
You can simply click on "Change password" located alongside each website to modify your credentials.
Find Leaked Passwords in iCloud Keychain
iCloud Keychain is a reliable tool that keeps all your passwords in check and helps you stay safe from any form of data breach. Just like Chrome, this program from Apple can also let its users find leaked passwords. Here's how you do it.
Whatever Apple device you are using, go to its settings. In this guide, we will use Mac as an example. On your Mac, open "Settings".
On the left side of your Mac screen, you will have many settings options including "Passwords". Go to the Password section.
The system will prompt you to authenticate yourself with a password or biometric. So give all the authentication by giving the password and hit next.
Now go to "Security Recommendations" and you will the names of websites that have caused potential data breaches.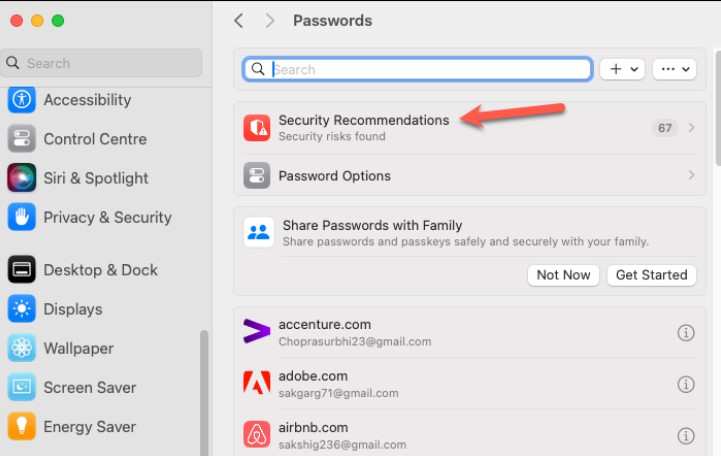 You can simply click on "Change password on website" and change your account credentials.
Similarly, you can do the steps on all other types of Apple devices like iPhones. In addition, you can change passwords from all the vulnerable sites using the method above.
Find Leaked Passwords in Microsoft Edge Wallet
Microsoft Edge Wallet is a recent feature that was added to the browser It manages your payment information and passwords. To find leaked passwords in Edge Wallet, follow the following method.
Open Edge and go to the right side of the address bar where you will see the Edge Control option icon.
Click on the control icon and select "Settings" at the bottom.
Go to "Passwords" located below your profile picture area.
After that, go to more settings and turn on show alerts toggle. This toggle is already turned on for users who have already signed in.
Now open "Go to Wallet" at the top right.
The next step involves going to the "Passwords & Personal Info".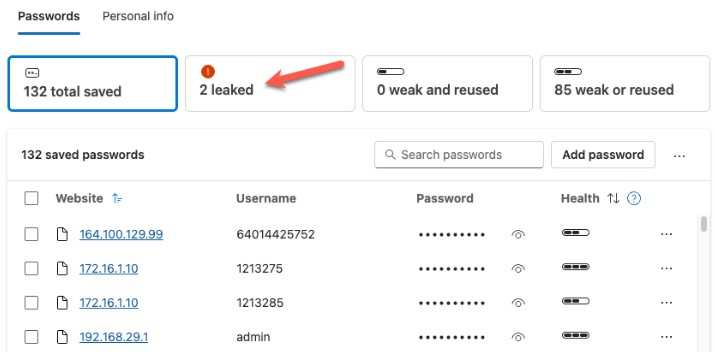 Inside the tab, you will see all the leaked passwords which you can go through one by one and change their password.
Conclusion
Whether you are using Edge, Chrome, iCloud, or all of them. You should regularly check its password manager and keep your information safe. Renewing your credentials or passwords is easy to do and you should utilize it.