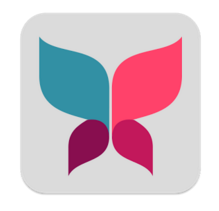 Welcome everyone to our new post and in this post we are going to review a collage making app for android, Collage+. Collage+ is the easiest way to create photo collages. Use the collage plus and create your own collage in few seconds. It is a KVADGroup product and is currently available for Android based devices only. KVADGroup is also the developer of very famous photo editing app known as Photo Studio. Now let us explore more about Collage+.
Exploring Collage+ Android App
By the name itself, you can get the idea about the use of the application. Collage+ makes it possible to create an attractive photo collage in few steps. To give special effects like text, stickers, etc. Users have to use Photo Studio application which is also free of cost. Let us have a view on some of its features.
• It has 10 amazing themes of events like Travel, In Love, Office, Students, Kids, etc. With more than 70 amazing and attractive styles. Have a look to few of those.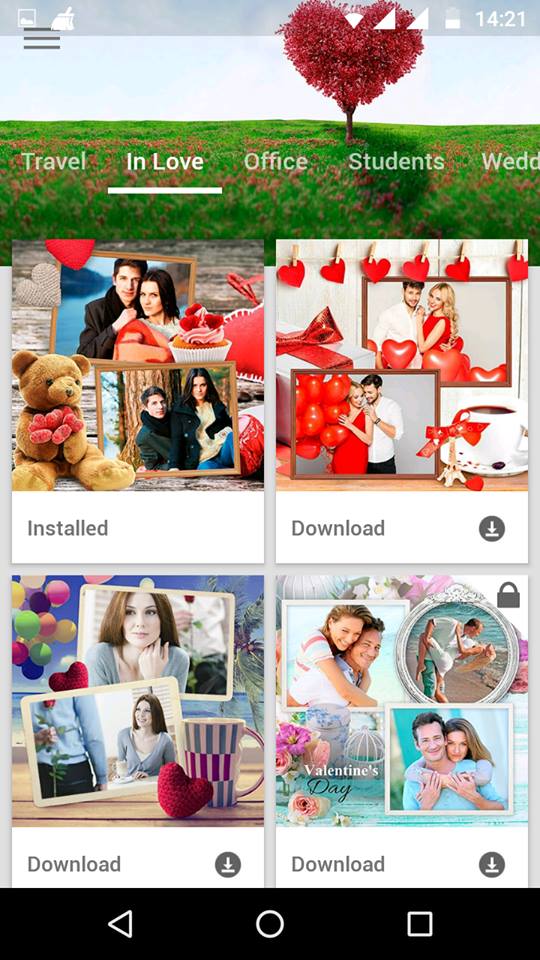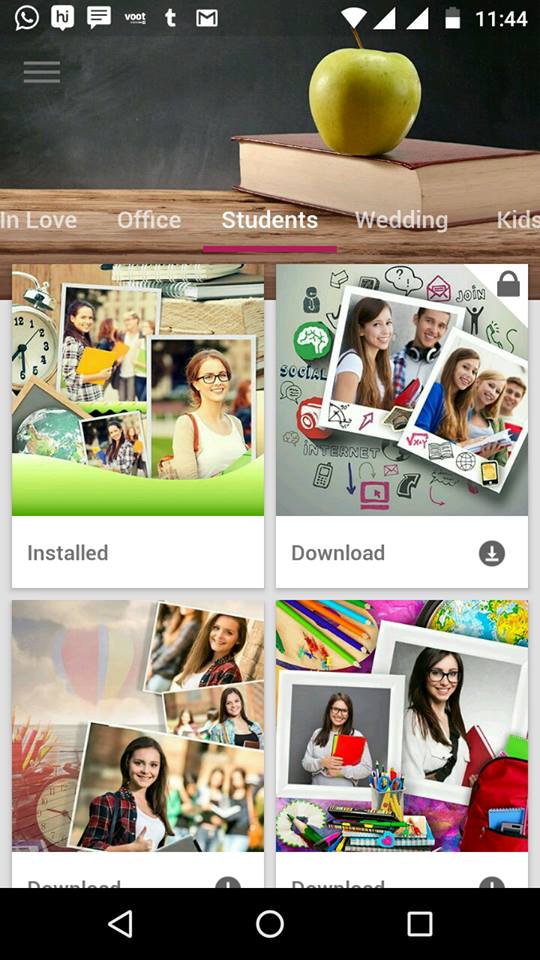 • As we mentioned above it is integrated with Photo Studio to give best photo editing experience to its users.
• Easy share option is available, by which users can save the result in a gallery or can easily share their collage directly on social media sites like Facebook, Instagram, etc.
How To Use Collage+?
Well using Collage+ is not a big deal it is very easy to use it to create an attractive collage. However, some of the people find it difficult to do so that is why we are providing a small guide on how to use Collage+ application?
1. Whenever you will open you will see the screen as shown in below snap.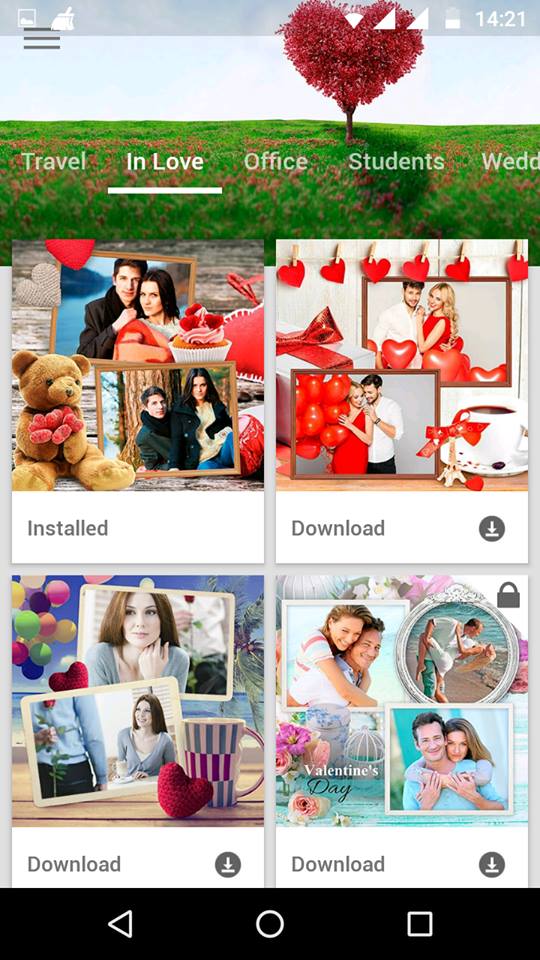 2. From the home screen choose your theme like we chose Students.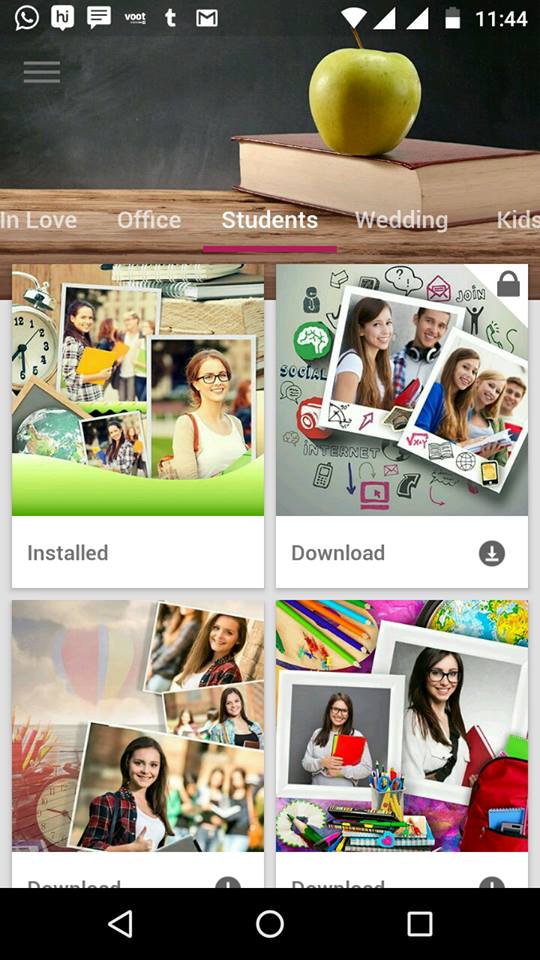 3. As you can see in Students theme, there are many styles. Some of them are unlocked (free) and some of them are locked (paid). Choose your favorite style.
4. Like we choose the first style, then you can click on the plus button to add an image.
5. You can further add more photos.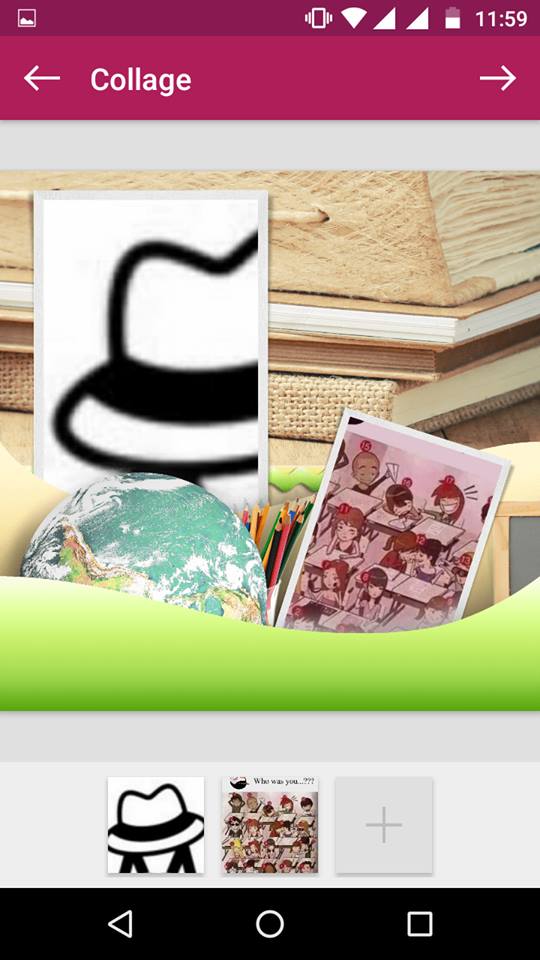 6. Then click on the arrow that is on right hand side.
7. After that we can edit your album and there are many options as shown in the below snap. One thing everyone should notice is that for editing purpose Photo Studio is essential.
8. You can click on Floppy to save the result into the gallery or you can directly publish collage into social media sites. Have a look to below snap for more idea.
Final Words
Now we are wrapping up here only with some pros and cons of the application. Have a look on these pros and cons and take steps accordingly.
Pros:
There are many pros associated with this android application. Few of which are as follows:
1) It is a free collage making app with inexpensive in app purchase.
2) It provides 10 themes with more than 70 styles which is very huge and impressive.
3) Its processing speed is very good. Also it only a matter of seconds to generate Photo Collage.
4) Easy and Attractive User interface.
5) High quality collages are generated.
Cons:
Well, nothing is perfect in this world and so with this application for android. There are some minor issues associated, which we would like to discuss with our readers.
1) The size of the app is 39 MB which is too large for the application like this as we have to download most of the styles separately.
2) To provide high quality editing experience to users, the app is integrated with Photo Studio it is good, but at least some basic editing features should be available in the app.
3) And it is only available for Android based devices, making this amazing app out of the reach of other platforms users.
At last we would like to suggest this collage making app to our users as it is a free app and 10 different themes available in it is making this collage making app ahead of its competitors. Try it once and share your experience with us through like, comments and share.