Apple launched the M1 Chipset lineup for the upcoming MacBook and Mac Mini, and the majority of the programs don't support M1 CPU + GPU processor. The market is occupied with Intel-based processors, and M1 Chipset does a good job at emulation, so the majority of the apps will work. However, you can find a lot of apps that are not available for the latest Apple launched M1 processors. Fortunately, you can write NTFS drive on macOS Big Sur running M1 Chip because iBoysoft NTFS for Mac supports the latest CPU & GPU processor.
Why Apple doesn't support NTFS Drives?
macOS is an exclusive operating system for MacBook and iMac computers sold by Apple. The Cupertino-based company's direct competition is Windows PC, and Microsoft utilizes NTFS storage technology. The NTFS storage technology is designed for HDD and SSD devices, and you can store a lot of data in it without file size limitations. Apple does not support the NTFS file system because they don't want the Windows users to work around in the macOS. After all, Apple wants the consumers to stick to MacBook or Mac Mini and never go back to Windows.
Apple allows the consumers to read the NTFS storage, but they don't allow the users to write on it because it is a sales strategy and increase longevity. macOS can read NTFS drive, but it cannot write on it, and that's a huge limitation.
What is iBoysoft NTFS for Mac?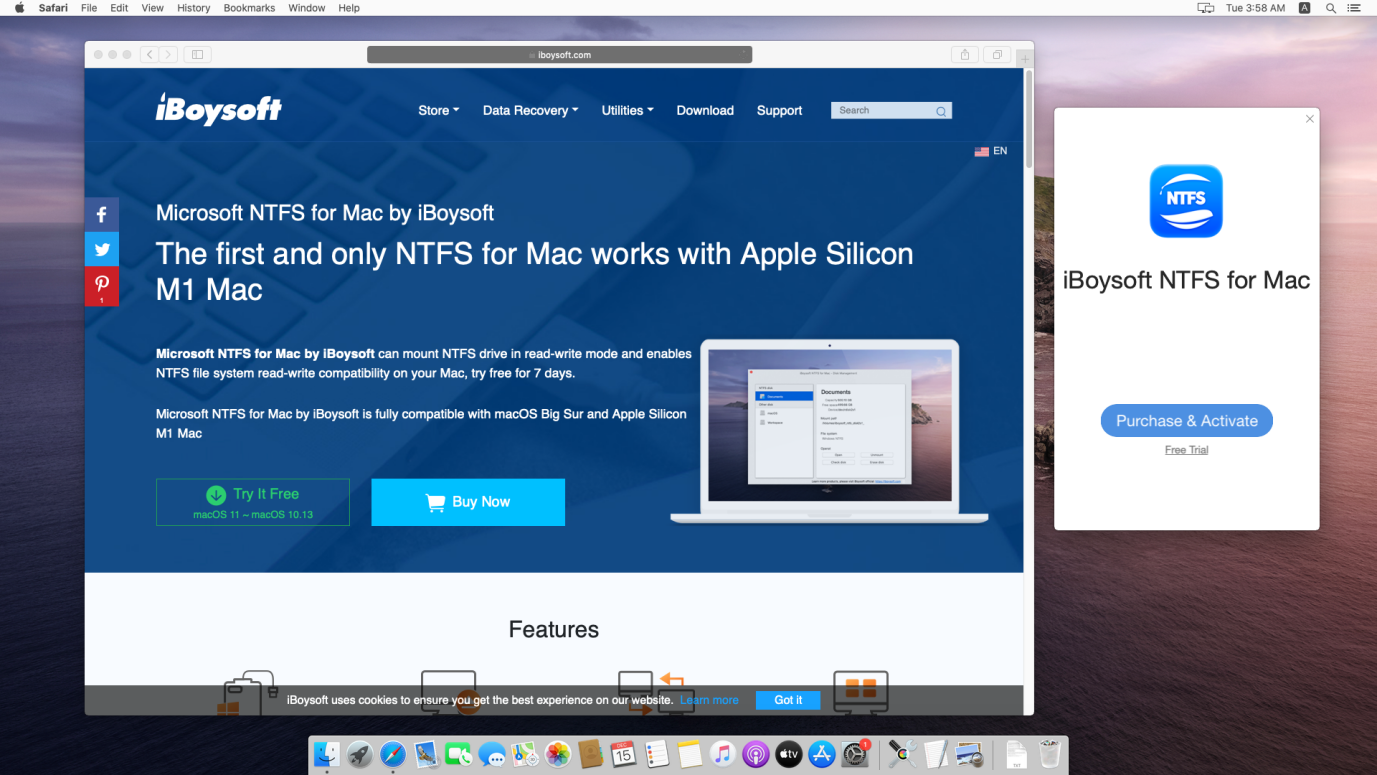 iBoysoft NTFS for Mac is a savior for Windows & macOS consumers because it is the best NTFS driver for Mac. The developer worked on the compatibility for Intel and they have updated the software to make it compatible with the latest macOS Big Sur and M1 Chipset. iBoysoft NTFS for Mac works flawlessly on old Apple machines and the latest machines available in the market right now. Let us look at several features that make iBoysoft NTFS for Mac solution worth looking at it.
Meanwhile, you can free read and write to NTFS drives with iBoysoft trial period for testing purposes.
1. M1 Chip Compatibility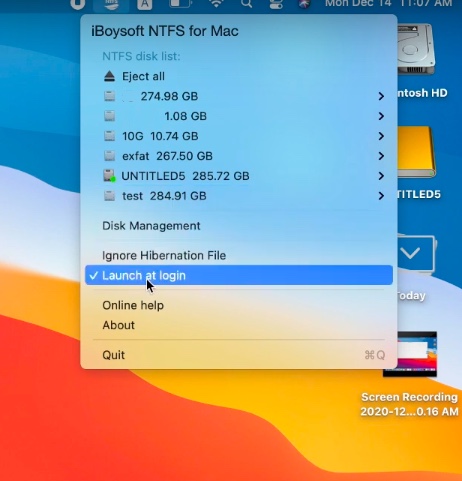 iBoysoft NTFS for Mac is compatible with Apple M1 (SoC,) and it will work flawlessly on MacBook & Mac Mini without limitations. The company continued to work on the software development for a while and the developer begins working on the update from day one of the Apple M1 release. You can download the latest version from the official website and transfer the data from Windows to macOS or macOS to Windows. Your NTFS HDD or SSD will support the latest chipset, and iBoysoft NTFS for Mac is the only software that can make this happen right now.
2. Big Sur Support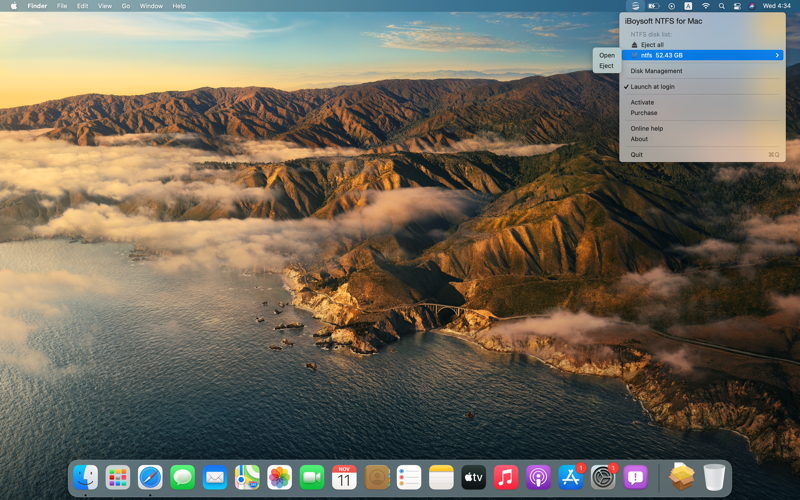 Apple dropped macOS Big Sur (11.1) for older hardware and the latest hardware. The consumer knows about the Apple software that does not support a wide range of apps on older software, and that's where update comes in handy. Fortunately, iBoysoft NTFS for Mac won't have problems running on Big Sur as it is an updated program. Your MacBook & Mac Mini will recognize the program, and you can start transferring data to NTFS drives.
3. Read & Write Capabilities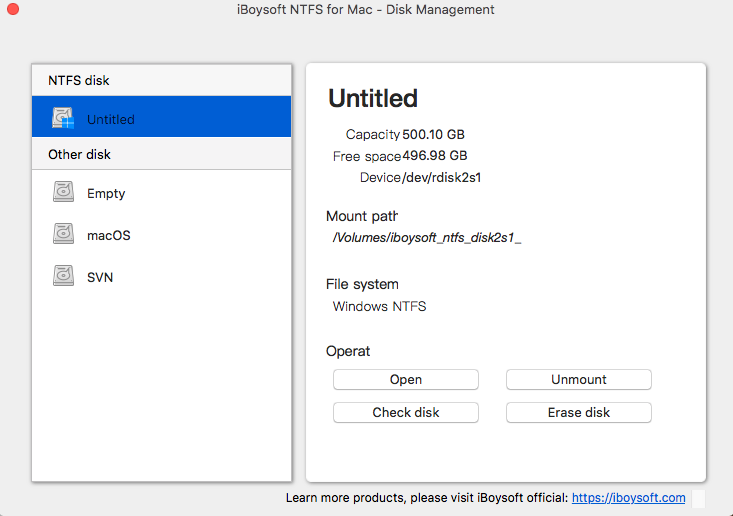 Windows & macOS are rivals who are battling to stand on the top, and of course, we know the current reigning champion. However, Apple wants to preserve the market value in the product, so you cannot write data on the NTFS drives. iBoysoft NTFS for Mac is the only program on the macOS platform that allows the users to Read & Write data on NTFS drive. Yes, you no longer have to tell the client that it is not possible to transfer data from Windows to macOS because you have a viable solution now.
4. NTFS Tools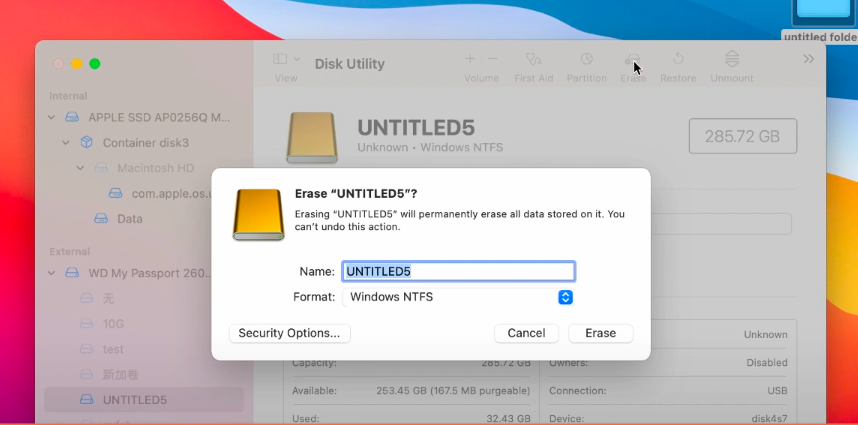 All operating systems offer advanced drive tools, and the iBoysoft NTFS for Mac program went ahead to integrate advanced options. You can do plenty of things using the program but allow us to highlight a couple of functions to give you a broad idea of the capabilities. The program's main selling concept is to read & write data on NTFS drive on a macOS machine. iBoysoft NTFS for Mac can erase APFS/HFS+/HFS/exFAT to NTFS in Disk Utility.
You are one-click away from auto-mount, unmount, view, eject, and more
Rename partitions from the Apple computer
Administrators can Restore Time Machine backups to the NTFS drives in a few clicks
Advanced AirDrop support to transfer files
You got plenty of functions in the program that will make life easy for Apple computer consumers.
5. File Transfer Speeds
There is no doubt that mechanical hard disk is a bottleneck since it's existence is proven by SSD technology. iBoysoft NTFS for Mac NTFS for Mac is an optimized software that is designed to give maximum performance. Users can transfer large files from macOS to NTFS drives at blazing fast speeds. The program will utilize the processor, local disk, and host disk read & write speeds and give you transfer speeds that competition cannot compete against it.
Bottom Line
iBoysoft NTFS for Mac is available for macOS Big Sur (11.1) and works flawlessly on the latest Apple M1 SoC. Remember, you can try the trial version for testing purposes, so you can decide on whether you want to continue using it or not. Customers can purchase the premium license by choosing from two packages, and they are 1-year license ($19.95) and a lifetime free upgrade ($49.95). Let us know what do you think about iBoysoft NTFS for Mac in the comment section below.