Managing the expenses of a business is pretty complex. If you own a business and are struggling to keep track of the expenses, then there is a special tool for you called Hurdlr. This app is designed for everyone who wants to manage their business expenses, mileage and tax estimates.
This expense tracking app is unique and has advanced features to keep track of your expenses as well as your income. The app updates in real-time to help you manage your expenses and deductions to save you money.
This expense tracker app is designed to suit the needs of all types of users. Let's dive into some useful information about this app.
What is Hurdlr?
Hurdlr is a revolutionary expense tracker app designed for individuals working in different industries. Whether you are a freelancer or own a business, you can use this app to keep track of expenses, income, taxes, and more.
The tool integrates with different income sources like your bank, Uber, Square, Stripe, and more. You can also automatically track your mileage
Hurdlr Expense Tracker: Key Features
Being an innovative expense tracker app, the app has many extraordinary features to attract new users. To give you more information about all the unique features this app has to offer, we have compiled a list of them here. Let's check them out!
Easy-to-use Interface
The app has an easy-to-use interface. You don't need to be a tech expert or an accountant, just install this app on your device and start tracking your expenses and income.
Once you are signed up, you can integrate your bank accounts with ease.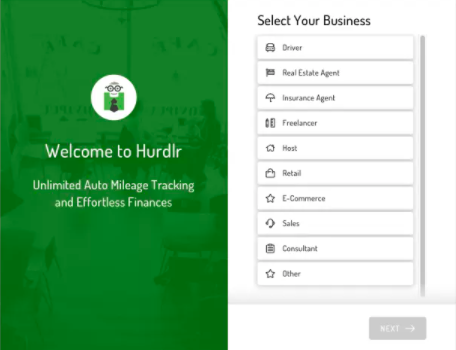 Built-in Mileage Tracker
Hurdlr offers an automatic mileage tracker tool to track your drives. The Premium mileage tracker tracks your mileage automatically, then you swipe to tag your drives as business or personal.
Tracks Your Expenses
Most people use this app to track their expenses. The app collects data from integrated accounts and you can swipe to tag them as business or personal. Hurdlr uses machine learning to learn your behavior, based on your prior tagging. Hurdlr will start to suggest rules to you to automatically tag certain transactions as business or personal, to make things even easier for you. You can upload receipts as well.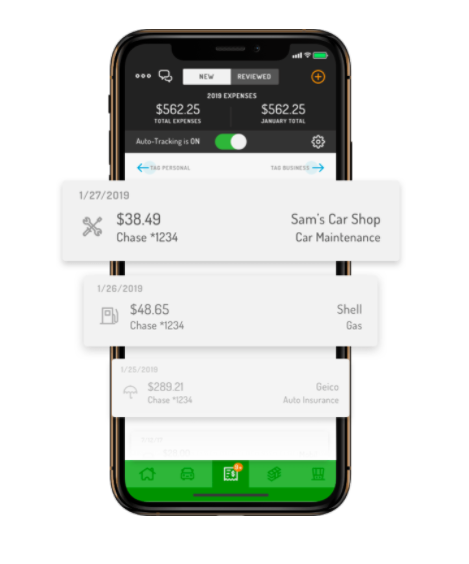 Tracks Your Income
The app helps you always know your income. You can add multiple income accounts to this ap including your bank accounts as well as other popular integrations.
Real-time Reports
You can generate detailed reports at any time. This unique yet useful feature lets you check your income and expense reports in real-time right from the dashboard. It also provides detailed tax reports that you can use to help you file your taxes.
Support
Hurdlr offers fast, live in-app support that typically responds in less than 5 minutes during business hours. They also have a detailed Help Center and tutorial videos you can see at any time.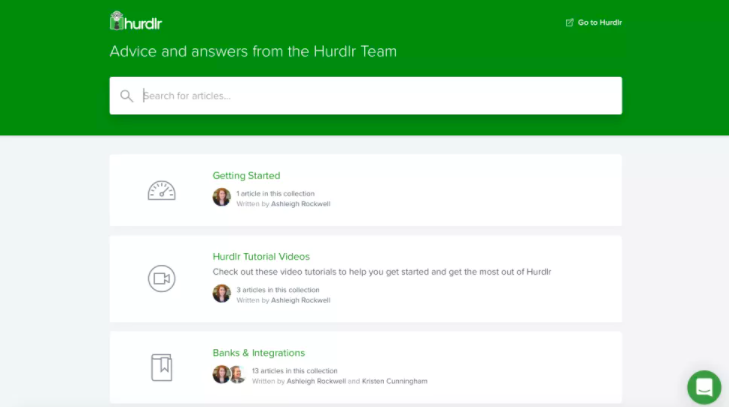 Multi-platform Compatibility
Hurdlr is a multi-platform app that is available for all types of web users and mobile devices. The app is available for Android and iOS mobile devices. Mobile phone users can easily use this app to track down their expenses and income on the go. The app can be used online through its web-portal. All data is synced across your phone and your computer.
Estimated Taxes
In addition to income, expense, and mileage trackings, Hurdlr also shows you the estimated taxes that you owe. In a nutshell, Hurdlr is an all-in-one finance management app that tracks down every single piece of information about your business finances.
Hurdlr: Pricing
Hurdler offers different plans to suit everyone's needs from basic manual tracking to automatic tracking and to advanced accounting. You can choose from the free, Premium, and Pro plans.
The free plan allows for basic, manual finance and mileage tracking. The Premium plan includes automatic mileage and finance tracking, plus real-time detailed tax calculations. The Premium plan costs $5 per month and billed annually. The Pro plan is the most advanced service that includes all Premium features, plus it adds invoicing, accounting, and includes your annual tax filing fee. The pricing for this plan is $10 per month and billed annually.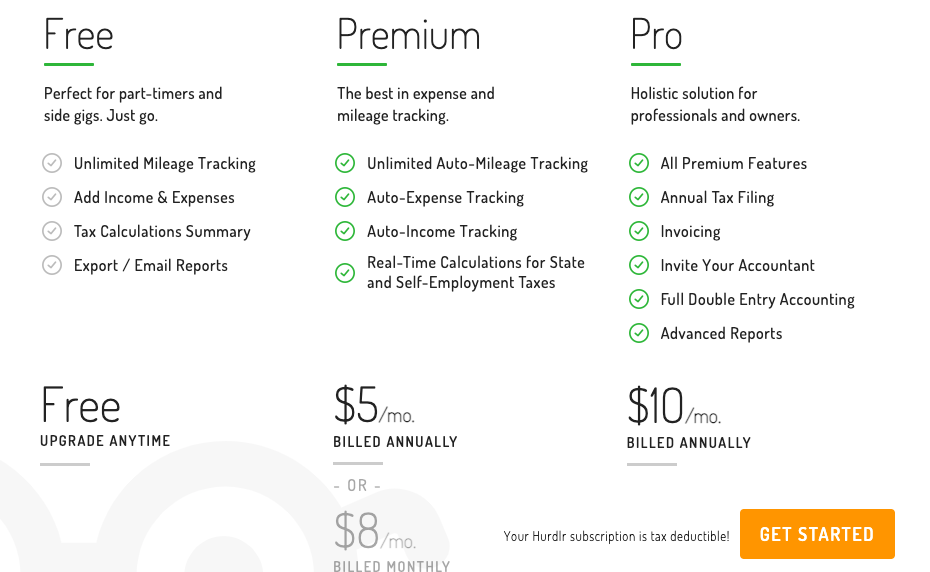 Conclusion:
Hurdler is an all-in-one business finance app that keeps track of your business expenses, income, and taxes. The best thing about this app is it can be integrated with multiple tools that you are already using.
It requires one-time setup and configuration and the rest will be managed by the app automatically. From tracking your data to generating a detailed report, everything is available on your dashboard.
With attractive plans and features, this tool is for everyone. Go, give it a try now!