In today's modern world, most companies work online with remote staff. There are many types of software present on the web to keep an eye on what your employees are doing. However, small businesses or startups don't have that much money to develop their time-tracking software.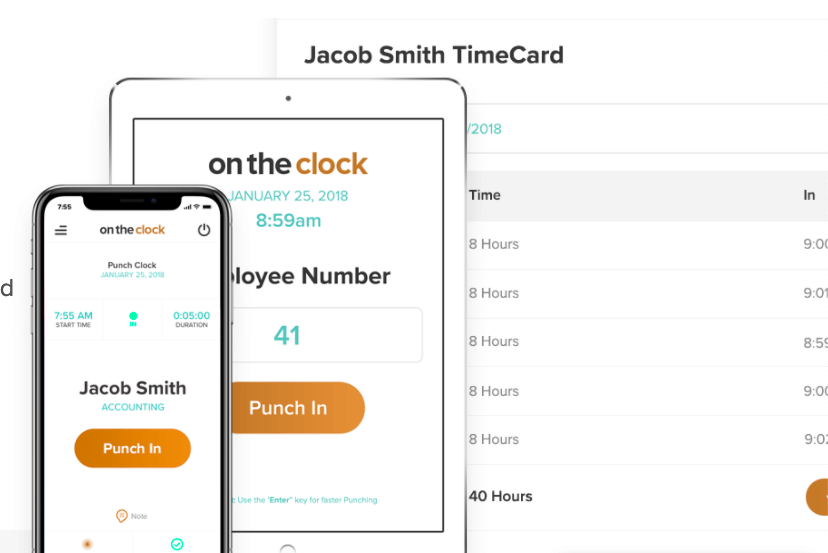 If you are searching for an online time-tracking and attendance software for the team of your employees, then OnTheClock is the right tool for you. OnTheClock Review will give you in-depth information about this software and its functionality.
What is OnTheClock?
OnTheClock is an online time-tracking software to track hours of work by employees. Unlike other time-tracking software for employees, the OnTheClock software packs a bunch of additional features which make it the most advanced time-tracking and staff scheduling software.
OnTheClock Time-Tracking app works not only for employees who work remotely, but it can be used for in-house employees also. If you want to keep track of your employee's or team's hours of work along with shift scheduling, then OnTheClock is the right app for you.
What makes this software unique from others is it is a cloud-based software. It stores all the information about the company and its employees over the cloud with easy access to the stored data and information. The software is designed for all sizes of enterprises with different numbers of employees. The software can be used even if for one employee.
The Software comes with a list of useful features that makes it the most advanced time-tracking software for remote staff. To know more about this software and its functionality, let's take a look at the list of its features.
OnTheClock: Key Features
Intuitive User-Interface
OnTheClock is designed for all types of enterprises. The software serves an easy-to-use interface. The built-in time and attendance tracking feature helps small businesses and enterprises keep an eye on their remote staff.
There are many ways with which employees can track their working hours. The software is available to access using the Mobile App and Web browser. Employers can use it like a Kiosk to keep track of their employee's and staff's working hours. It acts like a dedicated Kiosk for the group of employees i.e. for group punching.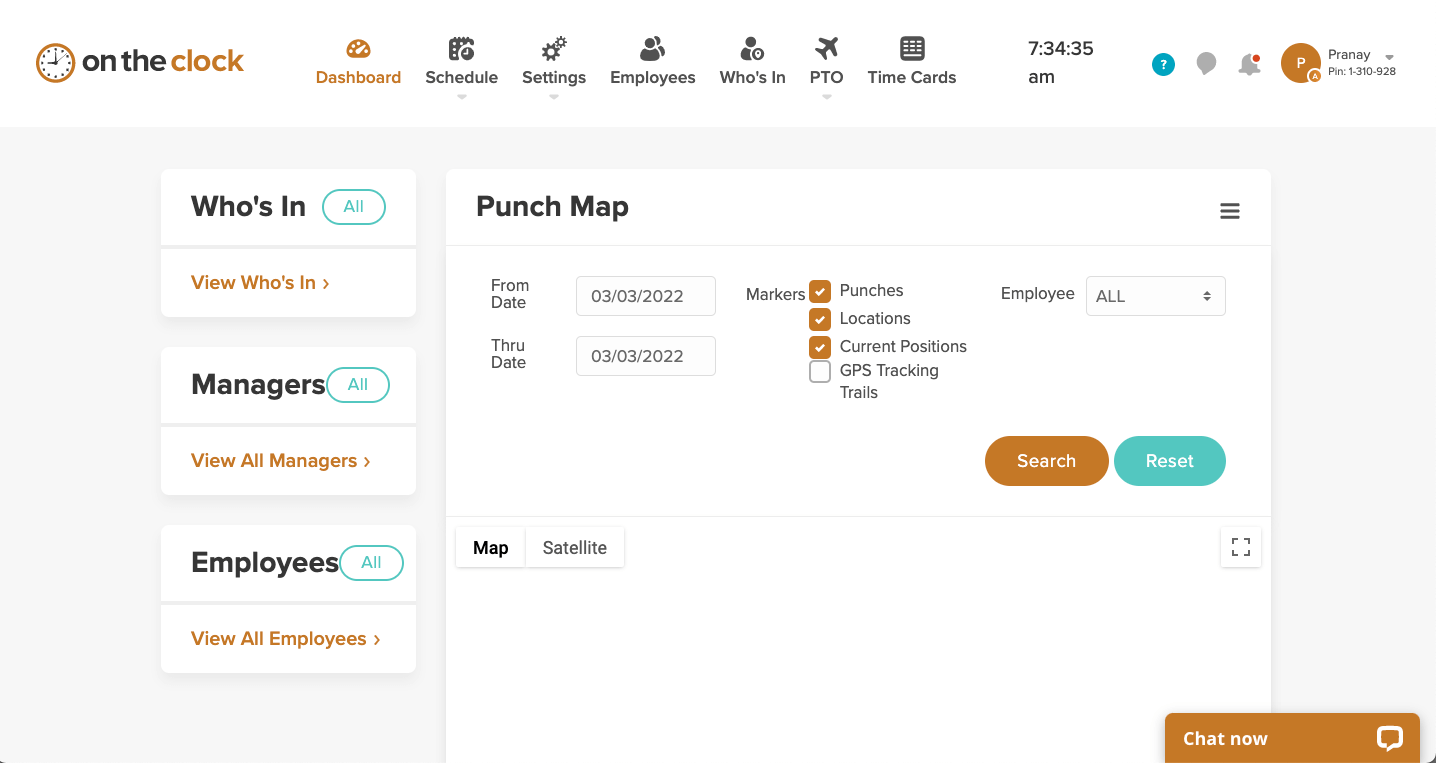 Accurate Time Reporting
The accuracy of recording the time of work of the employees for a company helps both company and employees to know about their hours of work. Employees can check their hours of work using the mobile app, and web browser. Tablet users can use it like a Kiosk that comes with a biometric fingerprint feature for additional security.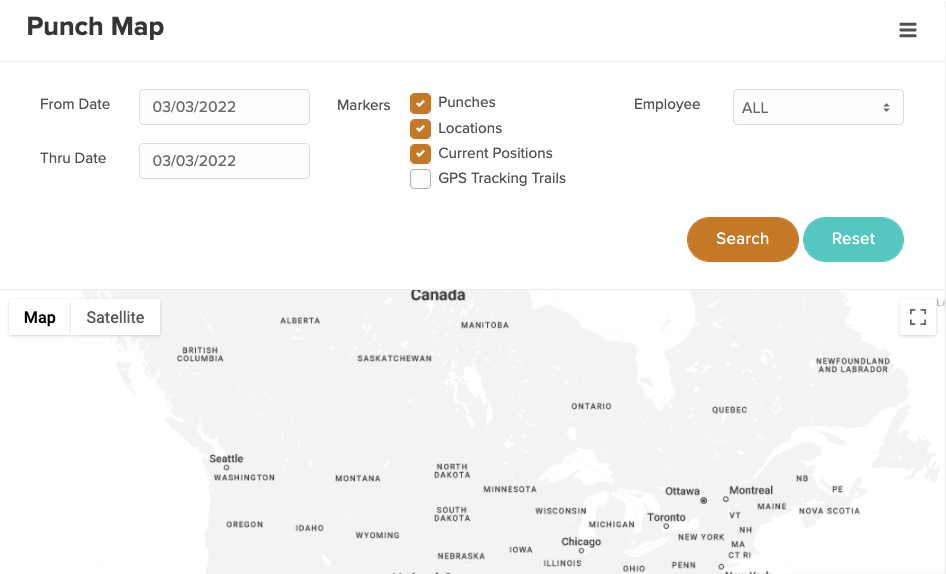 The software has a built-in GPS service to track the current location of the employee. This feature helps the employer to
know where the employee is punching in and out while on the clock. Managers can also see the GPS Map of the employees in real-time to check their activities and punch-in/ punch-out time.
Easy-to-Setup
The software serves an intuitive user interface that requires no extra effort to use it. Anyone can get started with this software by following simple instructions.
Businesses can use this software with the web browser and employees can use it on their mobile phone by installing the app. Employees need to hit the punch-in button before they start working.

Quick Scheduling
The software comes with a color labeling feature to differentiate employees working in different departments of the company. This section is the primary section for adding the employees and scheduling tasks. There is no limit to adding employees, administrators, managers, and other positions in this section.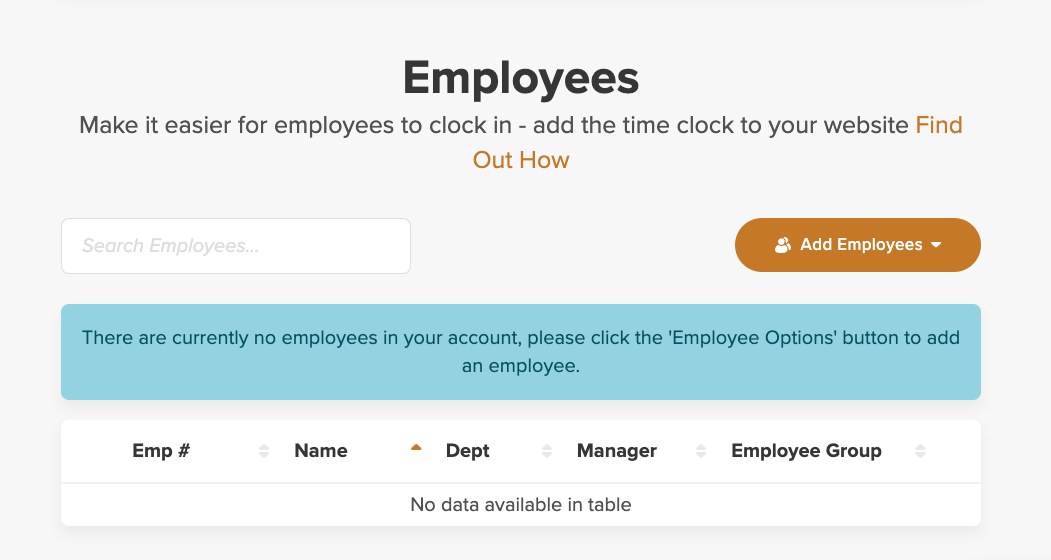 Employee Scheduling feature lets you design schedules, send reminders via notifications to employees, and more. Managers can utilize this scheduling feature to schedule shifts of work for their employees using this software.
Advanced PTO Management
Most companies get confused when it comes to managing PTO for their employees. OnTheClock is there to resolve this problem with an easy-to-use and simple PTO Management tool. Managers can easily track and manage PTOs of employees and their allotments along with the requests.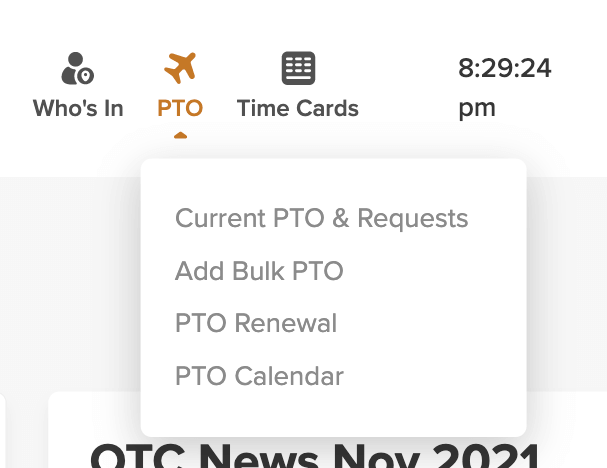 With full PTO Management capabilities, the OnTheClock app is the perfect choice for companies irrespective of their industry and number of employees. The software tracks sick-time accruals and vacation which makes it easier for the managers to track their PTO. Once an admin or manager adds you, you can punch in and punch out anytime you want using this software on your mobile phone, tablet, or computer system.

Detailed Reporting
OnTheClock provides detailed reporting for payroll. Besides this, there is a feature to calculate the overall cost for a particular project. The built-in project reporting feature is quite advanced as it lets you decide the timing of accomplishment for an ongoing project.
In-app Messenger
There is a built-in communication feature also present on the app. One can use the in-app messaging feature to communicate with the team leader, the manager, or the employer.
Besides this, the app also features surveys to share your opinions and thoughts regarding something. The surveys are of different types and in-app messenger helps you build a great community.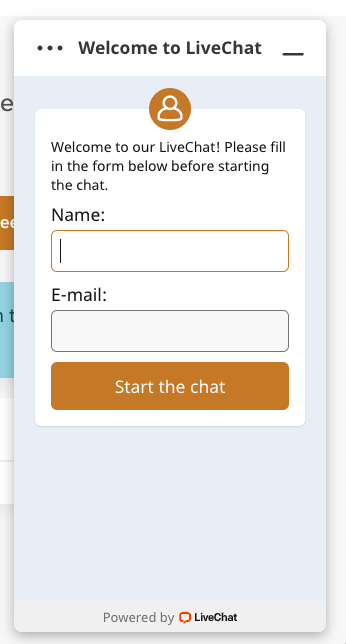 Great Compatibility
OnTheClock time-tracking software is available for all types of platforms. One can use it on a computer system and laptop with its web portal. It is compatible with all types of web browsers and runs smoothly on all types of systems be it a Windows or Mac.
Besides computer systems, the same software is available for your mobile phone. Yes, OnTheClock's official app is available for both Android and iOS mobile platforms. One can install the app from the Google Play Store and App Store for their respective devices.
Unlike other time-tracking mobile apps, this app only uses your mobile data when someone punch-in or punch-out. It consumes less battery of your mobile phone. The mobile app of OnTheClock uses mobile data or WiFi connections.
Customer Service
The high-end customer care service offered by the provider of the OnTheClock app is really good. One can reach out to the customer care team to resolve queries and questions by phone and email. The built-in chat support also helps you resolve the most common queries and issues regarding the app.
OnTheClock: Pricing
OnTheClock software charges per employee every month. The total monthly cost differs as per the number of employees you add to the software. On average, you will be charged around $3.00 per employee for a month. The per-employee charges are listed below as per the official information.
1-2 Employees: Free
3-10 Employees: $3.00 per employee per month
11-25 Employees: $2.95 per employee per month
26-50 Employees: $2.90 per employee per month
51-100 Employees: $2.85 per employee per month
101-200 Employees: $2.80 per employee per month
201-300 Employees: $2.75 per employee per month
301-400 Employees: $2.70 per employee per month
Moreover, the OnTheClock provider lets you customize the pricing model for more than 400 employees. If you have more than 400 employees, then you will be provided with customized pricing which you can get by reaching out to the customer care team.
The Bottom Line:
OnTheClock is a one-stop solution for small businesses and growing enterprises that want to keep track of their employees who work remotely. It's an ideal software for businesses with limited requirements as the pricing of this software is quite reasonable compared to other time-tracking and scheduling software. It comes loaded with a list of advanced features to give your company the much-needed boost.