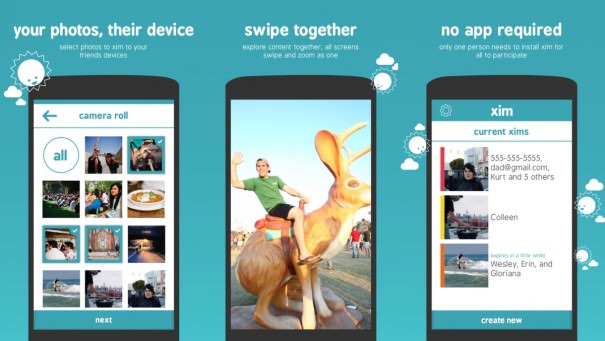 Xim is a new free photo sharing android app from Microsoft.
Xim android app review
The app lets you to share pictures or photos on other smart devices even if they are not using it. So how? If you have installed it on your device, choose a photo from your camera (also supports

 

Instagram, Facebook, Dropbox, OneDrive) and you can add with whom the slides are to be shared as contact list, or email, or phone number and the link will be shared accordingly. For non app users clicking on the the link open the photos in the web client.
Images in the slideshow are in sync for all viewers which helps you to swipe and zoom together
Any viewer can be more engaging if he has the it installed for

Adding more images
Comment on the photo
Perfect for moments like dinner with friends, Microsoft Xim is simply a better way to share because you don't have to pass your phone around to people. When you Xim, the photos will appear synchronously on everyone's devices even if they don't have the app, Microsoft research
You may also like : Time Buddy for keeping you updated
How much space is needed ?
Xims expire after a little while so you're not burdened with storage or management overhead, Microsoft research
Currently available in US and Canada only. We can have hands on in depth review when its globally available.
Other than the one mentioned its also available in Windows Phone store and for iOS (coming soon)
Other info
Version : 1.1.1
Size : 4.4 MB
Fixes that come in this version
Minor UI bug fixes
Camera Roll crash fix
[box]An update version of the application has been rolled out with which you can see the media files on a big screen via streaming media like
Chromecast
Apple TV
Xbox One
Amazon Fire TV
In short now you can synchronous photos on to big screen without any hassle.[/box]
Click here to download it from Google PlayStore