Podcasting Industry is skyrocketing in popularity. It is foretold that in 2022 the number of monthly podcast listeners will reach 125 million in the U.S. and around 420 million monthly listeners worldwide. These figures predict that podcasting will keep growing in the future. Podcasting is a perfect way to connect with like-minded people and reach them more interactively. There are multiple podcast categories for all life spheres. They can be educational, entertaining, informative, or comedic. It's like our love radio, but you can choose a suitable time and topic to listen to it. You can listen to your preferred podcast while driving, running, or having your rest. Podcasting is also a very profitable way of advertising your brand. The forced indoor stay and traveling restrictions during the pandemic was another big reason people became engaged in this new way of content consumption.
Podcastle has prepared a helpful guide about how to start podcasting. Let's check it.
The Key Steps Are:
Understand the industry you intend to enter
Fix your WHY for starting podcasting
Choose a preferred podcast topic
Choose a show format
Decide on a proper podcast name
Record the first episode
Apply the necessary adjustments and editing
8. Publish your podcast on the appropriate platforms
1. Understand the industry you intend to enter
Every newbie in podcasting should have a thorough understanding of the field they are about to enter. Knowing the tendencies, market size, key players, competition, and many other insights of the podcasting field will help you better understand the opportunities you have here.
2. Fix your WHY for starting a podcast
Everything starts with a purpose. If you fix why you want to start podcasting, you will find easier ways to reach your goals. Before going deep into the fun stuff, such as choosing a podcast format, name, etc., first, check your podcast's reason. Some people start their podcasting to have fun and build communities; others collect a large audience and advertise different services and products. It also could be personal podcasting, business podcasting, or corporate podcasting.
3. Choose a preferred podcast topic
You can choose any topic you're enthusiastic about. From pop culture to metaverse, from politics to sports, etc. There are podcasts about everything you can imagine and even more. We strongly recommend you start your podcasting by picking a topic you're either passionate or knowledgeable about. The recent top-performing podcast genres are health, politics, news, comedy, fitness, true crime, education, and arts based on the podcasting data.
4. Choose a show format
There are multiple podcast formats, and you can choose the one you are more comfortable with. It could be a solo show, an interview podcast, or with a co-host. Please, check below the data about the most popular podcasts.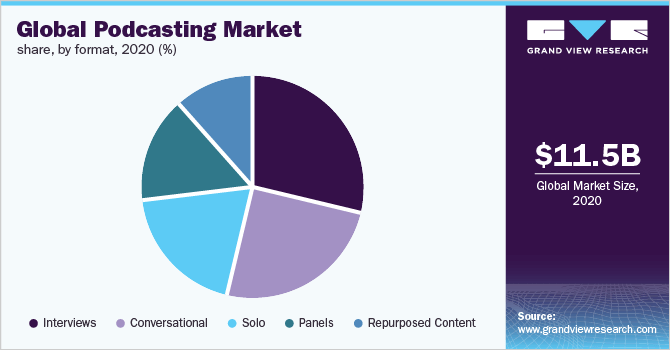 5. Decide a proper podcast name
The first thing that will attract the listener will be your podcast name. As a priority, you should try to choose a name that would describe your show in the most precise way. It could be original, descriptive, creative, humorous, simple, abbreviated, etc. The essential thing is that the name of your show should be associated with your podcast content.
6. Record the first episode
Now, when you finally have all the ingredients collected for your podcast, it's time to start recording.
If you have an internet connection and a laptop, you can record a professional quality podcast.
Here's how!
Create your account at Podcstle.ai.
Podcastle is a modern AI-based podcasting software. It features many handy built-in tools that allow you to record and edit professional and high-quality episodes. Its user-friendly interface will make it easy to produce your podcast without having audio creating or editing skills. You can start your recording with all the necessary info you have already collected.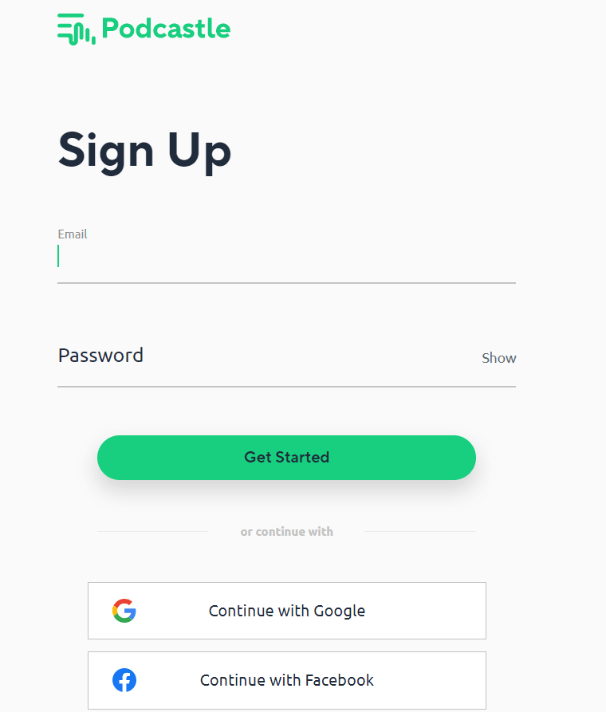 Create a new project
After you log in to your account, you will see the dashboard, where you can start your project. You can see all the options here for creating: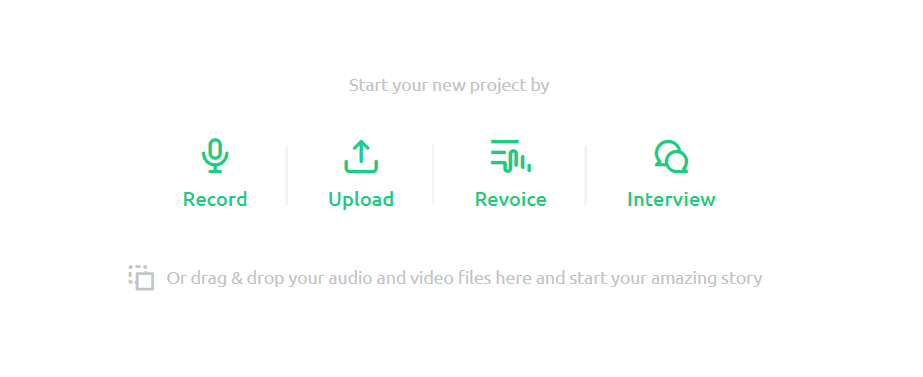 You can Record a draft podcast inside the tool and make the necessary adjustments later. It is preferable to choose a quiet place for recording. However, if you can't find the perfect spot, you can remove the background noise from your podcast later.
You can upload audio recordings on your devices and edit them through the software. It is possible to change the speed of the audio, cut it, add sound elements, etc. Or you can upload an additional file you want to merge with your recording.
Podcastle's Revoice feature allows you to voice your script with AI voice skins. In other words, the software can read your podcast script instead of you. These voices are designed to mimic the speech of people of different genders and ages to make your podcast sound real.
It is also possible to record remote interviews with your guests, no matter their physical location. This feature allows you to record separate audio tracks for each participant, later merge them, and adjust voice tones.
7. Apply the necessary adjustments and editing  
After recording your draft show, you will need to make necessary editing and adjustments. The podcast episodes should have audio effects and musical elements for a smooth transition and more dynamic sound.
Let's check Podcastle's main editing features you can use.
Basic audio editing
Podcastle's Audio Editor tool will help you make simple adjustments like speeding up some parts and cutting out the unnecessary ones, splitting your podcast into separate parts, organizing trimming, and changing the speed of the sound.
Improve the sound
Almost all podcasters are having the problem of background noise and other disruptions. Fortunately, Podcastle has The Magic Dust tool to help you amplify or lower the voices and remove the background noises with a simple click.
Add music
Inside the project dashboard, you can access royalty-free music tracks. You can use these tracks as intros & outros, background music for advertising segments, etc.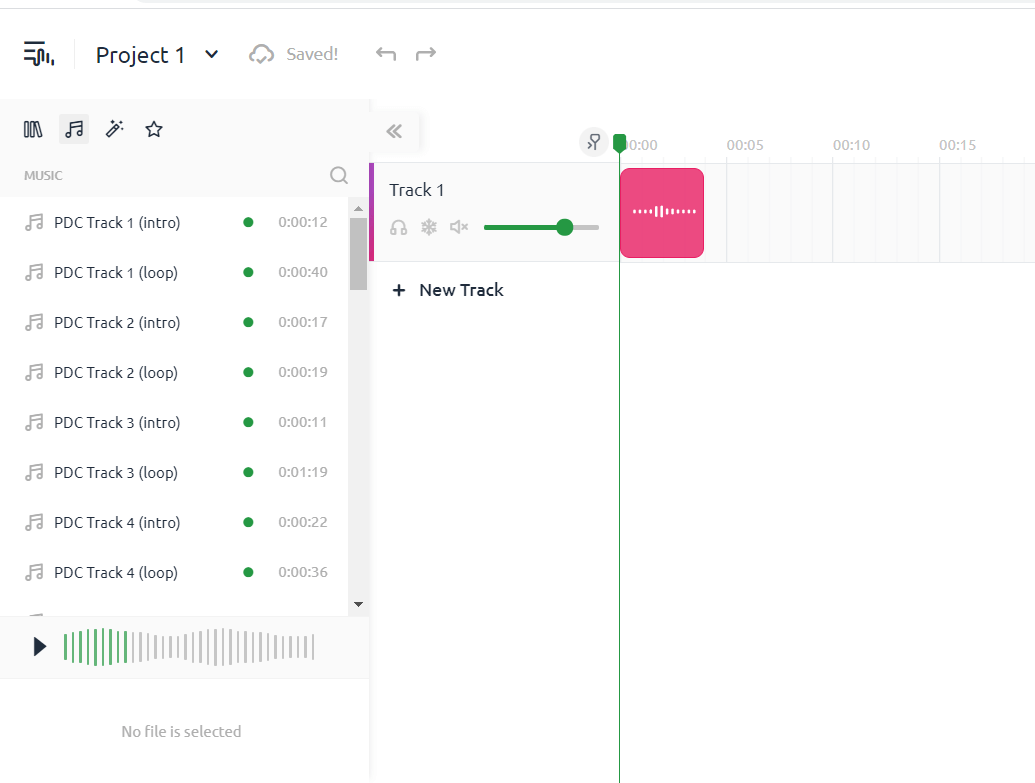 8. Publish your podcast on the right platforms
You are coming to the finish line!
Now when you have recorded and edited your podcast, only one step is left to prepare your podcast for publishing. Press the Export button on your project dashboard at the upper right corner and choose Exporting option.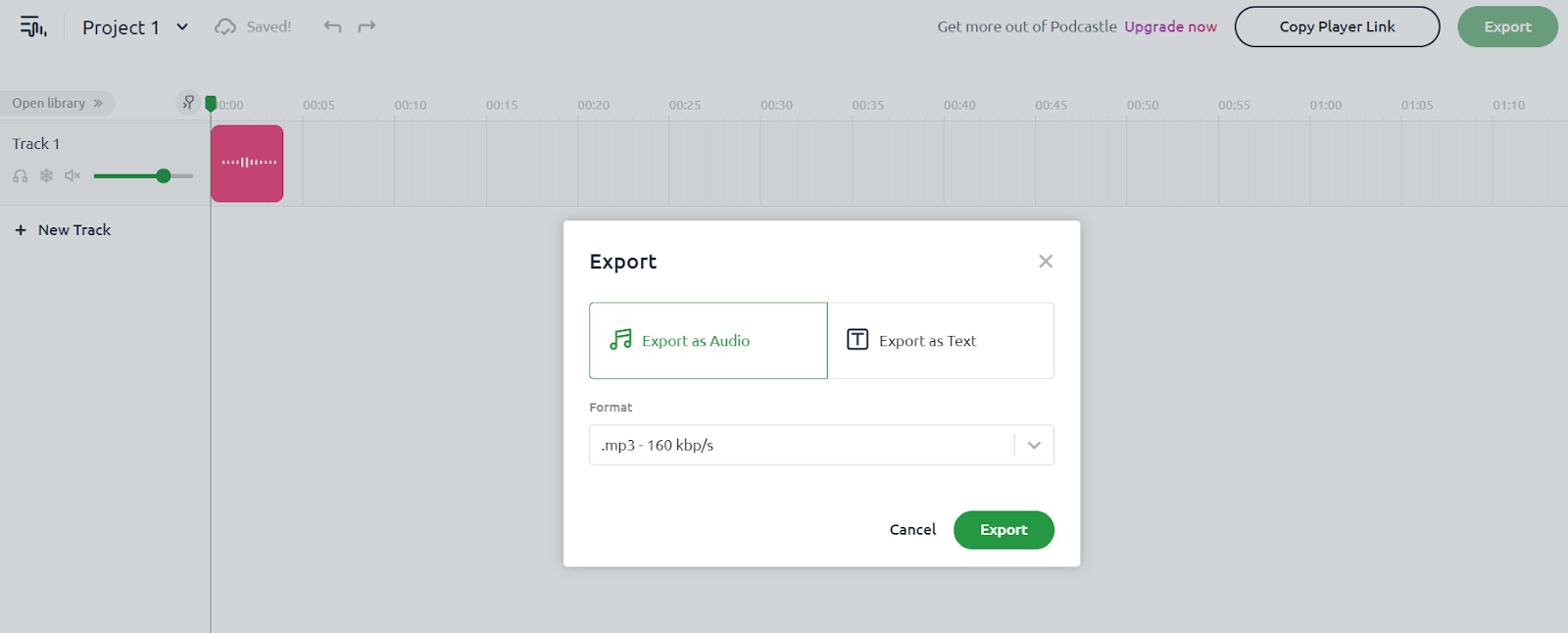 It's vital to promote your podcast in the right places.
There are special platforms dedicated to podcasts where the audience comes to check preferable audio content. Those platforms are called podcast directories, and it's best to publish your podcasts here. Currently, the leaders podcasting platforms are The apple Podcast and Spotify, but aside from these two, there are other paid and free platforms as well:
Google Podcasts
Stitcher
TuneIn
Breaker
CastBox
Pocket Casts
Wilson
Now that you have all the necessary steps needed to start creating your show, it's time to get experimenting!
Good Luck!