WordPress is one of the primary reasons for people getting into website business, and the productivity has increased. Not many people know that over 30% of the websites in World Wide Web are based on WordPress. As many users and developers are aware of the fact that it has given an opportunity to newbies to start their blogs and introduce their ideas using the platform.
The Total is a free WordPress theme, offered by the Hash Themes. Several people do not care much about the free themes because they come with a catch. However, the this one is simple, and it comes with simple editing panel and incredibly easy to set up.
Total Free To Use WordPress Theme | Our Experience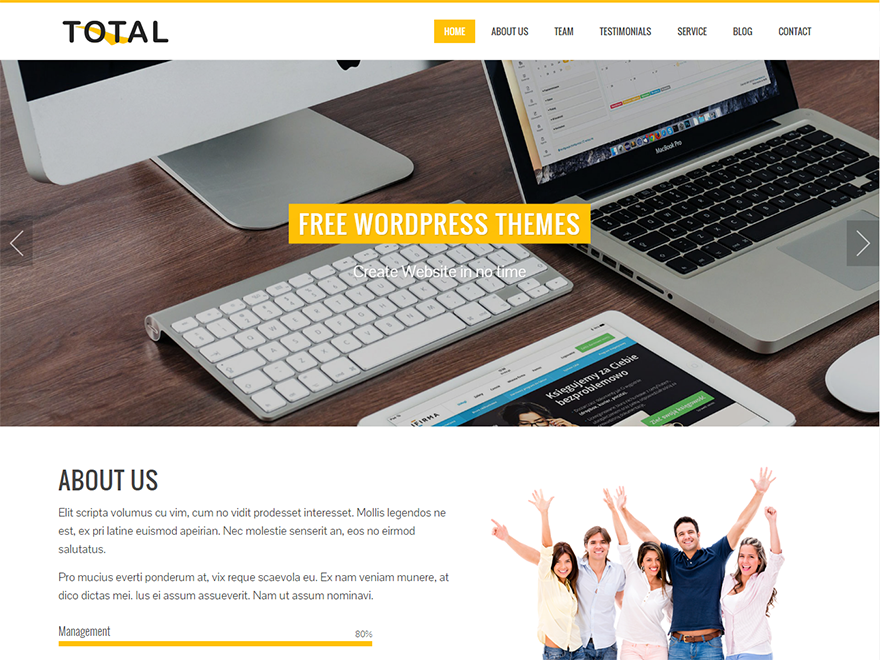 I'm going to show you the important things, which a new developer should know about it. You can find the detailed information on the main site (Developer site), and I will also mention the points, which will help you in decision making.
What Do You Get?
As a newbie, who is trying to set up the theme on your own then you need proper assistance and should have the support.
I have read the documentation myself, and the steps which were explained in the Documentation is extremely easy to understand and execute. It took me around approximately 11 minutes to set-up the blog. You can edit it from,
Step 1: Go to WordPress dashboard and find "Appearance" and then click on "Customize."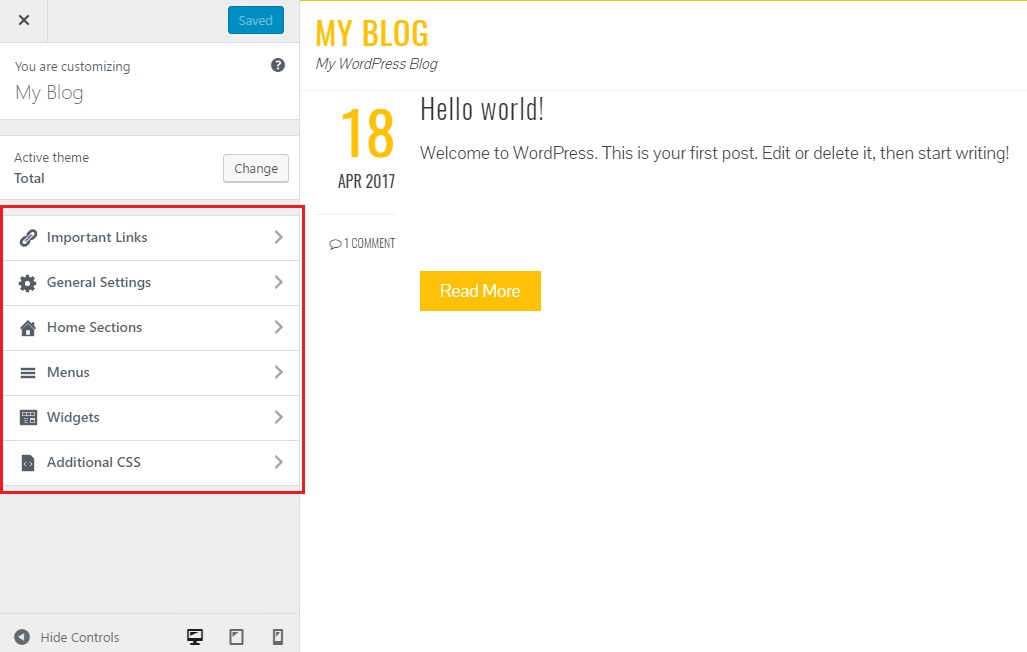 Step 2: What you are looking at is the control panel to make changes on the website.
The bottom line is that I have read the instructions and it's easy to follow them and setup the theme according to your needs.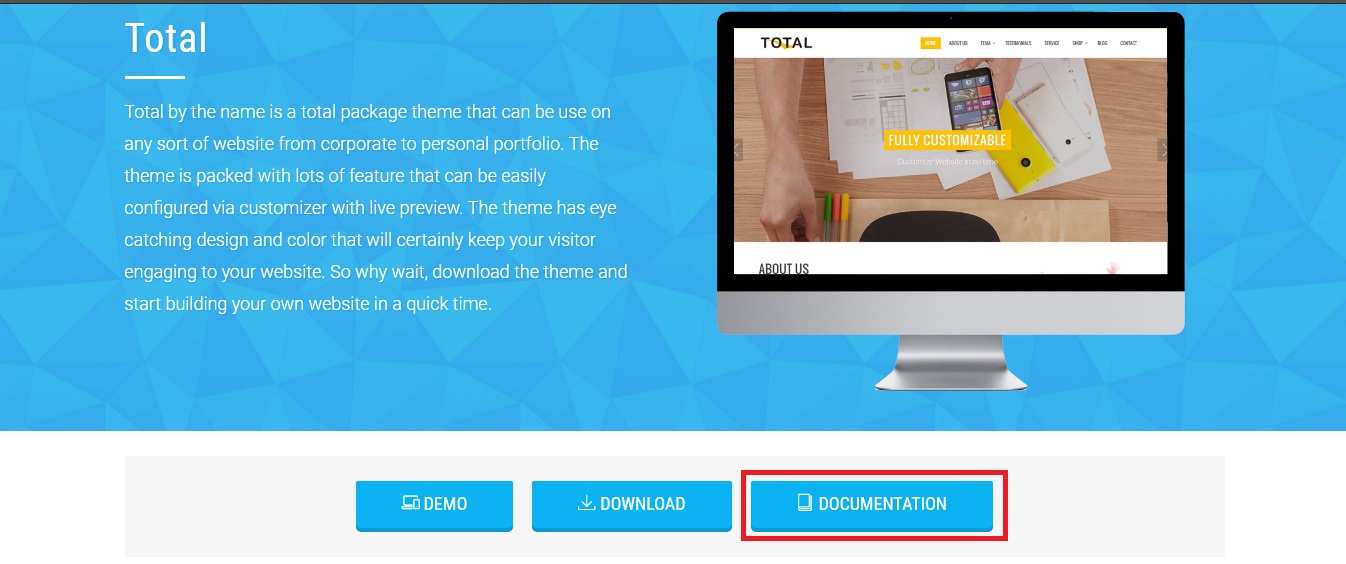 Documentation or Instructions: Passed (Visual or Video tutorials are also added to it).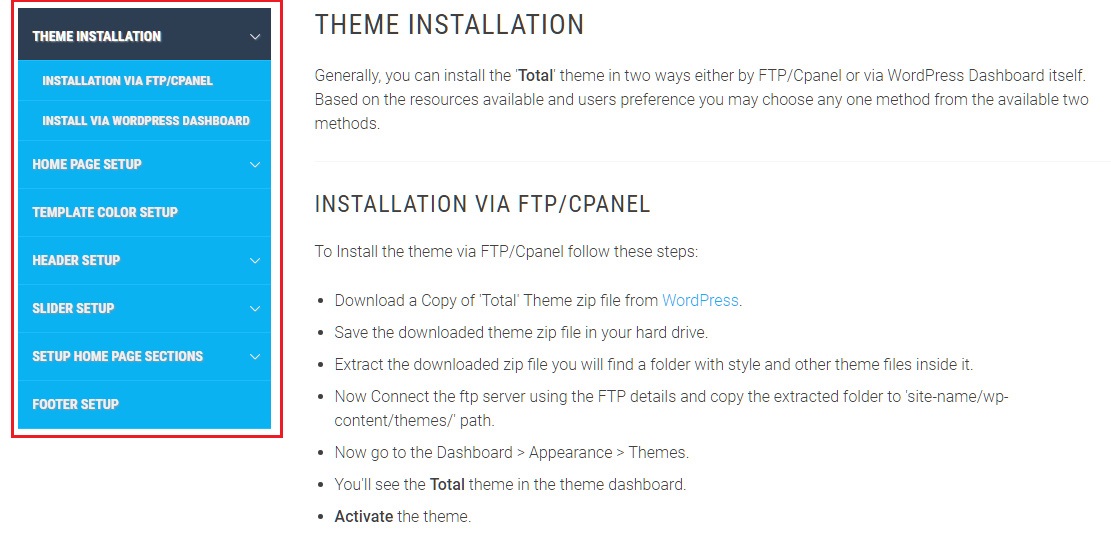 Suitable For?
This theme is not appropriate for every concept. For example, if you want to run a gaming site then this one is not suitable. The Total theme is suitable for,
Services:Business concepts are perfect for this theme because you can all business related tabs such as Team, Services, About, Pricing and more. Business like "School, Web designing, Entertainment, Architect and more."
Blogging:I wouldn't recommend the theme for blogging, but if the blog purpose is for presentation only then YES you can use it. However, you cannot use it for serious money making a blog because ranking slow websites are difficult.
Shopping:If you want to start an online shopping site then you can use the theme for that purpose also but let me remind you that you can only create a beginner level Shopping site. The theme is suitable for professional level shopping site like Amazon.
Layouts
Every individual has their requirements, and I think the designs decide the look of any website. The Total theme has four designs. They are,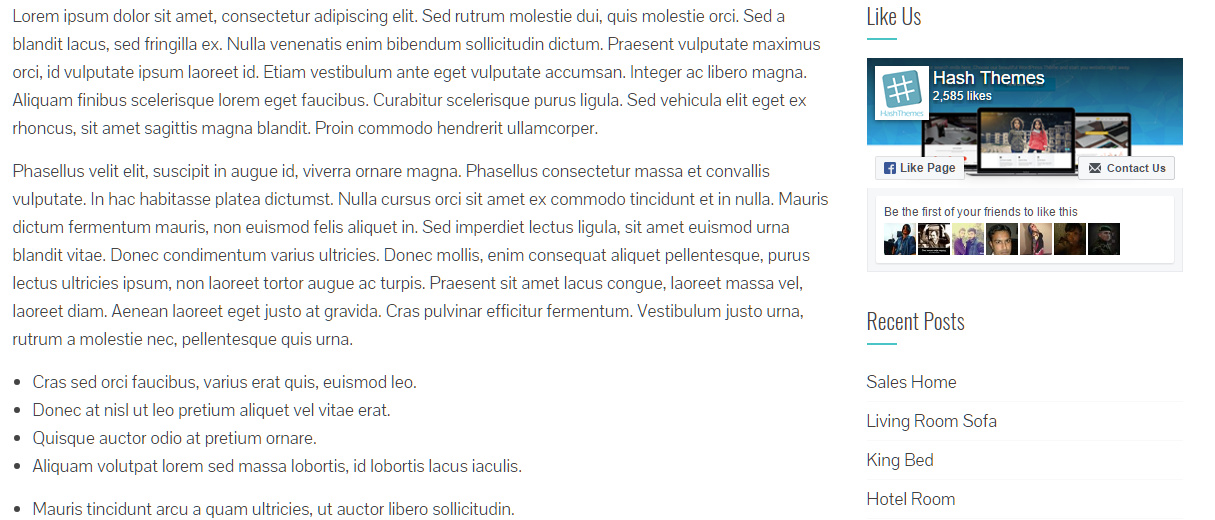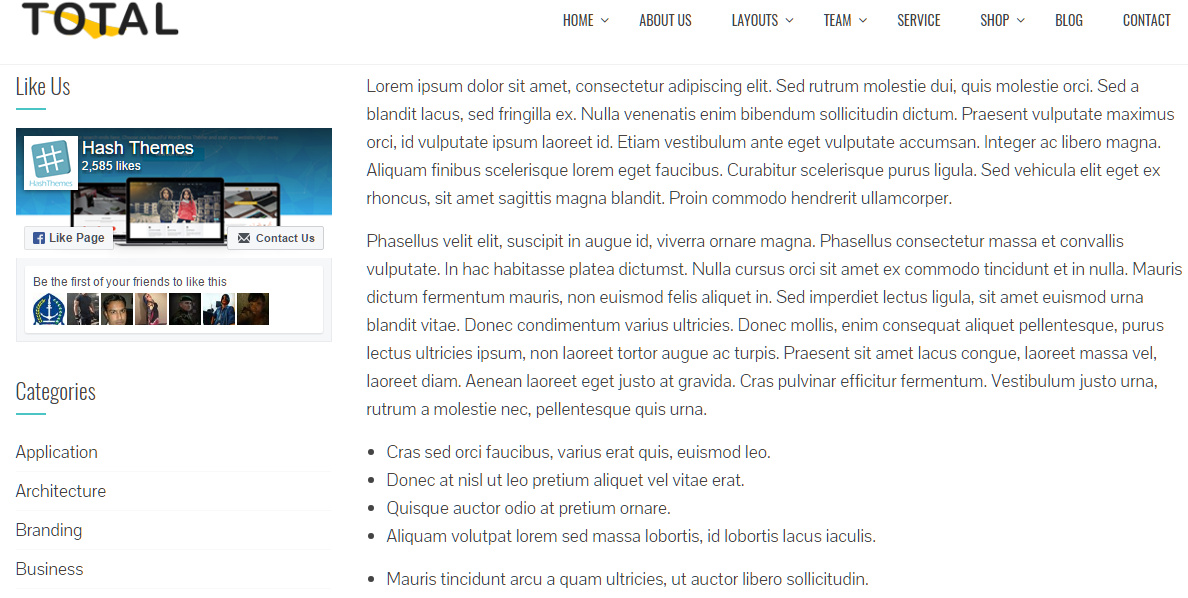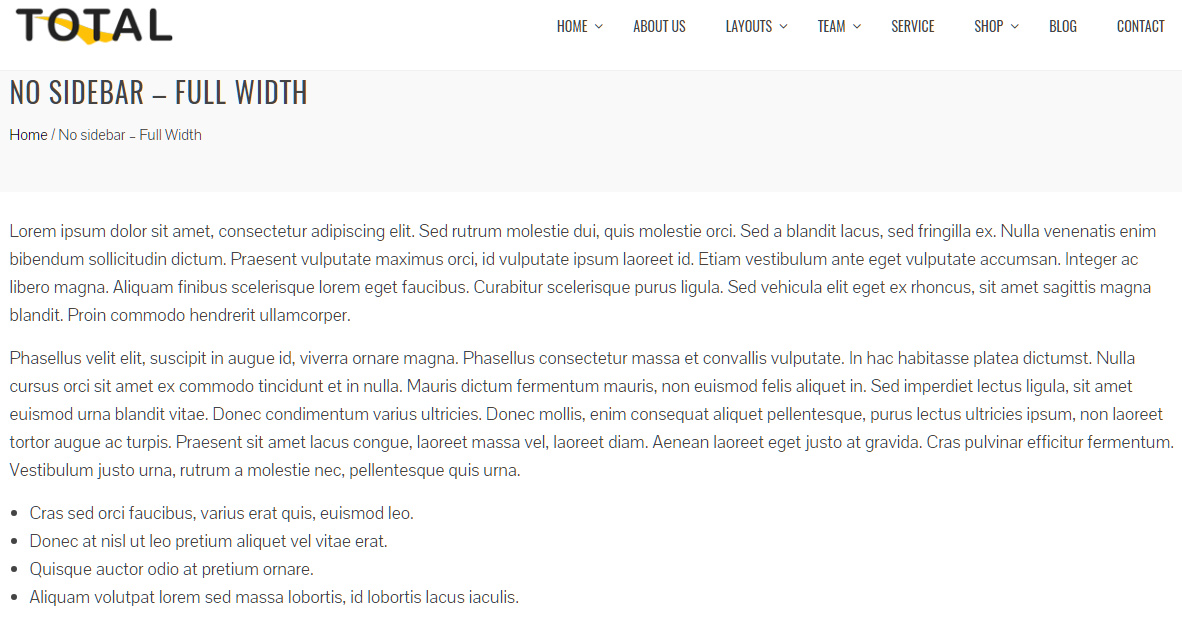 No sidebar – Narrow Width.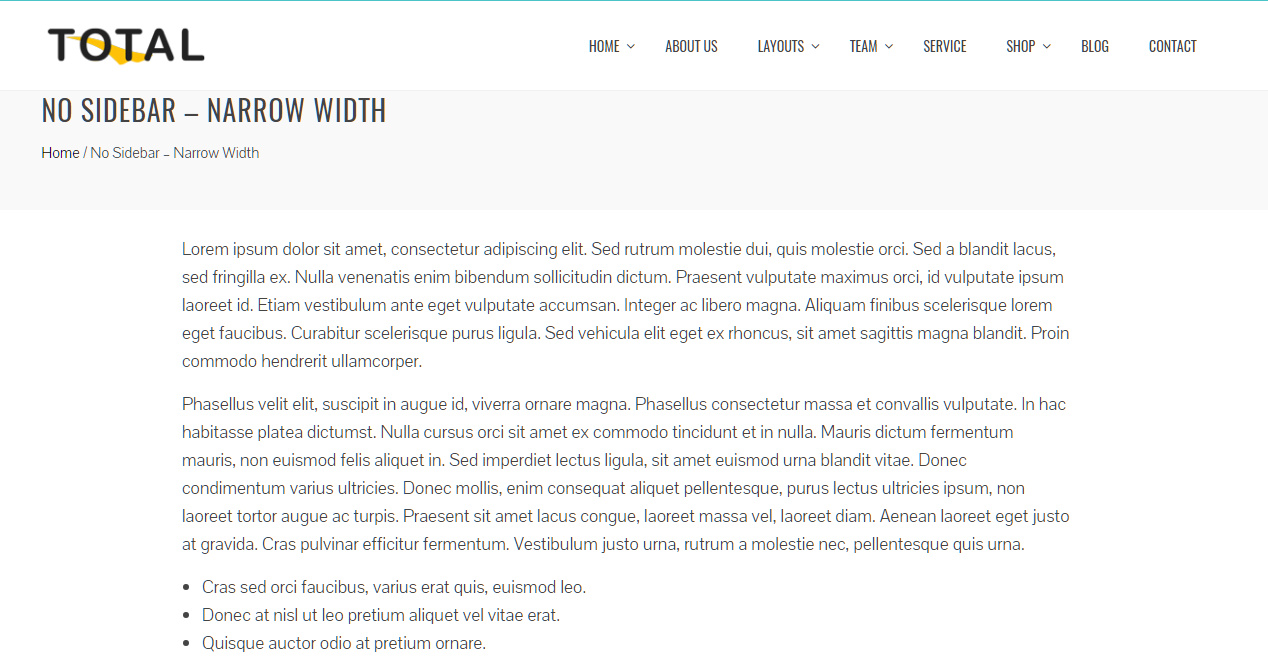 As you can that these changes can make huge visual differences and I think having such designs can satisfy the clients and customers. You can also eliminate the unnecessary part because you don't need them in business concepts.
Speed & Responsive
No matter how beautiful and responsive a site is but if the site speed is slow, then it can drop the rankings. It becomes difficult for the readers or visitors to use the site. It is a major factor for the site to be fast or else the number of visitors will never convert into customers.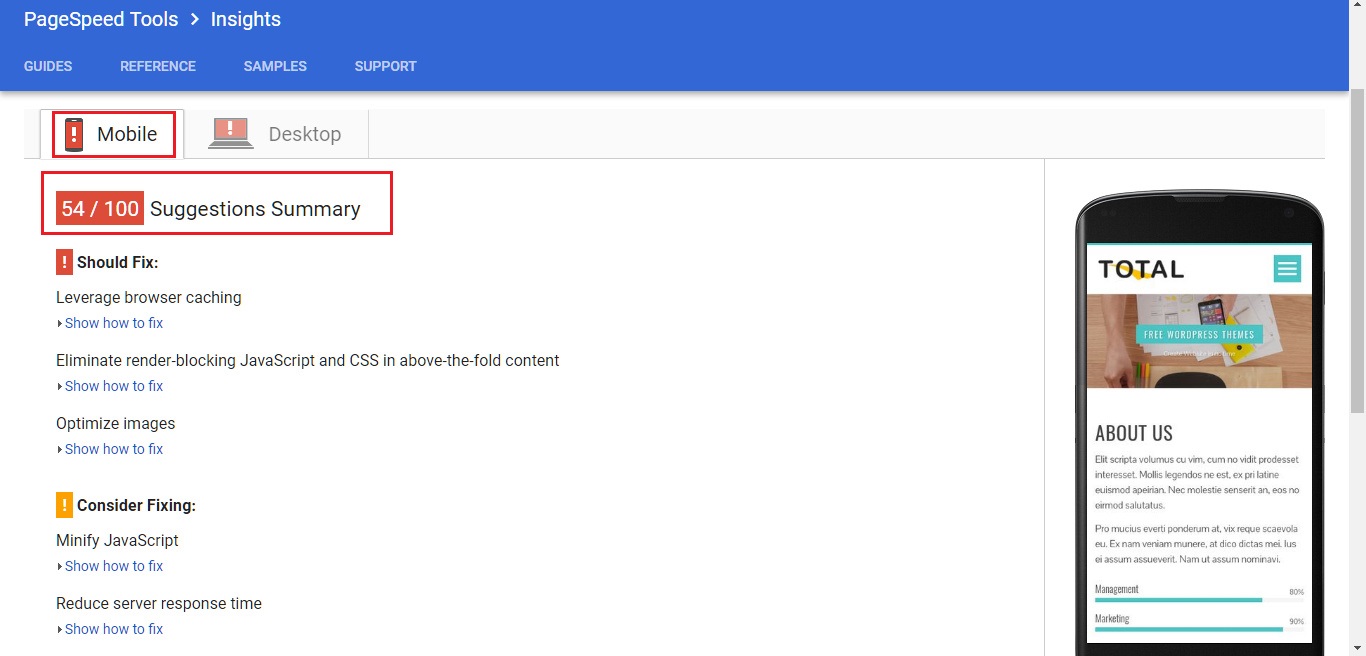 According to the top blogger "Sites that are slow usually lose 60% of the paying customers."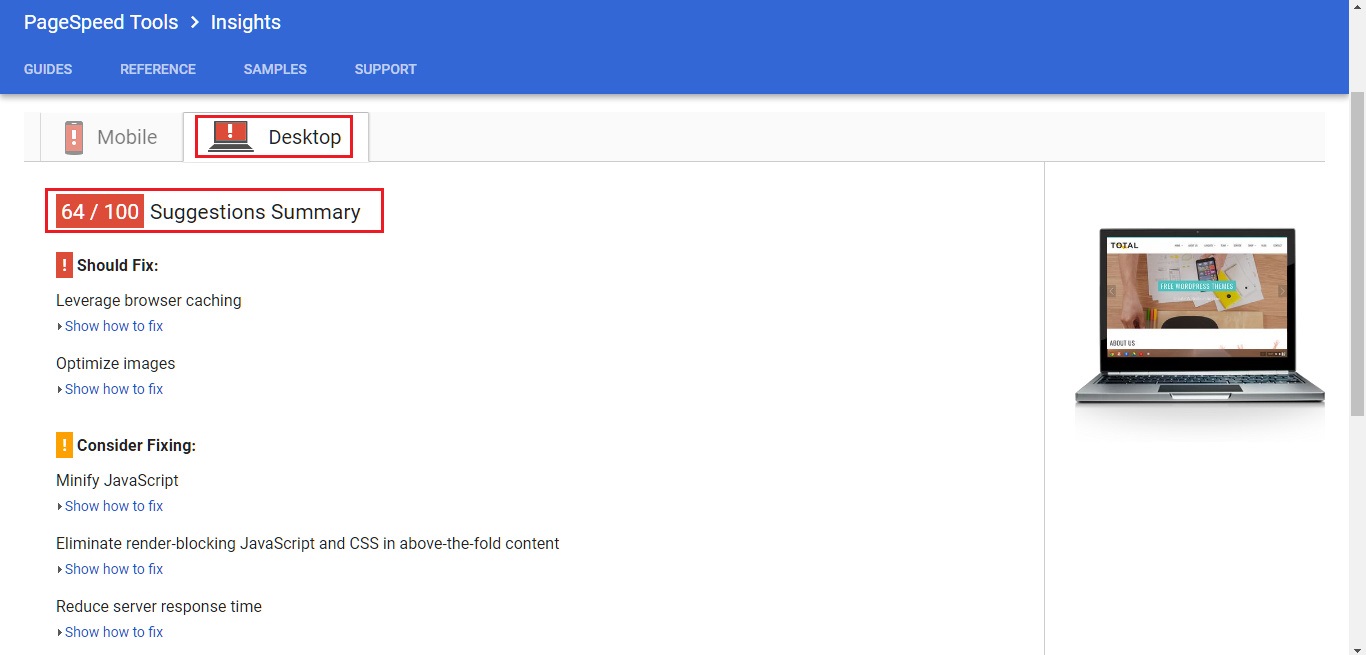 The responsiveness of the theme should always be good because your competitors are stealing your customers because of the responsive sites they have, Total is a free responsive design for sure.
Speed: Failed. (Premium Hosting)
Responsive: Passed.
It has failed regarding speed, but the site is responsive.
Notable Features in short

It supports Woo commerce (Shopping plugin).
Blogging (Options are available but not recommended for the professional level.).
Slider (Animated text slider ideal for business models).
Mid-level photography website.
Sticky Menu (responsive).
There are several other features, which they are highlighting but I have mentioned only those which are needed one's on today's date.
Conclusion
Let us know what you think about the free Total WordPress Theme by the HashThemes in the comments below. Make sure to mention the points and opinions in the comments below.