SwiftKey 6.6 now brings all new 3 themes, emojis (requires Android Oreo 8.0 or above to use) 2 words prediction one of cool new feature in the latest beta build for android, want to know how it looks ? Just check the image below to know it better.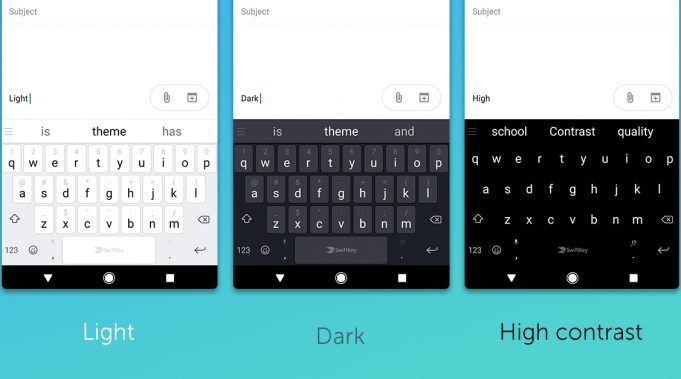 Other notable features
New theme named as Carbon Light giving a material touch
Emoji can be now added quickly with a smoother interface
Settings tab is now rebuilt for better experience
Get the latest beta build for free from PlayStore
SwiftKey | A quick look back in to the previous builds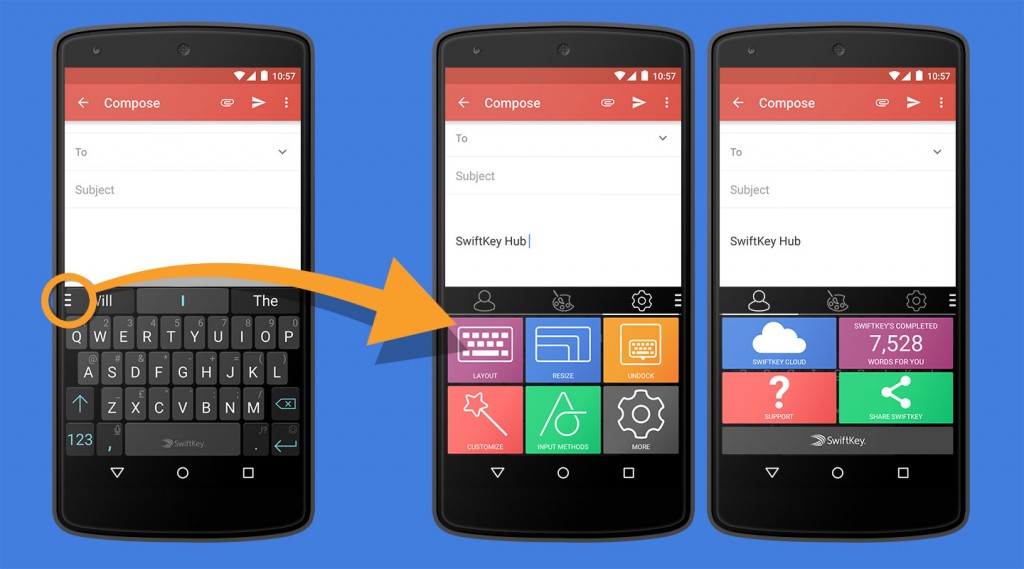 Hub is the addition to the best ever free automatic prediction keyboard that you have ever seen with smart phone. So what is this new feature introduced in beta build ?
Simple in the prediction space now you can now see new slide out icon towards top left as you can see in the above picture, brings
Layout
Resize option
Theme settings
Undock
Customize
Input methods
Cloud
More in this build
SwiftKey 5.2 stable free app for Android powered devices has been rolled out with various fixes, store optimization. The big new feature that comes packed in this latest version of keyboard app is the support for Chinese language ( with a new free theme ) in three forms with support for separators between characters and personalization of texts
Simplified Chinese
Taiwan Traditional Chinese
Hong Kong Traditional Chinese
Rather than above there is support for two other namely
Some features that are not supported in v5.2 for new language Chinese include
You can't remove unwanted words showing up
No support for handwriting recognition
Won't be able to enjoy flow feature
Even more if you are having OnePlus One plus mobile
Cyanogen 11S update will be loaded with this intelligent keyboard and you can switch to it by going to input menu.
You may also like : Facebook Lite For Low End Mobile
Support for more than 15 Indian languages namely with vowels, numbers in both roman and local ones
Assamese
Bengali
Gujarati
Kannada
Malayalam
Marathi
Bodo
Dogri
Kashmiri
Konkani
Oriya
Punjabi
Tamil
Telugu
Urdu
Extra
Nepali and Sinhala are also supported
Swift installation process by replacing popup EULA replaced with links at the bottom of the pageWith changed the SSL certificate handling, the secure connections used for SwiftKey Cloud's Backup & Sync services now have increased robustness
Overall performance improvement
In addition to the above, SwiftKey released a new theme that is in sync with Diwali 'festival of lights'.
From SwiftKey blog post
We are delighted to enter open beta with languages requested by our users in India, expanding our reach into one of the most exciting, innovative markets for tech right now after months of hard work. We have spent a long time refining and developing our new set of languages for this market so that we could ensure the best possible typing experience for our users.
In June 10th the SwiftKey 5 android keyboard app moved from paid to free category which offered in app purchases in the form of premium themes.
SwiftKey v5 changes a quick look
Changed default theme
Introduction of SwiftKey Store
Addition of emoji
Better flow feature
Addition of new languages ( Belarusian, Mongolian, Tatar, Uzbek and Welsh)
Improved prediction engine
Free premium themes for those who purchased the app when it was paid
5.1.0.60 features
Keyboard just appears on the screen 15-20% more quickly when compared to the previous build ie improvements in cold load and cached loads
5.1.0.6 leaves the screen 20-30% faster like when you click on the home button or switch between application
15-50% faster switching between fields
Typing is 10-18% faster which reduces the sticking to a particular letter while we compose
Other than android this keyboard app is also available for iOS 8.
Links will be updated when the stable version is available for download
Download Swiftkey 5.2 version from the Google Play store for free