The word game means competitive fun with some designed rules. Most of the 90's kids could have probably enjoyed all varieties of outdoor as well as indoor games. Hide and seek, Cricket, Board games were commonly played games which were absolute fun. But nowadays, kids have no idea about playing games outside. They slowly got influenced by the computer. Children gradually moved from outdoor fun games to computer games. And after some years, the Internet brought a new platform for entertainment. Android Games and apps started to rule the kid's world. My brother didn't have much exposure to outdoor games as I experienced. Various apps started to attract people of all age groups. This development had its own pros and cons.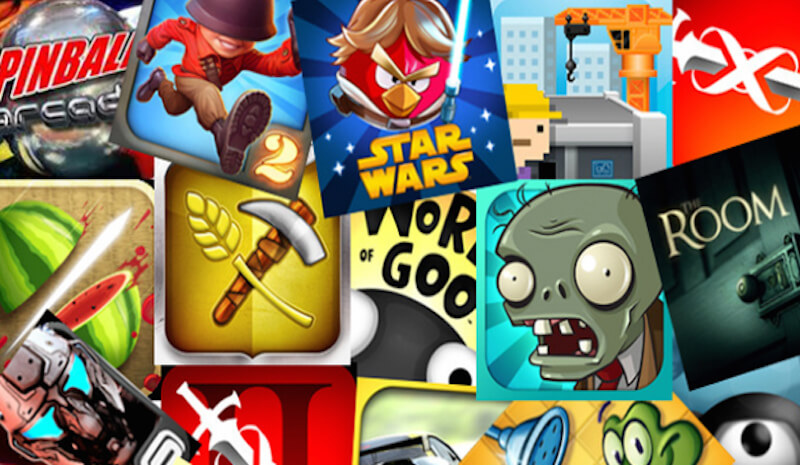 Most of the games were designed to intellectually grasp people's mind which led to addiction. These games were fun and many small challenges were posed before the player to keep them active all day. One could forget all his work and sink in the ocean of challenges. Games like Candy Crush, Temple Run, Angry birds are very addictive. We could not stop abruptly. One could play these games all day. These games put a full stop to all your physical work. At the same time, all work stress runs away when we involve ourselves in playing these android games.
Recently a new arcade game named "Match It Fast" became popular. This could kindle our memory and concentration power. An active mind is necessary to attain progress. This game is amazingly designed to pull the kids and adults. Each level gets harder and attractive. Only 5 seconds is provided to match. Once you start playing it, it is easy to kill all your time. One could enjoy all boring sections in a day by matching, entertain themselves by scoring high and improve their concentration with lots of fun.

Nowadays people moved to settle in different countries. But communicating is easy and effective through the internet. I could connect with all my friends and relatives quickly at any time. Especially nowadays I started to play android games with my cousins irrespective of distance. Even this game can be played with all your friends and cousins. Indulge, focus and hit the high score.
Let's see how to play this addictive game:
Depending upon your mobile phone, you can download this cool game from either Google Play Storeor Apple App Store.
If you are an Android mobile phone user, then you can download this premium game application free of cost for now. As you can see the developer of this awesome app now allowing users to install it free of cost.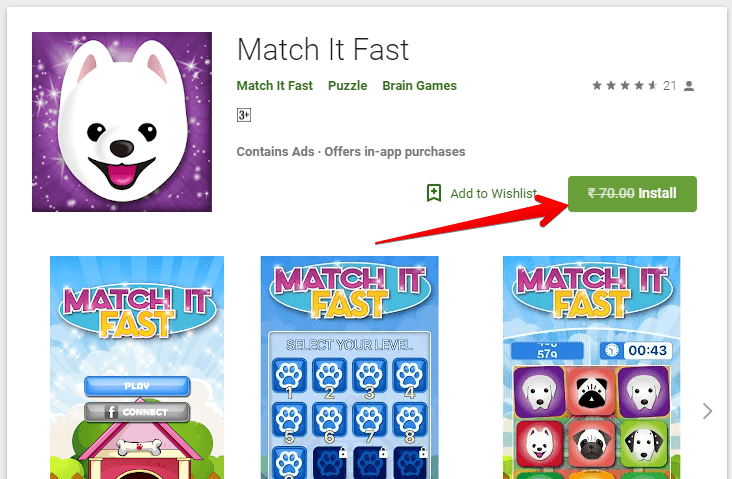 After installing this application, you can directly start playing by clicking on the shortcut available in your phone.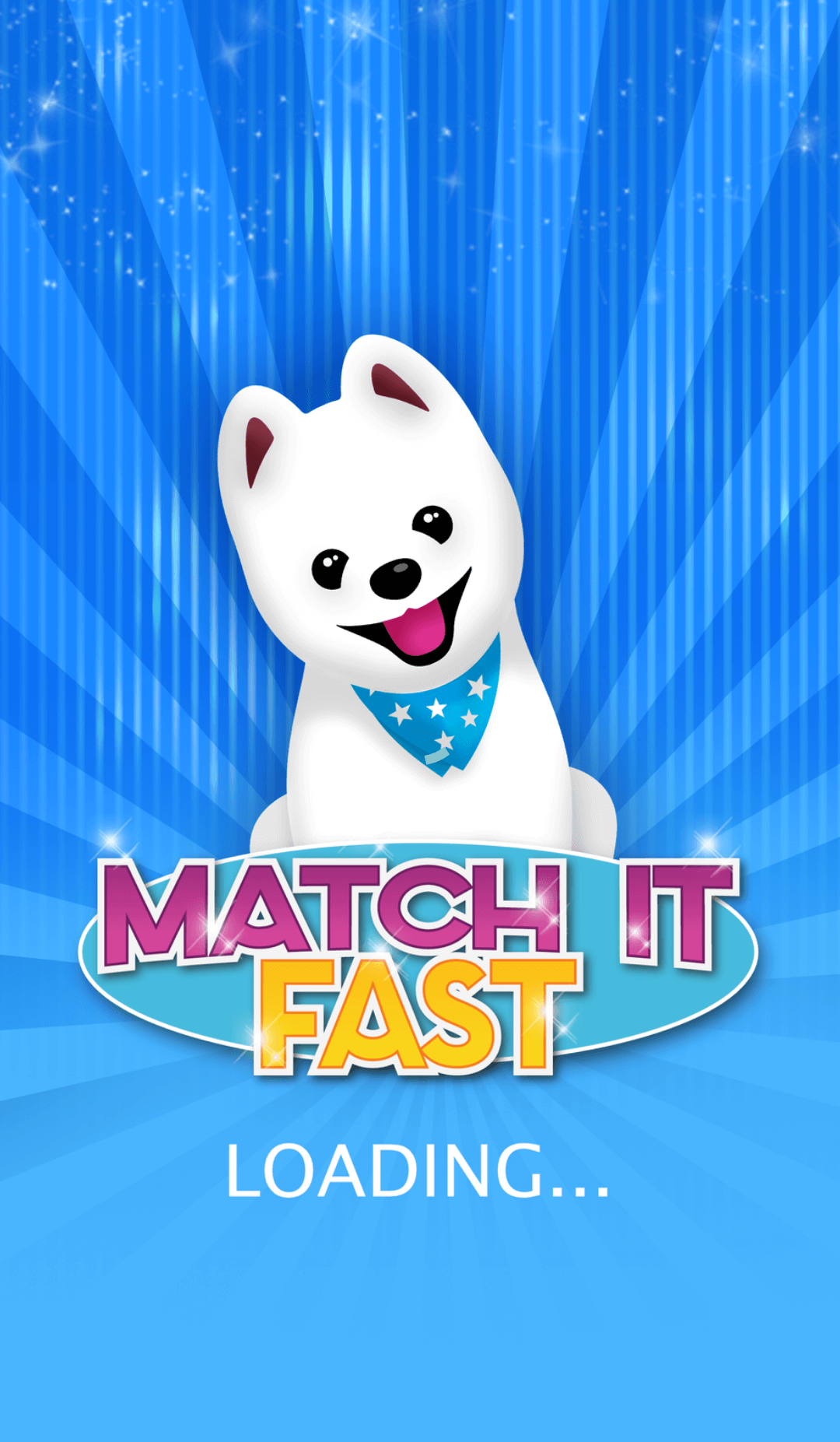 Click on the "Play" button as shown in the below screen.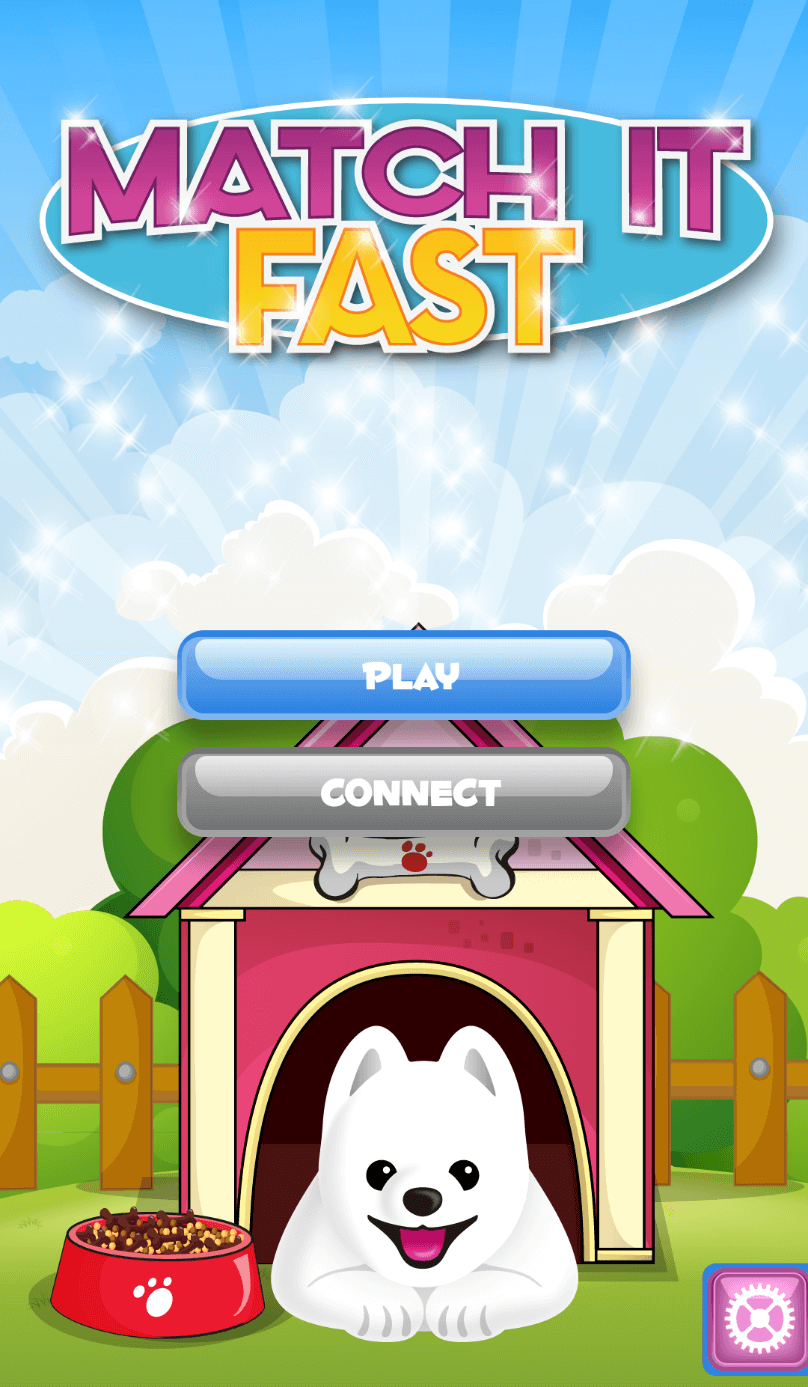 Since this game is superb easy to play, you can directly start from the first level.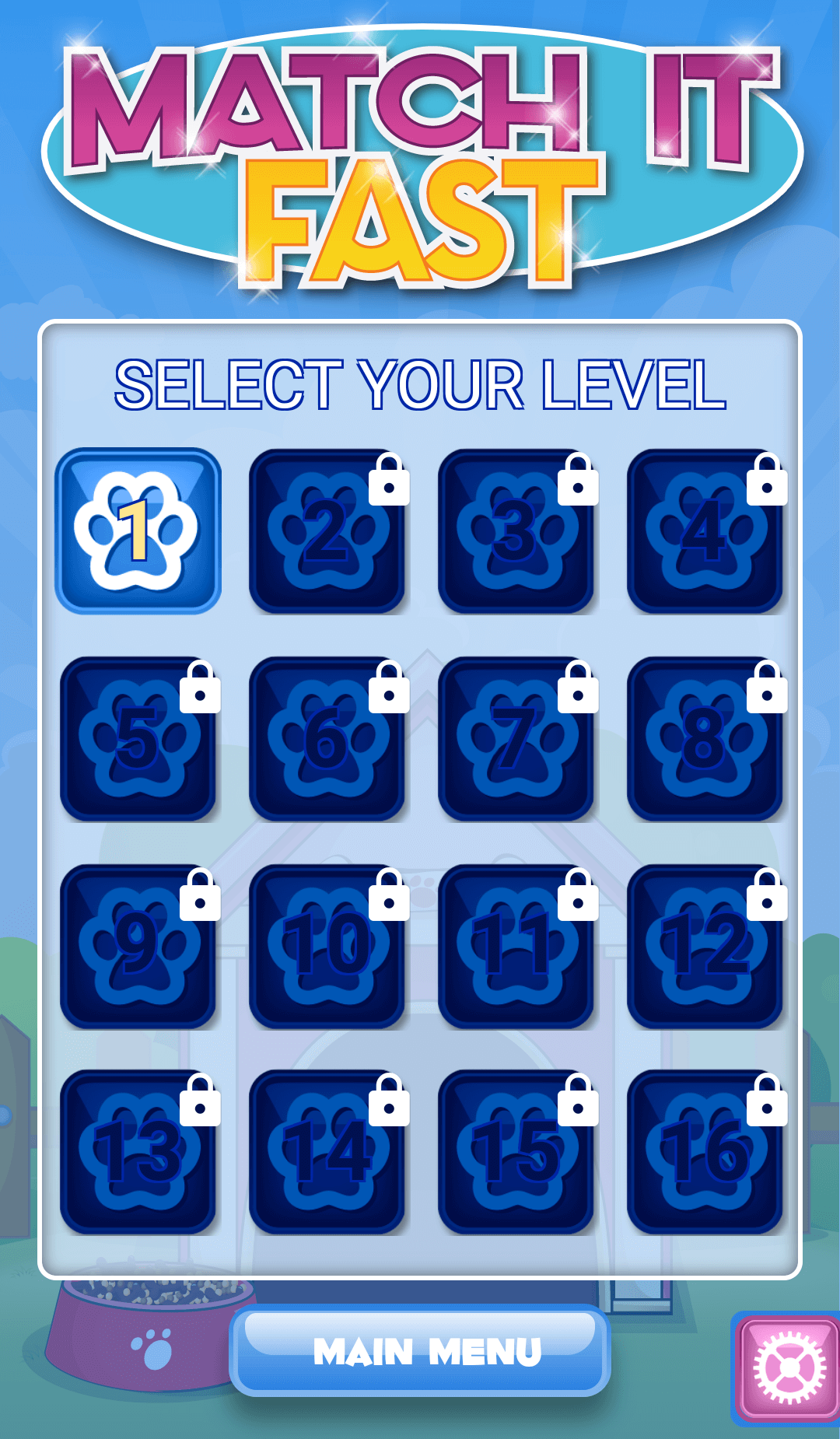 As you are playing for the first time, the app will try to guide you by showing the descriptions of various icons in the UI of application.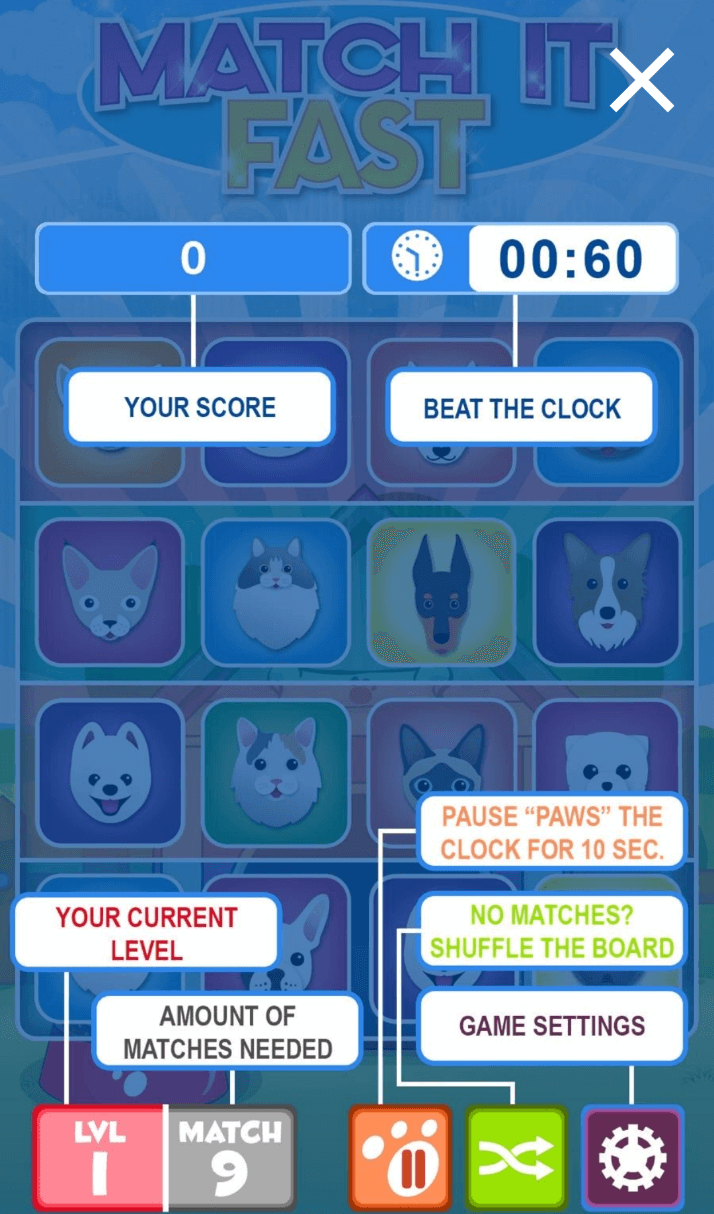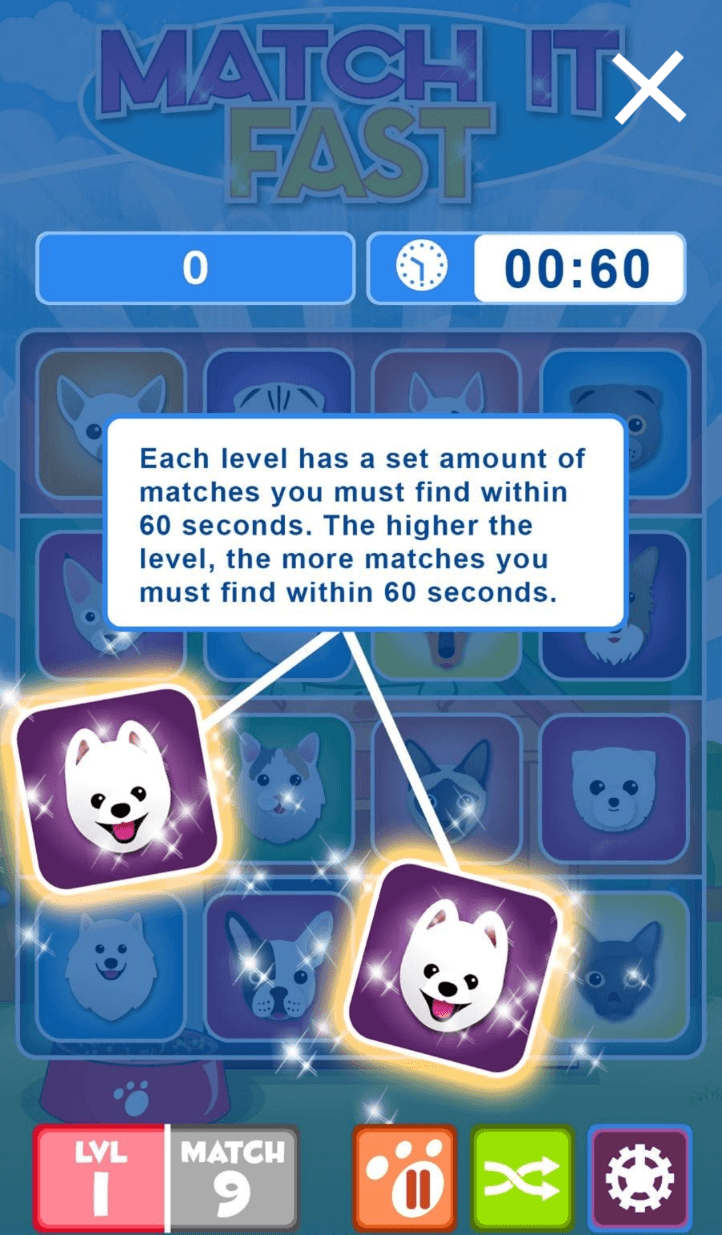 Everything shown in the above screen is self-explainable but still this information in the UI will really help the small kids to get clear insights of the game.
As you can see in the below screen, you need to click on the similar looking dogs.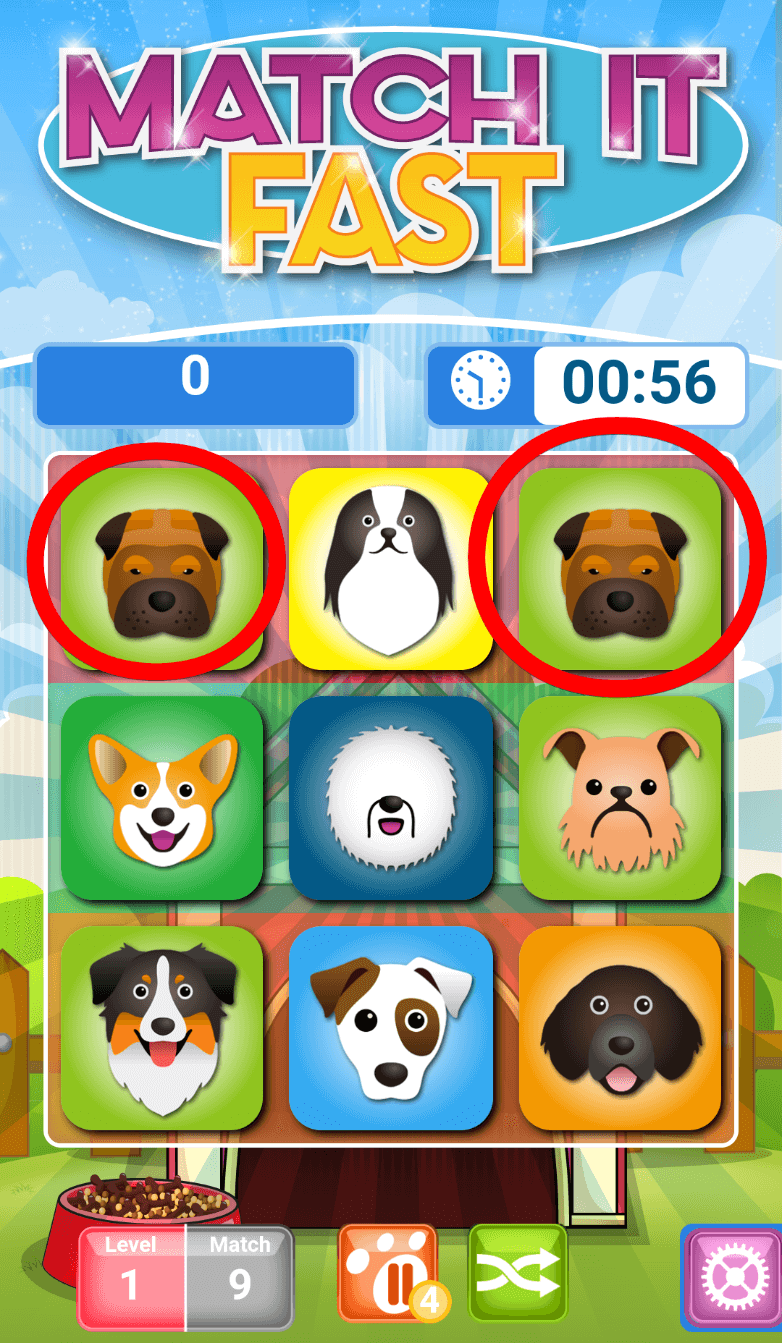 You should match more number of dogs within that time limit to win the levels one by one.
You can check Settings menu for turning on/off the music, Instructions on how to play this game and can even check your high scores.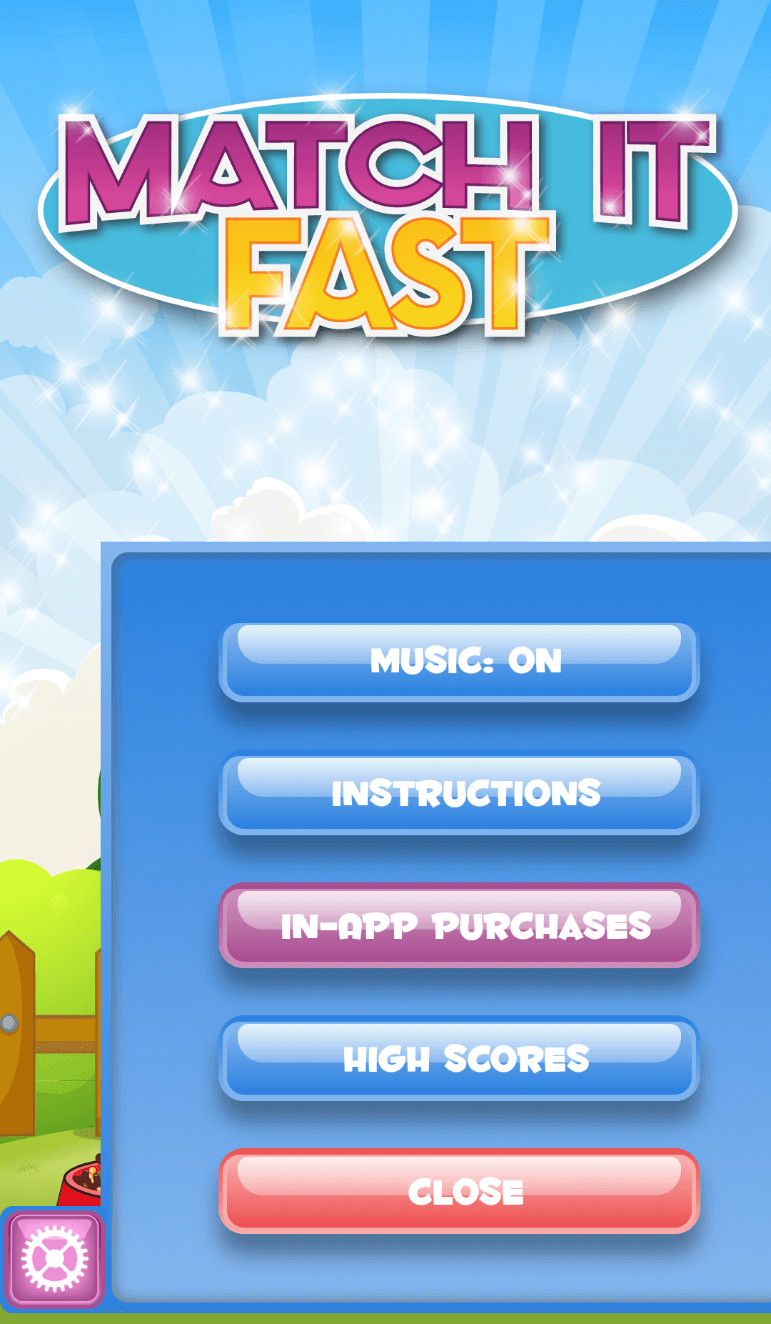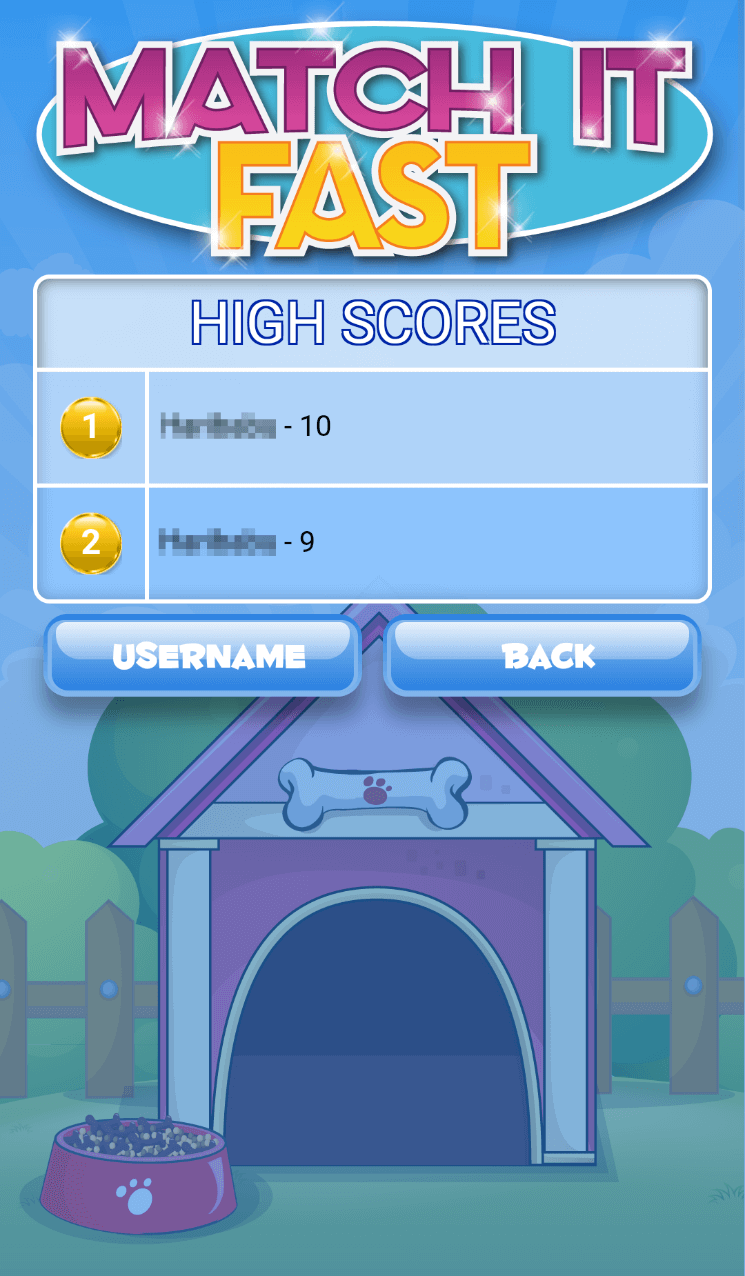 You can also perform in-app purchases the time stopper and ads which you see while playing.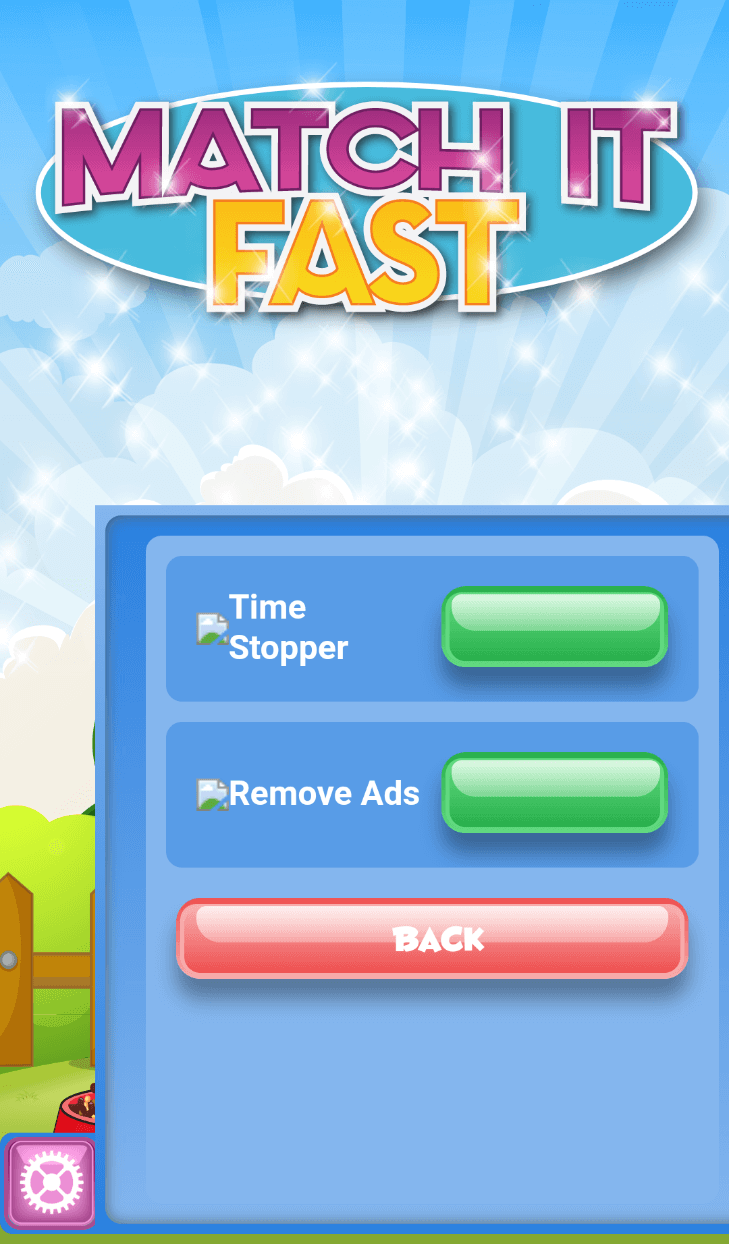 Many may ask, "Why this game?" the answer to this is very simple. The game is designed in a fabulous way to attract kids. The atmosphere could easily make you crazy. Matching and earning points could trigger your sportive sense. Anyone could start playing this game. There is no need for special talents. No tutorials are required.
Features of Match It Fast
Very Easy to Play.
Unique Originality of Graphics which you can't find in any other Match game.
Simple User Interface with High Quality Graphics.
Immersive Sounds.
Very Good Game for Kids.
Perfect for Time Killing.
Additive Game with More Levels. So no one can stop you enjoying this Game.
Final Thoughts
There are lots of levels in this game. Nine matches are done for each level. 60 seconds is totally provided. If you move to higher levels, more matches must be made. Each level will be more confusing and thrilling.
Once you install it, you need not spend your data for playing. Even without the net connection, you could enjoy this addictive game. The sound effects are amazing and enthusiastic. One should definitely try this game and enjoy all levels. Experience the feel of clearing each level and entering a new challenge every 5 seconds.