If the term "Tab Hoarder" existed, I would consider myself one.
While trying to be as productive as possible and jumping from one tab to another, I am wondering how much time people spend doing this.
Once my friend watched me during one of my excessive tab jumping sessions and suggested me to use Mailbird, a Windows 10 based email client to help me get more organized.
My reaction was just like yours "An email client, really?".
I gave their free version a try anyways. And I have to say, I love it and will tell you why.
After about 15min we had installed the little chirping productivity machine, set up my first 3 accounts, activated Slack, Twitter and Facebook in the sidebar as well as Wunderlist and Google Calendar.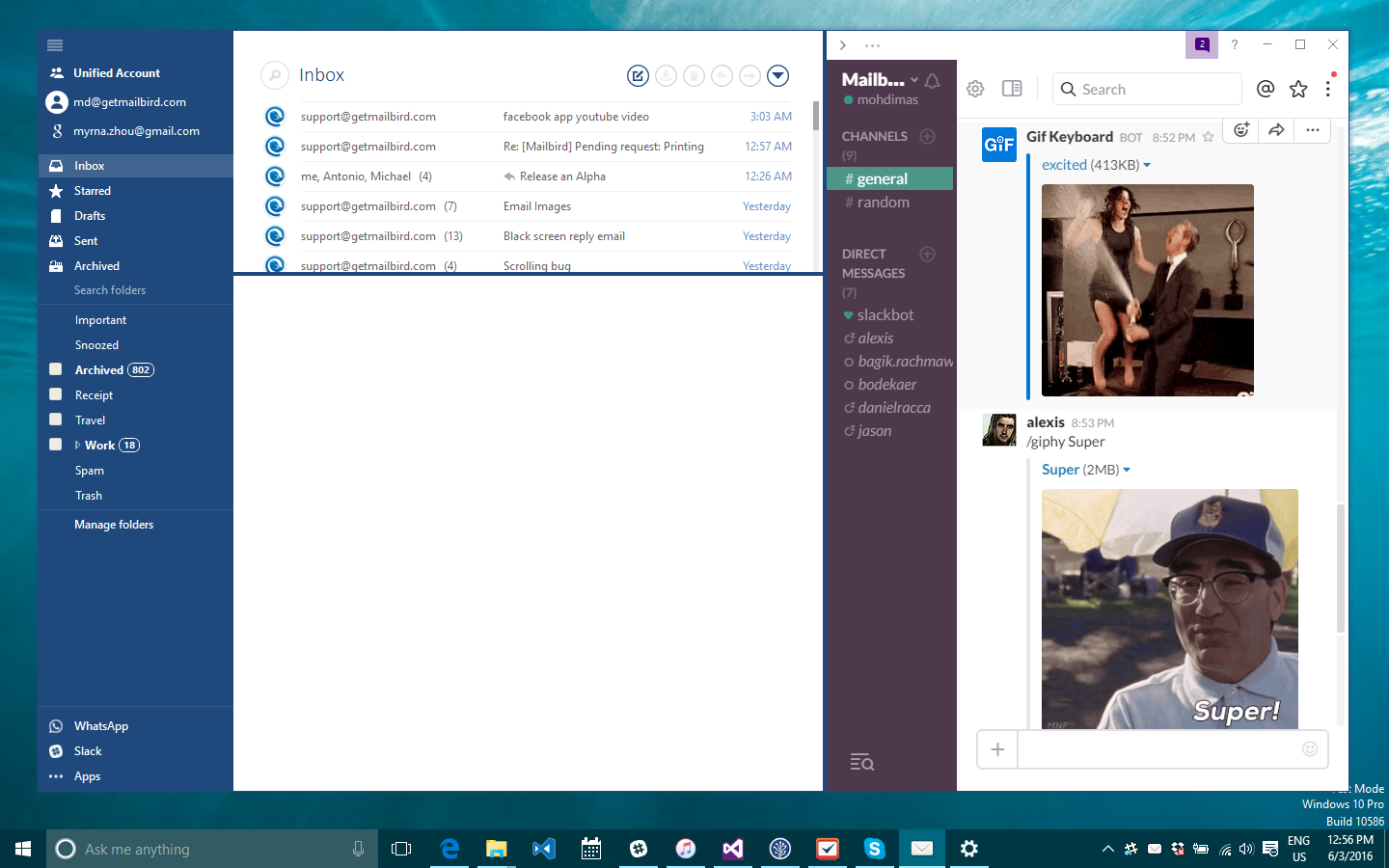 But wait, there is more…
Let me point out my top 5 Mailbird features that made me fall in love with this intuitive App for Windows.
1. Unified Accounts
Mailbird supports multiple accounts from both POP3 and IMAP.
All I did was put in my Gmail account and my Yahoo account and this email app did the rest. Since Mailbird has just introduced Unified Inbox plus, I can get all of my emails in one Inbox, if I want. The Unified Inbox in combination with the great keyboard shortcuts makes me literally fly through my mails.
This is a great incentive for people that manage more than one account from different mail providers like gmail, outlook.com, Hotmail or Yahoo Mail.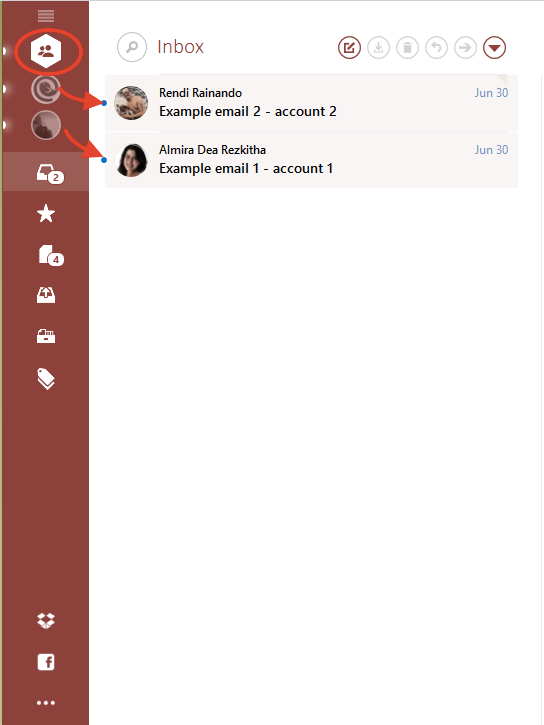 2. Import Feature
The team at Mailbird seem to never sleep. Updates are being released on a regular basis. The Roadmap for future feature releases and App integration's is shaped by the users themselves! Mailbird is pretty much created by their daily users.
One of their recent updates was the launch of "Import feature". What a simple feature with such great impact, making it even more simple to move over to Mailbird as it imports all your account settings and folders etc. automatically.
I do find it important to mention, that this only works for new accounts and not for accounts, that have already been added to Mailbird. I guess that makes sense actually.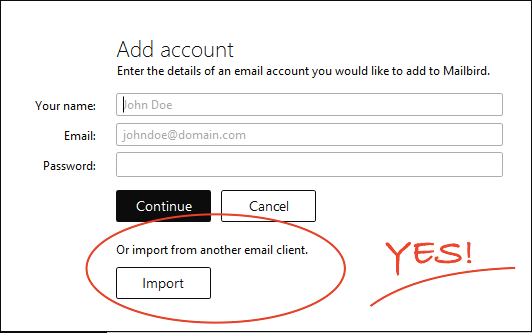 3. CLEAN Inline Reply
"Love at first sight!" This is how I would describe my relationship to this feature!
But instead of me trying to explain to you in words why I love using it, have a look at this short, explanatory video demonstrating the beauty and simplicity of it.
4. Integrated Apps
As Mailbird claims on their website "There is an App for it."
Check out this great list of Integrations! Most of them can even be accessed from the Mailbird sidebar! I was impressed. The different activated Apps are easily distinguished and indicated at the top by their logo.
Messaging
Facebook
Twitter
Whatsapp
Slack
Task Management
Asana
Wunderlist
Moo.do
Todoist
Calendar
Google Calendar
Sunrise Calendar
Video Meetings
Cloud Storage / Documents
Degoo
Google Drive
Dropbox
Evernote

Email Management
unroll.me
followup.cc
Email Attachment search
5. Customization options
I didn't know I wanted it until I found it in Mailbird. Customizing the colors and layout of your Apps is actually pretty awesome.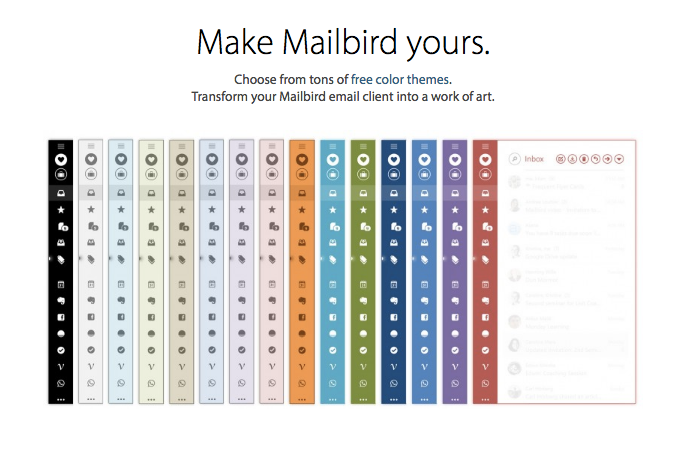 Mailbird also gives you the option to connect to Facebook to have your contacts profile pictures set as the Avatar.
You can also set up super easy keyboard shortcuts to get things done even faster.
Not everyone might be the biggest fan of the bird chirping as the "new email notification sound", but even that can be edited and the user gets to upload their own tune.
6. Undo Send
Last but definitely not least. Mailbird has an Undo Send feature. Halleluja!! The best part about it is, it work for EVERY email account added to Mailbird.
Need to unsend an email sent from your work email? No problem. The feature can be activated and set up in the Mailbird Options.
Bottom-line
I'm in love. Yes, I am aware I have told you before.
Even though Mailbird is packed with a lot of features and apps, it still feels very light, simple and intuitive.
It saved me an immense amount of time and is the best cure for everyone that has issues keeping their tab-number down to a "healthy" level.
I am very much looking forward to see, what the team at Mailbird are going to implement next to make it even better.