Growth occurs to those who work twenty four seven for it. There is always a dependency on communication devices in this distant large place known as the earth to make it a small place. Now usually a person carries a single SIM card phone, and obviously one SIM card means one phone number. Having one phone number does not allow you to separate your personal and your professional life as the only number your cell phone has been provided to all your official or non official contacts.
There is a way that you can arrange both your professional and personnel on separate numbers, an application known as Line2 allows you to have another mobile number on your single SIM card. Before you get confused about the fact of having two numbers on a single SIM the second number uses VOIP or Voice Over IP that allows you to utilize your internet connection to call numbers. The app has many features, one which is best for business purposes which is that a whole system can be build on the mobile number you use to identify yourself to your business group. By a system it means that you can provide information about whom you want to contact in your company and then redirect the call to that number.
What is Line2 ?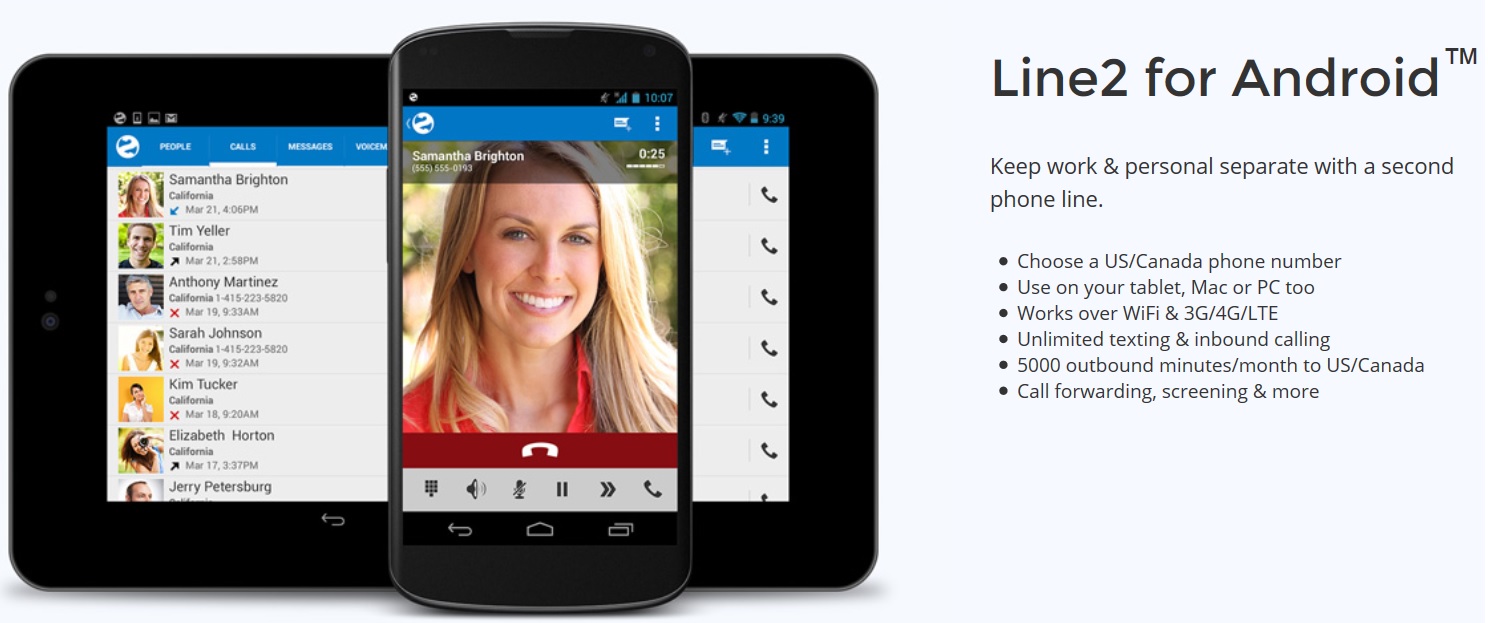 https://youtu.be/aXdbZMYMqFA
It is available to all platforms including personal computers(running either Windows or OS X) but it allows only a single person per device. Now it's time to talk about the android version of Line2. It is like second phone in our hands. It gets listed through its VOIP (voice over internet protocol) services which allow you to call from another number.yes! You heard it right! It offers three plan services.
Get it free from the App-store
1. Personal plan ($9.99): The personal plan or standard plan allows you to send unlimited text messages and can receive unlimited calls.Outgoing calls are limited up-to 1500 minutes for month.
2. Business plan ($14.99): It offers everything similar as standard plan. But allows you to make calls for 5000 min per month.
3. Free plan : Allows you to call and text with the other Line2 users. We know that the paid version always have some extra features. One more thing is that it provides complete security during calling and texting using the second number and actually it was listed for this purpose. In one word, it's a cloud phone service.
Features of Line2 :
• You can use private numbers to call the people in your inner circle. It includes your personal calls or any but with a private number. Is it some thing we all like to have ?
• You can use MMS feature to send a picture or video message to your friends during party( upto 10 recipients)  or doctor. And here is a direct word from one of them
MMS is a miracle for me," says Ian Levenson, Medical Director of The Colorado Center for Health and Longevity. "I am a physician and patients are able to text me a picture of a rash or something and I'll have an idea of what they're talking about. This is a game changer for them and myself.
• You can use different numbers for different purposes such as one number for your business dealings and other one for your personal calls etc.
Ex: You are allowed to use local numbers for your area and some small works to call people of your local area.
• We all know that every online works asks you to provide some number such as online forms, online accounts etc and the good part is you can use a special number from Line2 for this kind of activities to avoid calls from the advertisers for your own personal number.
• You can call and text to overseas (US/Canada etc) just with a good WiFi connection. No international roaming and isn't it sounds cool.
• During our test with Local calls the sound quality was just better than normal voice calls as the speaker voice were just more sharper, crisper and noise free.
• Did we face any call drops while making the call on drive while the android device was connected to mobile data (LTE) ? The answer is no.
• Does your friend residing in UK need to have Line2 installed on their device to receive a call from you ? No you just have to dial your friends number on the dial pad and the call will be placed. Your friend will receive a normal call instead of VoIP.
• Unlimited voice calls to other Line2 users in US/Canada
Some Features of the Paid Plans:
• You can use the application on every device (Mobile+Tablet+PC) to call and text.
• You can experience the HD quality in voice calls if you can pay a little and you can send unlimited texts along with calls to overseas (US/Canada).
• It has a clean interface, No need to install any special softwares and hardware. It works over every net connection (4G/LTEWiFi+3G+2G).
• All normal call features such as blocking, Forwarding etc are included within the plan itself.So i think it's not a big deal to pay $9 to get the above features.
Support offered
We threw some quick questions over to their support and I was happy to see that my doubts were cleared within 24hours. And here is screenshot to validate this.
Installation to get started:
• As-usual, Search for the google play store and search for the "Line2" from the long search bar provided in the PlayStore.
• It displays a lot of search results and make sure you had imported the app which is with a globe icon (Blue in color).
• Import the app on to your home screen and tap on it.
• Click on the Signup and complete the required details and it looks as follows. Make sure you entere the full name.
• You are directed to the page where you have to choose your number by filling the country, state and area code. I suggest you to fill the location and then the area code.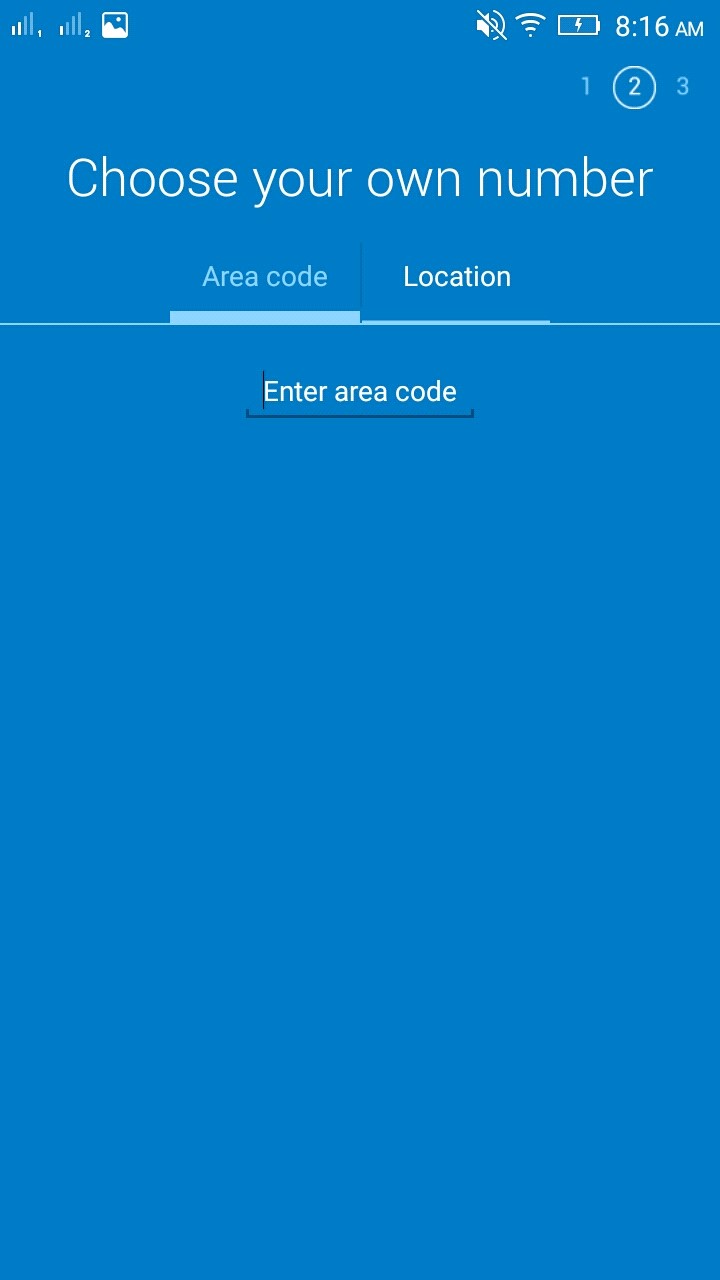 • Tap on a number you like, and it asks you to select a plan.Here now I am trying it for free.
• As soon as you have activated your Line2 account a pop-up message displays by showing your second number.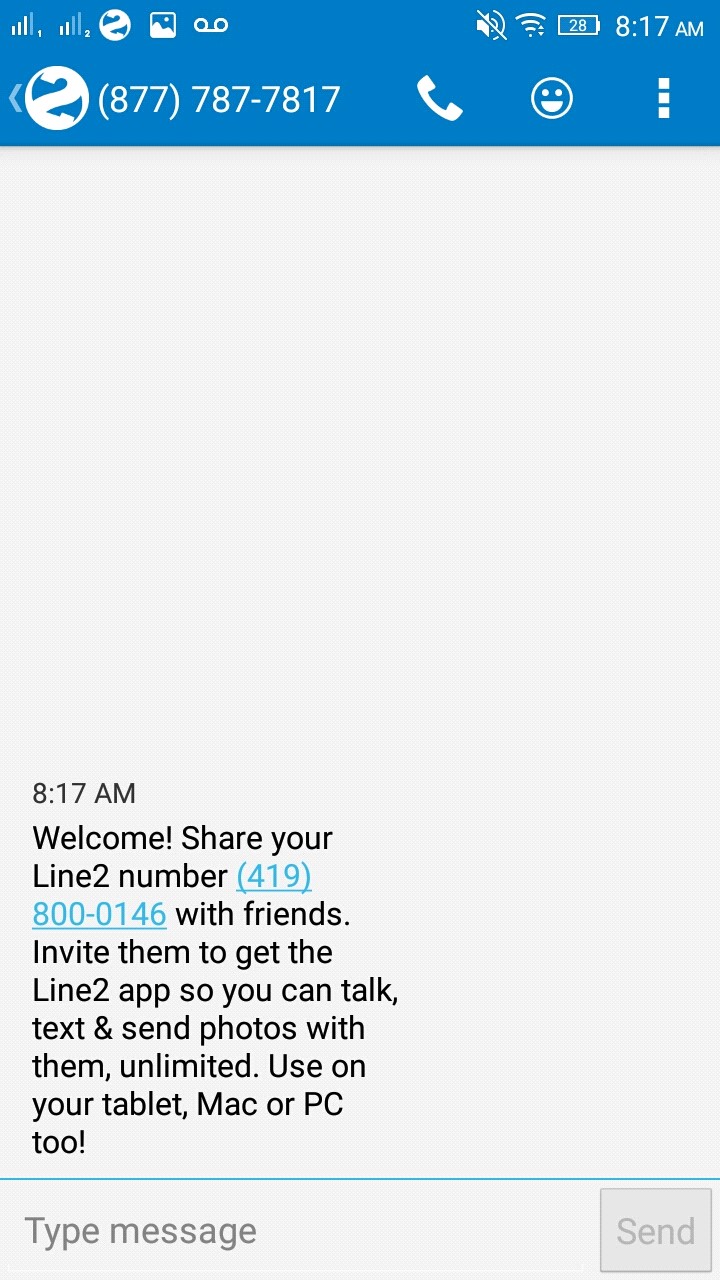 • Now, finally you have moved to the Main menu from which you can call, message using dial-pad and message editor etc.
• Click on settings in order to get the following features or to signout from your account.
Concern
We saw some admob ads being running in their app as you may have noticed in one of the above screenshots
Conclusion:
These are the days where we can find tons of similar apps which provide the similar features. But its  time to throw some light on its working. Yes,It completely worth to pay to get the advanced features and also the basic free plan works as well. I personally suggest you Line2 to make overseas calls and texts as I used it. I am amazed with the free plan and its more than enough for me. No doubt the paid plans surely surprise you. Finally its one of the best VoIP app which provides the different numbers for different tasks.