Apple considered as an innovative company that produce and manufacture gadgets different from the rest of the competitors. There is no doubt that Apple product features become a trend and it replaces all previous trends, which forces manufacturers to change their design as well.
However, Apple iPhone, iPad, and iPod lacks many basic features, which makes it difficult for regular users to Copy, Transfer, and Save content to the device.
The world is filled with innovative developers and software companies to support them. We have an Apple iPhone, iPad, and iPod manager for Windows that allows you to communicate with your device in a better way.
IOTransfer 2 – Your ultimate iPhone/iPad manager
IOTransfer is Windows-based software, and the purpose is the IOTransfer to help the iPhone and iPad users to unlock the limitations of iTunes and iCloud.
We know that there are too many software companies pitching their products for your device. But, what makes IOTransfer different from the rest? We are going to answer that question. Let's dive into their features and how effective features when compared to the iTunes.
#1 – Requirement For Windows 10
IOTransfer supports Windows 7, Windows 8, and Windows 7, but it doesn't support Mac or Linux. But, some programs allow you to run Windows programs on Mac and Linux.
You can download the program from their Official website, and the program is a one-click installer.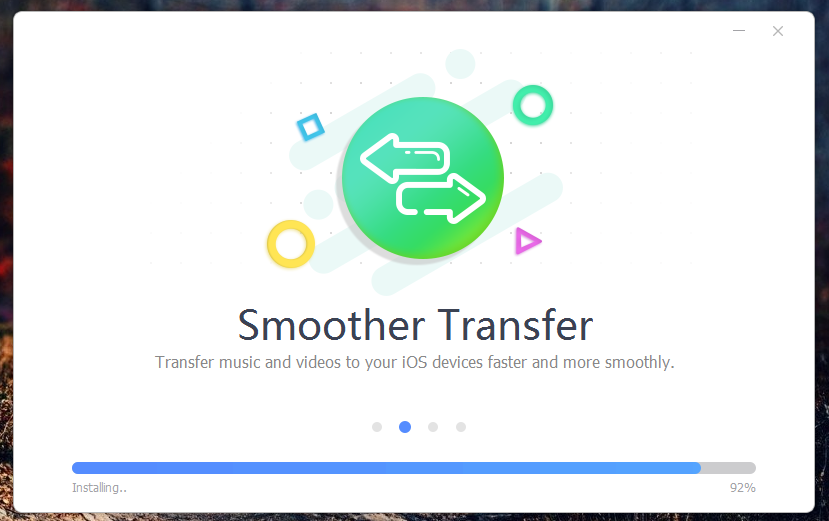 IOTranfer is a paid managing software that allows you to use it for free for seven days and you get 20 quotas every day for next seven days.
The IOTransfer also provides you direct download and installation of Apple drivers, which eliminates the manual work.
#2 – Transfer features
IOTransfer allows you to take control over your iPhone or iPad and transfer content between devices and Windows PCs. You can transfer content like Videos, Music, iBooks, Podcasts, Voice Memo and Contacts. You can edit and add new contacts from the program.
It allow supports the iOS 11's HEIC image format, and you can convert the HEIC image format to JPG in just one-click and save directly to your photos folder.
The program also has an inbuilt feature to optimised photo thumbnail preview, so it correct direction and image size. Sometimes there is a failure of loading Camera Roll photos, but IOTransfer fixes it.
We know that even iTunes have these features and you can consider them as basic features. iTunes is known for transferring content. But, these very basic features unlock you to do more than just transferring limited content.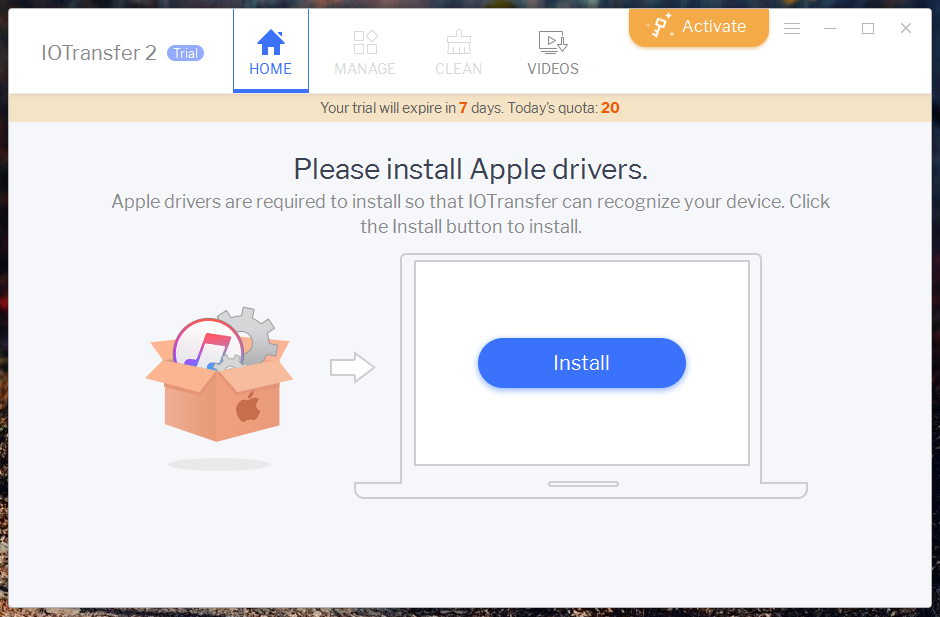 You will learn more about iPhone transfer in the next paragraph.
#3 – iOS Cleaner
iOS is nothing, but a combination of programming language helping the iOS to function properly. Just like Windows or Android, the OS tends to store garbage that takes up plenty of space and slows your iPhone down.
Usually, Apple users reset their device to bring back the speed to the iPhone, but you cannot do that every time because it isn't easy to back up and restore iPhone contents.
iOS Cleaner helps you to clean junks files from your iPhone or iPad to free more space, and it also helps you to run a little more faster than before. The iOS Cleaner takes only a few seconds to one minute to scan and get rid of the files from your device.
#4 – Video Downloader
We know that it isn't easy for your download music videos from various sources and save them in your device. An IOTransfer has an online video downloader that lets you download videos from YouTube, Dailymotion, Twitter, Facebook, Instagram, Metacafe, and more.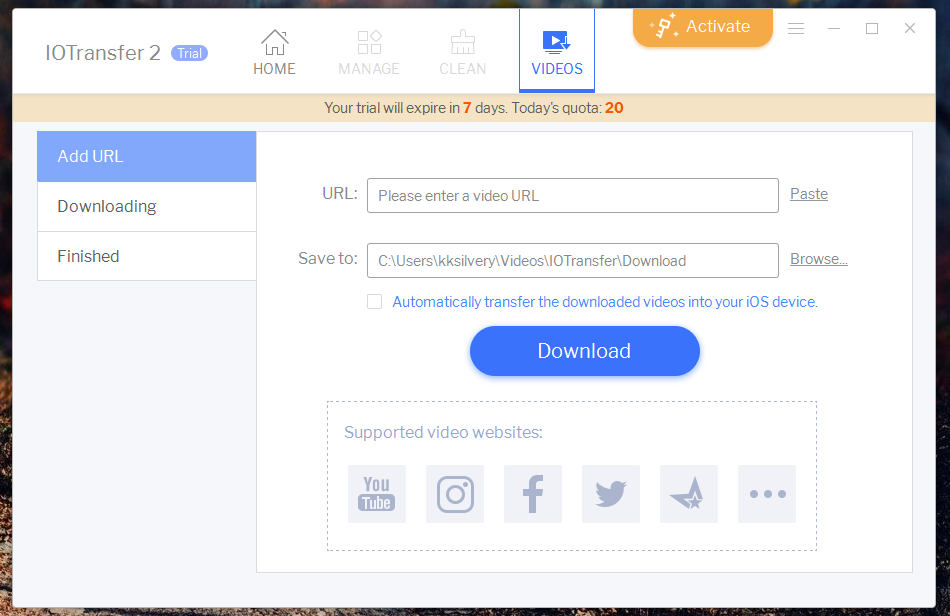 So, you can downloader videos from Facebook and another top website, then save them directly to your iPhone or iPad in the highest quality possible.
#5 – One-Click Back-up
In iTunes, you have to go through few steps to back the contents of your phone, right?
This is where IOTransfer makes it easier for the users to back up entire content on your device with just one click. You can also restore the backup file in one click.
Conclusion
IOTransfer comes at a price, so make sure to download and use seven days trial period wisely, then make your decision to purchase the license key. Let us know what is missing and which feature you have liked about IOTransfer in the comment section below