Let me be honest and straight-forward, yes this is a review, a comparative, detailed insightful review inside GetResponse and ConstantContact, the two leaders of the Email marketing industry.
Now here are the reasons why you should be reading this review right now, first I already know you're in search of an Email marketing solution, something to ease out your visitor grabbing process and turning them into sales.
And second because both these two tools are already renowned for their features and popularity, and you've probably already wasted hundreds of dollars on other tools without much of a success.
So trust me when I say this, investment of your next 2-3minutes into reading this review might be one of the most profitable investments you've ever made into this field.
Because, I won't be spelling out any tool better than the other or the best, I'll just be comparing what you get with both these tools and then you can decide which tool you'd want to go with.
Marketing Automation:-
What's the primary use/goal of us using any Email marketing tool? Marketing Automation, is it not? So that we can capture leads > analyze them and turn them into consumers with almost zero manual effort.
Now that's something GetResponse has taken up pretty seriously and thus has some pretty advanced tools and algorithms to go with it too, while Constant Contact? Not so much, but just keep reading and you'll get the idea.
Drag and Drop WorkFlow builder:-
Basically the whole concept of "automation" comes from workflows doesn't it? You need to be able to build triggers and consequences which will keep happening on automation for you.
[+] Now GetResponse has a drag and drop WorkFlow builder, meaning you can create unlimited scenarios and their consequences without touching a single line of code.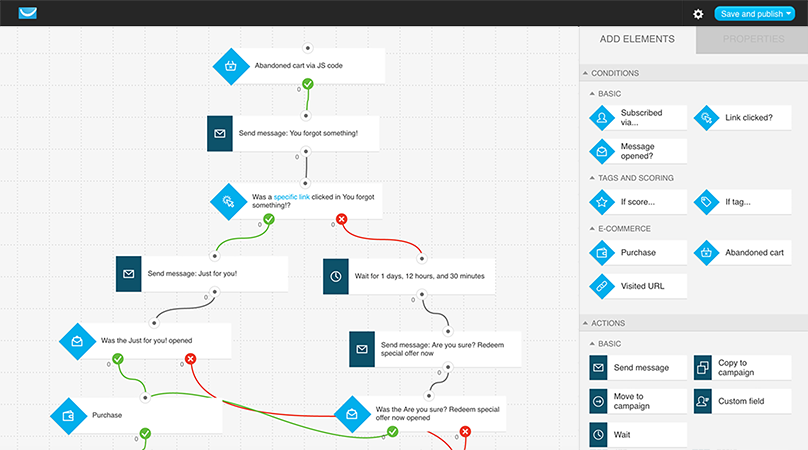 Imagine someone goes up to your cart but doesn't checkout, or someone checks a product out and doesn't add it to the cart or any other situation like that, in such a scenario GetResponse would automatically send a specially crafted only to that person which will try to make the sale or achieve any other goal.
[-] Now Constant Contact has an "auto-responder" as I've discussed in later sections, but it's not quite as advanced as GetResponse, it lets you "auto-respond only" and that too for a very narrow and specific event-time based scenarios.
Pre-Designed Work-flow Blocks:-
GetResponse:- With GetResponse you get pre-designed blocks for "triggers" "action" and "consequences'. Meaning which event should trigger what and what should be it's consequence.
I'm sure the following screenshot will explain it better.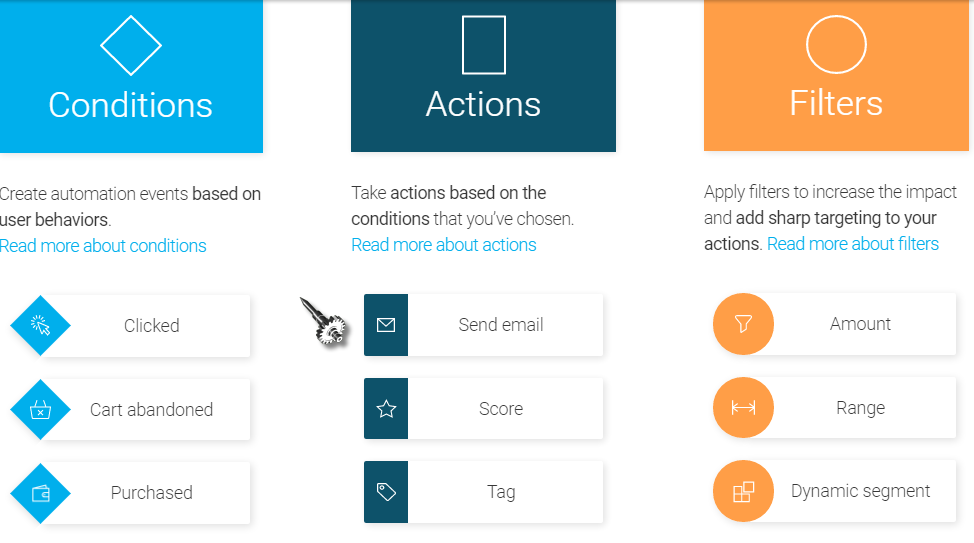 So see? You just place these blocks into action and your business would take care of yourself almost without your help.
Constant Contact:-
Unfortunately, Constant Contact doesn't seem to offer work-flow builder in the first place, so no pre-designed blocks for it either.
Email Templates:-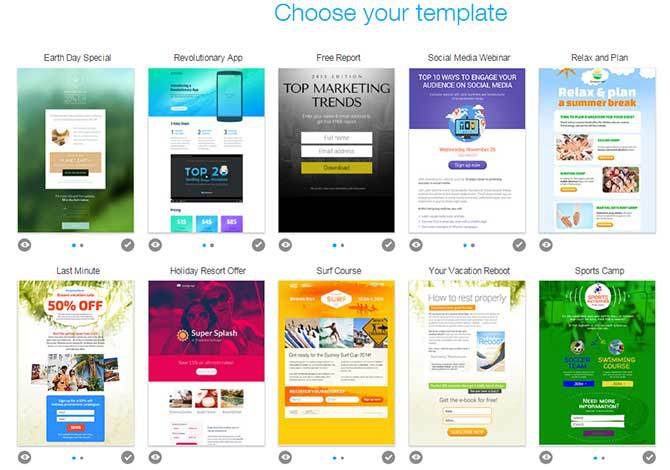 With GetResponse, you get over 100 pre-designed professional templates to work with. You don't need to work on the design or anything else, it's a completely drag and drop Email template builder, and all you've got to do is edit the content of the templates and you're done.
Constant Contact too being a prominent contender in the industry offers you pre-designed templates to work with, and they too are drag and drop.
My Verdict:- The number of templates with GetResponse is much more compared to that of Constant Contact, so I'll like to stick with the former for now.
A/B Tests:-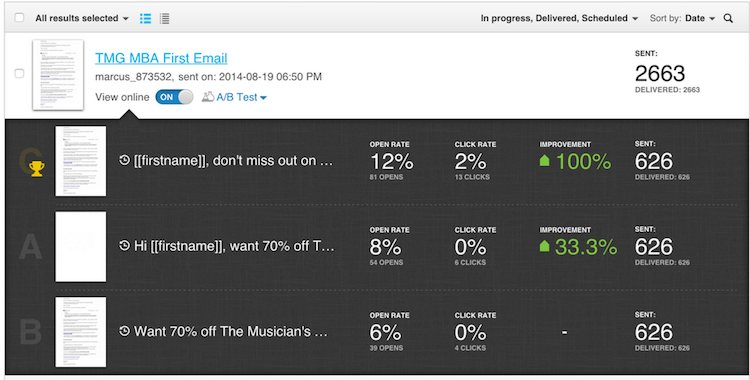 A/B tests might be the most economical, almost free but most effective research and customer analysis methodology ever invented.
[+] With GetResponse, you get the ability to A/B split test almost anything and everything. Starting from E-mail templates to landing pages.
[-] With Constant Contact I couldn't really find the A/B split test feature, although I'm thinking it might be present somewhere solely because of the reputation constant contact has built for itself.
My Verdict:- A/B split test is a primary feature with GetResponse, but it's no where to be found with Constant Contact, atleast not on the surface, meaning even if it is present there, it's hidden somewhere which isn't the best for user-experience.
So for now I'll take that constant contact doesn't have a direct A/B split test feature, hence my vote remains with GetResponse.
Deliverability:-
The one aspect where both these platforms are neck-to-neck with each other is deliverablity. They both know the importance of an E-mail getting delivered all too well.
And not just getting delivered, they also make sure that your E-mails get delivered to your client's inboxes, and not spam folders or other labels, or else it's the same thing as not getting delivered is it not?
And along with that, with both the tools you get the detailed reports of opens / clicks / coupon redemptions and anything they might have done with your E-mails.
My Verdict:- When it comes to Deliverability I'd say you can count on both the tools with the same level of assurance, there's no winner or looser here.
Auto-Responders:-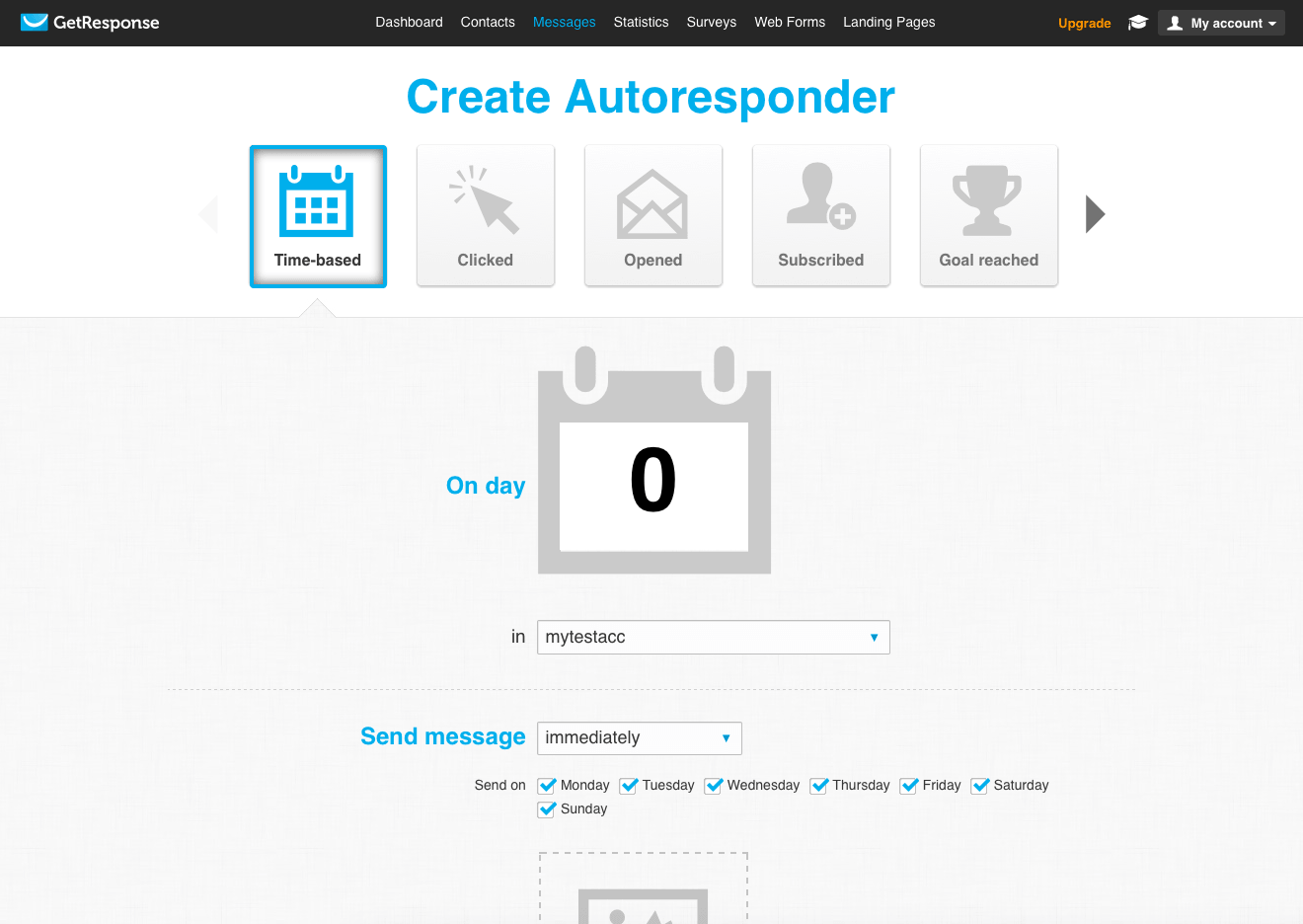 The two primary tasks any Email marketing tool does for you is, collect and list out your Emails and auto-respond to them whenever possible, right?
So yeah autoresponders are a major decisive factor when going with any Email marketing platform so I just had to mention these out here.
GetResponse:- Let me just say that with GetResponse, you get to trigger your E-mails based on Time and Action based events.
Meaning specific E-mails get sent, at specific moments, just when you've planned them. And they're auto-triggered, meaning they get triggered when there's a certain sort of activity triggered from the client-side. Or maybe on specific dates.
Constant Contact:- Constant Contact too has a pretty good autoresponding feature, with it too you can trigger action and time based E-mails.
But Constant Contact primarily focuses on "list" based autoresponders, meaning you make a list of people who live in the same area or people who've bought the same product, and then you can auto-respond to them.
My Verdict:- Again, both the tools are good at what they do and here too I'll leave the decision to you. It totally depends on your needs and requirements (and specially budget!)
Landing Pages:-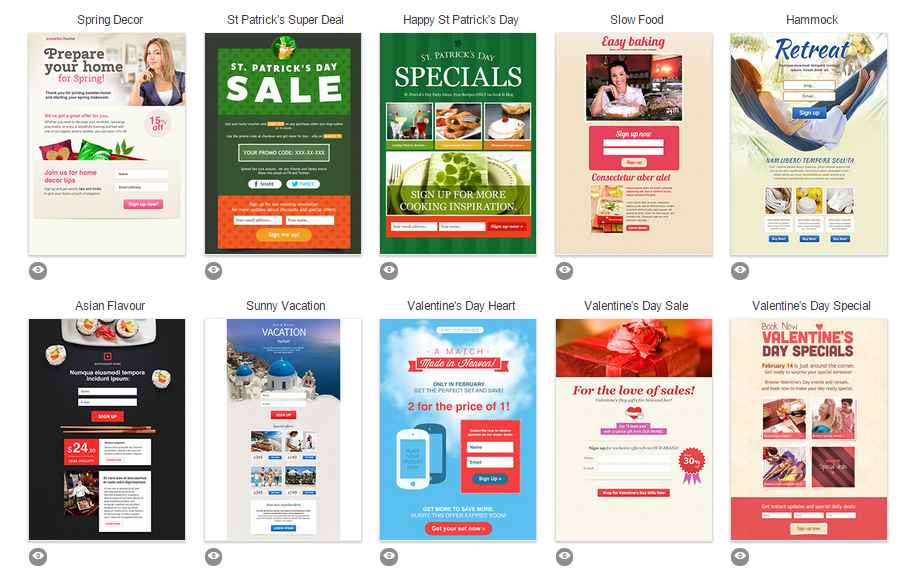 The primary edge GetResponse has over any other Email marketing tool in the market, this is what makes GetResponse much more worth than it's priced at, and this is what I love GetResponse for.
I spent over $100/month with some other landing page builder in addition to an E-mail marketing plan with a different company just to get my Email + landing page relationship working. Because ofcourse, I had to market a lot of things and landing pages are my favorite strategy.
Now I take it as you're going to need landing pages too if you're ever going to have a successful targeted marketing campaign.
With GetResponse you get an in-built landing page builder with over 50 pre-designed templates, and it's totally drag and drop! You don't need to write a single piece of code,and still your page would look more professional than most amateur coders.
My Verdict:- I'm gonna be bold about this, GetResponse offers landing page builders, while Constant Contact doesn't.
So if you're going to need landing pages, GetResponse is the choice you should be opting for, or else you will be spending quite a fortune on a third-party landing page builder.
Pricing:-
So finally down to the section that decides it all, pricing!
Well you get all those awesome features from GetResponse at a starting price of $15/month! Which I say is more than just affordable.
While with constant Contact plans start at $20/month which isn't too expensive either if you ask me, unless you mind the extra $5 ofcourse.
Final Verdict:-
I think it's clear enough, you get more features (including the landing page builder + exclusive webinar pages) with GetResponse than Constant Contact.
While the pricing is far less expensive with GetResponse compared to Constant Contact too. So is it that hard?
Constant Contact is good, no doubt. But unless I become a millionaire and have a lot of spare cash, I'll like to go with the more choices + less expensive option, and that seems to be GetResponse at the moment.
So go out and try GetResponse right now!