Most of us know how to get alerts as email when the feed from that particular site has been updated.
If you don't know how to get email alerts from your favorite blogs or website,just go to site that you want to receive updates and enter your email id in the subscription box,you can find subscription box most probably in side bar or at the bottom of post, then you need to confirm the email id to get latest updates.
Email alerts are pretty difficult when you receive around 50 or mails per day , first you need to login to your mail id then you have to search if you have received any new emails from from your favorite websites.
What makes SMS alerts better than emails is that you can receive updates right in your phone without any data connection.
Most of blogs or websites doesn't support free SMS alerts for its readers when something new appears !
So how can you get free SMS alerts from your favorite blogs or websites in your mobile ?
A service called ifttt ( if this then that )helps you to get free Sms alerts in your mobile from your favorite blogs or websites.
What is IFTTT ?
IFTTT is a service that lets you create powerful connections with two services.The interaction between the two service is called as a recipe and each recipe contains two parts that is a triggering part called as this and an action part called that.
How to configure ifttt for getting the free SMS updates ?
Step 1 : As always you need to create an account with ifttt.com which is free, if you already have one go here.
Step 2 : From top menu click Create as shown in pic, to create your first Recipe.

Step 3 : Click the word this to define the trigger,as shown in screenshot.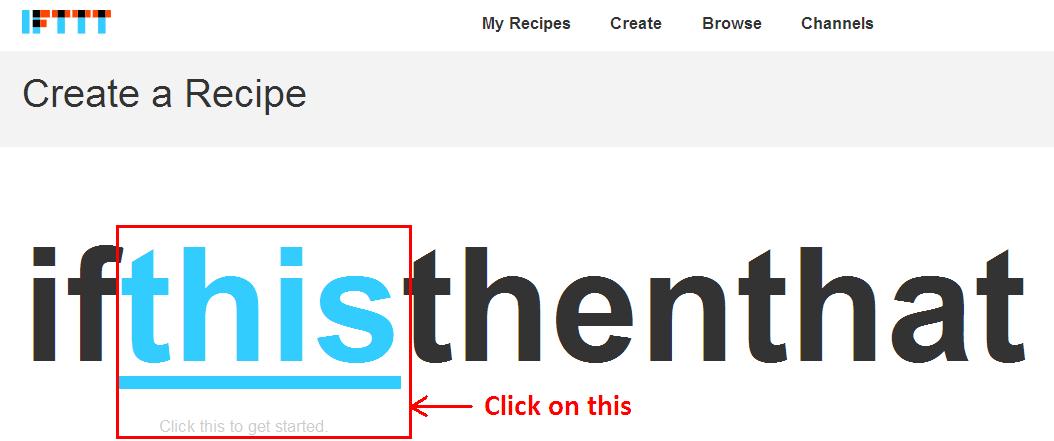 Step 4 : After you click this, the page will automatically move down to Choose Trigger Channel from there select Feed.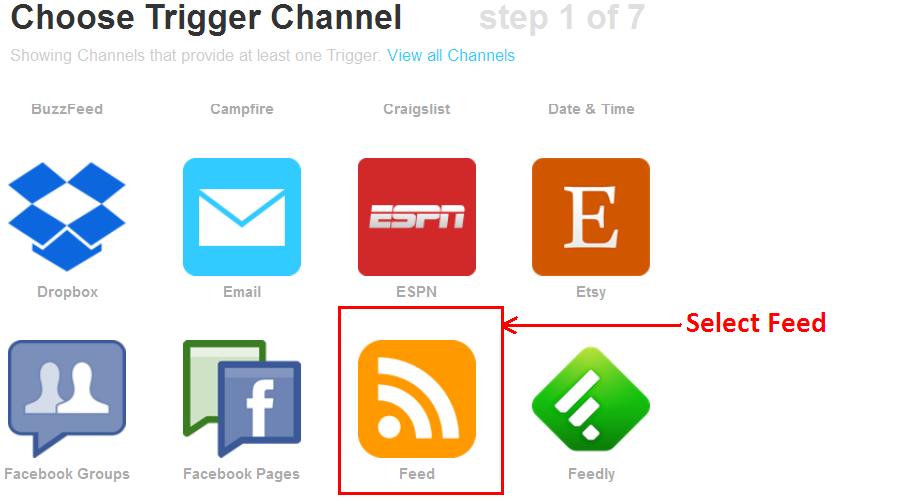 Step 5 : Now select New feed item .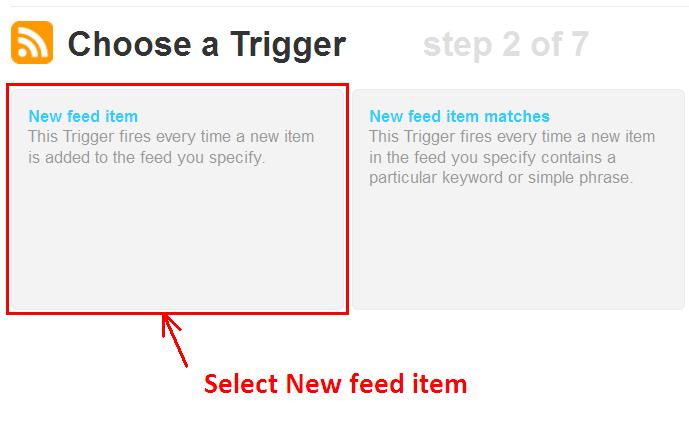 Step 6 : Enter the feed URL and click Create Trigger.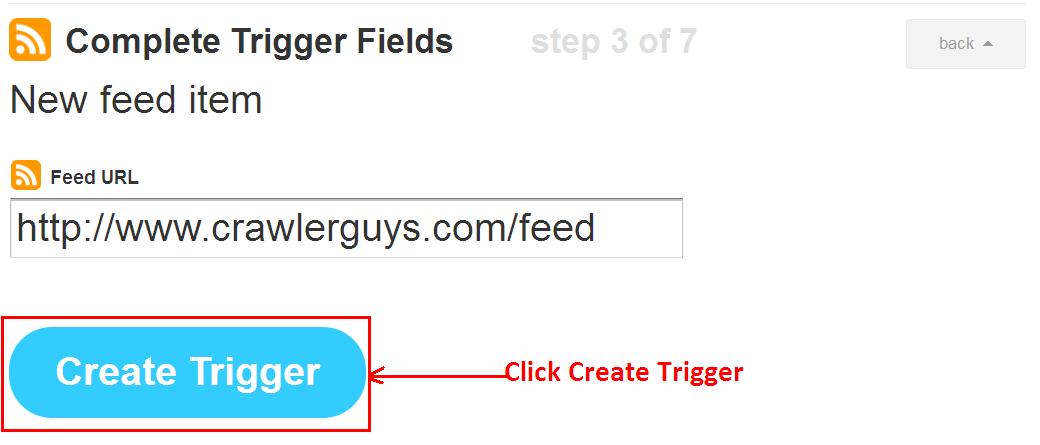 Many of the blogs and websites uses WordPress CMS,so in order to find the feed just add /feed or /feeds to the tail of URL to retrive the posts from the home page.
Example : if the home page URL is http://www.crawlerguys.com then the feed will be at http://www.crawlerguys.com/feed this will fetch the entire updates from our blog
If you want to recieve SMS updates only from a particular category from your favorite blog or website then select that category and just add /feed to the tail of that URL
Example : http://www.telecomclue.com/category/os/android/ this is a sub catogery in telecomclue.com , to get the SMS alerts from android category, put like this http://www.telecomclue.com/category/os/android/feed in the Feed URL , so when android catogery is updated you will recieve a SMS tell about new post in that category.
Don't worry if a blog is with blogger ifttt also support blogger channel.
Step 7 : Like in step 4, after you click that, the page will automatically move down to Choose Action Channel from there select SMS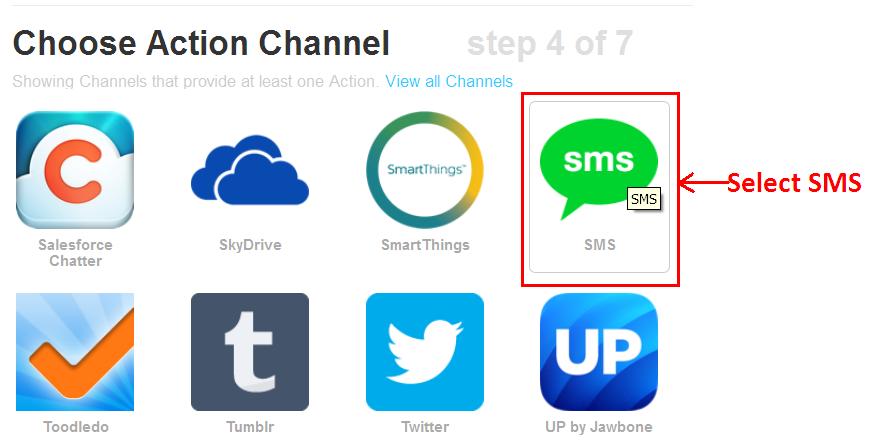 Step 8 : Click on Activate, which will open up a pop up window enter your phone number and click Send Pin
Step 9 : Enter the received pin to verify your mobile and activate, pop up window will close now, click on Continue to the next step .

Step 10 : From Choose an Action select Send me an SMS.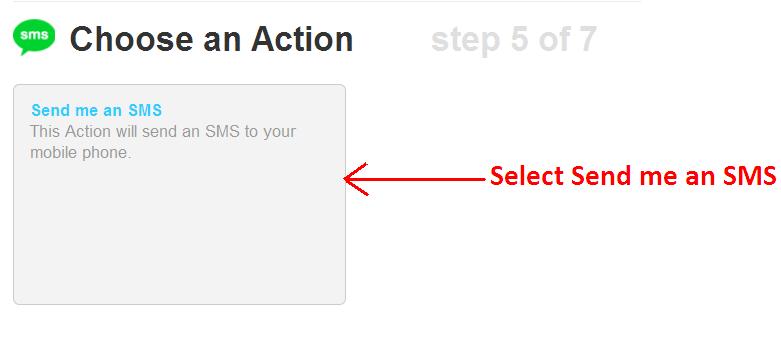 Step 11 : By default you can receive Feed Title, Entry Title and Entry Url of a particular post, if you want to receive the post content then just click + and select Entry content from the drop down menu then select Add ingredient .Check the screen shots below.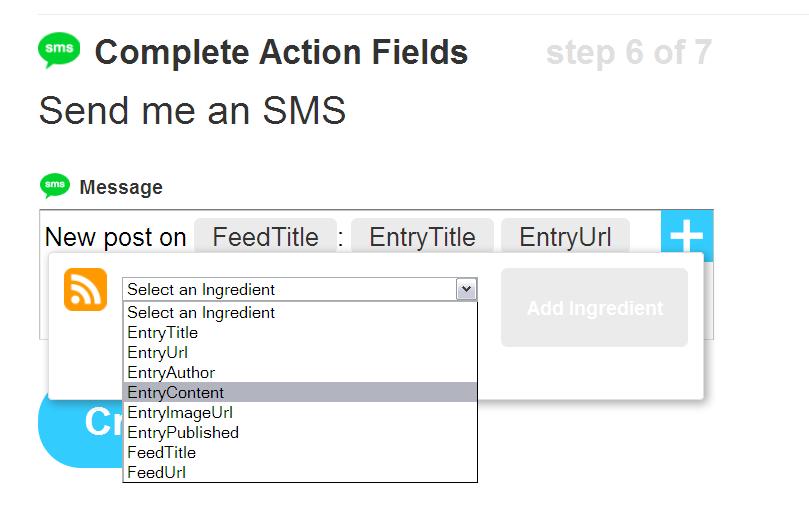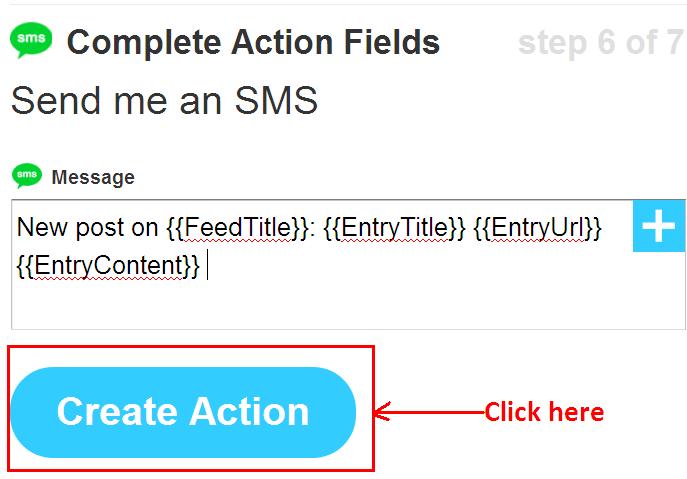 Step 12 : Last step, click on Create Recipe done,you are all set to receive your favorite blogs or website updates as SMS.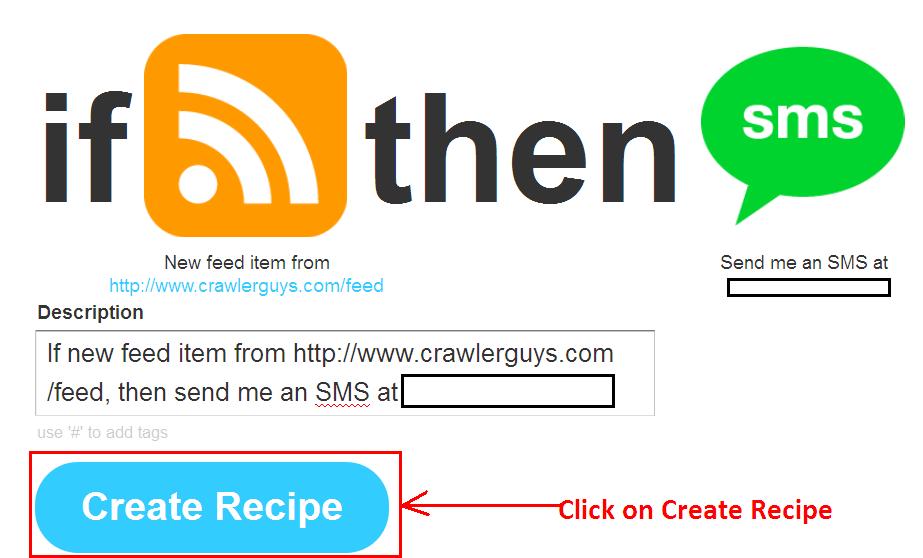 What's more can you also customize the keywords for which you need the SMS updates from your favorite websites,isn't this great features for bloggers !
So how often you get SMS alerts from that particular recipe that you have created just now ?
The answer is, each recipe is triggered with 15 minutes of time interval.
Is this service free of cost ?
Currently it's free.
Is it possible to turn off the SMS updates from a particular recipe ?
Yes, it's possible.You can turn off/on the recipe that you wish at any time.
Note for Indian users : If you are from India make sure that you have deactivated DND, we were not able to get any SMS updates in a DND activated number,but our non DND activated BSNL number received all the SMS updates from the recipes that we have created.
Enjoy immense possibilities with ifttt.