Most of the jobs today require one to have a computer. There are hardly any office duties that can be executed without the use of a computer today. If you have an office setup where you must use your computer, you can agree that sometimes you hardly have some time off that computer especially if you have deadlines and bulk of work. There are therefore some essential items you should have if you use your computer all day.
They can ease your operations and give you some comfort while working. Below are these essentials:

A Glass Dry-Erase Whiteboard
When you have a lot to do, sometimes you can end up forgetting some important things. You need a glass dry erase whiteboard to help you keep a to-do-list and keep erasing the activities you have completed. You can list all your day's activities in order of urgency and importance to be sure you finish first things first. You can set your to-do-list to keep popping on your screen to remind you of what awaits you.
An Ergonomic Chair
An ergonomic chair can increase your productivity. It is adjustable to enable you to enjoy different sitting positions. When you feel too tired of sitting down, you can adjust your chair into a standing position and still enjoy working on your computer. It has all the versatility you desire. Based on the information at ChairsFX, an ergonomic chair can suit all your sitting positions. Whether you are a gamer or you simply write reports on your computer, these chairs are still suitable for you. They have features such as back reclines, footrests, and armrests which can enhance your comfort. These chairs can also help you maintain the right posture to reduce your chances of having back pains. You can also add yourself some armrest pads to enhance your comfort as you look through your worksheets.
A Cleaning Brush
An electronics cleaning brush is important for you to keep your computer clean. A computer which is in use an entire day is definitely prone to getting quite dusty. Your cleaning brush should have soft bristles to help you sweep away dust and any cake crumbles that might fall on your computer as you snack up to boost your glucose levels. You should also consider a brush with retractable bristles for ease of storage. Such brushes can also remove stains like sneeze stains from your screen leaving it clear and comfortable to work with.
Isn't a Memo Board Crucial?
It is essential that you have a monitor memo board that can help you keep all your notes and phones at your arms-rich. You would want to concentrate and avoid unnecessary movement. Having the things you might need while working at the reach of your hand, can help you avoid moving when you must not. There are several memo boards online although you can also make yourself customized memo boards. Choose one that can suit your individual needs.
How About a Keyboard Cover?
You can agree that using your computer all day means you use your keyboard a lot. This increases the lifetime of your keyboard. Since you spend all day on your computer it means you also have your meals while on your computer desk. Your, therefore, risk spilling some latte, water, or food on your computer. Too much pressing on your keyboard can also reduce its life cycle. A keyboard cover exists to prevent you from damaging your keyboard with all these.
Don't Forget a Migraine Stick
Staring at your screen all day increases your chances of having migraines. It can help if you acquire a migraine stick that has a blend of essential oils. You can apply the stick on your temples, your neck, and its back and the forehead to alleviate these migraines. These essential oils can also refresh you as they often have a pleasant scent to keep your spirits high.
A Pair of Light Blocking Glasses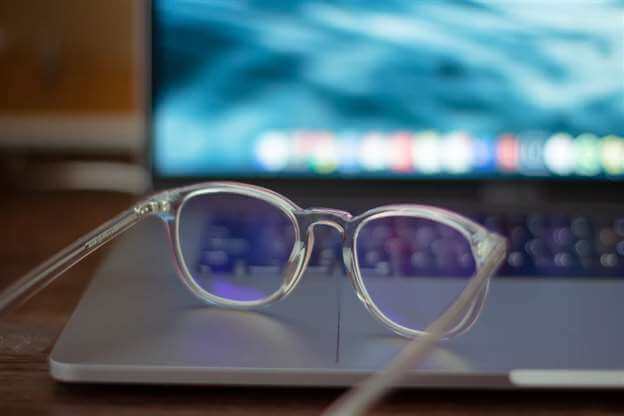 Too much light from your computer is often a contributing factor to your frequent headaches. You need some light-blocking glasses to help you reduce the strain on your eyes due to long hours of staring at a computer. There are a variety of these glasses in the market although it can be best if you choose those that fit your face size and those that don't smudge.
That you spend your entire day on your computer means you cannot avoid it. All the same, you need to have some essential tips to enable you to reap the most out of your staring at the computer all day. With a good quality chair, some light control glasses, a memo board, a migraine stick, and a cleaning brush, you have a comfortable computer desk. You can also have some reminders to keep yourself on track lest you forget to do some important tasks.