Looking to optimize your Amazon Advertising spend and improve ROI? Intentwise, a leading Amazon advertising optimization platform, has just launched a free mobile app that offers valuable insights, tips and techniques for optimizing your Amazon Advertising campaigns. It also offers on-demand audits of your account to help you understand how you can improve your Amazon advertising strategy. Intentwise is offering the mobile app as a free download on Google Play Store and the Apple App Store. Let's explore this platform.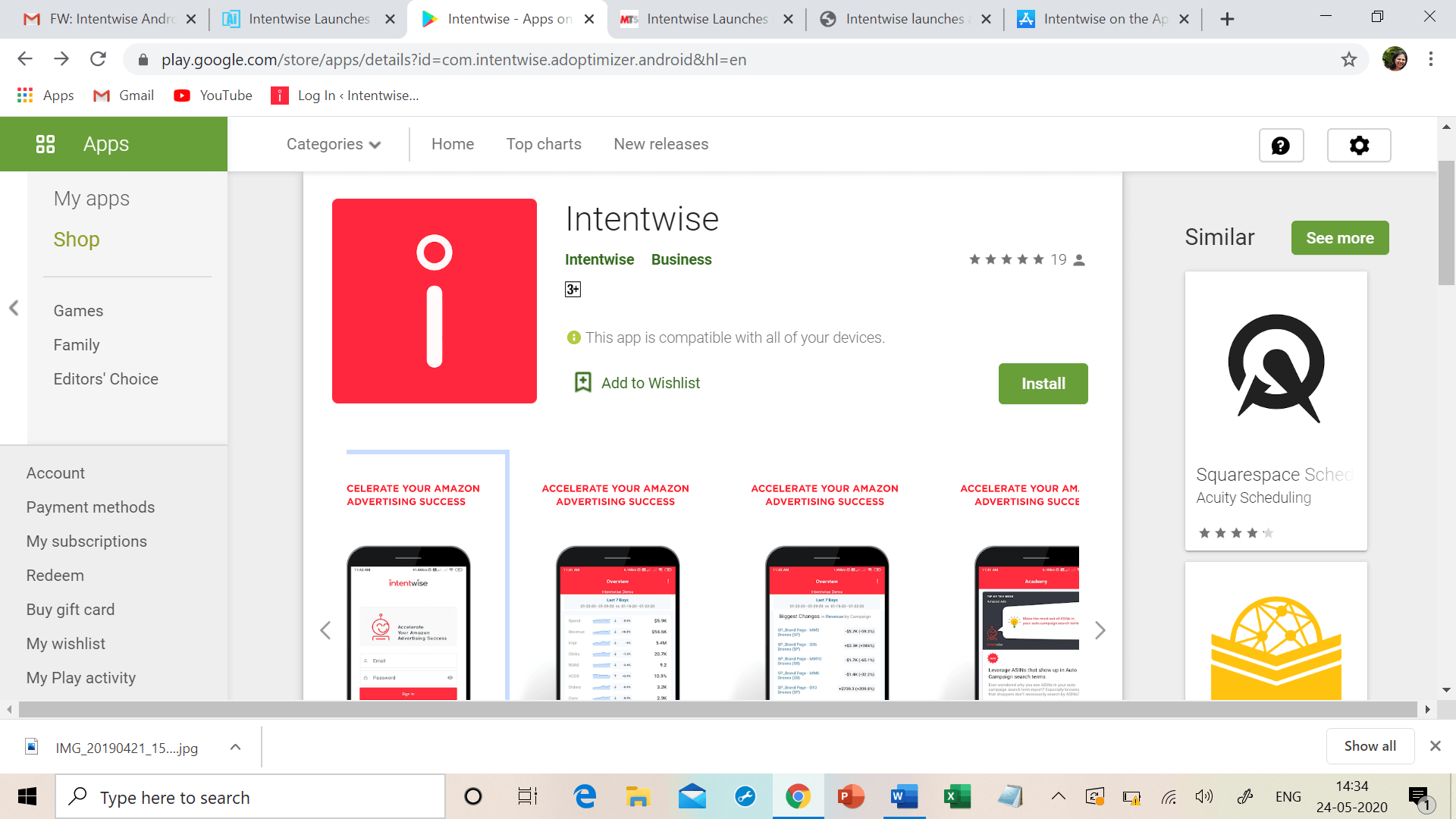 ABOUT INTENTWISE
Intentwise is an AI-based platform that automates and optimizes the Amazon advertising efforts of hundreds of brands worldwide. It automates several time-consuming advertising tasks and compares performances of different campaigns and time periods to help you understand what works. Additionally, you can set up rules to automate a wide range of actions including bulk bid updates, analysis of search term data, and addition of new keywords.
Intentwise operates as an extension of your team, driving growth by handling all aspects of Amazon Advertising and helping you get the most out of your advertising budget. The platform offers a free 14-day trial and transparent pricing. If you are an agency or a manufacturing rep firm, you can contact them for specialized quotes.
INTENTWISE MOBILE APP
Intentwise recently launched its free mobile application, giving users the ability to track Amazon Advertising performance anywhere, anytime. As soon as you log in to the app, a detailed view is provided to you on what is going with your campaign(s).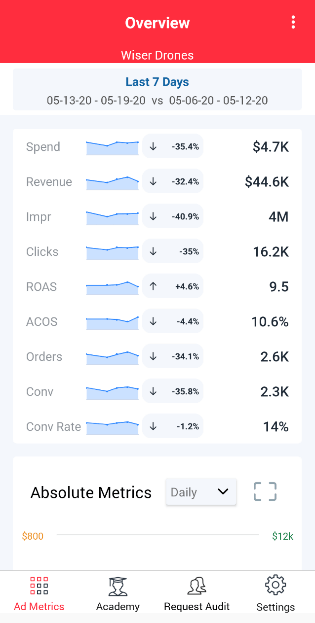 With this app, advertisers can access critical metrics across multiple accounts, view changing trends over time ranges, track biggest movers at campaign, product or keyword level, and scan budget pacing charts.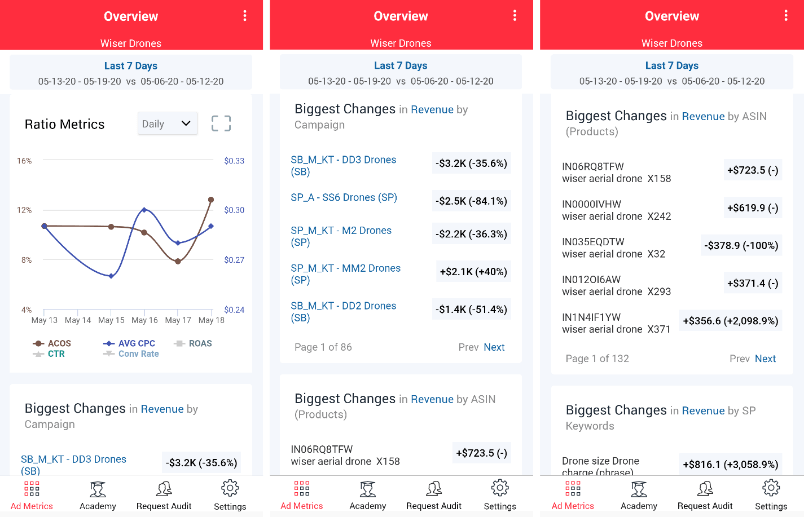 The biggest changes with respect to campaign, product and keywords are clearly reflected in the reports. You can deep dive into these reports to analyze more data and take better decisions.
The 'Academy' section in the app provides actionable tips for optimizing ads. It is continuously refreshed and updated as Amazon makes changes to its platform. Advertisers can also initiate account audits directly from the app, activating the customer success team at Intentwise to produce a strategic analysis of all missed opportunities and the best practices to improve an account's performance.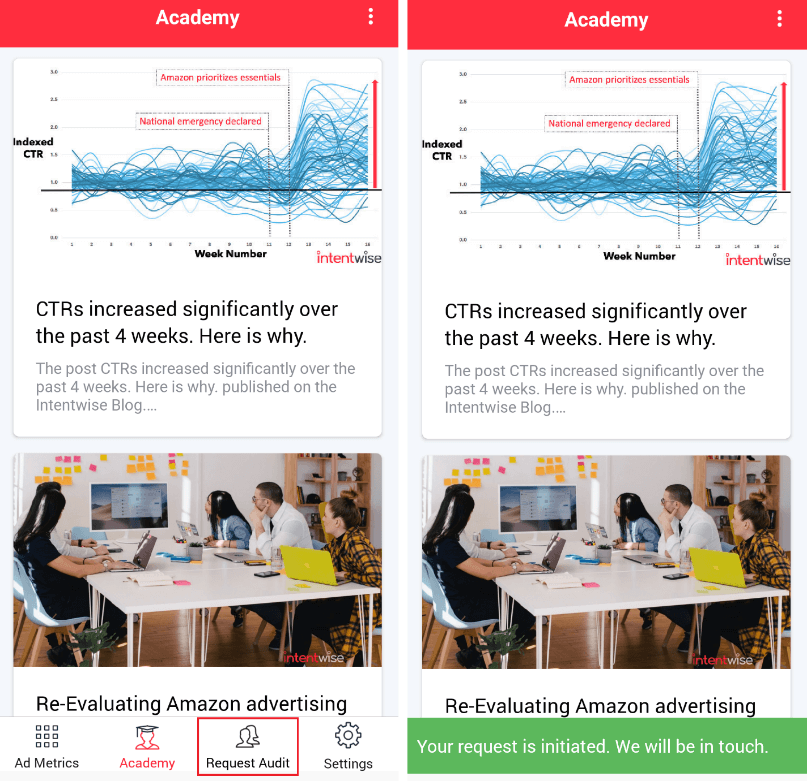 WHY INTENTWISE MOBILE APP?
Intentwise's mobile app is powered by a full-fledged AI and ML based platform that helps you optimize your advertising ROI through its smart recommendations. There are several reasons to go with this app:
Monitor and Analyze Performance
Intentwise app's intuitive dashboard helps you find opportunities and detect anomalies. You can quickly understand what's changed by comparing the performance between different campaigns, strategies and time periods. You can also deep dive into specific campaign, product or keyword-level performance.
Run Audits to Adopt Best Practices
You can request for an audit of your account and the Amazon Experts on the Intentwise team will analyze and provide a detailed roadmap for growth opportunities and best practices.
Access High Touch Support
Maximize your usage and get resolutions rapidly with Intentwise's state-of-the-art customer support. You can ask for personalized onboarding, knowledge base, webinars and monthly office hours.
THE BOTTOM LINE
Intentwise's insight-rich mobile app is a great first step towards leveraging the company's powerful Amazon advertising optimization platform that accelerates the growth of advertisers, agencies and businesses on Amazon. If you are one of them, this tool is a must-try for you.