Welcome games lovers! In this post we are going to share our views on a new smart phone game called Captain Blimey, which is now available for free download on Google Playand App Store. Captain Blimey is a virtual game that is based on real world, yes, you read it right. It is a treasure hunt game in which users can claim and discover treasures by interacting the real world. Players have to move in different directions in search of treasures. This type of concept is framiliar in many games, but there are many aspects and features that make Captain Blimey completely different.
Captain Blimey is the only treasure hunt game platform on the market with global treasure hunts where players win real cash prizes. Imagine the entire world having the ability to take part in one treasure hunt!
Exploring Captain Blimey
As mentioned aboved, Captain Blimey is a treasure hunt game which can be played on any part of the globe. It is a GPS based game that uses the phone GPS system to locate the users and treasure chests as they move. The concept of the Captain Blimey is similar to Pokémon Go in which users have to hunt for Pokémon, but in Captain Blimey users seek out the nearest treasure chest. Treasure chests are awarded to the very first players who find these chests so there is urgency and friendly competition within the game. Unlike Pokémon Go, Captain Blimey gives its users a chance to win real money, through the Cash Hunts. Now, let us explain its working in details step by step, including:
To move further in the game, players are able to hunt for public treasures as well as private treasures for a group of friends and family members.
Two different modes are available for users to collect virtual objects: Map Mode and Augmented Reality Mode.
In this game, players have to hunt for different types of treasure chests. One is a Red Chest, another is a Blue Chest, and the last one is a White Chest. Red and Blue Chests contains gold, diamonds and gift cards – all are very helpful in moving further in the game – while White Chest contain real money.
Gold Coins and Diamonds have the same significance in the game. Gold Coins are available for free collection and can be used to unlock different clues. Diamonds too can be used to unlock clues, but users have to purchase Diamonds.
There are many types of clues available like physical, question and answer (trivia) and teleport based and users has to unblock each clue using gold coins and diamonds.
White Chests are part of cash hunt where players can win the real monetary prizes. Users have to follow some clues to find out the location of White Chests and to win the cash prize.
There are 'Trinkets' to make Captain Blimey more interesting and engaging as they help players find and retrieve chests before other players do. The four types of trinkets encompass Dual Doubleeon, Crystal Ball, Magic Lock and Green Parrot. Our two favorite trinkets are the Crystal Ball, which allows you to see the number of coins in the 10 chests closest to your physical location, and Green Parrot to retrieve any chest on your map to save the time of walking to collect the chest's contents.
Exploring the Interface
Now it is time to explore the interface of Captain Blimey! This mobile game is available for both iOS and Android versions, but we are focused on the Android version in this post.
1) Opening the app for the very first time, you will land on this welcome screen.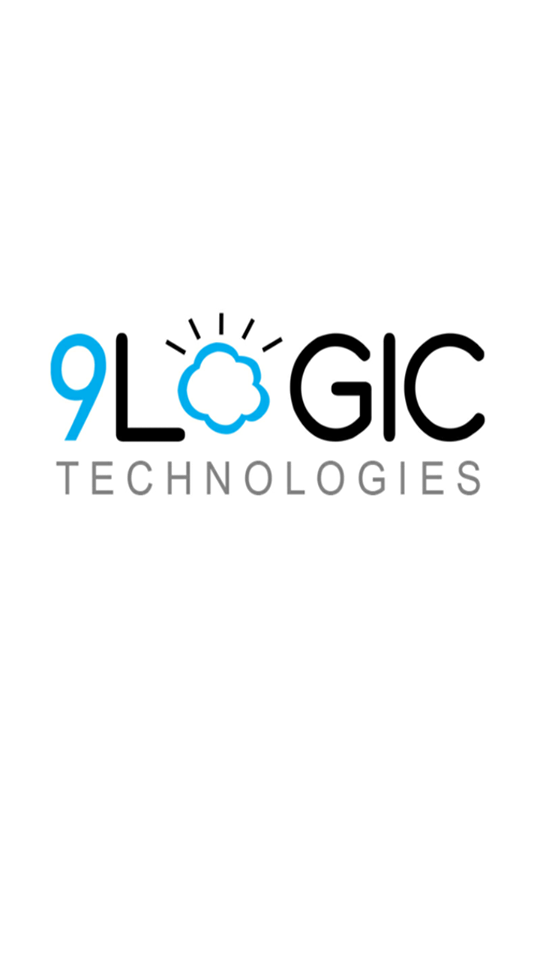 2) After that screen, proceed to continue with creating an account using Facebook or play in guest mode. It is recommended to use Facebook login option as this enables you to participate in the White Chest cash hunts.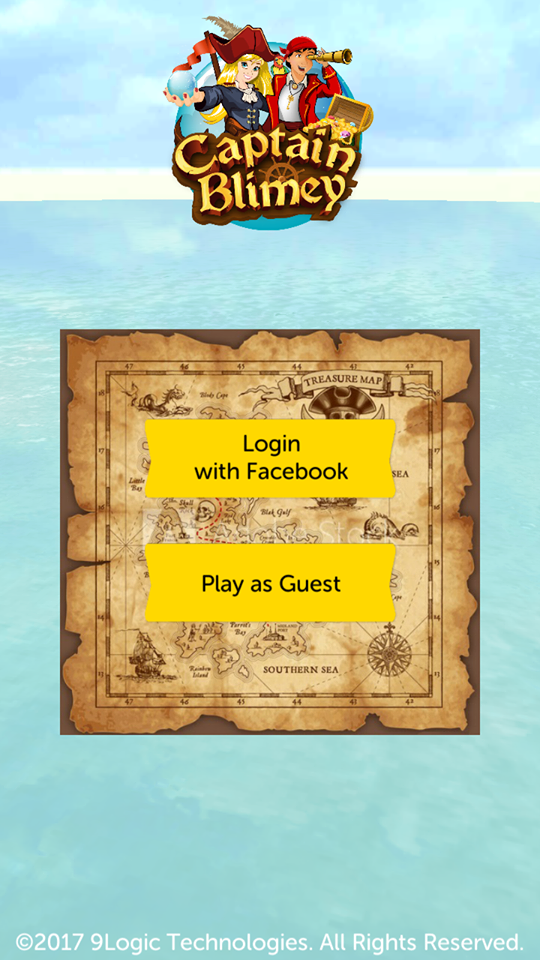 3) Advance into the game for a quick tutorial on all of Captain Blimey's ins and outs.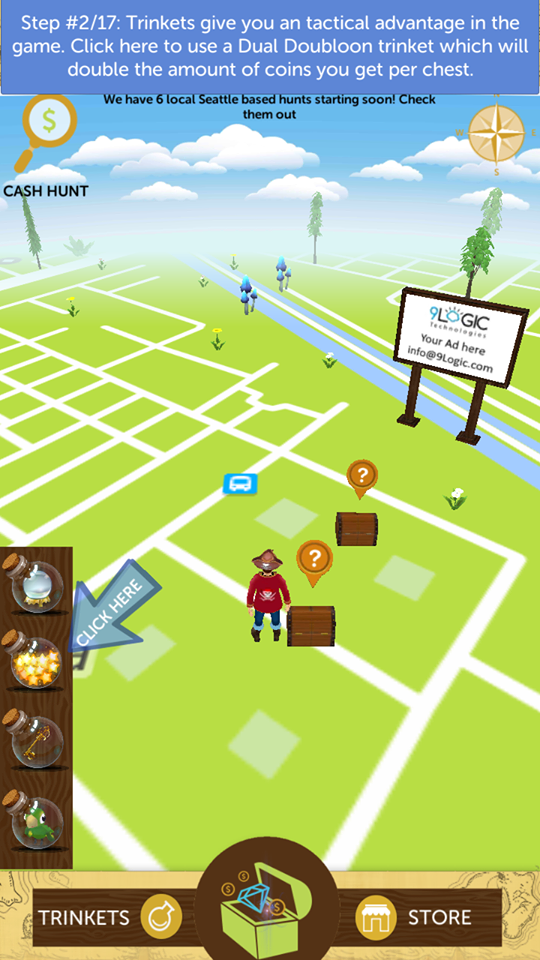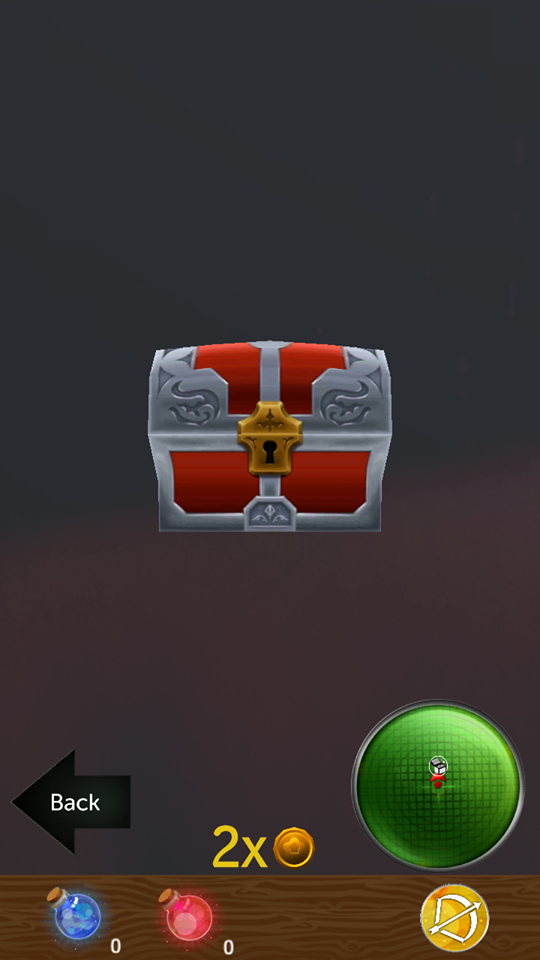 4) Here is the screen which you will get if you sign in with the guest mode.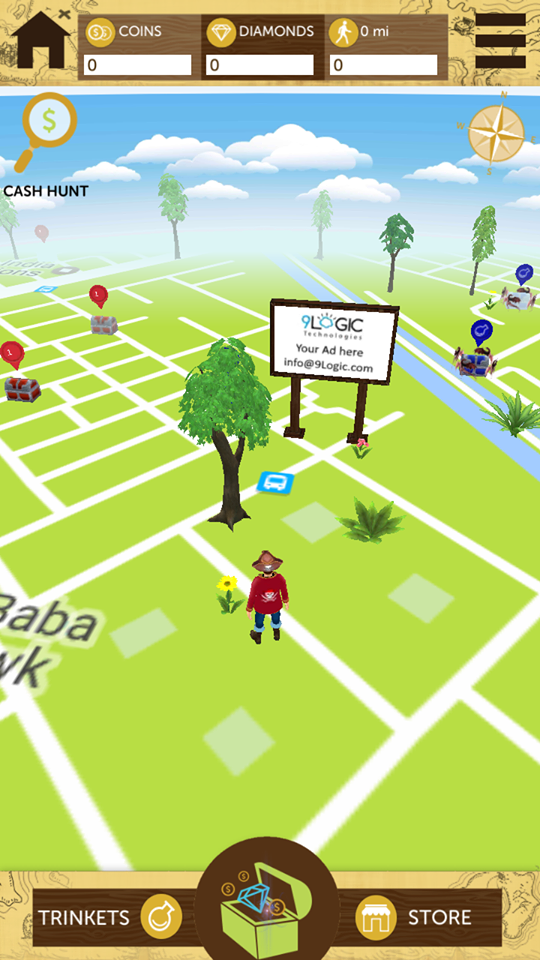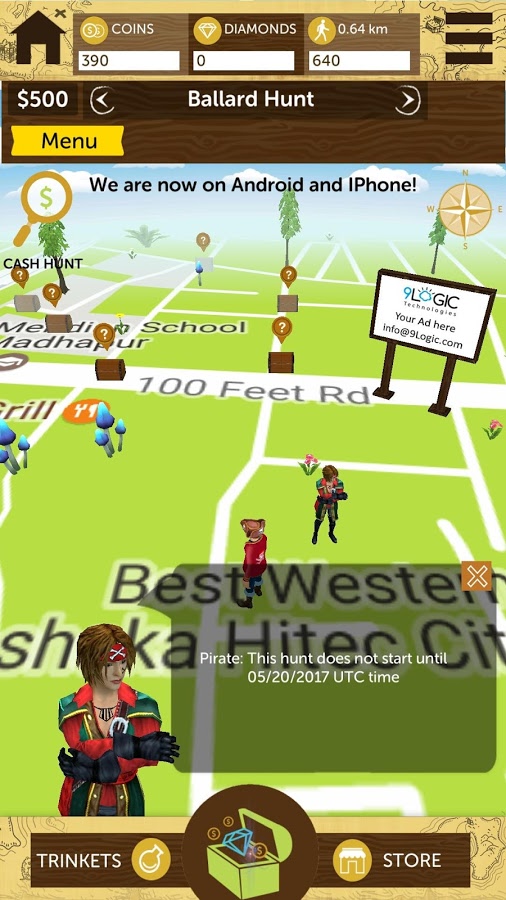 Final Words
After having the opportunity to experience Captain Blimey, we loved the game play. During testing, we enjoyed that the game merges the physical and digital worlds to inspire players to explore their communities on foot. The GPS-enabled maps and augment reality reminded us of Pokémon Go with exciting additions such as the first person to open a chest collects its contents, making it unavailable to subsequent players. Finally, Captain Blimey's reward experience to win real life prizes and cash by playing the game is a major incentive for participation.
Here are our final thoughts on Captain Blimey's pros and opportunity for improvement.
Pros
1) The concept of the game is different if we compare it with other treasure hunt mobile phone games. It is quite a unique concept! This is likely due to the game's inspiration, Forest Fenn, an art dealer and author who reportedly buried treasure worth more than one million dollars in the Rocky Mountains. The 'Fenn Treasure' inspired years of devotion from treasure hunters pursuing clues that reveal its location. Captain Blimey's founders were inspired by the vigor and longevity of this real-world treasure hunt to develop a digital treasure hunt.
2) The concept of White Chest (real cash prize) is very good, it increases interest level exponentially. There are numerous local, domestic and international hunts available depending on a player's location.
3) Augmented Reality feature is also very good.
4) Unlike other games of the same type, in Captain Blimey users can customize treasure hunts and can arrange private (group) treasure hunt, which makes this game more engaging. Captain Blimey motivates players to move and be active through its competitive game rewards such as cash prizes or gift cards. Captain Blimey solves the problem of geographic barriers in treasure hunts. Friends from Los Angeles to New York City can play together, whether working together to solve a treasure hunt or indulging in a friendly competition.
Cons
1) The interface of the game is very attractive, but there an issue in the loading time of the game. The developers are looking into this bug.
2) In the current game play experience, it could be simplier to locate freebies within chests. The development team is adding a freebies heatmap to help players easily find these chests.
As Captain Blimey is full of new features and has only a couple of cons, it deserves a download. The game is free, so there is no harm to your pocket in trying it out! Download it and share your thoughts with us and with other readers through shares and comments.
On July 22, there is a U.S. wide $10K national treasure hunt! There are also weekly treasure hunts through the app that are available to players all across the United States every Saturday at 11 a.m. PST.