We often look for easy to use software for our rental business in order to ease our work, but not all software provides us with this facility. With Booqable, you can run your rental business online and in-store. Whenever you want to rent out products from your website, you can use Booqable to ease your work.

Booqable offers rental software that facilitates your inventory needs. According to the developers of Booqable, it is a software that helps you answer the questions that you are being asked on a daily basis in your business.
Booqable is a modern way of running a rental business. It makes rental software that gives you everything you need to rent out products, online and in-store.
This easy to use software, Booqable is used by various rental companies, large organisations, and universities worldwide. It is trusted by the world's greatest rental companies like Sennheiser, Profile, Ticketbooth, TabletPro, and many more. Booqable gives you everything that you need; it helps you run your business successfully. Various people have used Booqable to improve their planning and to track their assets, to rent out products, to accept online payments and for other various works.
Let's see how Booqable helps you in managing your online rental store step by step.
Here we are going to use the 30 day free trail provided by Booqable.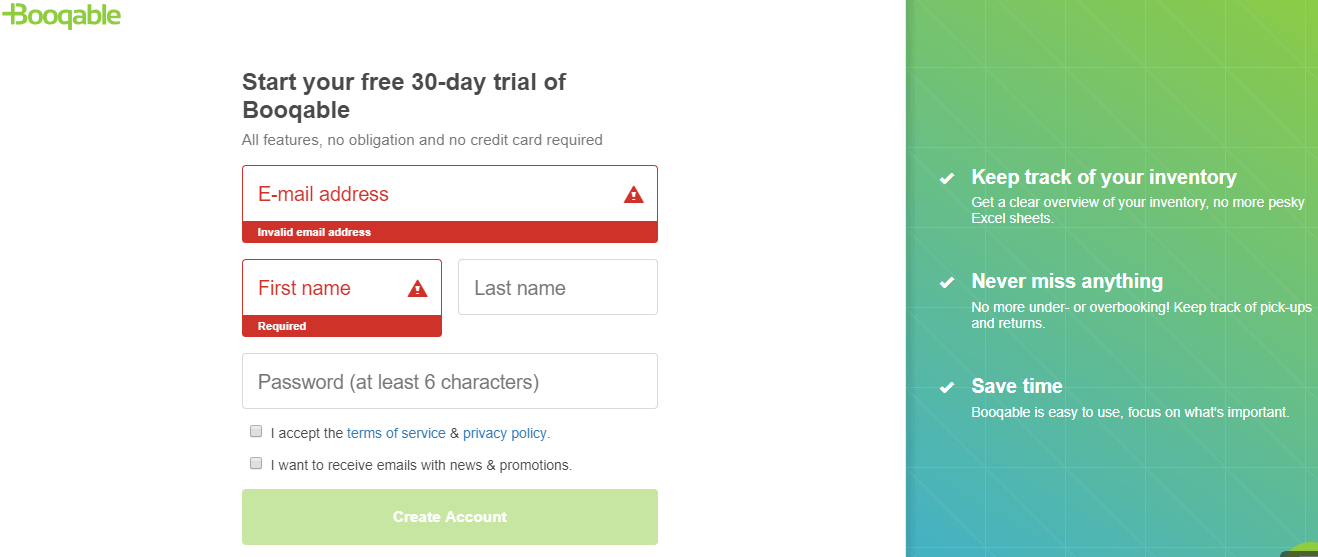 Give your details for signing up for the first time. Then in the next window, you need to enter your company or store details as you can see below: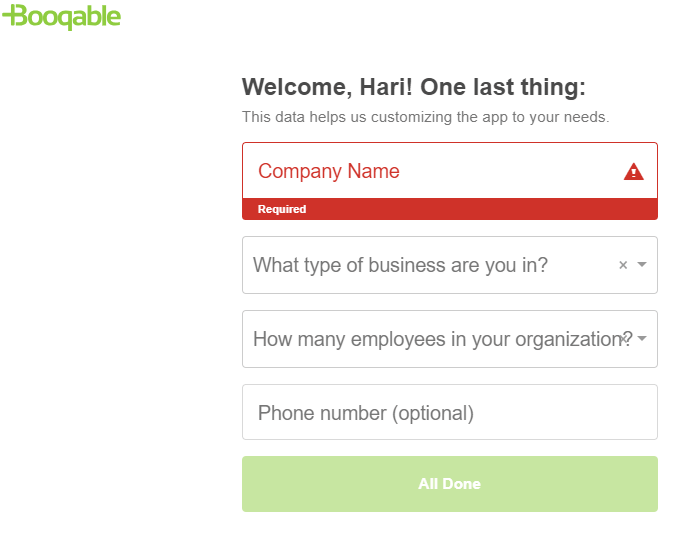 After signing in successfully, you will be redirected to the main dashboard window where the application will guide you to setup your store.
You can either skip this or go through the steps one by one.
Basic Settings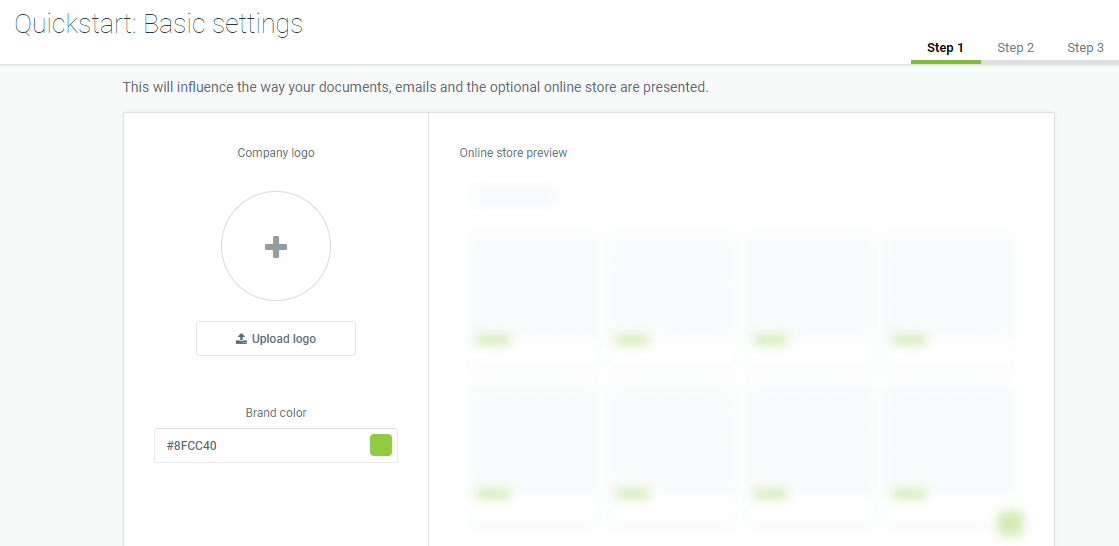 Here in the basic settings, you can upload your store logo, brand color, country, type of currency, date format etc.
Add Your First Product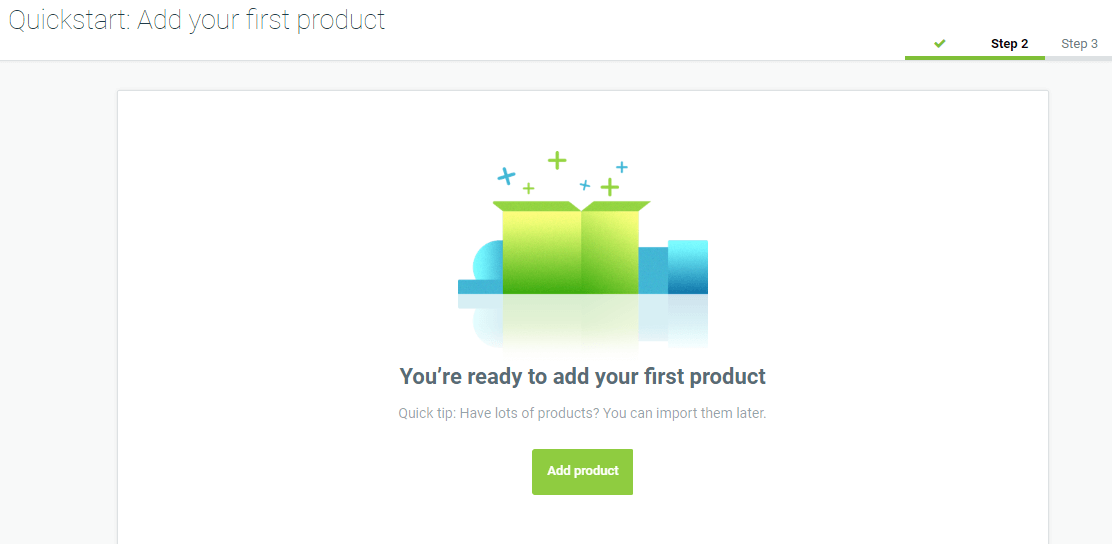 Then in the next window, you can add your first product which are going to sell by clicking the "Add product" button as shown in the above image.
You can select the tracking method either as individual or bulk as per your plan.

Give the product details like name, price, image etc.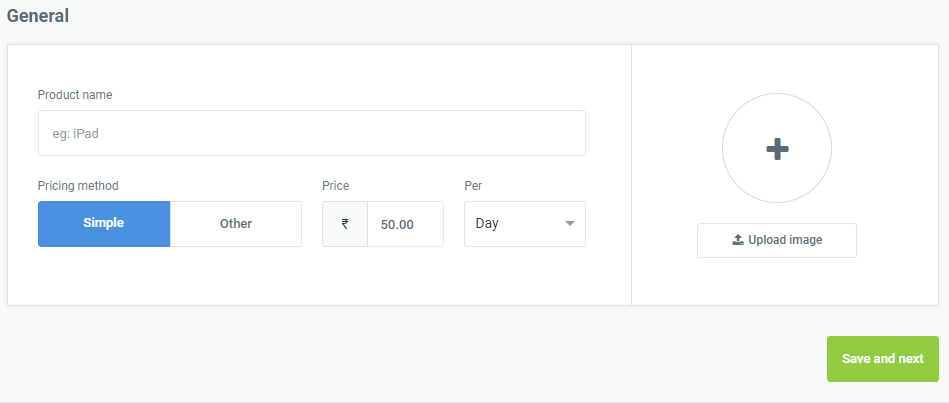 It's Almost Done!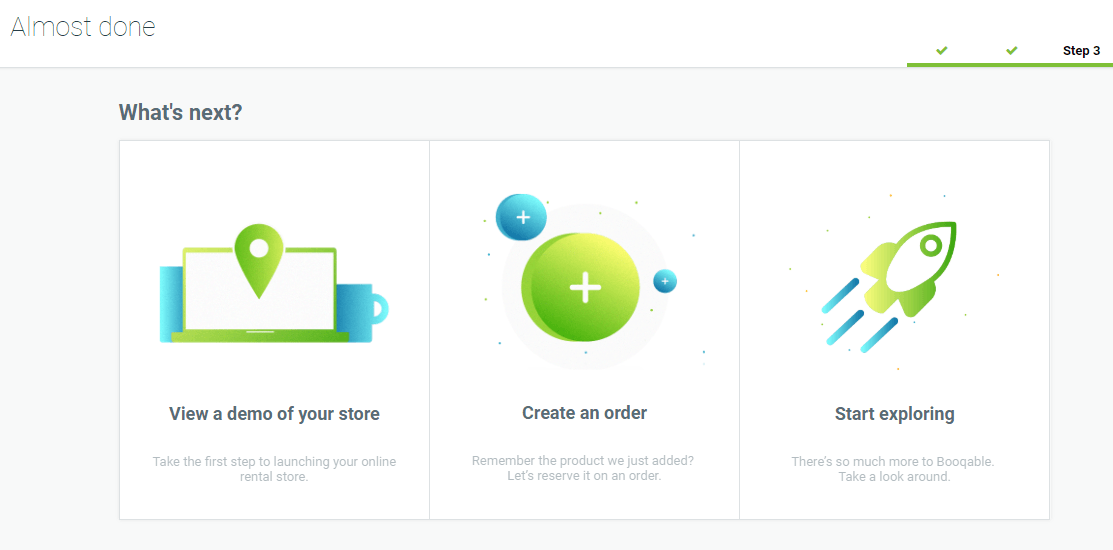 By clicking the "View a demo of your store", you can see how your site looks like from the customer point of view.
That's it. Your online rental shop is all set now. Once you start getting your orders, you can create invoice and other order processing things through the "Create an order" option available in the dashboard.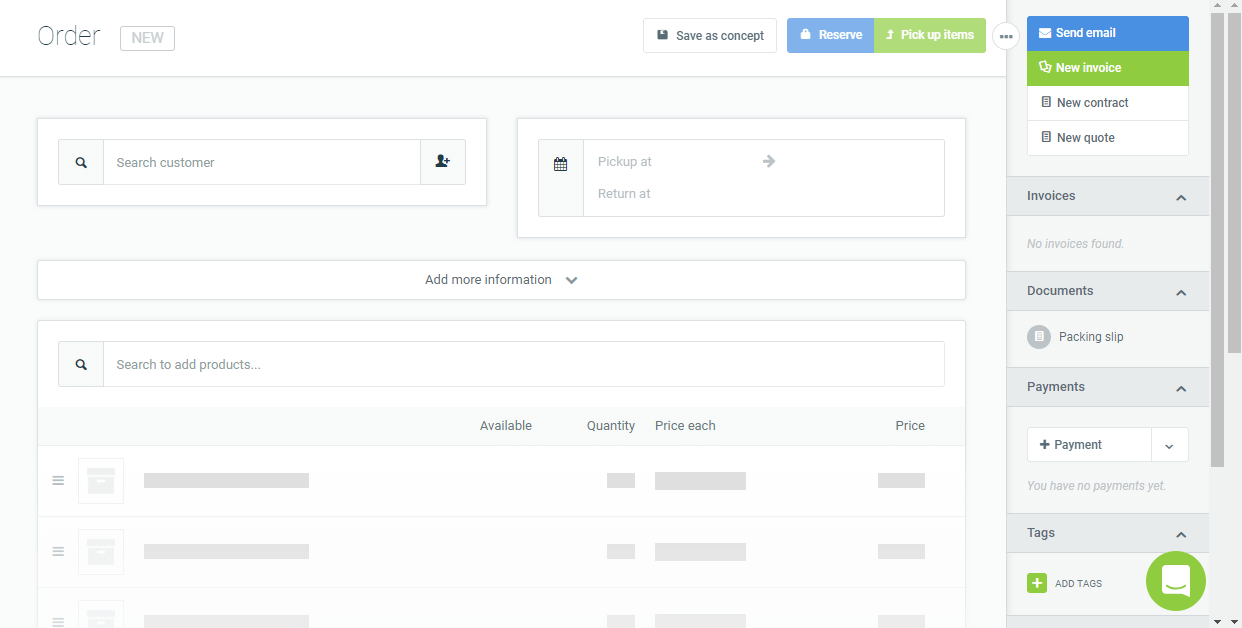 Here you can search and find the customer's order details, payment, shipping details easily with the help of Booqable's lovely user interface.
Uses of Booqable
You can use the software to schedule orders with surgical precision.
With this software, you can keep the track of the bookings and inventory.
With this software, you can enhance your customer experience.
Booqable helps you transform your website into a place where people can reserve products, request quotes, and can pay online.
It helps you integrate with any website easily.
With the help of Booqable, you can set up business hours, time slots, and fix durations with the customers.
Features and Advantages of Booqable
Check Availability: It helps you find the availability of particular stocks that are available with you.
Allows Online Booking: It lets your customers make online bookings through online rental software.
With the help of Booqable, you can know about the person who is coming to pick up the order.
Inventory Management: This feature of Booqable saves you from under and overbooking of orders. This prevents you from having a gap in the system; you can maintain the record of new stock and sold stock. Also, you can plan the orders for the next inventory without any delay.
At the time of booking, the software automatically calculates the taxes and the prices, so that you can focus on your core task.
It keeps you updated with the latest launches of the newly developed email templates. You can set up email templates as per your wish and can customize it too.
Track Payments: It provided you hassle-free tracking of your payments.
Pricing: The pricing structure of this software is suitable for all type of organizations.
Supports Multiple Languages: The software supports multiple languages, so you can translate all your documents in your preferred language and can share it with your customers.
You can automate your booking process by connecting it to the Booqable.
Easy to Use Integrations
1). WordPress Rental Plugin
With this WordPress rental plugin, you can easily integrate Booqable with your WordPress site and then you can easily customize date pickers, booking forms and other customizations.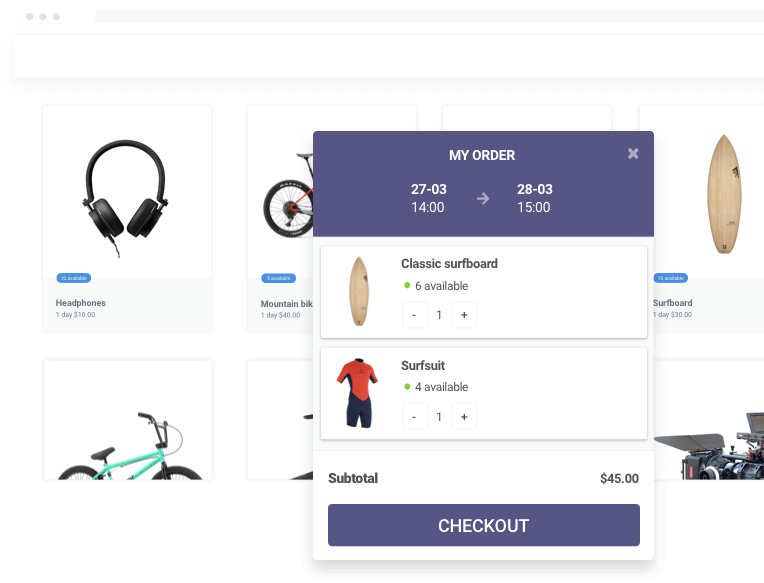 You can see some live demo of this WordPress Rental Plugin used here at this site.
2). Accept PayPal with Booqable
You don't need to worry about receiving your Payments. With this integration of PayPal, you can easily receive payments via credit cards, PayPal account or even branded payment requests.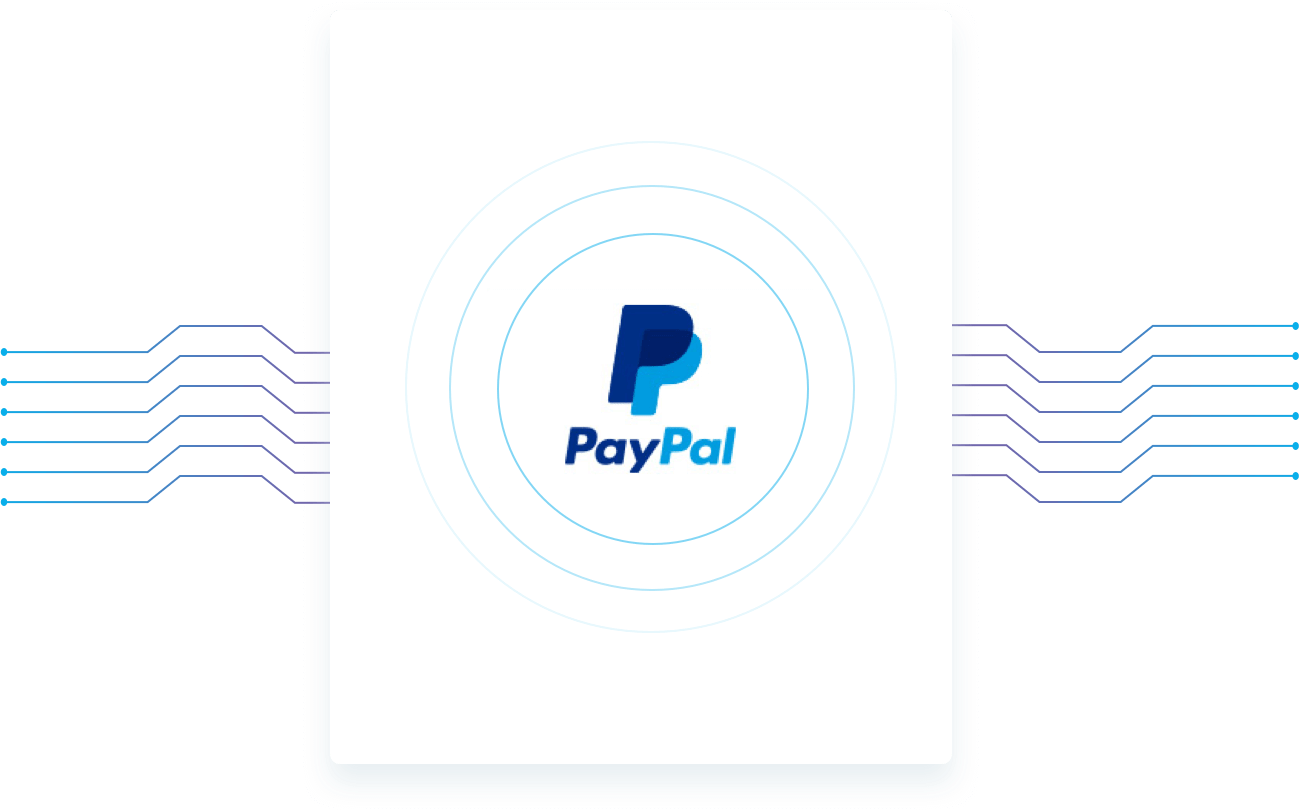 You can also make use of Stripe integration to accept payments in case if you don't use PayPal.
3). Weebly Rental App
If you are a Weebly user, then you can convert your site into a rental shop with this integration.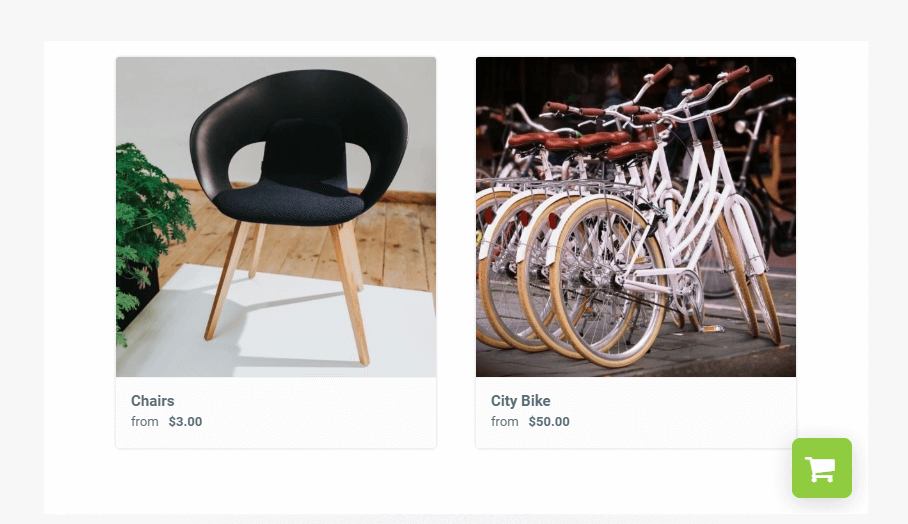 Also there are few more integrations available for you to ease your work. Some of them are Squarespace, Zapier, WooCommerce, Stripe, Calendar Software etc.
Booqable Product Overview
Online Reservations and payments
Reservation Management
Barcode Scanning
Asset Tracking
Customer Database
Documents and Messaging
Powerful API
Booqable Pricing Plans
Booqable offers various plans among which you can buy the best plan as per your convenience.
Free 30-Days Trial: Booqable offers a 30 days free trial plan where you can try the software and can, later on, buy it if you find it correct. In this free trial plan, all the features are made available to you so you can completely use the software.

Monthly Subscription: The monthly subscription of the software costs $25.00 per month.
Annual Subscription: The annual subscription costs $250.00 per year.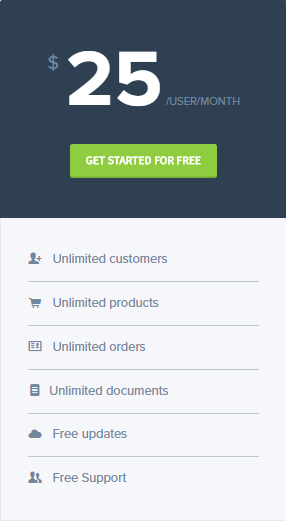 Final Thought
Booqable is an easy to use software and it is useful for those who have a rental business. This software will ease your work in many ways. It also provides a support centre that will clear all your doubts. This is overall a must try software.