Google Chrome is a leading browser for millions of people around the world. The Google's freemium browser adds plenty of value to the users, and it comes with features and touch that is worth paying for it.
Those who don't know that Google Chrome has evolved over the years and they have added tremendous features to their platforms like downloader, flash player, viewers, and screen recorders.
Yes, you read it right. Many add-ons enable you to record Chrome screen without any additional Windows 10 or Mac software.
We are going to tell you about five Chrome records that will help you record Chrome browser screen for you.
Top Free Light Weight Screen Recorders for Google Chrome Windows 10, Mac OS X
First of all, Chrome browser extensions are already lightweight compared to Windows or Mac programs.
#1 Screencastify
Screencastify is a popular Chrome screen recording extension that enables you to screen record, edit, annotate, share, save them in Google Drive directly. The extension enables you to record your current window without any limitations, and it utilises your CPU and GPU strength.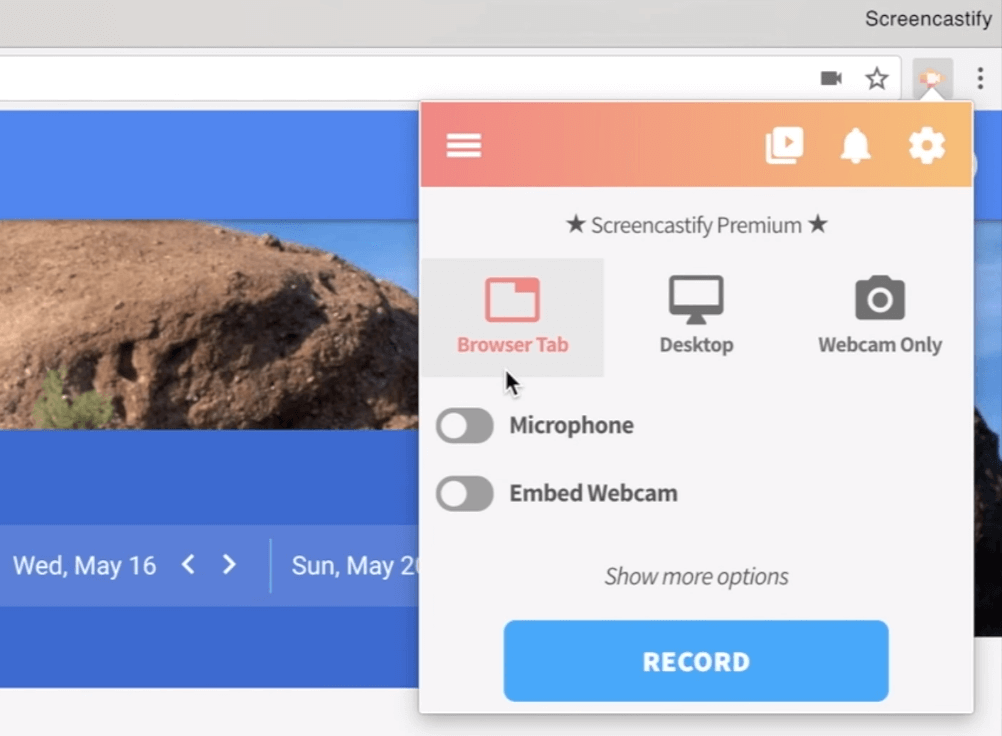 It comes with free and paid version, and there are limitations in the free version. The free version enables you to record with a watermark, and you cannot record more than ten minutes. The developer also has disabled editing tool and MP4 format as well.

The screen recorder has got very good reviews and ratings from the community.
Check out : https://chrome.google.com/webstore/detail/screencastify-screen-vide/mmeijimgabbpbgpdklnllpncmdofkcpn
#2 Hippo Video
Hippo Video is a new screen recording Chrome extension that enables you to record screen, edit the video, make GIF's out of it, and create a video from your library. The Hippo Video also enables you to upload the video directly to Vimeo, YouTube, and Google Drive after editing it on in-built tools.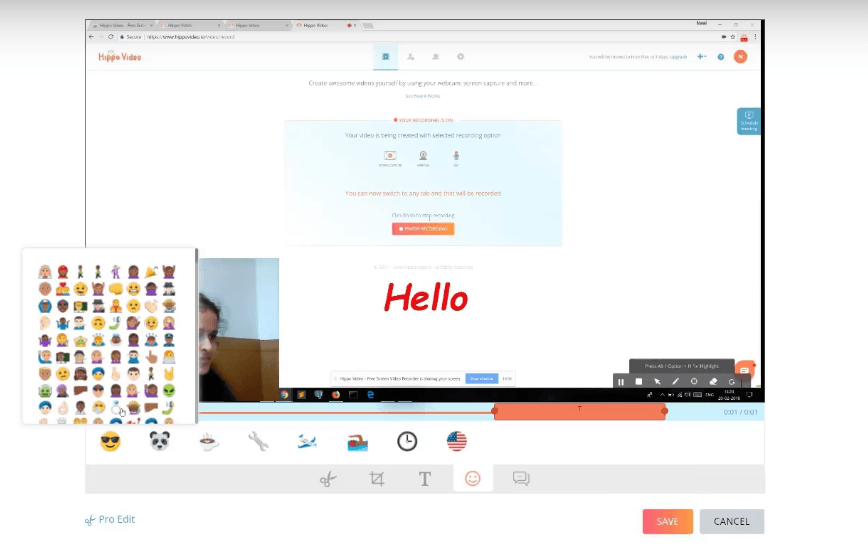 Hippo Video comes with an inbuilt editing tool that helps you to crop, add, remove, and edit tracks from it. You also have the option to render the video in GIF or MP4 format.

This recorder is for free, and it has got positive ratings and reviews on Google Store.
Check out : https://chrome.google.com/webstore/detail/hippo-video-screen-video/cijidiollmnkegoghpfobabpecdkeiah
#3 Vidyard
Vidyard recorder developed for the professionals who have a sales meeting coming soon or they are trying to get an appointment with their client. The tool comes in handy when they want to make a quick presentation or demo video professionally.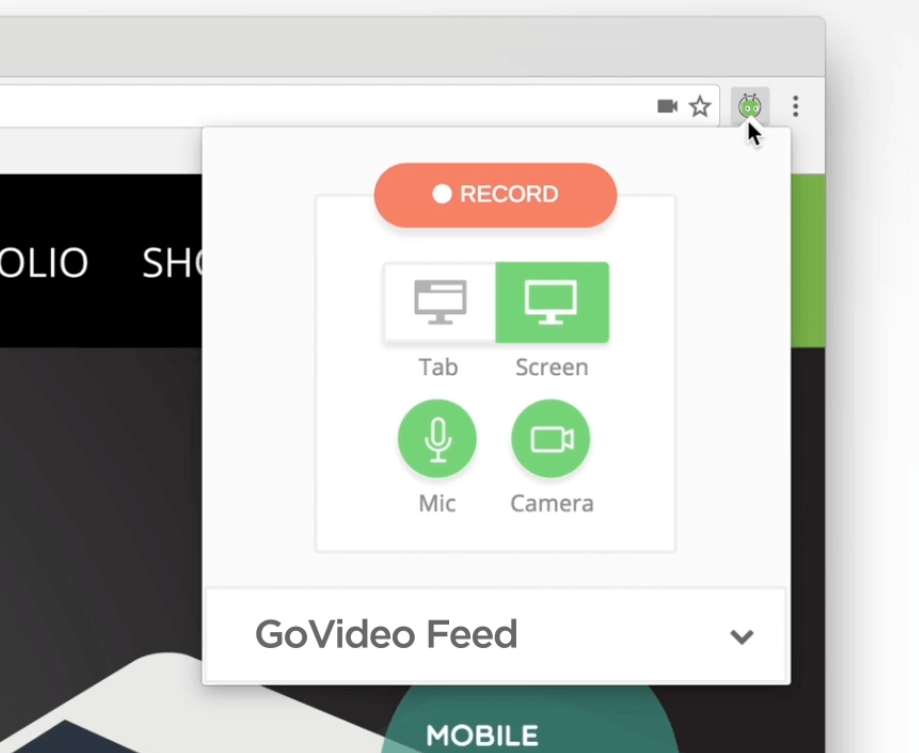 It is a professional tool that made for record quickly and sends them to the clients.

Vidyard received positive reviews and ratings from the community.
Check out : https://chrome.google.com/webstore/detail/screen-and-webcam-recorde/jiihcciniecimeajcniapbngjjbonjan
#4 Nimbus Screenshot & Screen Video  Recorder
Nimbus is one of the oldest screenshot and window capture tool in the category. The extension enables you to take screenshots and screen recorder in MP4 video format and GIF format as well.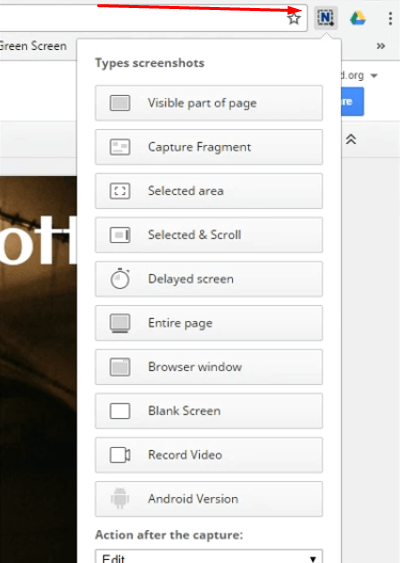 Nimbus comes with free and paid version so that you can expect a few limitations from the extension, but you can unlock it.

Nimbus developers update their extension frequently, and it has positive reviews.
Check out : https://chrome.google.com/webstore/detail/nimbus-screenshot-screen/bpconcjcammlapcogcnnelfmaeghhagj
5. Loom Screen Recorder
Loom is a popular screen record extension that helps you record tutorials for your YouTube channel.
However, Loom is free, and it does come with limitations like five minutes recording, and you also have to work on the limited storage.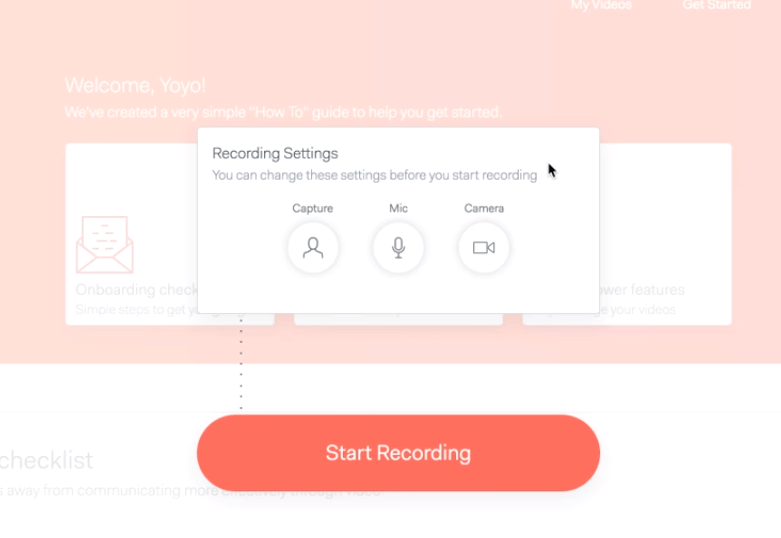 But, you can get the maximum amount of storage for free by inviting your friends on the platform. You don't get too many features with the screen recorder, but you can access the necessary features that will get the job done.
You also have to create a new account with the Loom; then you will be able to access the extension features or else it won't even start! You can generate referral codes using your Loom account, then invite your friends to the platform and you unlock premium features one-by-one.

The Chrome extension community has given five stars to the Loom screen recorder and positive ratings.
Check out : https://chrome.google.com/webstore/detail/loom-video-recorder-scree/liecbddmkiiihnedobmlmillhodjkdmb
Conclusion
Chrome screen recorder is not perfect like Windows and Mac programs because they do freeze in between screen recording. The reason why the screen recorders freeze because they utilise the GPU and CPU, but most of the times Chrome play a crucial role in screen recorders success. Let us know what you think about the Google Chrome screen recorder list.