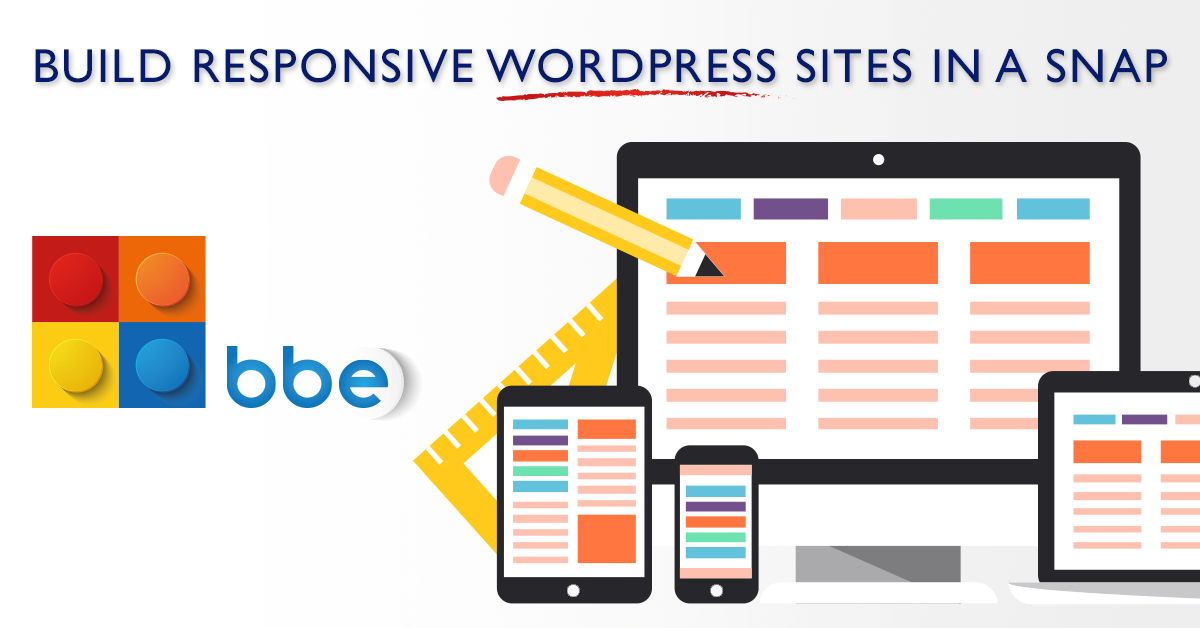 Choosing a WordPress design for your website or blog is always really difficult. One might not find a good theme for his/her blog/website even for months. So, if ever you have difficulty in finding a WP design for your blog, you must try a theme that gives you power to control its components. BBE is one such theme and builder that offers the solution for all your problems. It is a super-light WordPress theme that lets you create original web pages in a snap. Let us learn more about this free builder.
What's in BBE WordPress Theme?
BBE is a super-productive one built on Bootstrap which gives you enough customization options through its front-end page builder. It is a super light design which loads quickly and is loved by search engines. It is also a full width template that can be controlled through its live editing interface. It allows you to design a page and edit its elements at ease. Each and every page can be designed in your style.
Top Features of BBE Theme
• Easy Setup: All you need to do is to download and activate this from their official website. Now create a page and follow the on-page instructions.
• Lightweight: BBE is the ultimate one which is feather-light. You need not require installing any plugin. The Live Editing Interface is enough to design the page in a way you want.
• Get Out of Prison: Most of the WP themes don't provide you ways to edit them in your own way. You need to follow the code on which it is designed. Just minor changes are allowed. But with this one you have more control over your design.
• Edit Content & Images at Frontend: All the changes to your content and images can be made from the front end.
• HTML Editing History: It is always easy for you to get back to previous changes even after revising too frequently.
• Shortcodes & Widgets: These build in components lets you to use shortcodes and user friendly widgets to make your work easy.
• Responsive Design: It is compatible on all browsers and devices. It runs without any trouble on any platform because of its fluid responsive nature.
• SEO Optimized: The search engines loves BBE. The light weight and HTML coding is what loved by spiders of most of the search engines including Google and Bing.
Creating a Page on BBE Theme
To create your first page on your blog after enabling BBE theme you must go to 'Pages' and then click on 'Add New'.
After clicking on 'Add New', a new blank page will open. You can give desired name to the page and then click on 'Enable BBE on This Page' option and then click on 'Publish'.
Once the page has been published you should click on 'Edit Page with the BBE Frontend Editor'.
Click on 'Full Width' option at the bottom. Now there are two options – 'Insert Row with FullWidth Component' and 'Insert Row & Divide into Columns'.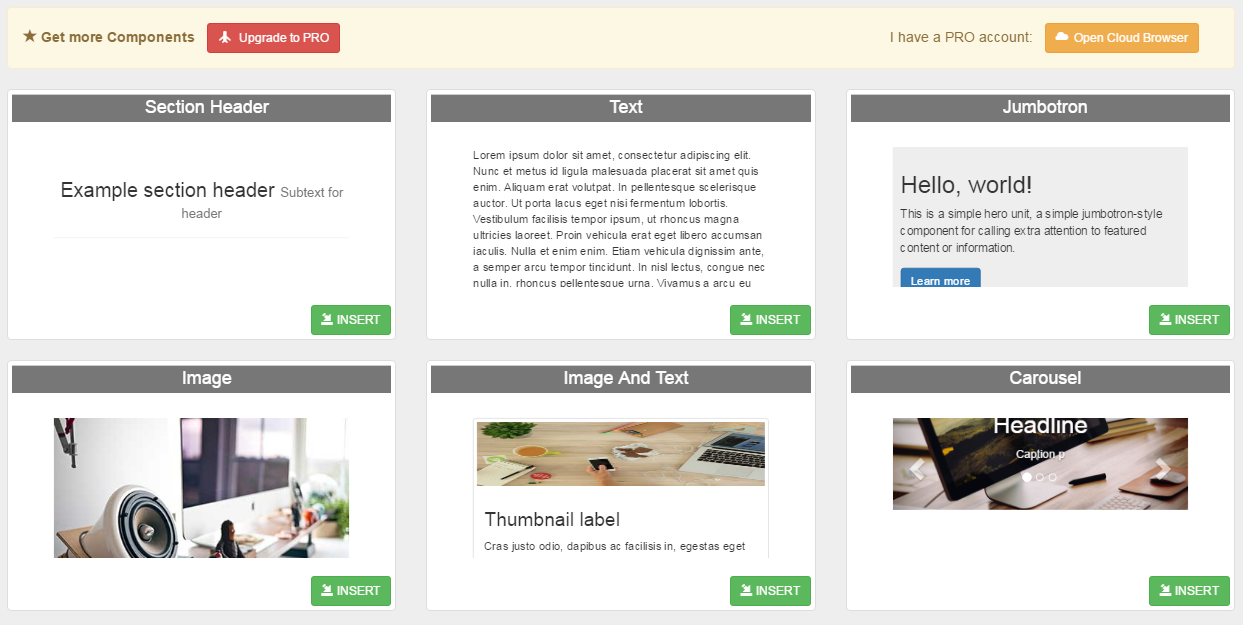 Note : If you are PRO user hit the "Open Cloud Browser" option to unlock all the features
Now you will find plenty of options like 'Section Header', 'Text', 'Jumbotron', 'Image', 'Image and Text', and 'Carousel' and few more. Once you have added the elements of your choice, it's the time to save your work. At the bottom right corner of the page, you will find different options. You can choose any of them and proceed.
These steps were just for adding the page and editing it with BBE editor. There are plenty more functionalities that you will love to try once you install this package on your WordPress site.
BBE PRO: What's more in it?
It is also available in pro version, where it comes with added features and functions. You get sheer advantage when you buy the Pro version. You can animate the text, use animated header, add image galleries, and designer buttons to your page. Not only this, videos, integrated maps, and few other elements can be added to your page to make it eye pleasing for the visitors.
Pricing
A free version of BBE is available to download from its main website (DopeWP.com). You can enjoy plenty of premium like features in its free version. Though, if you wish to buy its Pro version then you can get it for $79/year fees.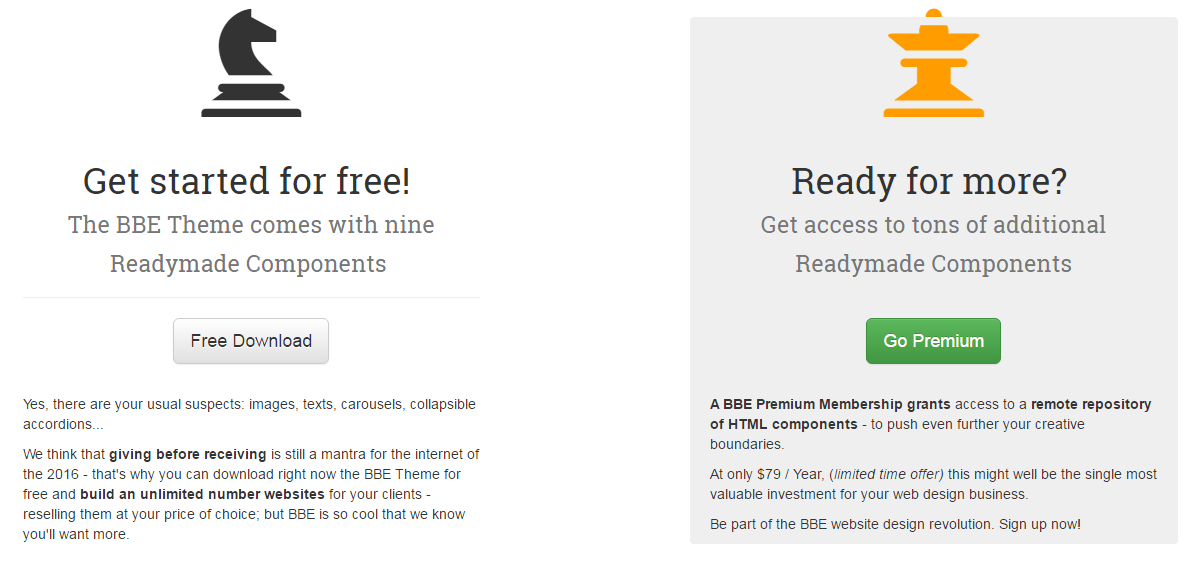 Pros
• It provides support for standard WP Theme Customizer with some thing more under the hood.
• Every element can be styled according to your wish and to preserve all those you can even create a child theme..
• You need not require installing too many plugins to create an awesome site.
• The newbies can be turned to developers through its easy-to-use interface.
Cons
• Documentation is kind of limited.
• It is difficult to handle for the first time users.
Final Thoughts
Overall, BBE Theme is an awesome one that your website readers will love. It provides you a lot of customization options that further help you to design a website in your own way. You can turn into a coder in minutes without playing too much with the codes. So, if you are looking for something powerful yet simple, it's the time to try BBE theme.