As per a global report on Parking Management, the market size of parking management crossed USD 3 billion in 2020; and it is projected to expand at around 12% CAGR from 2021 to 2027.
Quite a number, right? Such growth is a direct indication of the rising need for effective transportation and parking solutions in the business world.
Parking management solutions are driven via advanced technologies, such as IoT and Big Data — and the adoption has been phenomenal across other verticals too, so why not use it to manage parking spaces?
Businesses need parking management due to several reasons, like ensuring full-fledged safety for employees, and guests as well as organising the space better in terms of occupancy and collecting payments.
Another glaring reason businesses need parking management is to save money or generate more revenue by renting additional space. Oftentimes due to limited space, businesses lose a lot of time and money trying to navigate through parking jams, congestion, and limited spaces.
In nutshell, by implementing a parking management system, businesses can help to ease parking-related problems, simplify the entire parking process and get the most utilization of their parking spaces. Well-organized parking spaces also ensure employee, and guest happiness.
As George Baker, a Forbes Council member says that we are in the 5th wave of parking i,e, Digital Parking 5.0: The Power To Reimagine, he says " Data is getting bigger in the parking world, and that means the insights we can all use to drive our businesses are becoming more profound with each passing year. I believe we are positioning for a new wave of innovation where we're not thinking about solving persistent plagues, optimizing first-wave digital solutions or getting smarter, but rather about reimagining parking and its purpose."
In this article, we look at the 3 best parking management and control systems for businesses.
Wayleadr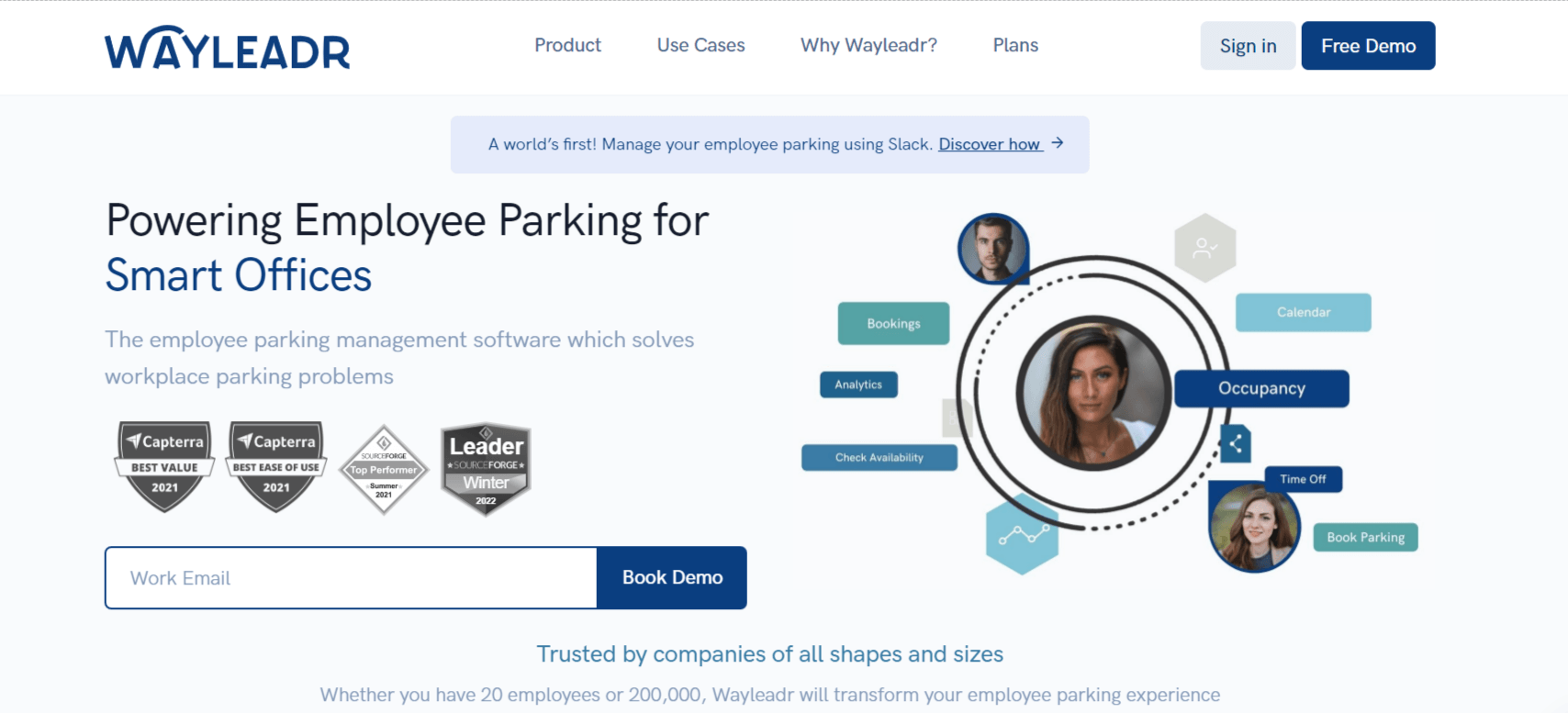 Smart offices need smart parking management and control systems, and Wayleadr is pioneering that. Wayleadr is a smart employee parking solution that helps organizations optimize parking resources, streamline parking operations, and improve parking security. Wayleadr uses Internet of Things (IoT) technology to collect data on parking space utilization and employee arrival/departure times. This data is then processed and analyzed to help organizations improve parking resource utilization, reduce traffic congestion, generate revenue, and so much more.
Key features of using Wayleadr:
Occupancy tracking and communication: Wayleadr's solutions can be used to track parking availability and communicate that information to users in real-time. This information can be used to provide dynamic guidance to users based on where parking is available and their location. This helps eradicate occupancy woes in the parking spaces. In short, it's easy to track and communicate the capacity of the parking space.
Reduce employee carbon footprint: With Wayleadr's sustainable parking solution you can reduce the amount of CO2 emissions from idling cars. As a business, reducing employee carbon footprint has numerous benefits. For example, reduce your business's environmental impact; improve employee productivity by reducing time spent searching for parking; boost employee morale, as they feel that their company is taking proactive steps to reduce its carbon footprint; and lastly, it can help to improve your company's public image.
Generate revenue: Whether you wish to rent your parking space or plan to introduce parking charges for employees, Wayleadr helps in generating revenue with tools and features like an employee wallet, pay-by-app, flexible booking, and payment zones. Moreover, you also get comprehensive car park data & reporting.
Amp up employee parking. Boost your employee parking capacity by up to 40% with features like forecast occupancy, release management, booking management, automated allocation and of course, all of this coupled with robust car park data & reporting.
Manage and optimize: The nuts and bolts of managing to park for thousands of employees require a lot of maintenance. Smart solutions like Wayleadr can make your employee parking run like clockwork, and as seamless as possible.
Smart, and automated space allocation: Wayleadr comes with a system that automatically assigns parking spaces to employees, based on factors such as arrival time, job title, or length of service. With Wayleadr, you can automate parking distribution in real time. There are many benefits to automating employee parking allocation, including reducing congestion, minimizing the need for parking permits, and improving employee satisfaction.
Parkable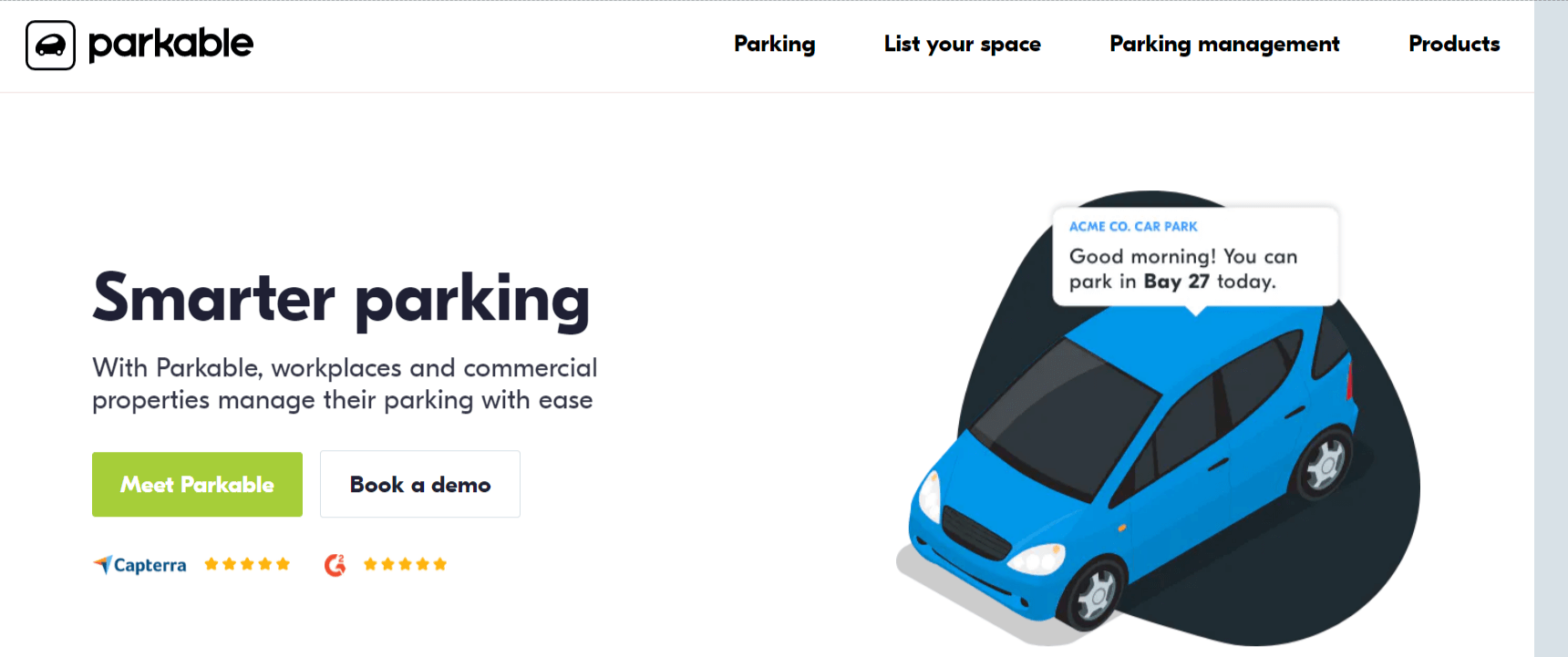 Parkable is a parking management service that helps businesses to manage parking, both internally and with tenants. The service provides a range of features to help businesses to manage their parking, including a parking space booking system, a parking space finder, and a parking space availability checker. It also offers a range of discounts and offers to businesses to help them to reduce the cost of parking.
Key features of using Parkable:
Manage EV charger access:
If your business has electric vehicle (EV) chargers, you can use Parkable to manage access and billing. You can set up rules to allow only certain people to use the chargers, or you can make the chargers available to the public for a fee.
According to its official website, you can; "Provide access to staff, visitors, or the public. Provide free charging for guests or monetise your chargers for extra revenue. View real-time usage and monthly reporting for an accurate view of how chargers are used and more informed decision-making. EV drivers pay for charging via the Parkable app, and you're sent automatic monthly payments."
Automatic number plate recognition: Automatic number plate recognition or ANPR (also licence plate recognition) is a technology that leverages optical character recognition to interpret the registration plates of vehicles. Parkable's ANPR helps businesses allow safe and seamless entry and exit via access control gates.
Visitor parking: Parkable visitor parking has a bunch of benefits like easy booking, excellent visitor experience, and of course automated administration. To book visitor car parks there is an admin panel that makes it easy to send parking invites. So the need to manually refer and record the entries in a spreadsheet isn't required. Furthermore, the visitors get automated emails that include all the details about the parking. Lastly, the dashboard reflects the occupancy levels, booking for the future, and who would be taking where.
AirGarage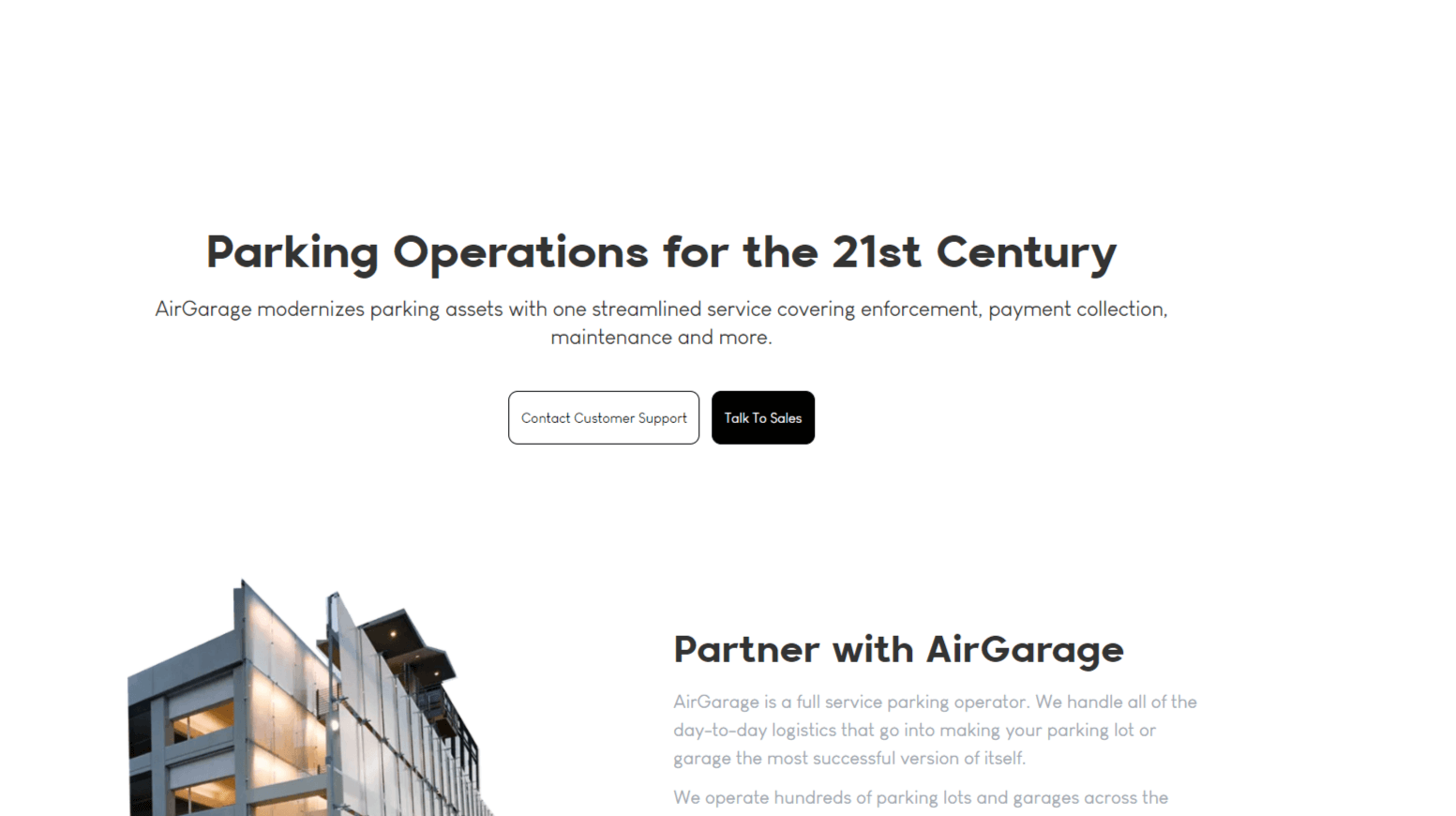 AirGarage is an end-to-end parking operator and handles all the logistics and high technology to make the best use of your garage. At present, it operates in US and Canada and has hundreds of parking lots, thanks to real estate agents, and landlords. AirGarage uses avant-garde technology to minimize operational overhead and eventually boost the net parking income for businesses.
Key features of AirGarage:
Boost net parking revenue: AirGarage can help businesses increase their parking revenue by offering low operating costs, and managing their parking operations through proprietary technology. This helps businesses and landlords find, book, and seamlessly manage parking spaces.
Enforcement solution: AirGarage has a powerful enforcement solution. By placing cameras at the entrance of the garage/parking lot, it becomes easy to detect a guest that doesn't pay. So, the moment a vehicle enters, its driver is provided time to pay. But if the driver fails to pay, an AirGarage enforcer is sent to block the vehicle.
Parking technology is a game-changer for businesses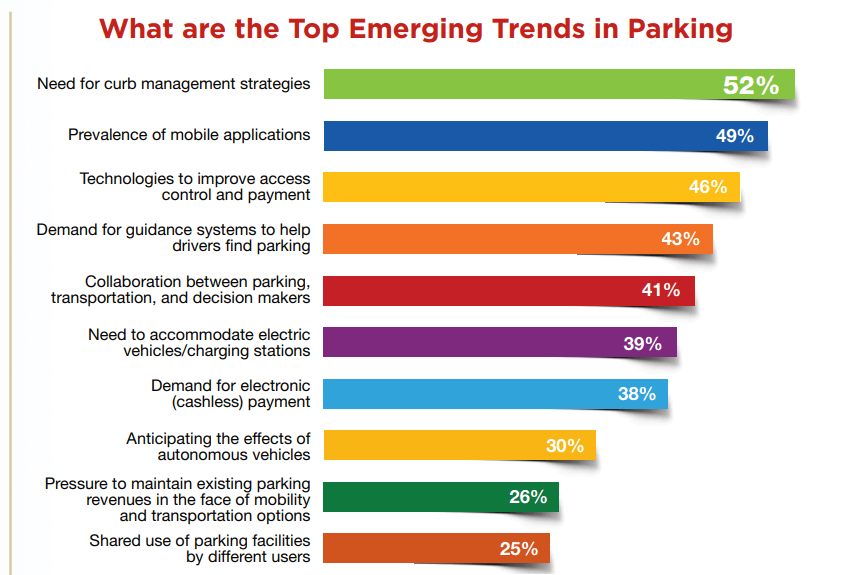 According to a report on a survey conducted by the International Parking Institute, 60% of businesses are convinced the majority of their customers drive and need proximate parking access.
But unmanaged and cluttered parking spaces can only wreak havoc, and manually managing them can be costly for businesses. That's when it's best to work with a parking management company. Whether you wish to manage the space for employees, or guests or fully rent it out — a proper system in place guarantees the smooth functioning of the space, while generating revenue.
In nutshell, investing in parking management can help businesses, and landlords, manage and monitor their parking areas more efficiently with innovative technology, as well as create a better customer experience.
This, in turn, can lead to reduced operating costs, generate more revenue, increased employee satisfaction and of course — repeat business if the space is rented.
Like this article? Here are some more reads for you!