Google launched its Pixel 6 and 6 Pro smartphones late last year, and since they just launched in a few additional markets recently, we thought we'd take a look at the smartphones and work out whether they're actually worth it by diving into the phones and their features.
The Design And Specs
Following recent trends of large smartphones, the Pixel 6 and Pixel 6 Pro are both bigger than their predecessor, the Pixel 5. The basic Pixel 6 has a 6.4-inch display, while the 6 Pro is somewhat larger with a 6.7-inch display. Both are OLED, but the Pixel 6 is limited to 1080p resolution with a 90 Hz refresh rate, while the Pro supports up to 1440p resolution with a 120 Hz refresh rate.
The two phones are significantly chunkier than previous smartphones, and they have widely improved batteries and cameras from the Pixel 5, including 50MP cameras – some of the best cameras on the market that allow you to take gorgeous photos.
Meanwhile, the two phones support wireless charging and are available in 128 or 256 GB, with the 6 Pro going as high as 512 GB, which means memory shouldn't be too much of an issue. When it comes to RAM, the Pixel 6 has 8 GB, while the 6 Pro gets a big boost at 12 GB. Both phones also use the new Tensor chip, come with under-display optical fingerprint scanners, and come with stereo speakers for all of your sound needs.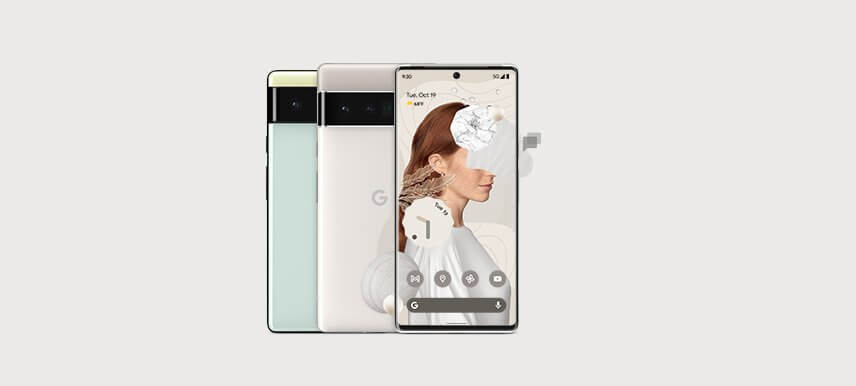 What Are The Phones Good For?
The speed and sheer performance of the Pixel 6 phones mean they're perfect for running intensive tasks, streaming television shows, music, and film, and for downloading and playing games. We've found that the phones are also great for playing casino games in-browser and downloading and playing in dedicated Android mobile casino apps.
Alongside the above, the phones' numerous unique features help it stand out from other Android phones. For example, the Pixel 6 smartphones can change the colour scheme of the phone's UI to match your wallpaper, you can use the Magic Eraser to remove people or objects from photos, and the phones use the Tensor chip's security features like secure boot and key encryption to keep you and your personal data safe.
Google Assistant has also been improved, as you can send text messages by dictating them, and the assistant inserts punctuation like full stops and question marks. This makes it easier than ever to send that all-important message when you have your hands full. There are a slew of other features available on the Pixel 6 smartphones, offering deeper customisation and ease of accessibility.
Should You Buy The Google Pixel 6?
There's no denying that the Google Pixel 6 and 6 Pro are great phones; they benefit from having gorgeous designs and powerful tech, providing you with an unbeatable and unparalleled experience. While there are downsides to the phone, including the fingerprint scanner being a little troublesome, the device is overall great.
If you're looking to upgrade your smartphone to something a little more fresh and modern, look no further than the Google Pixel 6 smartphones. It's fast, it's powerful, and it'll allow you to do everything you need to, whether that's catching up with friends, taking and editing photos, binge-watching your favourite television show in superb quality, or something else entirely, the Pixel 6 and 6 Pro are the phones to go for.