Screen Recorder has become an important requirement for millions of business people, academicians, students, and professors around the world. You need a reliable recorder that is capable enough to provide high-quality screen recording feature with minimal impact on the CPU resources.
What is VideoSolo Screen Recorder?
VideoSolo is a software company that offers a wide-range of software solutions to consumers around the world. VideoSolo Screen Recorder is one product among many in their library, and it offers plenty of features that attract business people, and average consumers. In this review, I'm going to put the Screen Recorder to test and provide detailed information on the recording capabilities.
1. Customizable Settings
You can record computer screens without limitations and that's the selling point of the recorder. You got plenty of interesting features in the program, where you can adjust the settings to get 1080p@60fps recording. I have also tested gameplay recording because I'm an avid FPS gamer, and I wanted to compare the program with OBS Studio.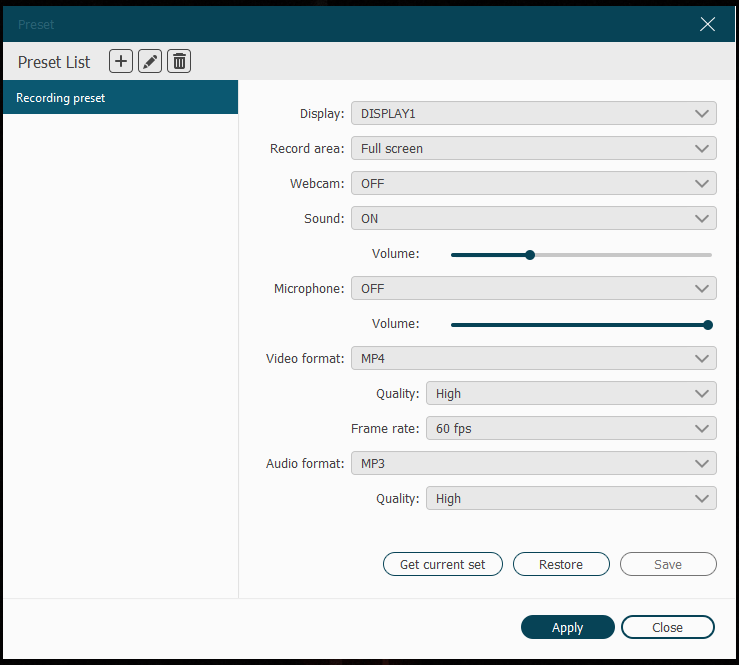 You can add internal & external webcam.
Enable desktop sound or turn it off.
You can adjust the volume of the desktop.
Turn on the microphone or turn it off, and it supports inbuilt or external microphone.
I was surprised that it supports multiple universal video formats such as MP4, WMV, MOV, F4V, TS, AVI, and Gif.
You can select the FPS (frame rate per second) between 20, 24, 25, 30, and 60. I always select 30fps or 60fps depending on the computer hardware.
VideoSolo did not skip audio formats and added MP3, WMA, M4A, and ACC.
PC administrators can select the overall Audio and Video output quality. VideoSolo Screen Recorder is available for free-to-download and record 3 minutes under the trial version policy.
2. User-friendly Interface
When I started streaming, I had to learn different screen recording and streaming solutions and it took me months to understand the advanced settings. VideoSolo solved the problem by offering an easy-to-understand interface, which took me 1 minute to figure out everything, and I have to give props to the developers for making it this way.

Video Recorder.
Audio Recorder.
Screen Capture.
More – Presets, this is where you can customize the settings that I have mentioned in the first point.
You don't have unnecessary options that I found in OBS Studio, which makes VideoSolo Screen Recorder suitable for professionals, business people, students, schools, universities, and others. You have zero useless settings, options, and advanced information. VideoSolo settings are on automation, and that's what you are paying for.
3. Screen Capture & Audio Recorder
Due to my professional demand, I have to capture plenty of snapshots for demonstration, and tutorials. VideoSolo packed advanced and intuitive screen capture tool, which had plenty of options that piqued my interest.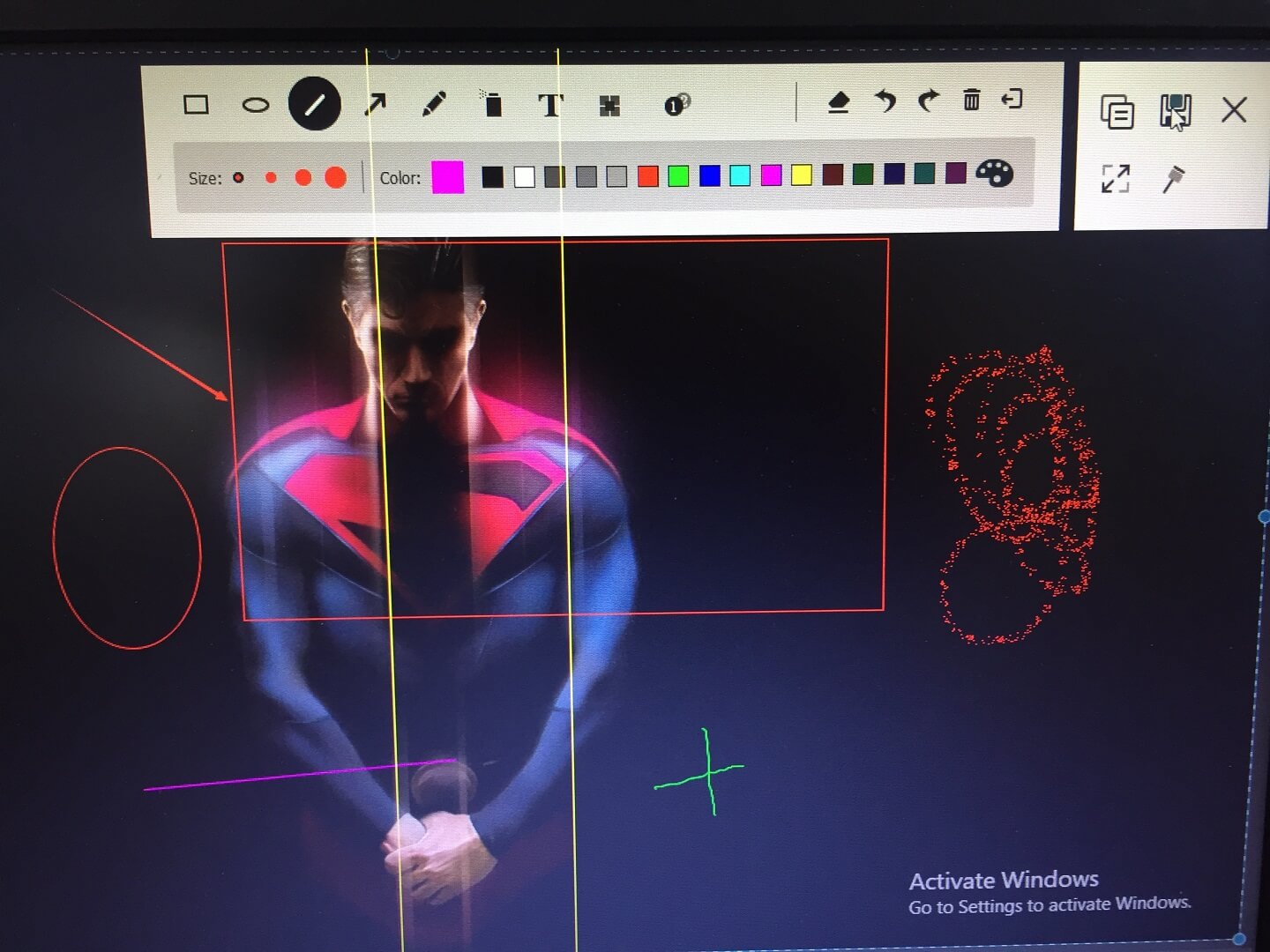 Pencil size, and color options.
Add shapes such as box, circle, pointers, and more.
Add text in the images in your desired color.
Write using an inbuilt pencil option and in your desired color.
You can also paint using spray mode, which is in the panel.
Undo & Redo option that I use a lot.
You can select the region to capture the screen, and that's an important feature to have.
Overall, I loved the number of features, design, and options available in the screen capture.

The Audio Recorder is basic and nothing much to look at it. However, it has Recording History, Record Length, and Task Scheduler. I think you can record audio using any free program available in the market and there's nothing special in this department.
4. Gameplay Recording
As I have mentioned that I have already conducted the recording capability test. I have selected Apex legends, which requires mid-range to high-end gaming PC to record and play at the same time. You can take a quick look at the snapshot that I have shared in the first point, and I will be using those settings.
Resolution: 720p at 60fps.
Audio: High-quality.
Format: MP4.
I am impressed by the program because it didn't have a negative impact on the CPU + GPU + RAM resources. The screen recorder was able to capture 3 minutes of gameplay of Apex Legends without complications.
I monitored the solution impact on the mid-range computer that packs Ryzen 5 1600 + RX 570 (4GB) + 16GB DDR4 3000MHz RAM.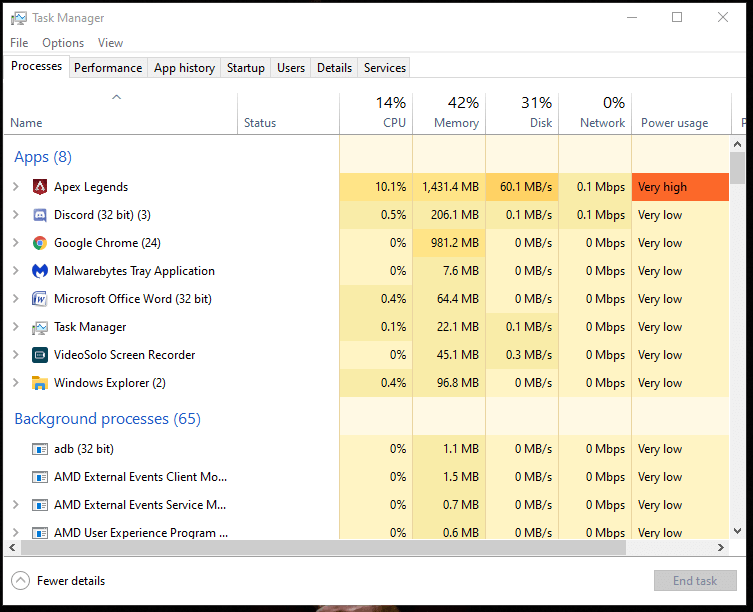 In the task manager, I have seen that VideoSolo Screen Recorder consumed 5% CPU + 50MB RAM + higher amount of power. I have witnessed extensive spike in the power usage, where it went from High to Very High, and Moderate power usage was rare in my case. Overall, the video output was indeed HD and 60fps, and that makes me happy for someone who records and uploads game videos online.
I did face the minor issue and it was related to dual-monitor setup, where I could not record gameplay in the desired resolution. The program could not adjust the resolution itself when I maximized the game and it kept changing the resolution to something lower. You won't have this specific incorrect resolution problem if you are using a single monitor setup, and it can be solved with software updates.
Bottom Line
VideoSolo Screen Recorder is available in three packages, and you can purchase a 1-year subscription for $29.95. You got the other two packages that offer a single license for $39.95 and a family license for $69.95. The Family License offers lifetime free updates, which is a good deal for professionals. Let us know what do you think about VideoSolo Screen Recorder in the comment section below.