What word pops up in your head when you think of a perfect vacation? Traveling! Nowadays, you just can't imagine your holiday without traveling. And every trip is like a casino game; you never know what to expect. So if you love both games and traveling, there are lots of casino destinations for you to explore. Gambling can bring you so much fun if you're spending money and trying your luck outside the hometown – regardless of whether it's a tenner or $10,000. Letting off steam, gaining memorable experience, winning (maybe losing, yes it happens!) money – sounds perfect, right?
So if you're in a panic about your next vacation destination with your loved ones, mates or simply yourself – worry no more. Check out the list of top 10 hottest places with the best casinos in the world to go for your next holiday! Summer, autumn, spring, or even winter – these cities are always awaiting you with table games, slot machines, and fun nightlife.
Live to travel. And travel to gamble!
1. Bellagio – Las Vegas, Nevada, USA
It's not surprising that Las Vegas is home to the world's most recognized casinos ever. Sin City brings you everything you have ever seen in the movies or read in books. Massive jackpots, thousands of gaming machines and tables, and lots of fun! And this is exactly what you're craving, right?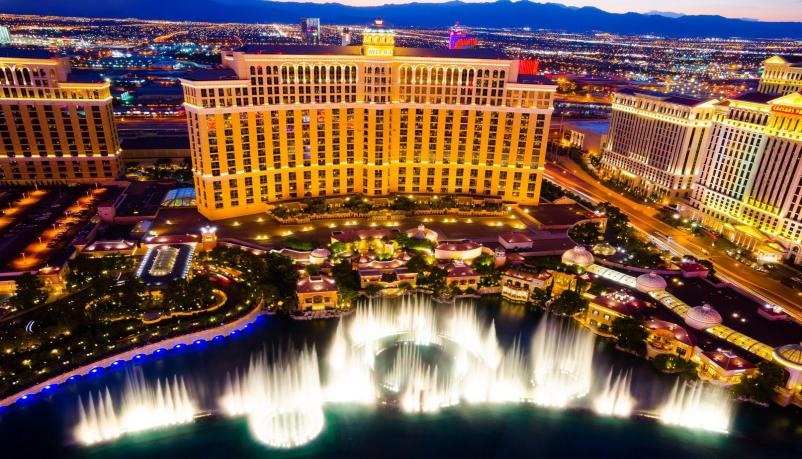 So choosing a 5-star Bellagio will help you kill two birds with one stone. Book your room with an impressive view and private pool, take a relaxing hot tub, and go grab the most delicious medium-rare steak in the PRIME Steakhouse restaurant. Then after you're fed and stoked, let the party begin! Take some money, luck, and go conquer the №1 casino!
So now you can feel like George Clooney or Brad Pitt in some exciting Hollywood movie. The legendary golden design of 40 poker tables running around the clock and massive dancing fountain in front of the casino is summoning you to the Ocean's Eleven entourage. And if you're already tired of betting, Bellagio offers plenty of entertainment – the city's art gallery with the premier exhibition space with Picasso and Warhol works, exclusive fashion stores, and luxurious resort. Paradise Island is going to stick in your memory for a long time!
2. The Venetian – Macao, China
Well known as the Las Vegas of the East, the Venetian Macao takes the leadership being the second-largest casino complex in the world. With the floor space of more than 57,000 sqm, the Chinese casino is almost as big as Buckingham Palace!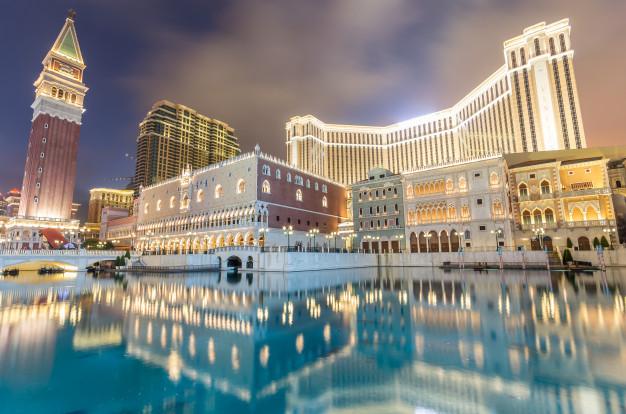 Since casinos support half of China's economy, Macao is considered as one of its gambling capitals. Ultimate heaven for gamblers – Imperial House, Phoenix, Golden Fish, and Red Dragon areas which consist of over 6,500 gaming tables and slots. You cannot come here only for one day because if you wanted to play every slot in the casino, it'd take you over 100 hours to play them all!
And, if the games are not enough for you, the Venetian provides a full range of alternative entertainment – markets and bazaars, sports events, concerts, and international awards. Take a gondola ride and imagine yourself in Italy, try a wide range of Macao's cuisine or simply take a break in one of its four swimming pools. No matter what you do, you won't regret coming to Macau!
3. Monte Carlo Casino – Monte Carlo, Monaco
The most iconic gambling city on the Mediterranean coast, Monte Carlo, is a perfect place for any CEO, businessman, or high roller to spend their money. Ultra-luxury interior design, along with 6 live poker tables and bingo halls, brings you to the world of the rich and famous, so you can pretend to be James Bond.
What is Monte Carlo, the best casino in Monaco, famous for? First of all, it's a traditional French card game – Trente et Quarante, which you can only find in Western Europe. Suppose you are looking for the best casino in Monte Carlo, there are four legal gambling facilities with hundreds of tables, slot and video poker machines: Casino de Monte-Carlo, Sun Casino, Casino Café de Paris, and Monte-Carlo Bay Hotel & Resort. Choose any of them, or even try them all!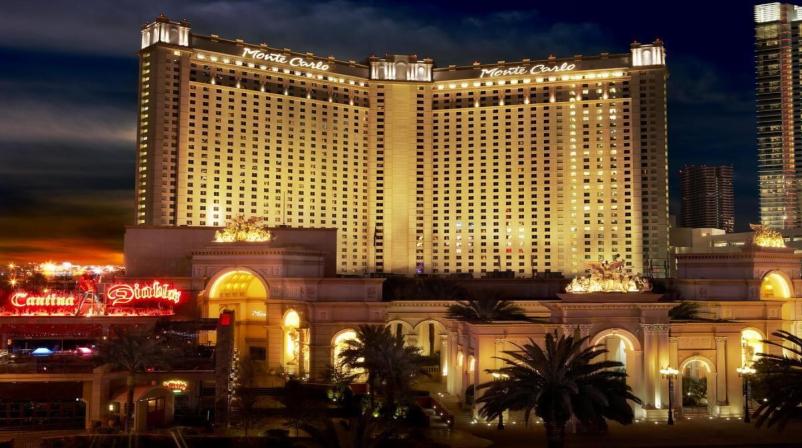 But Monte Carlo gambling resort is not only about prestige and glamour. The city is located in French Riviera, which is well-known for the beauty of its beaches, soft golden sand, sea, and incredible Mediterranean cuisine. And that's not all! There are plenty of top places to visit around Monte Carlo. Take a picture on the red carpet in Cannes or walk along Promenade des Anglais, which was featured in the opening moment of Alfred Hitchcock's movie 'To Catch a Thief' in Nice. Feel the luxury of the gambling resort Monaco!
4. MGM Grand Hotel and Casino – Las Vegas, Nevada, USA
One of the largest gaming floors, in turn, located in one of the largest hotels in the world, MGM Grand Casino will impress even the most jaded visitor, with its 171,500-square-feet gaming space – 2,500 slot machines, 139 gaming tables where you can bet $1,000 and gain half a million dollars! That's a risk worth taking!
As we've mentioned before, Sin City also offers another casino vacation in Bellagio, but if you're already in Las Vegas, you need to check MGM out! It continues to thrill with its excellent, or even one of the best on the strip, amenities and features.
Today, the MGM Grand stands above other casinos in the areas with its large 50-tonne, 14-meter bronze logo. The inside of the building is as impressive as the outside: international cuisine with chefs from around the world, Cirque du Soleil and David Copperfield show; and most importantly of all, there's no dress code in the casino! Feel free to wear whatever is comfortable for you if you're playing! Of course, for a fancy dinner, the appropriate dress would be a big plus so that you can fit in the entourage of the most iconic Las Vegas casinos.
5. City of Dreams – Macau, China
Although it was only opened 10 years ago, the City of Dreams is already the third-largest casino in the world! It is home not only to over 2,000 slots and poker tables, but also a couple of Michelin-starred Chinese restaurants. The impressive House of Dancing Water shows with 80 performers from all around the globe may be the best thing in the whole city; make sure you don't miss it!
The 1970s entourage with its lights and bold design solutions proves that this casino never sleeps and nothing ever grows old. Suit Em Up Blackjack, Big Wheel, Roulette, Baccarat… And this is not even a complete list of the games this exciting resort offers you. Unlike The Venetian family-oriented casino, which is located not far away, the City of Dreams is rather for true rockers and badasses. Feeling bold enough to try this casino travel? Come here and rock!
6. Marina Bay Sands – Singapore
Who'd believe that the most expensive casino property is not in Las Vegas? Marina Bay Sands is not the biggest gambling resort, but it does cost a hefty $8 billion! When you come here, you'll have no doubt it's worth every dollar spent on it. Three interconnected towers highlight the casino itself, and the highest infinity pool in the world is located on the 57th floor. The locals pay $100 just to enter and observe the inside of this famous building, so bring a passport with you to enter for free!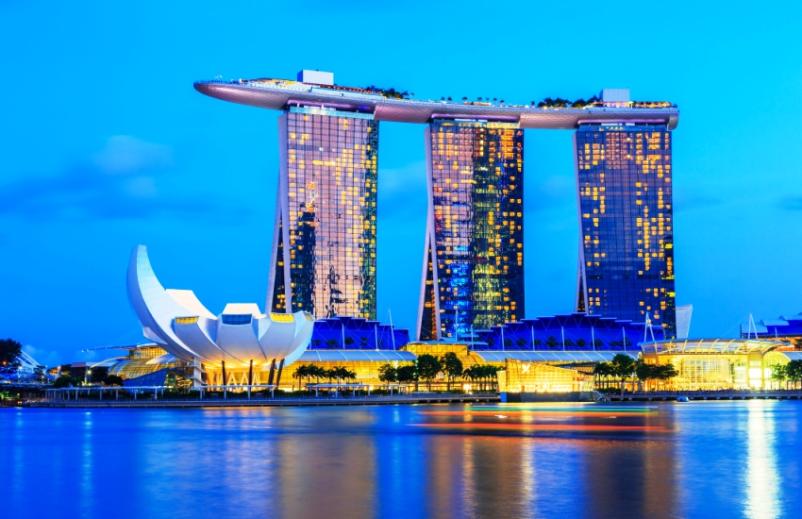 Also, if you are here for the first time, get yourself a map; there are three levels of gaming floor, and you may easily get lost without it.
7. Casino Baden-Baden – Baden-Baden, Germany
"The most beautiful casino in the world!" That's what Marlene Dietrich declared about Casino Baden-Baden, and that's what you usually may hear about it from everyone who's ever been there. Germany's oldest casino attracts many people with its old-school slots, roulette, and Suit 'Em Up Blackjack and its variations.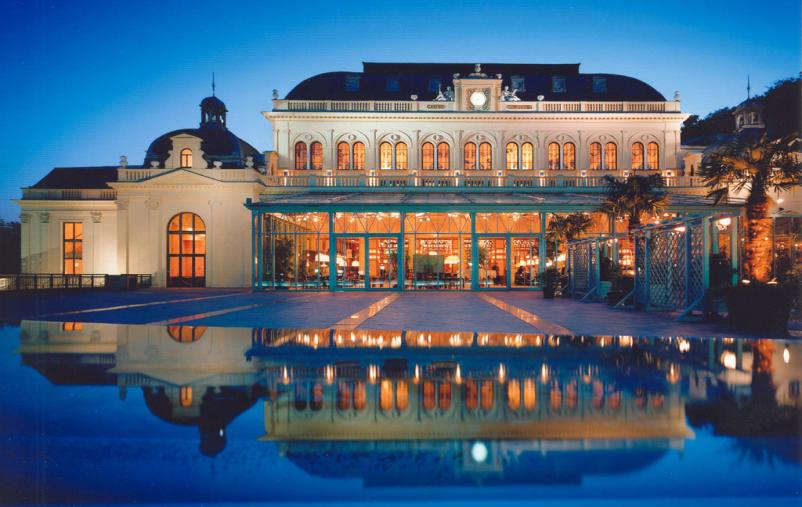 It is definitely not the same kind of casino as those in Sin City with their loud music, crowd, glamour, and kitsch. Casino Baden-Baden has its charm and decor wealth, all influenced by the period of the Belle Epoque. No neon lights here; instead, you have red-and-gold interiors with chandeliers and contemporary artwork, which takes you back in time to the Palace of Versailles!
Let's not forget that the town of Baden-Baden also has a world-renowned spa-resort and the Festspielhaus, the most famous opera house. Now there is gambling on top of all of this too, of course!
The entrance is 5 euros, and you have to be at least 21 years old to enter, so do not forget about the ID. Unfortunately, the drinks here are not for free, so you pay as you order; but the atmosphere of 19th-century imperial luxury will ensure this is not too taxing.