The MyObjectives app has been on the market for nearly two years, and its parent company, Alliance Enterprises, just launched the app on the Apple app store.
Today we are here to review the app for potential buyers who may be interested in gaining visibility into the health of their business on the go and for employees who wish to track work progress wherever whenever.
Though the app is free to download on the app store it still requires a paid MyObjectives account. The app enables business owners and team members to track progress on objectives that are aligned to the long-term goals of the organization.
This app is aimed at small businesses in growth mode. The mobile app allows both business owners and employees to track progress with real-time scorecards that document team success for each game period, usually over a three-month period.
Employees can use the app to update progress on their objectives and feel the rush of seeing their score rise in real time. Similar to fantasy football or other online games on mobile apps, the dynamic scorecard of MyObjectives and attractive graphics can get addictive as users drive toward team wins.
The app provides business owners with high-level views of their organization, and the performance of all their teams (see visuals below).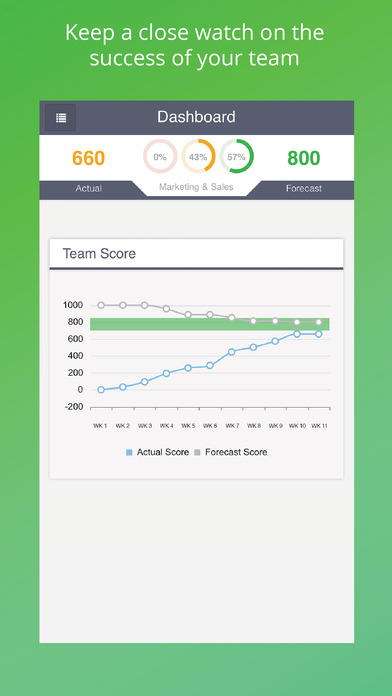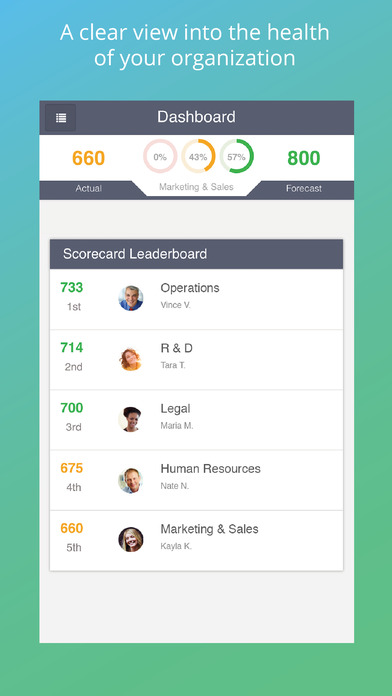 Employees keep their work objectives top of mind whenever and wherever they are and stay on track, moving red dots to green dots to raise their team's score.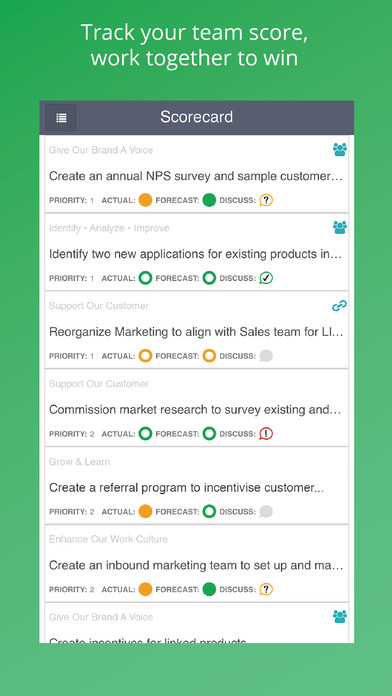 Pros
1. The app keeps everyone in the organization on track to the work that needs to be done.
2. An interactive and friendly interface keeps employees engaged with real-time scorecards and graphics.
3. Provides business owners visibility into the overall health of their organization, as well as team performances.
4. An inexpensive monthly membership plan makes it accessible to most small businesses, beginning at $54/month for a team scorecard (unlimited members).
5. Most user reviews of the app are quite favorable, with many users claiming its fast and has increased business efficiency.
Cons
App availability is limited to US, Canada and the UK
To get the app you first need to be a MyObjectives subscriber. Go here if you're interested: http://www.myobjectives.com/pricing/
Once you're a subscriber you can download from the Apple app store: Here's the link: https://itunes.apple.com/us/app/myobjectives/id1186084056