Web hosting sites nowadays provide you with everything from security certificates to even free migration of your website. Single shared hosting is a great choice for a simple information website where requirements are kind of less. Also if the requirements are high, you only need to upgrade to a different plan of that hosting website in order to get desired features. However, if you are the one maintaining different websites then Reseller hosting can be best for you. Here we are going to review Chemicloud's Reseller hosting which is quite in the trend nowadays.
Chemicloud is a reputable Hosting provider with lots of hosting types and plans to choose from. They also provide a great set of add ons which is not the case with many other hosting sites. Here we are going to review its features, performance, uptime and support of the Chemicloud Reseller hosting as this key points are enough to determine, if you should go for this reseller hosting or not.
Features
Chemicloud Reseller plans include Enterprise grade SSD storage that makes transfers easier. The reseller hosting plan comes with a free reseller domain account and this makes your work easier by saving extra amount of cash per domain. Since they provide Worldwide server locations, hence you can host client's website accordingly and can help the clients website to run without disruptions.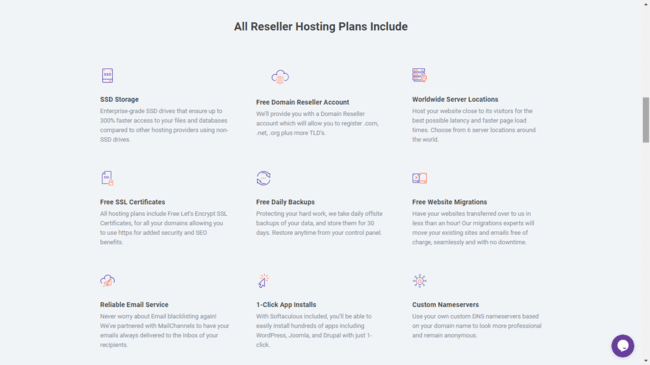 Performance
If you are expecting a better conversion rate for your website then you should not compromise with the Loading time of website. Loading time is one of the key factor to get ranked high in google. The fast your website loads, the high you rank in Google search. At an average, usual response time of a web server is anywhere between 460ms to 520ms to be deemed as fast load out server. In ChemiCloud we got a response time of 490ms which is kind of great. Since Chemicloud is based on cloud hosting hence its assured that the website which is being hosted gets access to its allotted resources. The other things that will help your website to load faster is a CDN and Chemicloud provides a free CDN with their plans. Also their servers are HTTP/2 ready which adds to the better performance of the website.
Uptime
Uptime is a key factor which helps to decide how much time a server was up without any failure except the maintenance part. Uptime is usually considered as the backbone of every business that are run online. A downtime of 1 minute can add to the loss of huge amount of bucks. Uptime of a server highly matters when you want the conversion rate to be better. If people comes to your website only to find out that your website is down, then it will give a bad impression of the website to your customer.
Chemicloud however gives an uptime SLA of 99.87% on paper. After regularly monitoring their servers it found out that they has an average uptime of 99.92% which is way beyond what they claim. We got to know the reason behind this high uptime. They actually isolate each hosting account so that in case of any dispute, it does not affect the whole hosting server. They have reboot less Kernel care security which helps it to update the servers without downtime. There is a constant monitoring of the servers and hence it is unlikely that you will face any downtime while hosting your website in Chemicloud.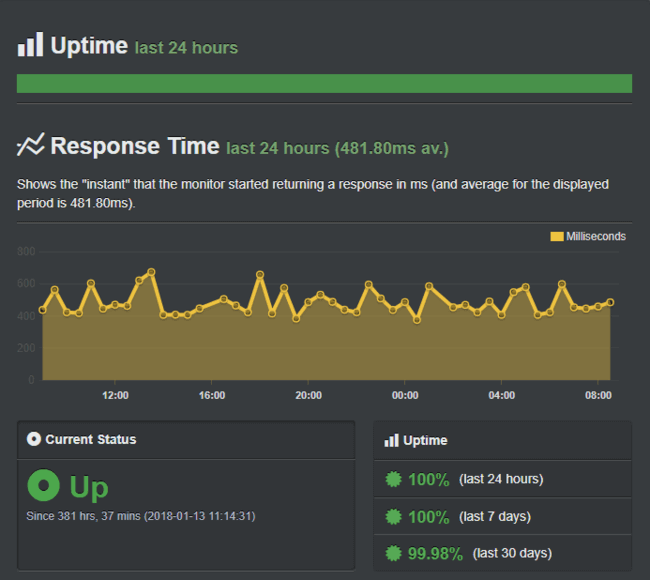 Support
The technical support team of any service provider company should be very active so as to provide solutions instantly. It can be sometimes, that your website faced a crash and serious attacka nd is not loading in the browser and there you need to know either how to bring your site back up and running or else you need to contact the support team. With Chemicloud technical support they were very active and very knowledgable about their server inside and out. During our enquiry they were quick enough to give us a solution that we required to make our website up and runnning.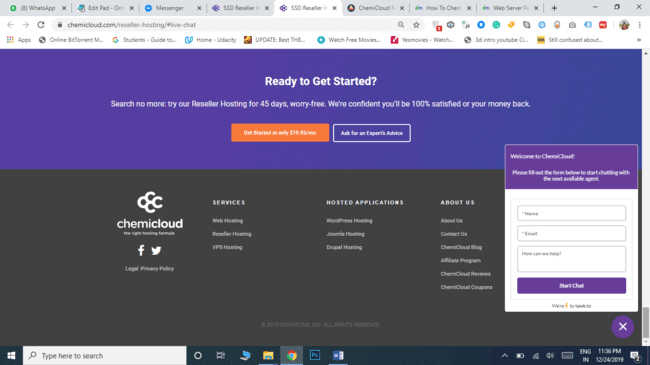 Verdict
Hosting websites make your work very simpler while you a website. In general, it would take a great set of money to set up your own hosting server. Hosting your own server for a simple website can be loss of a money until your website needs a dedicated server. However, if you are a service provider or you get a lots of queries about getting a website done from your end, then it is very much recommended to buy a Reseller hosting like that of Chemicloud.