Updates
STV 139 is no more available. Validity of 98 and 155 plan is now reduced to 14 and 20 days respectively coupled with 600MB and 1GB. Introduced new internet plans as said below
MRP : 444
Freebies : 3GB
Validity : 60 Days
MRP : 78 ( if you active this one by sending SMS you can save some INR )
Freebies : 1GB
Validity : 5 Days
MRP : 239
Freebies : 1GB+ 100 rupees talktime
Validity : 14 Days
Unlimited 3G is now available and the price of each one is shown below
Recently DATA68 STV validity reduced to 3 days from 5 days.
New Plan8, with one if you have more than rupees 8 as your main account balance after the initial grace period of 15 days your validity will be automatically renewed with RS 8. A move like this one seems to pretty good for the users that are going abroad who don't have anyone to recharge their mobile from India.
Unlimited calling : Are you having a BSNL landline phone then you can make unlimited onnet or offnet calls to any one in India from 9PM to 7AM without recharging for any amount.
New Data Plan 68 : With this one you can get 1GB of data that is valid for 10 days but do note that if you already on a data plan for eg if you are on 139 plan doing 68 will remove any data left with 139
Do note that those prices and codes may vary in some circles, try to get confirmation from the customer care or service before choosing any of the above.
It's independence day coming on August 15th 2015, BSNL has come up with new packs which will be available for prepaid customers for a promotional period of 90 days.
New shortcodes
Looks like BSNL changed most of the USSD, plan activation, SMS shortcodes and balance inquiry.
Balance inquiry number changed from *123# to a unified one *124# in which you can get almost all details like
Voucher recharge
Third party recharge
STV enquiry and subscribe
FNF ( friends and family ) view, add and modify
Plan change
You can also send a message STVENQ to 123 for knowing subscribed special tariff voucher.
For activating data plans keyword now changed from DATA139 to STV DATA139 and you need to send this code to 123 instead of old 53733 number. Check out the picture below to know more about the same
Plan validity extension /migration keyword
Old : For Mithram it was PV49 to 53733
New : For Mithram now send PLAN MITHRAM to 123
Other migration and extension see the attached image
ISD
Old : ISD25
New : STV ISD25
Other ISD see the screenshot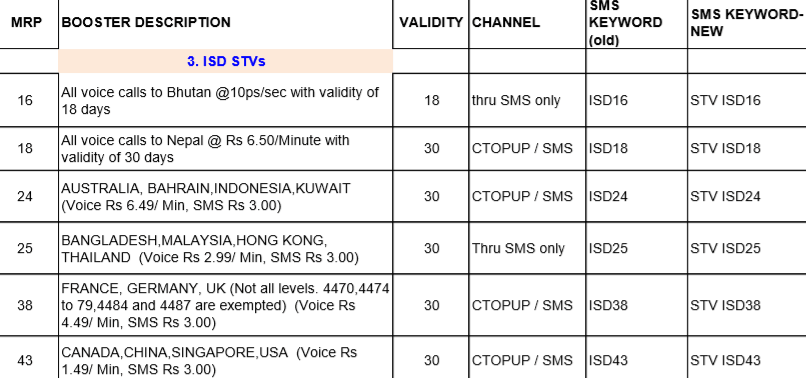 SMS
Old : SMS35
NEW : STV SMS35
Remaining list, see the picture below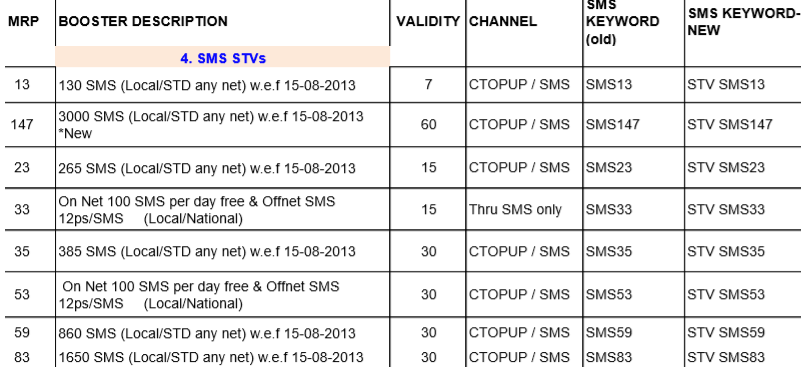 Voice
Old : VOICE13
New : STV VOICE135
Other voice packages will be added shortly
Other miscellaneous SMS keywords
For the period from 01.01.2015 to 31.03.2015 instead of usual 30 days you can get extended validity up-to 60 days for 561,821,1011 and 90 days for 1949 pack instead of normal 60 days for internet plans.