WordPress is one of the best and easy to use content management systems (CMS) available on the web. This is one of the reasons why you can find a number of websites created and developed on WordPress. The large repository of themes and plugins with a number of premium resources available for the users, makes WordPress the first choice for people who are poor at coding.
But, creating a site on WordPress is not enough, you need to have a dedicated WP hosting provider for your website.WPMU DEV is the leading, fully dedicated WordPress hosting provider that you can rely on to host your WP website. Apart from being a superb webhost, it also provides site management, performance optimization, security enhancements, marketing and plugins to its members.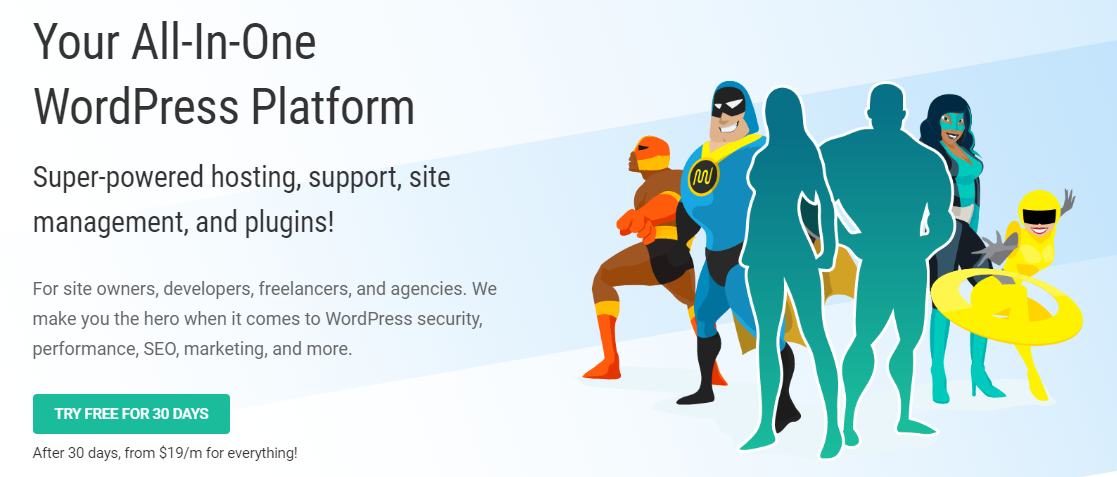 Let us explore more about WPMU DEV along with some of its best features and pricing plans.
Why Choose WPMU DEV Hosting to Host your Website?
WPMU DEV offers dedicated WordPress hosting solutions to its users. This means its servers are specifically tailored to host websites created on WordPress.
Dedicated Resources
Every site hosted on its servers gets its own dedicated memory, SSD storage and CPU resources that are totally independent of other sites hosted with it. Apart from that, you can choose from 8 different server locations around the globe to optimize your site performance for country specific visitors.
Speed Optimized Sites
Once you have hosted the website with WPMU DEV, which is fine-tuned for WordPress, your site will perform well when it comes to speed. It is optimized for object and page caching, supports IPv6 and uses CDN. The speed of sites hosted here is something you will feel for yourself to believe.
Safer, Securer and Automated
Your sites are continuously monitored, scanned for problems and kept updated with its built-in defender and automated services. The nightly backups with one-click restoration provides the peace of mind.
All Inclusive WordPress
You will hardly find any other webhost providing similar level of WordPress support and services that WPMU DEV does. From the seamless integration to all its plugins to cleaning up of the sites infected with malicious codes, its support team is there for you 24X7.
WPMU DEV – 30 Days Free Trial
If you wish to become the member of WPMU DEV, you get a 30-day free trial. This means that you are allowed to use all its products and services along with access to its 24X7 support for free for 30 days. There is no risk, no lock-ins, and no contract. The membership can be cancelled anytime.

$50/month Bonus Hosting Credit
Once you enroll with WPMU DEV, you will receive up to $50/month bonus hosting credit. This means you can host 5 Bronze level websites for free and they will never ask you to pay for them.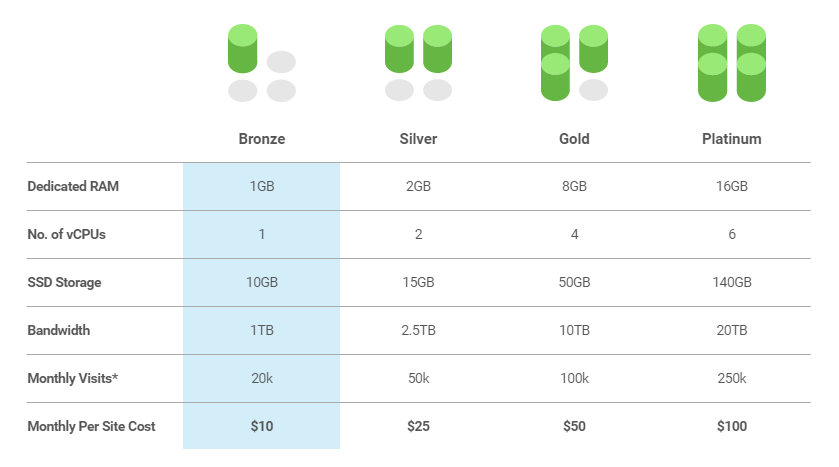 Features that Come Pre-Loaded with Each Hosting Plan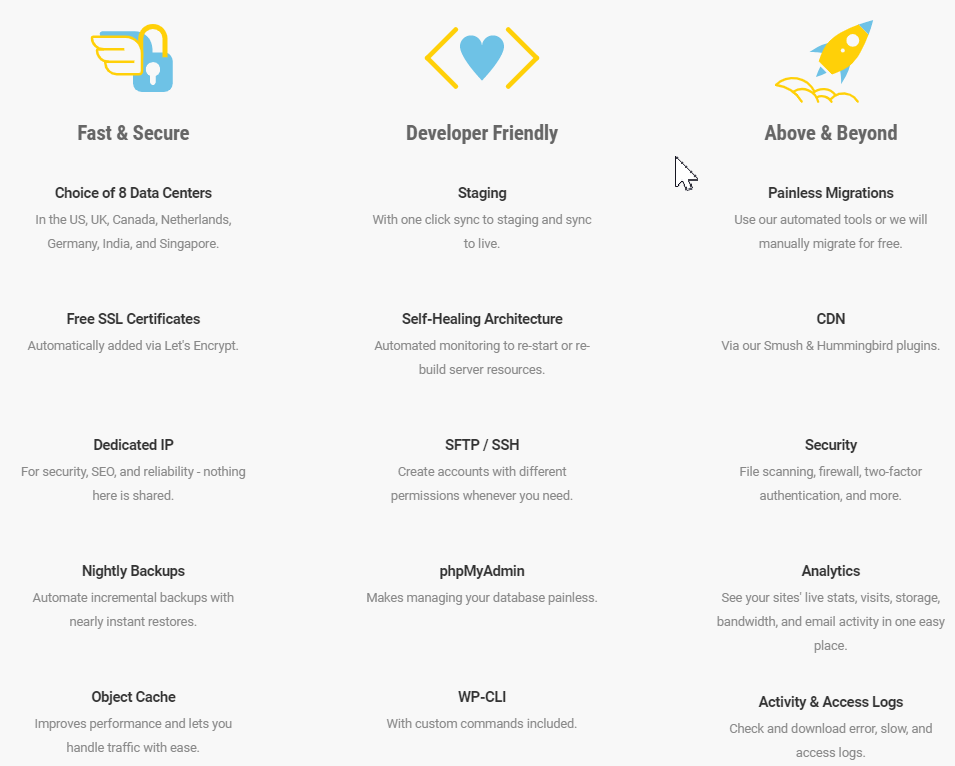 You get choice of servers as it has its data centers in 8 locations including US, UK, Canada, Netherlands, Germany, India and Singapore. Each site comes with automatically added Let's Encrypt SSL certificate. You get dedicated IP address and nightly backups are maintained. Moreover, it comes with IPv6 technology and its object cache feature helps you optimize performance and handle website traffic with ease.
WPMU DEV hosting is developer friendly. It comes with one-click sync to staging and live environment. It has got a self-healing architecture while the developers can plug and play with SFTP/SSH, phpMyAdmin, WP-CLI, Git, Composer and NPM.
Apart from all this, you get painless migrations, CDN, Security & analytics features and activity and access logs. All of this complimented by 24/7 live support.
Enterprise Hosting
Some of us may need more resources as the website will be getting around 50 Million traffic per month or more than that, these custom plans are for you and pricing is decided after they contact the sales team.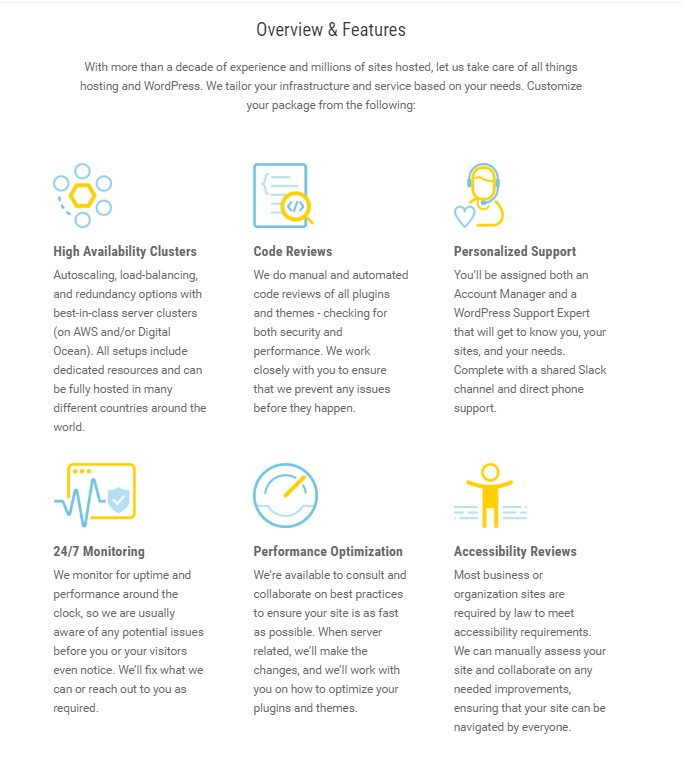 What about Refund policy ?
Here is a direct scoop from their website
Absolutely, if you're not happy at all in any way we'll refund your most recent payment absolutely no questions asked (well, ok we will ask you how we can improve or if we did anything wrong so we can get better, but you are absolutely free to leave without an explanation and we'll refund you the lot!)
Pricing and Plans
The membership starts at $19 per month. Each site you host starts with 1GB dedicated memory, 1 vCPU, 10GB SSD Storage, 1TB bandwidth, 20k monthly visits and more. If you want to scale up, you can always upgrade to a better plan.

Con
The only one we found is that if your site occupies more than 99.99GB for Backup, then you have to pay $120 /Year for Backups. VaultPress is offering unlimited disk space for just $39/Year.
The Bottom Line
WPMU DEV is a premium WordPress hosting provider that also provides all inclusive WP services to users who have created their website on WordPress. There is hardly any company offering services that can compete with WPMU DEV. If you want to stay in peace, WPMU DEV hosting is one of the recommended hosting providers to host your WP website.